Used on nearly all video hosting sites, video thumbnails give viewers a quick snapshot of your video and it plays a vital role in promoting views. Generally speaking, a thumbnail will be generated automatically after uploading. When it comes to YouTube, you can even pick one from the three options the platform generated.
If you are not satisfied with the video thumbnail YouTube generated, this post is exactly what you need. It will show you a simple way to put a thumbnail on a YouTube video. As for videos that have uploaded to YouTube, you can also change the thumbnail. Refer to the part you need and get started.
Can't Miss: How to Create a YouTube Trailer Video >
As mentioned above, after uploading your video, YouTube will generate three video thumbnails automatically and you can pick any of them. Here before posting, you can also add a custom thumbnail to a YouTube video.
Step 1 Log in your YouTube account, and click the Upload button and choose the video you want to upload, you will then brought to another page.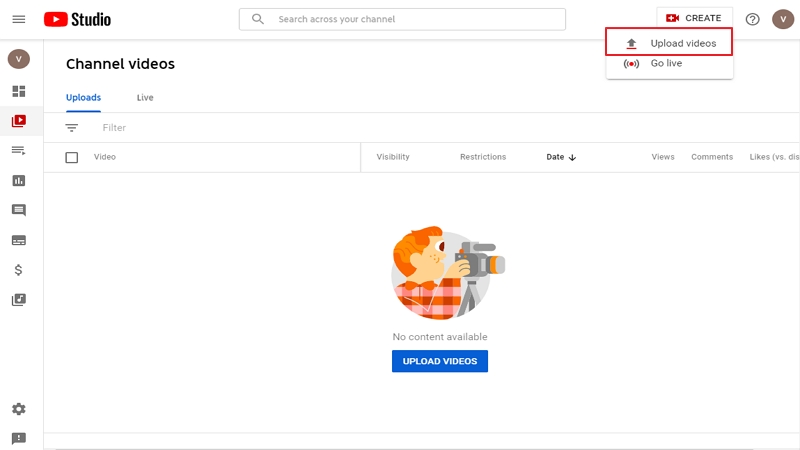 Image Board: Add a Thumbnail to a YouTube Video - Step 1
Step 2 Scroll down to the end. Choose one of the automatically generated video thumbnails. If you don't like them, click on the Custom thumbnail button to upload a picture and set it as video thumbnail.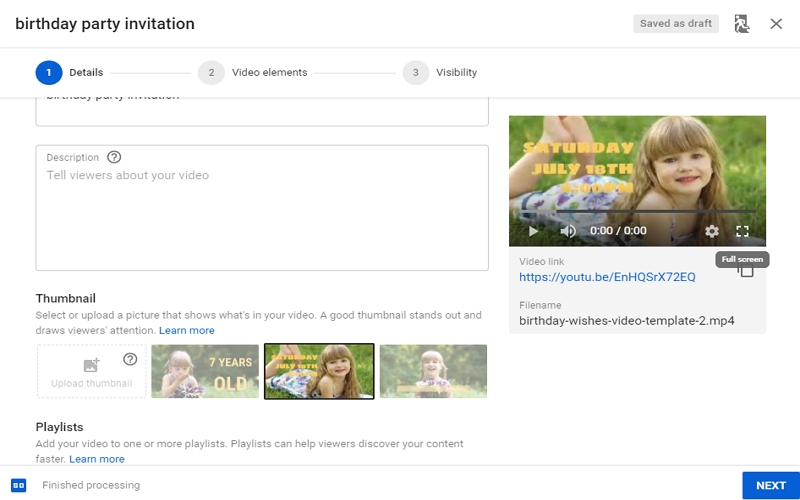 Image Board: Add a Thumbnail to a YouTube Video - Step 2
Note

Your custom thumbnail image should be:
1280 X 720 resolution (with minimum width of 640 pixels)
JPG, GIF, BMP, or PNG image formats
Under the 2MB limit
16:9 aspect ratio
The process of changing a thumbnail for YouTube video is also easy and simple.
Step 1 Log in your YouTube account, click on your profile icon and select YouTube Studio. If you are on Android or iOS, download YouTube Studio application from App Store directly.
Step 2 Click on Video button on the left page, click on the video you want to change its thumbnail. A new page will pop out.
Step 3 Go to Details > Basic. Scroll down to the Thumbnail section.
Step 4 Click the Custom thumbnail button, upload any picture you like. Save the change.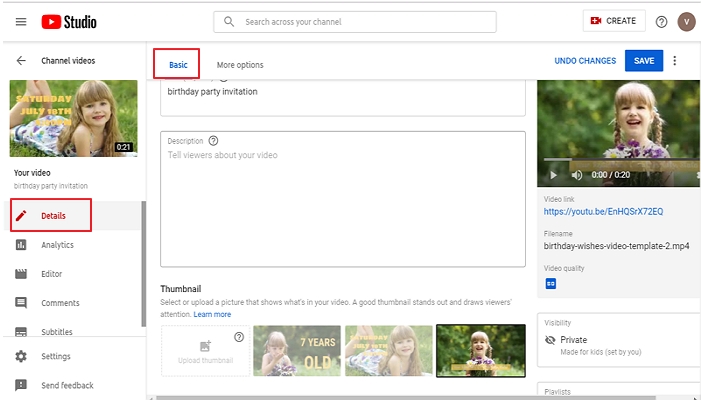 Image Board: Change Default Thumbnail
Tip 1. Find a good topic. Some topics may be liked by majority of people, while some topics are less popular. Check this post on 60+ YouTube Video Ideas to get inspiration.
Tip 2. Efficient. The sooner you post videos than others, the more views you get. That's to say, you might need to abandon the troublesome and time-consuming software like iMovie or Premiere Pro while editing urgent videos. Try FlexClip. It has all professional editing features of Premiere Pro. Any edits can be made in a few clicks. Make cool video edits with FlexClip now >
Tip 3. Call for likes or subscriptions. Don't be shy. People won't discard you because of that. On the contrary, calling for likes or subscriptions is just like a kind remind.
Tip 4. Make a video jointly with other bloggers. Having some friends who are also bloggers? Great! Make videos with them together. Your fans might like your friends and subscribe them and their fans may subscribe you too.
Tip 5. Reply comments & listen to people's advice. Replying fans' comments is a great habit for all bloggers. The more you engage with your fans, the more faithful your fans are.
The Bottom Line
That's all for how to add audio to videos. The above three ways are all easy and simple. Hopefully, you have made a video with sound. If you find this blog helpful, please share it with others.