Whether you're a blogger or an educator, an animated video is the best way to wow your audience and gain more views. Thanks to the advancement of technology, anyone with the right tool can create stunning animated videos in no time.
If you want to create amazing animation videos effortlessly, check out our best free animation software list and find your preference.
There are some designer-made animation templates for you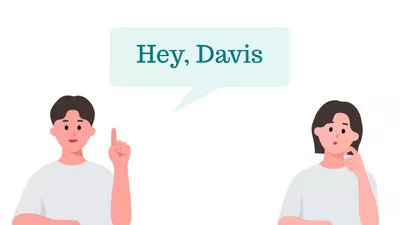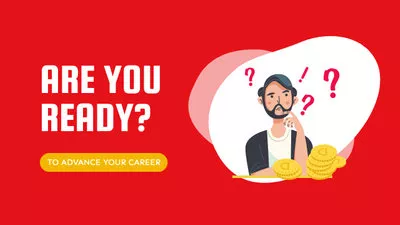 Can't Miss: How to Make a Cinematic Stop Motion Video
# 1. FlexClip
FlexClip is an online animation software that lets you create promotional content, teaser videos, education videos and more with a funny animation. Whether you want to make something with animated text or you wish to come up with videos with full animated stickers, this free animation editing software will help your work a breeze.
Besides, it has thousands of designer-crafted animation templates and resources that help you raise your videos to the next level. No matter you're a rookie or master who wants to make an animation video, FlexClip will be very helpful.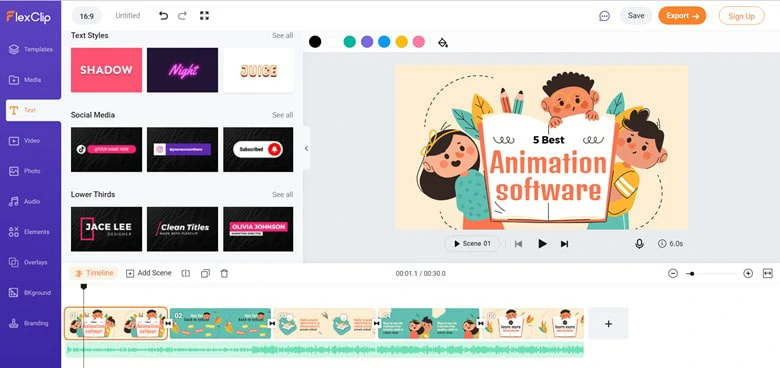 Free Animation Software Online - FlexClip
Key Features of FlexClip:
Intuitive and easy-to-use interface
Download in MP4 video or GIF formats.
Large collection of animated templates and assets.
Royalty-free music tracks and sound effects to perfect your videos.
Multiple handy tools you can use for free, including trimming, splitting, transitions and more.
#2 Animaker
It's no exaggeration to say that Animaker is a top-notch animation editing software. Animaker has many features and assets to help you create incredible animated videos in diverse styles. Using Animaker you can create 2D and 2.5D videos, animated infographic videos, handcraft videos, whiteboard videos and typography animations.
Additionally, this animation software has a large library of templates and pre-animated elements, including illustrations, characters and gestures. If you're a pro who needs a professional tool, try to use Animaker.
Free Animation Software Online - Animaker
Key Features of Animaker
Rich animation characters and resources for you to choose.
You can directly share your animated video on YouTube and Facebook.
Supports 6 styles of videos: 2D, 2.5D, infographics, handcraft, whiteboard, typography.
Advanced features for animation such as transition effects and enter/exit effects.
Cons:
3D videos are not available.
It requires registration before the creation.
The free version allows you to create 2-minute-long videos with a watermark.
#3 Powtoon
Powtoon is another web-based animation software you can use for free. Packed with many helpful feature designs, this program allows you to create all types of professional animation videos.
As PowToon is integrated with many top sites and content creators, you can choose content from a wide database that consists of a massive collection of media files you can use for free.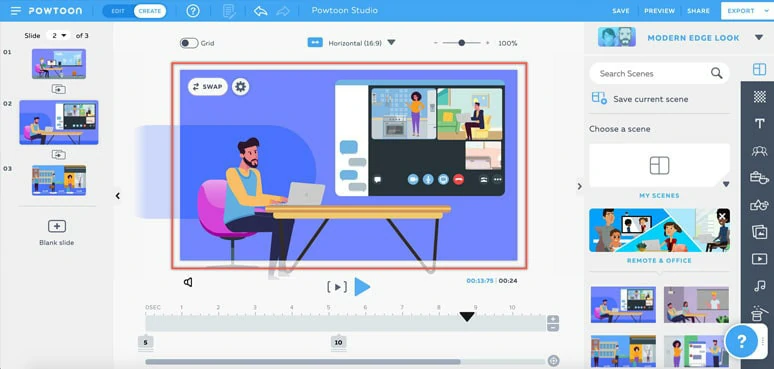 Free Animation Software Online - Powtoon
Key Features of Powtoon:
A large collection of stock photos, videos and animated characters.
Customizing the templates and graphics you have chosen is very easy.
Directly share videos on YouTube, Facebook, Twitter, Instagram, LinkedIn, and more.
Cons:
The exported video covers the watermark.
Registration is needed before starting editing.
The maximum storage space for a free account is 100M.
#4 Moovly
Moovly is crowned as one of the best animation software online as it comes with over 1 million media assets, all of which are royalty-free. With its straightforward interface, you can quickly start to make awesome videos. Besides, it offers a wide range of ready-made templates and tools kit that enable you to make your animation process easily and smoothly.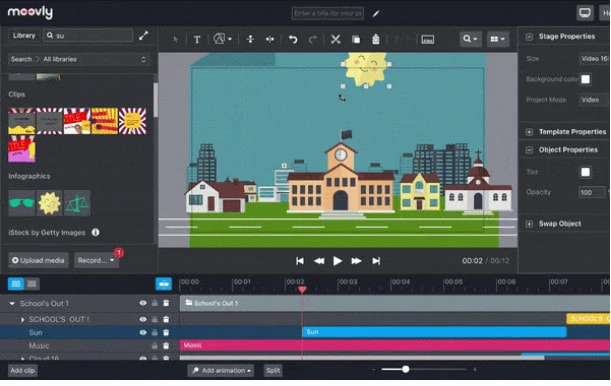 Free Animation Software Online - Moovly
Key Features of Moovly:
Wide range of stylish templates.
Inbuilt toolkit for easy customization.
It offers text to speech and subtitle generation features.
It supports multiple animation types such as whiteboard, GIF.
Cons:
Free videos come with a watermark.
Customer service has been horrendous and disappointing.
Moovly uses its own server and this is the part that's frustrating and slow.
#5 Animatron
Looking for trustworthy animation software online? Animatron is what you need as many top companies like Disney use it to make videos in a simply way. It has over 500,000 royalty-free media clips and a list of media files you can use and incorporate into your animation making.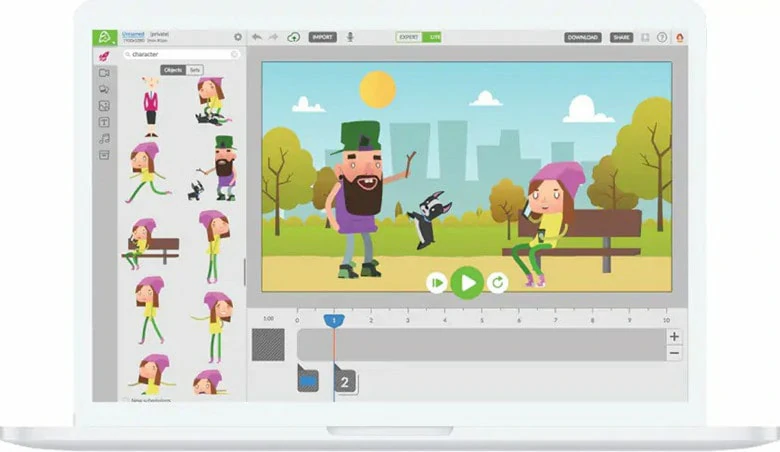 Free Animation Software Online - Animatron
Key Features of Animatron
Sharing option directly from the editor
Free animated characters are available
An extensive collection of media clips and files
It offers a camera option, recording and transition functions too
Cons:
You can only export 5 videos per month with a free account
3 minutes is the maximum video capacity on the free version
The Bottom Line
With all these great free animation software online, it's easy for you to create an animation video, no matter the purpose of the animated video. By the way, if you prefer a high-quality video editor, then FlexClip is a nice choice to get started! Now it's your turn!