Capturing people's attention has never been harder these days. But, surprisingly animated videos can do it so easily. They trigger our childhood conditioning and make viewers love to see and listen to our messages conveyed in cartoons and animated videos.
However, not everyone has the professional skills and time to create stunning animated videos themselves.
But, no worries! In this post, we will be introducing you to the 8 best-value animated video makers. So, you can easily create eye-catching animated videos in minutes with no designing skills and experience needed.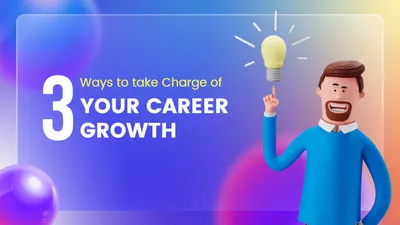 Tips For Career Growth Youtube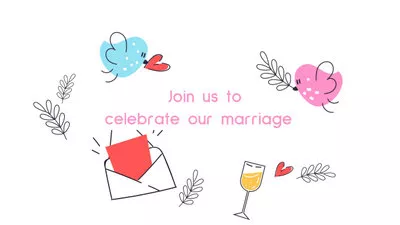 Line Cartoon Save The Date
Here's what you'll learn:
Also, read top 7 animated text generators online.
1.FlexClip: Easy, Quick, and Most Affordable Animated Video Maker
Despite not being a professional animated video maker, FlexClip does offer you a wide array of animated characters, props, backgrounds, aesthetic illustrations, animated texts, etc. to choose from.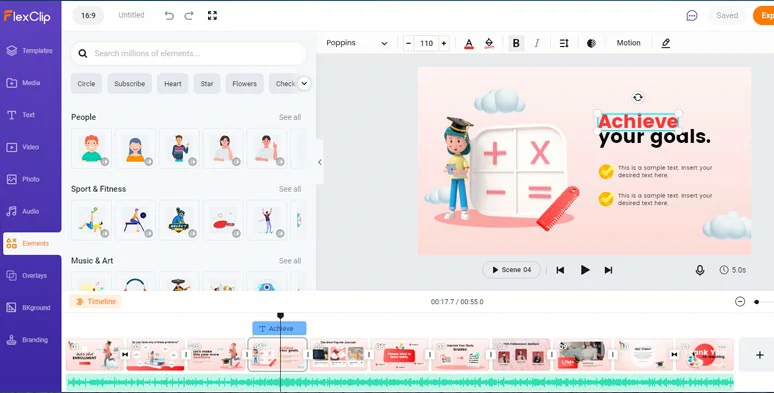 Create animated videos by FlexClip animated video maker online.
What's cool about it, apart from the animated characters and props, you can search for animated GIPHY GIFs and artistic illustrations to enhance your animation videos. All you need to do is go to its Elements Tab and select the animated elements and illustrations needed, and drag and drop to create a 2D animation video in minutes.
Besides, FlexClip also offers you designer-made and customizable animation video templates, covering school enrollment, back-to-school tips, stay-healthy advice, business workplace, animation slideshows, holiday celebrations, animated book reports, etc. So, you can easily piece them together with very little work.
Online School Enrollment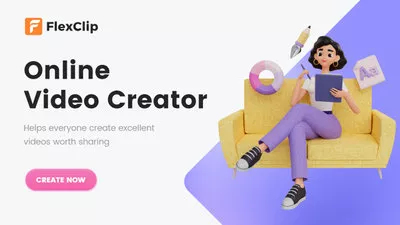 3d Animation Video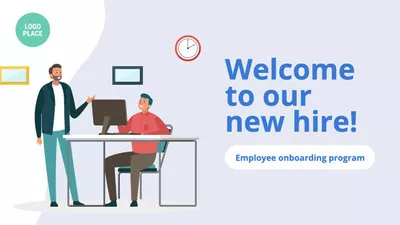 Administration Office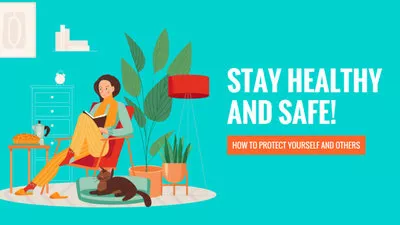 Stay Healthy And Safe
Target Users: Students, teachers, computer novices, business professionals, freelancers, etc.
Pricing: Free to start; $9.99-29.99/month for 3 subscription plans (most affordable animated video makers of all)
Best Features
Vast
media library
of royalty-free HD animation videos and music, SFX, and photos.
Dozens of video tools such as image background remover, screen & voiceover recorder, text animations, etc.
Intuitive timeline makes it easy for everyone to edit animated videos and photos.
5 video aspect ratios (16:9, 9:16, 1:1,4:5,21:9) for different media platforms.
Easy share to YouTube, Google Drive, Dropbox; clickable link and embed code are also available.
Limitations
Can't fully customize outfit, hair, or skin tone, facial expressions of animated characters
No advanced animation tools
2. Powtoon: Most Versatile Animated Video Maker
Powtoon is a leading online animated video maker that allows beginners with no graphic design knowledge and skills to create professional-looking animated videos in no time.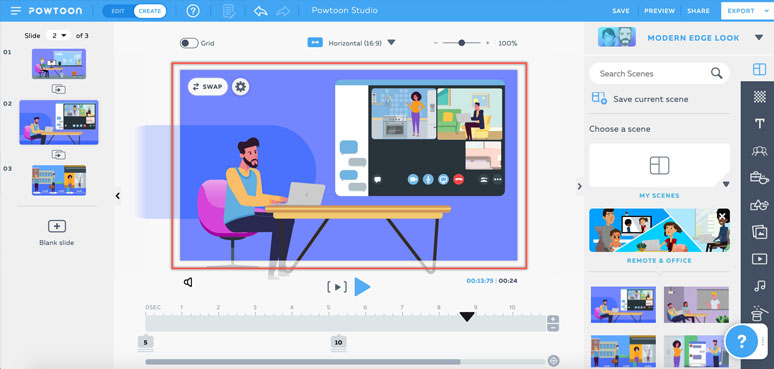 Use Powtoon to create professional animated videos
With an intuitive and stylish interface, you can easily select from hundreds of Powtoon's pre-made animation templates and customize the scene, animated character, props and add royalty-free music from its music library and do the voiceover. Overall, it's a powerhouse for making animated videos and content marketing.
Target Users: Content creator, marketer, students and teachers, corporate employees, etc.
Pricing: Free to start; $19-99/month for subscription plans; $4-10/month for the educational plan
Best Features
Create a wide array of animated videos: animated explainer, whiteboard video, build branded character, marketing video, animated infographic
Customize animated character's details such as hair, outfit, emotion, motion, skin color, accessories, etc.
Screen & cam recording; record voiceovers for animated videos
Integrate with PowerPoint, Adobe Photoshop, Canva, Hubspot, etc.
Hundreds of featured animated video templates covering varied fields
Horizontal, square, and vertical project modes for different platforms
Royalty-free music and objects
Limitations
Free users can't download animated videos in MP4
No watermark-free for free users
3. Vyond: Animated Video Maker with Contemporary Characters
Vyond (or formally known as GoAnimate) is an amazing online animated video maker that helps you stay productive and attractive for marketing, corporate training, and E-learning, etc.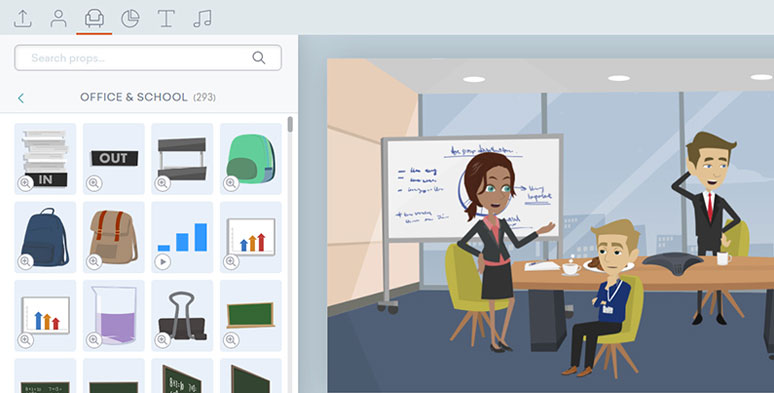 Create engaging animated videos for companies by Vyond
You can use Vyond's full-customizable animated characters, prop, charts, texts to create unique animation for your company's employees and easily make your storytelling engaging and even improve the working or studying relationship between coworkers and students.
Target Users: HR, teachers, salespersons, YouTubers, etc.
Pricing: $49-159/month for essential, premium, and professional plans
Best Features
Use timeline feature to arrange all the animated elements for the video
3 categories for animated characters: business-friendly, whiteboard, and contemporary
Lots of pre-made animation templates
Customize animated characters' facial expressions, direction, action, etc.
Record voiceovers for individual characters
Auto text to speech and automatic lip-sync feature for animated characters
Limitations
Lack of trending topics for animations
A bit pricy for freelancers
It may take a while for beginners to get used to the timeline controls
4. Animaker: For Studio-like Animations
Promoting the idea of "Do-it-yourself", Animaker is a cloud-based animation-making platform that helps non-designers and beginners to create studio-like animated videos and live-action videos like a no-brainer.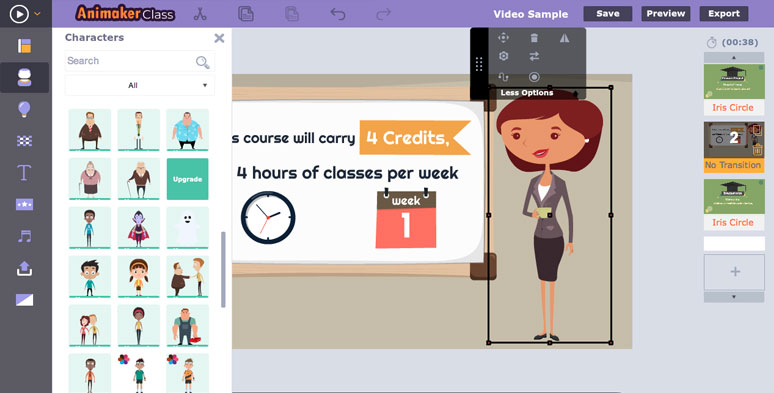 Create studio-like animations by Animaker
You can toggle between Full and Lite mode to select the editing interface that works best for you. In the Full Mode, you can control the animation timeline, video timeline, and camera timeline and add templates, animated characters, props and texts, videos, and audio from its asset library.
While the Lite mode offers you a much simpler storyboard view to edit all the animated elements, etc. All the elements in a screen are fully customizable with tons of amazing animation effects.
Target Users: Avid 2D animation fans, YouTubers, students, teachers, corporates for an animated character for branding, non-designers, etc.
Pricing: $20-79/month for different subscription plans
Best Features
Full and Lite editing modes for different users
Extensive actions and facial expressions for 2D animated characters and different scenes
Auto lip-sync features for vivid voiceovers
100 million+ stock assets
Special effects, together with props, make animations come alive
Integration with Zoom, Google Drive, Dropbox, Pexels
Download 4K videos and easy share to dozens of social platforms
Limitations
Some of the props are only graphics without moving actions
Full editing modes can be a bit overwhelming for beginners
5. Doodly: Best Whiteboard Animated Video Maker
Doodly is an extremely popular and prestigious animation maker, specializing in creating whiteboard animated videos. Its iconic style is an animated artist hand showing the drawing path of an animated character.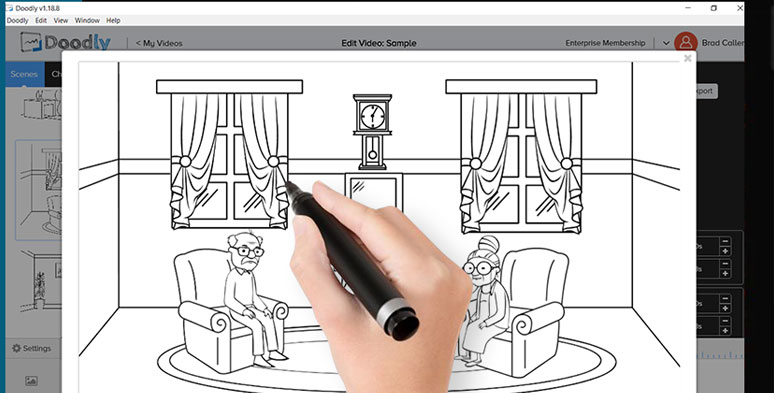 Iconic drawing hands of whiteboard animations by Doodly
Besides, Doodly is a desktop app that needs to be downloaded and installed on your PC. You can upload your image and add control points to tell Doodly how to follow the drawing path and create the classic Doodly whiteboard drawing. It's an affordable and straightforward whiteboard animation software for vintage or classic whiteboard animated videos.
Target Users: Whiteboard animation fans, business professionals, teachers, filmmakers, etc.
Pricing: Standard $39/month; enterprise $69/month
Best Features
Import photos and create a custom drawing path
Automatic align the duration of your drawings to the duration of the scene
Easily create offline animated videos and upload to Clouds for storage
Limitations
Limited assets in the library if you don't upgrade plans or buy Doodly rainbow
Can't do voiceovers or lip-sync while creating animated characters in Doodly
Not that accurate for the drawing paths for the fonts
6. Toonly: Powerful Desktop Animated Video Maker
Unlike the online animated video makers above, Toonly is a powerful desktop animation application on your PC. It might sound surprising to you that Toonly was created by the team of highly regarded whiteboard animation maker--Doodly.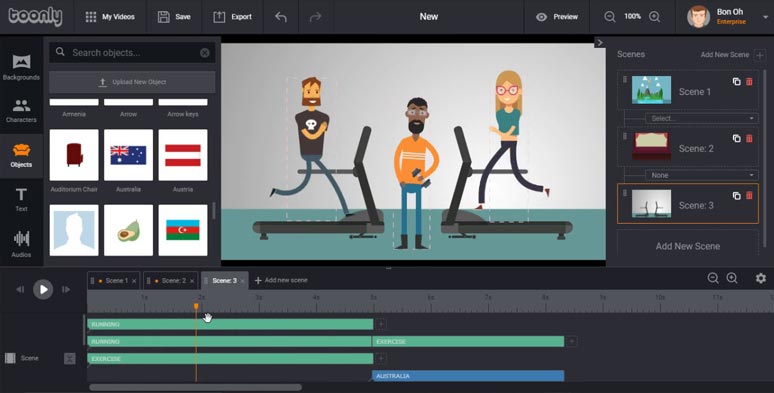 Create funny animated videos by Toonly
You can instantly preview the animation effects added in Toonly on the timeline. Essentially, the Toonly is a desktop app to create animated video explainers for business or teaching.
Target Users: Professional animators,salespersons, business professionals, YouTubers, etc.
Pricing: Standard $ 39/month; enterprise $69/month
Best Features
Use timeline mode for animation editing
Seamless transitions for an individual animated character to multiple actions in one scene
Has key-frame feature to move an object for different motions in a scene
Limitations
No trial version is available for the free users
Don't have pre-made animation templates
No trial version is available for the free users
Limited animation style and characters until users upgrade to enterprise plans to expand characters, props, backgrounds in the library
Characters look robotic while doing lip-sync because there is no way to add extra motion to the character
No way to import clips to make live videos combined with real persons and animated ones
7. Renderforest: 3D/2D Animated Video Maker
Renderforest is an all-in-one online video platform that helps you create animations, intros and logos, and slideshow presentations and music visualizations for branding and promo. Besides, Renderforest is one of the few online animated video makers that offer awesome 3D animation templates for animation creation. Sound cool?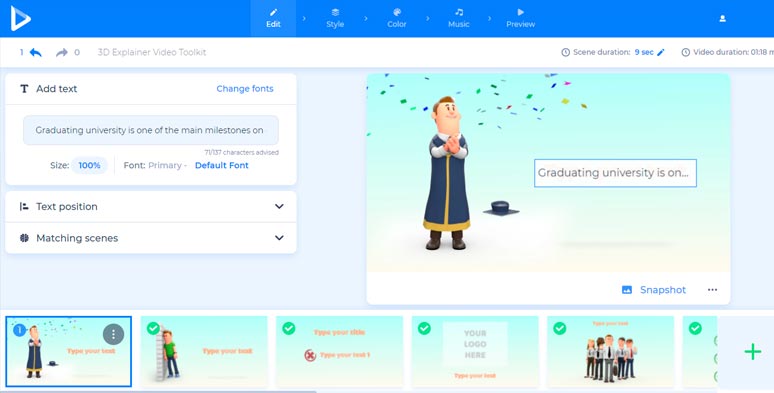 Create 3D animated videos by Renderforest's premade templates
The logic and working interface of Renderforest completely focus on beginners who are not pro animators and have limited time for creating animations from the scratch. You choose an animation template and customize the text, style and color, and music and finally preview and export the animated videos. That's it.
Target Users: Teachers, sales, students, freelancers, etc.
Pricing: Free to start; $19.99-59.99/month for different subscriptions
Best Features
Easy-to-use storyboard mode for non-designers and beginners
Tons of 3D and 2D animated video templates and trendy templates for business promo, etc.
Use AI to generate the number of scenes for you if you put scripts to start making animated videos
Matching scene features to recommend alternatives
Directly do or upload voiceovers to animated videos
Limitations
Can't customize the details of an animated character, prop or scene, etc.
No whiteboard animation templates
Pick one color palette and it will be applied to all scenes. Quick but not ideal for customization
No lip-sync feature for animated characters
8. Biteable: Stylish Animated Video Maker
With a stylish and colorful animevibe homepage, Biteable is an easy and quick animated video maker. It offers you plenty of 3D and 2D pre-made animation templates for you to choose from and customize yours.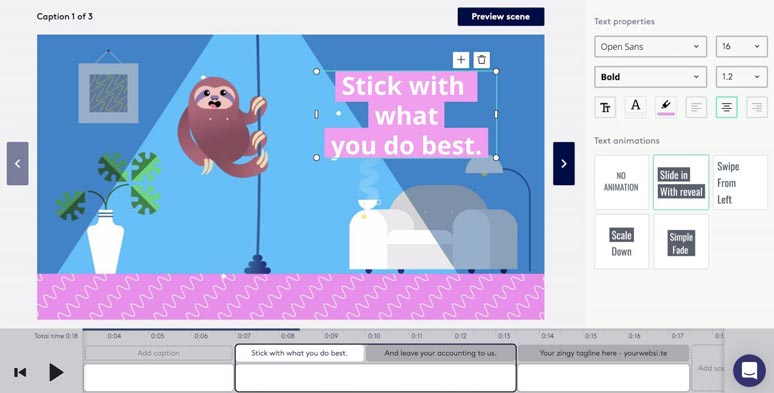 Quickly create compelling animated videos by Biteable
You can customize texts, ribbon and background color and trim the duration of pre-made animation, and add the different motions for the enter and exit of text and animation, etc. That's it. Pretty simple.
Target Users: Students, teachers, business professionals, freelancers, YouTubers, Instagrammers, etc.
Pricing: Free to start; $29-99/month for plus and ultimate plans respectively
Best Features
A wide array of 3D and 2D pre-designed animation templates across many industries and with multiple aspect ratios
Limitations
Can't customize the details of an animated character like hair color, facial expressions, body moments, outfits, including props, etc.
Not watermark-free for free users
Lack of features: only a few transitions, limited styles, etc.
Now, It's Your Move
So, which animated video maker makes sense to you both for its features and price tag? If you only want to quickly make an animated video for promo or video explainer, then FlexClip could be a great choice as it is the most affordable and only watermark-free animated video maker for free users in this list.