Although epic images or funny videos are key ingredients to making your Instagram Story go viral, quite often you do need a few pop-up texts to draw viewers' attention to crucial information, esp. for your business and brand image.
So, in this tutorial, we will walk you through how to make texts pop up on Instagram Story in 3 flexible ways. Then you can easily add animated text and pop-up sound effects and music for strong call-to-actions.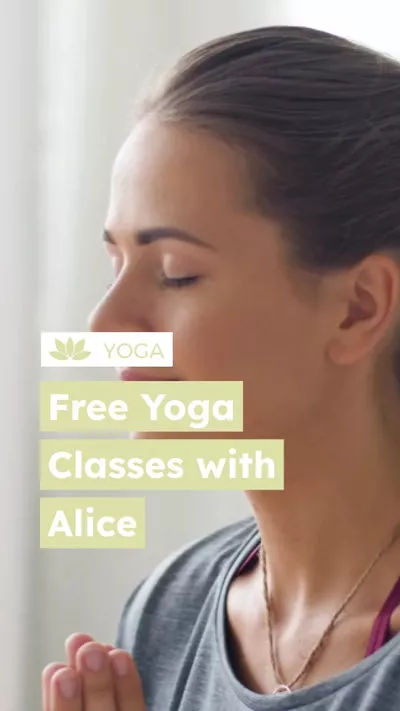 Yoga Fitness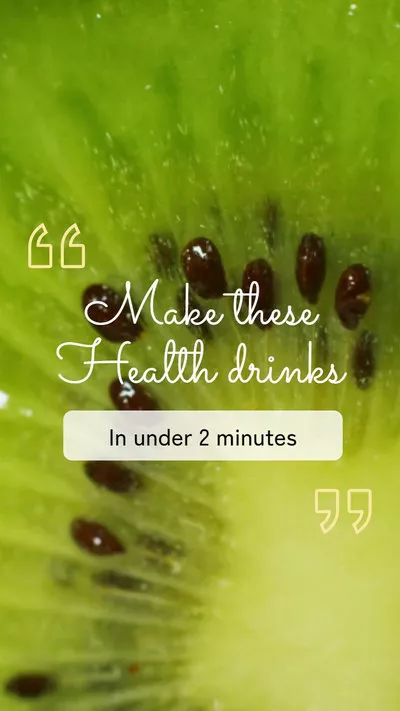 Healthy Food
Fashion Creator
Here is what you will learn:
Here is a quick takeaway to make texts pop up on Instagram Story:
You can use Instagram's native app to make multiple texts pop up with different text backgrounds and text animations on Instagram Story. Free music is also available on the music sticker.
The drawback of Instagram's native app is that you can't make different texts pop up at different times and there are no pop-up sound effects. Besides, free music is also limited. To do so, you need other workarounds. Please read on to find out the solution. Also, read
how to add transitions to Instagram Reels
.
How to Make Text Pop up on Instagram Story by Instagram's Native App
Though not perfect, Instagram's native app offers you the easiest way to make texts pop up on Instagram Story. Here is what you can do to make your text come alive on Instagram Story.
How to make texts pop up on Instagram Story
Step 1
Launch your Instagram app and swipe left to open the app's camera.
Step 2
Take or add a photo as the background of your Instagram Story.
Step 3
Add text: Tap the text icon (Aa) on the top right corner > type in your texts.
Step 4
Animate the text: Tap the text animation icon on the top right > then text animation of your chosen font shall automatically play. Since each font has its animation, you can change to different fonts to choose the text animations you like best, such as typing effects, etc. Then tap Done.
Step 5
Tap Your Story to fill in titles, add hashtags, etc. as you usually do to post an Instagram Story.
How to Make Text Pop up on Instagram Story with Pop-up Sound Effects and Music Online
If you plan to post on Instagram Story from your PC, another great workaround to create captivating text animations is FlexClip, a feature-packed and easy-to-use online video maker. No software download and editing experience are needed.
Create animated pop-up texts with sound effects and music for Instagram Story by FLexClip.
Compared with Instagram's native app on your phone, FlexClip allows you to: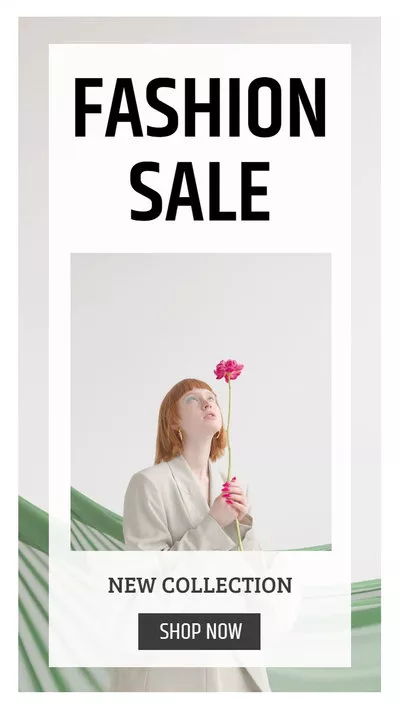 Fashion Sale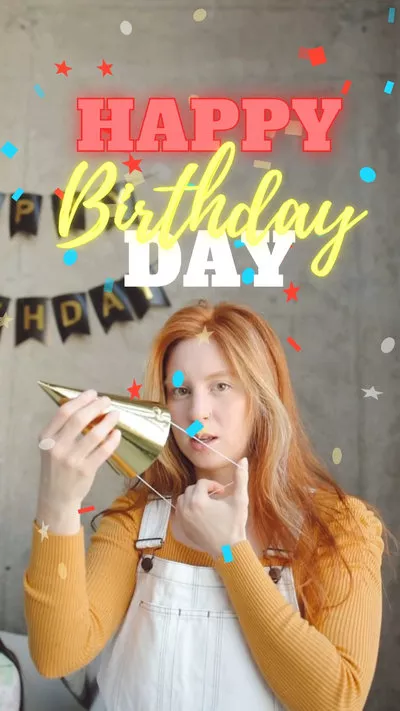 Birthday Slideshow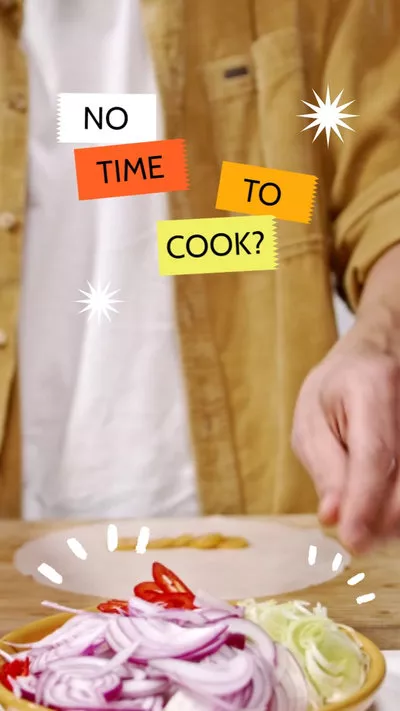 Home Cooking
Have full control of the duration of each animated text. So you can make multiple animated texts pop up at different times on Instagram Story as you wish.
Add multiple layers of royalty-free pop-up sound effects and music to accompany pop-up text animations, which takes your Instagram Story up a notch.
Make the most of a wide array of text animations such as popup, wipe, rotate, flip, zoom in/out, bounce, drift, breath, scrapbook, dash, stomp, shake,
typewriter effect
, etc. Meanwhile, you can customize the speed, direction, and duration, styles of animated texts.
Combine pop-up animated texts with animated illustrations, GIPHY stickers, emojis, call-to-action social media icons, and other decorative elements to make your Instagram Stories 10x more engaging.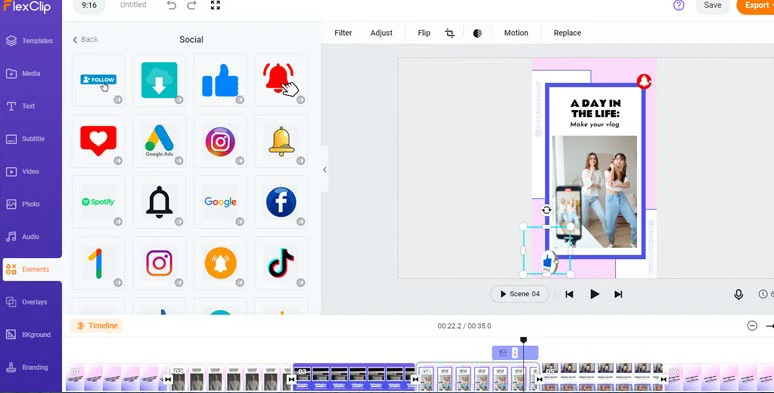 Combine pop-up texts with animated social icons, emojis, and illustrations for Instagram Story.
How to Make Texts Pop Up with FlexClip Online: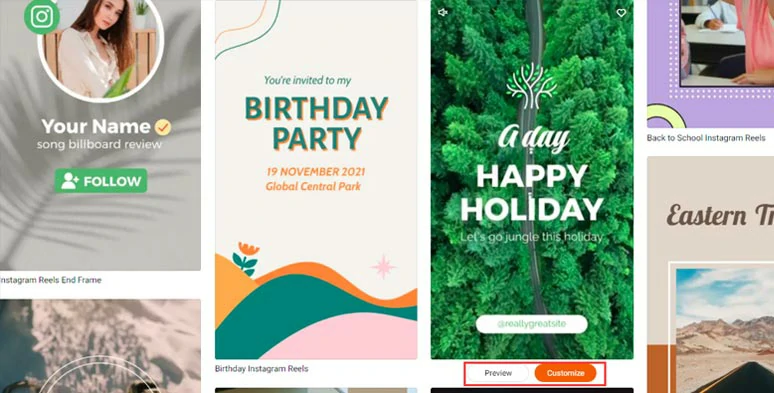 Select a free Instagram Story video template.
Step 2
Upload your Instagram photos/videos to FlexClip from your PC or phone, Google Drive, One Drive, Dropbox, Instagram, Facebook or Google Photos.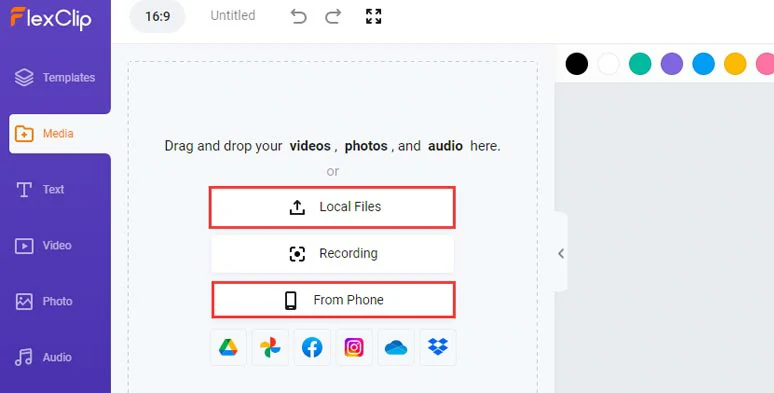 Upload your clips, images, and audio files to FlexClip.
Step 3
Drag and drop a photo/video to replace the default photo/video background.
Drag and drop to replace the default video background.
Step 4
Add pop-up text animations to Instagram Stories.
With one pre-made text animation selected, type in your text > click Motion and select Bounce in or other text animations you like. You may also use the tools above to customize font, color scheme, text styles, layers, and position.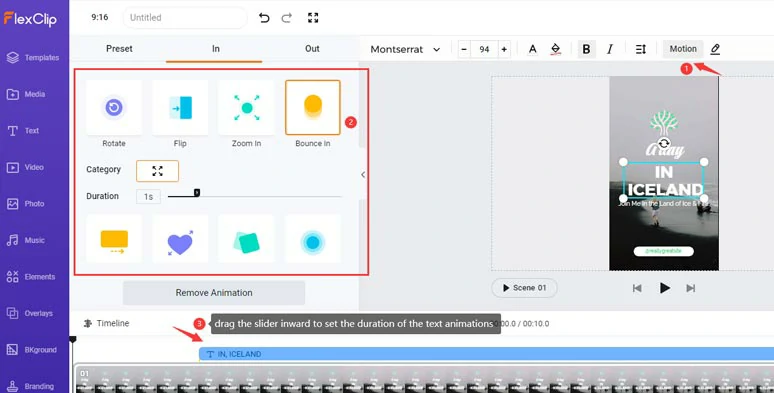 Add bounce-in text animations to the texts.
Alternatively, click the Text tab on the left menu, and scroll down to use hundreds of customizable animated text templates, such as likes, comments, and subscribe buttons, lower thirds text animations, wedding and birthday animated titles, speech bubbles, etc, Super helpful!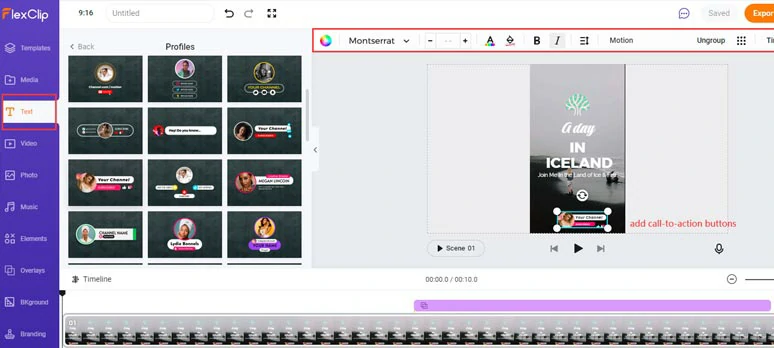 Add call-to-action subscribe buttons to Instagram Story.
Step 5
Add free pop-up sound effects and music to Instagram Story.
Click the Music tab > type "pop up" in the search bar > add the pop-up sound effects on the timeline > trim the sound effect and align it with the pop-up text animations or dynamic elements. You may also add free BGM to your Instagram story as well.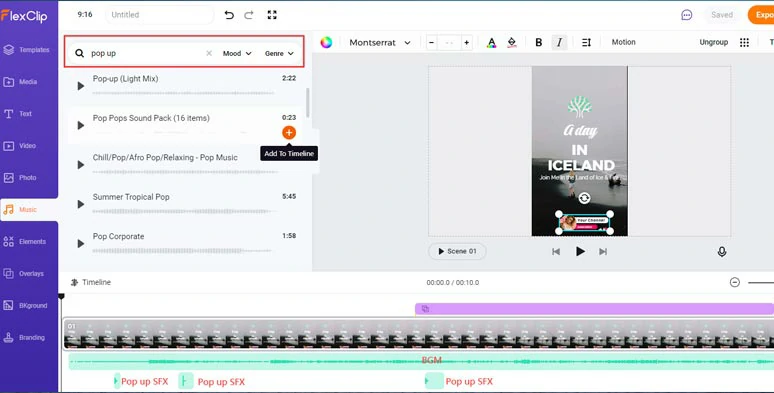 Add free BGM and pop-up sound effects to Instagram Story video.
Here is the resulting Instagram Story video from the above example:
Add animated texts with free pop up sfx and music to Instagram Story by FlexcCLip.
Step 6
Preview and share.
Click the Export button, you can download the video to your local PC or share it to YouTube, Google Drive, Dropbox, One Drive, or TikTok, or use the clickable link and embed code for repurposing the video content for your blogs.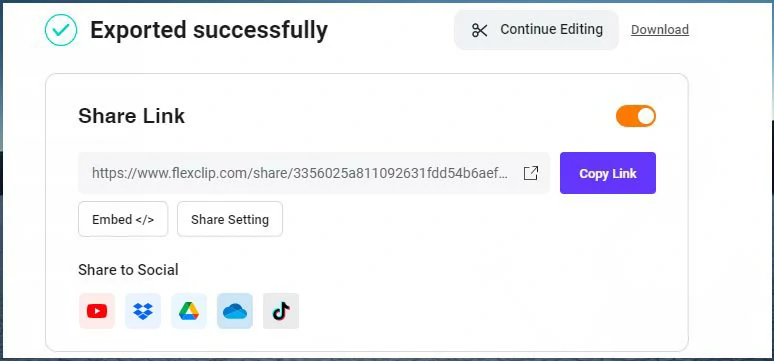 Easily share your videos in multiple ways.
How to Make Text Pop up on Instagram Story by CapCut
Well, the last but not least option we recommend is CapCut, available to iPhone and Android users. It's a free and mighty mobile app that allows content creators to create original videos with dazzling text animations for Instagram, TikTok, etc.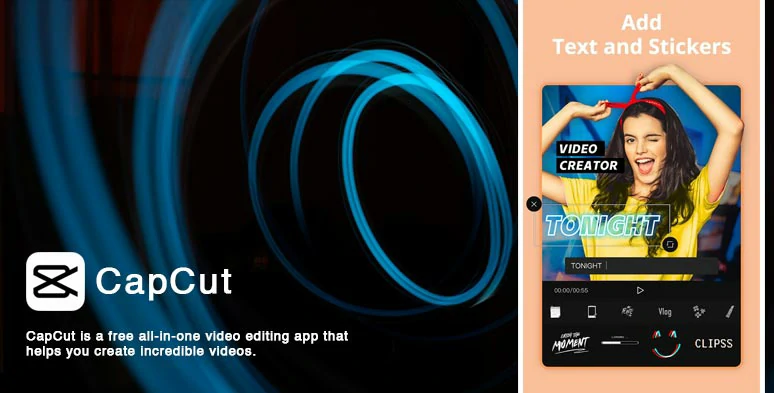 Make text pop up by CapCut video editing app
As opposed to limited text background and animated texts on Instagram's native app, CapCut offers you hundreds of text animations, such as bounce, ease, glitch, zoom out, etc. in the category of in, out, and loop. You may also control the duration of the text animations as well.
If your video includes your audio narrations, CapCut has the Auto Captions feature to automatically generate text for your speech. You may also use text templates and stickers to spice up the text animations. Feel free to play with it.
Step 1
Click New Project and Import your video/photo to CapCut.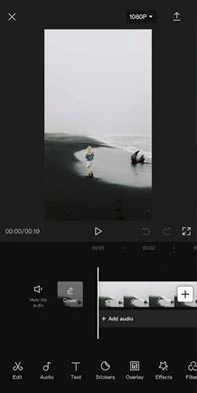 Import clips to CapCut
Step 2
Tap the Text tool > add text > type in your text > select Animation > choose an text animation to make texts pop up in the video. Or you may also tap Text Template to select a trending text animation template for your Instagram Story.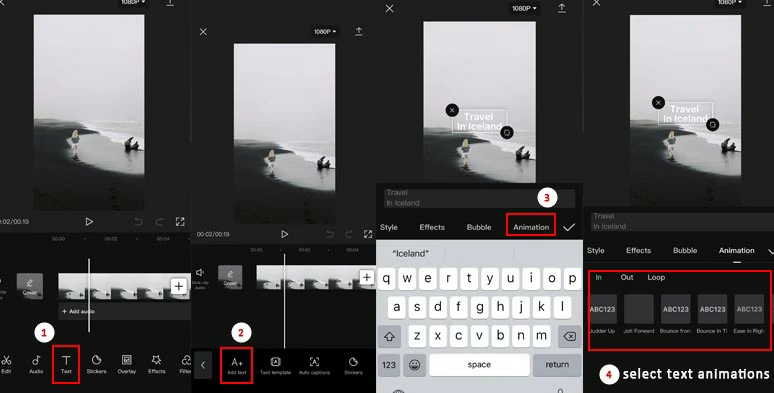 Add animated texts to your videos by CapCut.
Step 3
Preview, set the video resolution, FPS, and export the video.
Now, It's Your Move
With great video content paired with compelling animated texts, you can accurately deliver the key information to viewers. Hopefully, you can use either FlexClip or CapCut to make eye-catching pop-up texts to grab viewers' attention on your Instagram Story. If you find this tutorial helpful, don't forget to share it with friends on Facebook, and Twitter and leave your comments for us. See you there.