Having a creative transition to your Instagram Reels is a great way to engage viewers and add rhythm and styles to your Reels.
Apart from using match cuts like blocking the camera, switching objects, using a hand wipe, etc. to do transitions on Reels, Instagram Reels' latest feature offers you an easy way to add transitions to recorded clips and photos from your phone.
So, in this tutorial, we will walk you through how to directly add transitions to pre-recorded videos and photos for your Instagram Reels and offer you an online alternative to adding more trending transitions to your Reels in a breeze.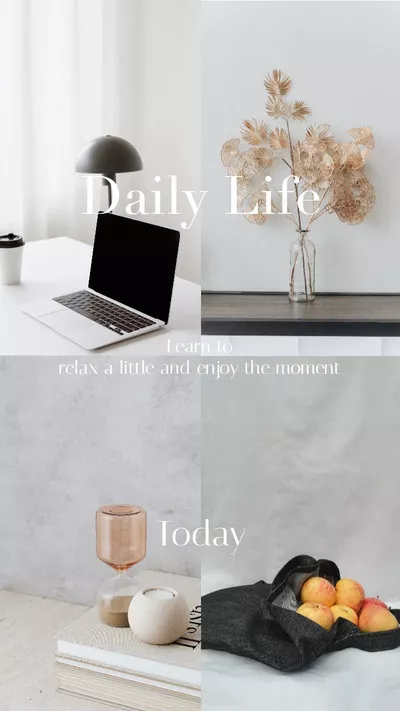 Instagram Reels Vlog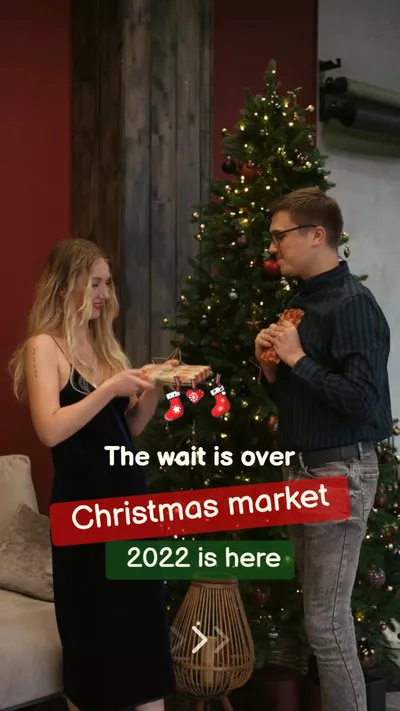 Instagram Reels Christmas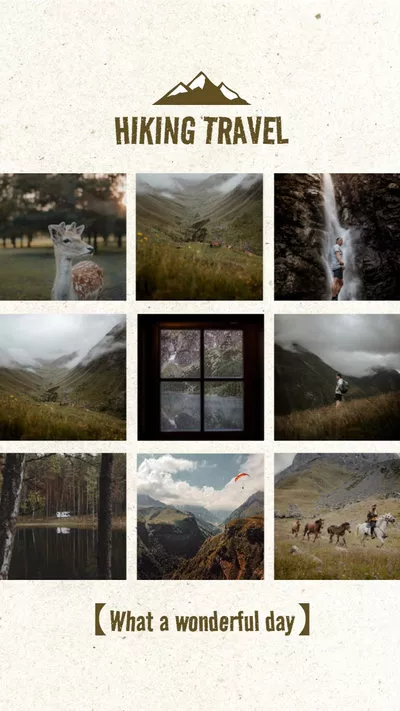 Instagram Reels Travel
Here's What You Will Learn:
Also, read how to create Reels with Instagram Reels Templates.
How to Directly Add Instagram Reels Transitions to Videos and Photos
With Instagram Reels' latest transition feature, now you can directly add transitions to connect videos and photos within Instagram Reels. Currently, you can select from 6 native Instagram Reels transition effects (Zoom, Blur, Warp, Flare, Spin, Glitch) and apply them to your videos and photos.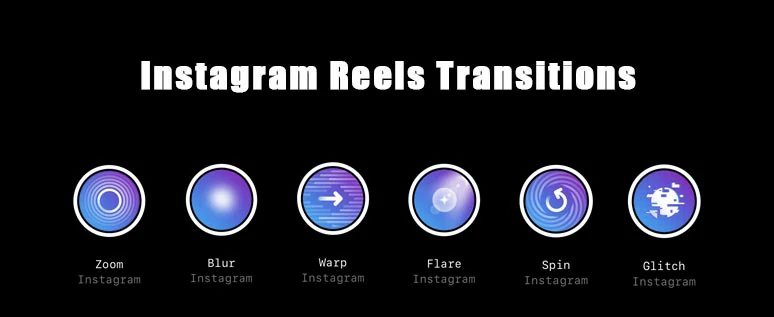 6 native Instagram Reels transitions on Instagram.
Step 1
Launch your Instagram App and swipe left to open your Instagram Reels.
Step 2
You can record multiple new clips or upload pre-recorded videos and photos to your Reels and tap the Preview/Next button.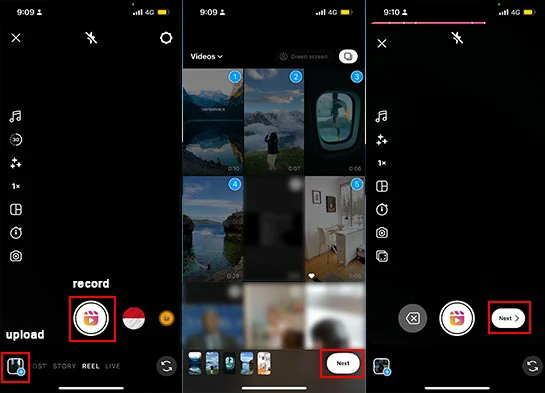 Record or upload clips and photos to Instagram Reels.
Step 3
Add Instagram Reels transition effects between videos/photos.
Tap the Edit Clips button at the left-bottom corner > Transitions > tap the Plus sign and select from 6 built-in Reels transitions (Zoom, Blur, Warp, Flare, Spin, Glitch) to connect two clips/photos > tap Done.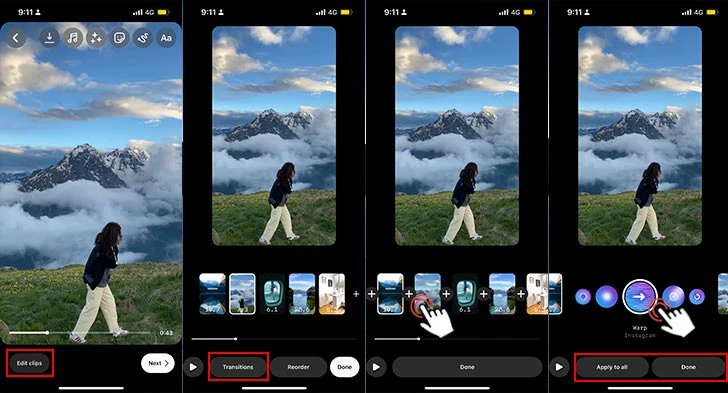 Add transitions to Reels.
Here are a few things worth mentioning:
As you select an Instagram Reels transition, you will get a preview of its transition effects like Blur or Zoom, etc.
You may also add a transition to both the beginning and end of your Reels or tap Apply to All to apply a transition to all of your clips with ease.
You may also trim your clips before adding Reels transitions within Instagram Reels.
Step 4
Tap Next to post your Reels.
Alternative: How to Add More Trending Instagram Reels Transitions Online
Well, though Instagram Reels offer you an easy way to do transitions on Reels, for content creators, the 5 Reels transitions do seem a bit too limited, and more importantly, you can't customize the duration and animations of Instagram Reels transitions.
So, a great workaround to add more customizable and trending transitions to Instagram Reels is using FleClip online video maker, with no software download and experiences needed.
Add more customizable and trending transitions to your Reels by FlexClip online
Besides, you may also add royalty-free and
transition sound effects
like whoosh, swoosh, cinematic hit and riser, etc. to take your Reels transitions up a notch and make your Reels stand out from a sea of other content creators.
Step 1
Access FlexClip
and upload your pre-recorded videos and photos from your phone or PC.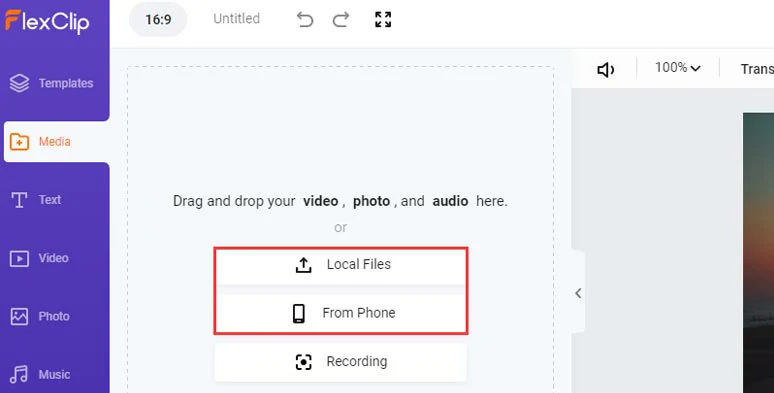 Upload your clips and photos to FlexClip.
Step 2
Set the video aspect ratio to 9:16 to fit Reels' videos and click the Plus sign to add clips/photos to the timeline.
You may drag the slider to trim or split clips for the video moments need or easily adjust their order.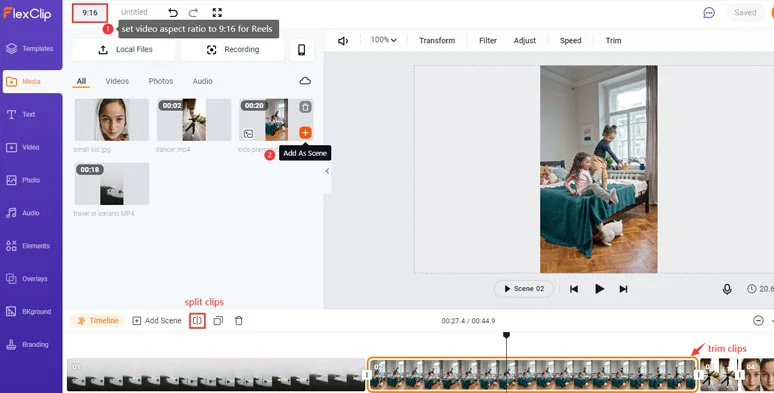 Add clips and photos to the timeline.
Step 3
Add transitions to Reels' videos.
Click the Transition tool between clips > select from 200+ trending transitions like liquid, circle, etc. for your Reels' videos. You can customize the duration, direction, and colors of the transition to your liking.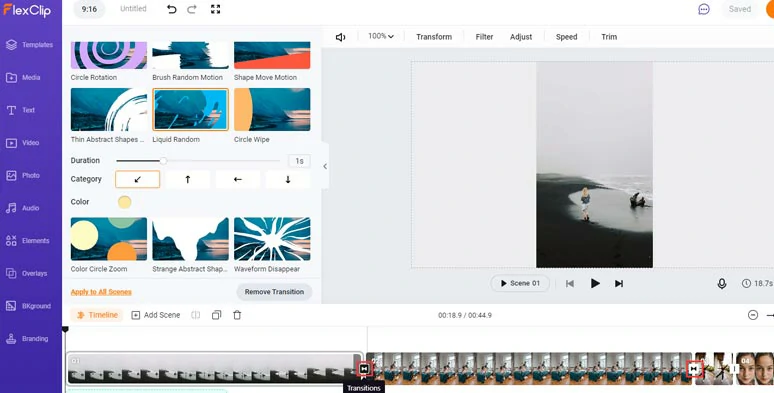 Add more trending and customizable transitions to Reels by FlexClip online.
Step 4
Make more edits. (optional)
You may add transition sound effects like whoosh, swoosh, etc. to accompany the Reels transition effects or add trending text animations like typewriter effects, bounce, glitter, etc. or color-grade your Reels' video with a filter or add GIPHY stickers or apply cool effect overlays like lens flare effects, film grain, etc. to spice up your Reels.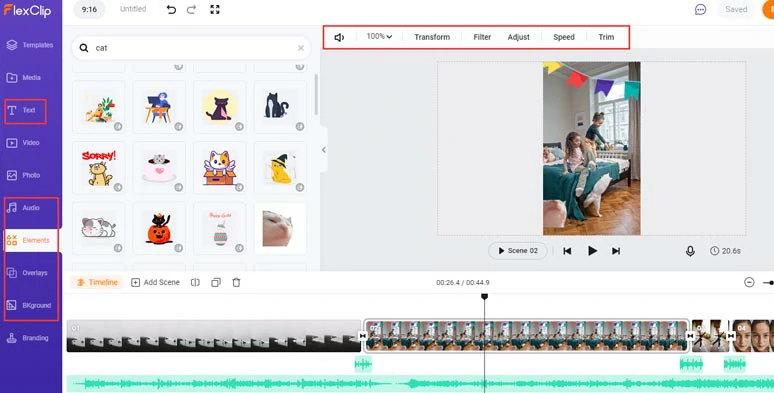 add more video effects to spice up your Reels.
Step 5
Preview and share.
Done with the editing. You can directly download the Reels' video to your PC or share it to YouTube, Google Drive, or Dropbox; a clickable link and embed code are also available for a private share or other repurposing.
Bonus: Create a Reel Using FlexClip's Instagram Reel Templates
Another icing on the cake worth mentioning is that you may also use FlexClip's tons of designer-made and fully-customizable
Instagram Reels templates
and drag and drop your clips and photos to create eye-catching Instagram Reels in minutes.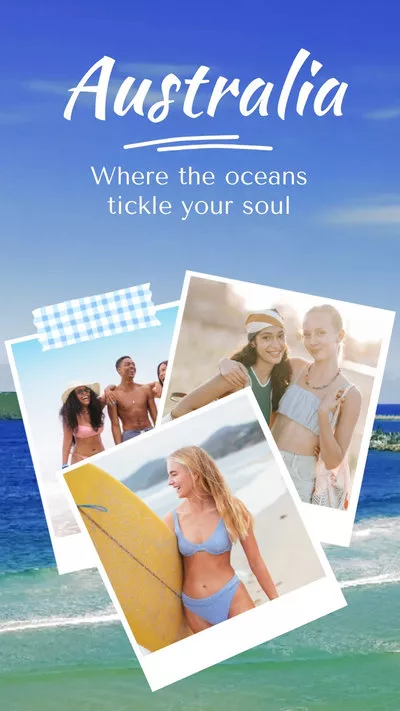 Reels Travel Blogger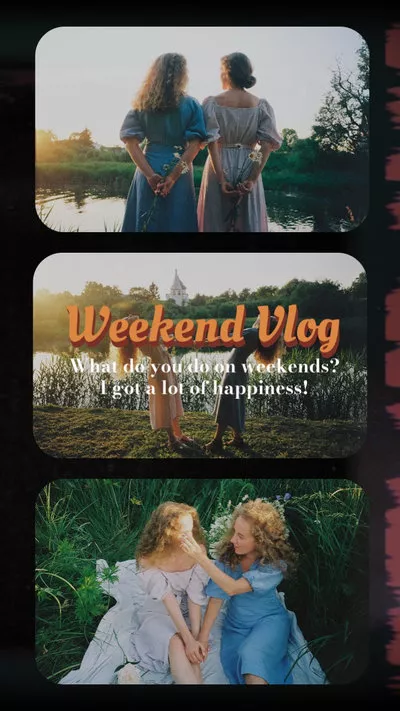 Reels Weekend Vlog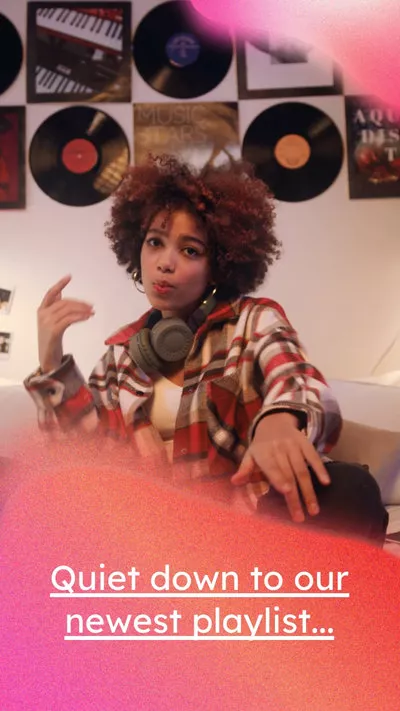 Music Instagram Reels
FAQs about Adding Instagram Reels Transition
1. Why are my Instagram Reels transitions not showing?
If you can't find the Instagram Reels Transition Effects on your Instagram Reels. Here are three solutions you can use:
Solution 1: Go to the App Store or Google Play to update your Instagram app to the latest version and in this way, the cache on your Instagram will also be cleared.
Solution 2: Log out and log into your Instagram again to fix the possible glitch.
Solution 3: Go to Instagram's profile page > tap "three lines" on the top-right corner > Setting > Help > Report a Problem to Instagram.
2. How to make smooth transitions on Reels?
Match the movement with your transition. If the first clip involves a quick movement or a sort of motion blur, then using the quick Spin or Warp Reels transitions would make more sense than using a fade-to-black or blur transition effect.
Serve the purposes. Don't add a transition effect for the sake of transition. Make sure your add transitions either help your storytelling or add emotions or rhythm to your Reels. Otherwise, overuse of transitions only distracts viewers.
3. What are some of the trending Instagram Reels transitions?
Many trending Reels transitions involve recording two clips and trimming and putting them together for a creative transition.
For example, use a hand wipe or switch the camera to create motion blur for transitions, block the camera with hands or any object to change clothes/scenes, spin your head or jump into a bed or a pool to connect two shots, or use match cut to make an object appear and disappear, etc.
4. Are there any Instagram Reel transition songs recommended?
Well, any songs that match your vibes in the Reels can be used for your Reels transitions. What we could recommend are some classic transition sound effects like whoosh, swoosh, hit, riser, pop-up, and wipe sound effects to connect two shots.
Now, It's Your Move
So, that's how you can add transitions to your Instagram Reels. If you find this tutorial helpful, do share it on your Facebook or Twitter with more friends. Hopefully, you can add great Reels transitions to your Reels and grow more views, comments, and followers.