A book report doesn't necessarily have to be in written form or an oral presentation. With a creative twist, you can create a compelling video book report to make your book review far more engaging and entertaining.
So, in this tutorial, we will walk you through how to easily make a great video book report online and offer you tons of actionable video book report ideas. Let's get started, now!
Here is what you will learn:
Why Makes a Video Book Report
Compared with traditional written or oral book reports, a video book report can easily engage viewers with eye-catching images, videos, audio, and animated elements. Whether you are a K-12 student, a teacher, or a booktuber on YouTube, creating a video book report can be a game changer for your book review.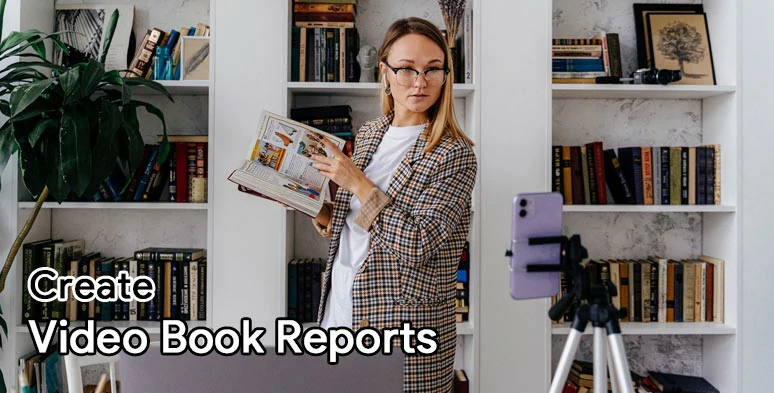 Benefits of creating a video book report for students, teachers, and booktubers.
For Students: Creating a video book report helps you vividly show your understanding of the story of the book and impresses both classmates and the teacher with your creativity incorporated into a well-crafted video book review.
For Teachers: A video book report offers an immersive learning experience for students. You easily hook the younger students' attention and explain abstract ideas in science with vivid images, video, and audio. Besides, a video book report can also be a reading assignment for students to practice their reading and hands-on learning.
For Booktubers: Through the video book report, you can review and discuss thought-provoking books you've read lately and recommend other readers to them. This helps you stay connected with like-minded bookworms and get more likes, comments, and subscribers on your YouTube channel.
Also, read the top 6 online educational video makers.
How to Prepare for a Video Book Report
1. Gather Your Thoughts
Creating a video book report is somewhat identical to writing a book report. First and foremost, you need to cover the following essentials for your book reviews: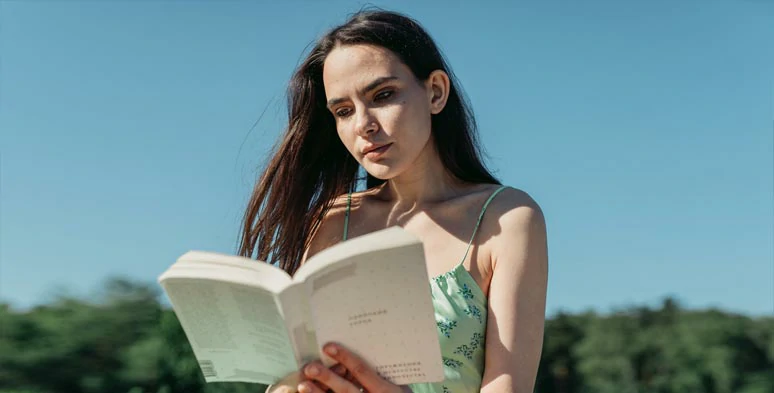 Summarize the book and offer your thoughts and recommendations.
About the book itself: The book's title, author, genre (romance, sic-fiction, history, literary fiction, horror, short stories, autobiography, cooking, etc.), publisher, etc., and more importantly what caught your attention to read it.
Summarize the book: Introduce the settings, main characters, plots, and conflicts of the book.
Offer your thoughts on the book(crucial): You are expected to read beyond the contexts. For example, you may analyze the writer's writing style, and narratives of the story, examine metaphors in the book and explore the writer's intention and discover any plot holes, etc. Preferably, quote from the book to support your points.
Give your recommendation: Who should read this book and offer your explanations.
2. Record the Book Report
Start gathering the images, video footage, and audio related to the book you are about to review. If you plan to record a video of yourself reviewing the book, please pay attention to the following things: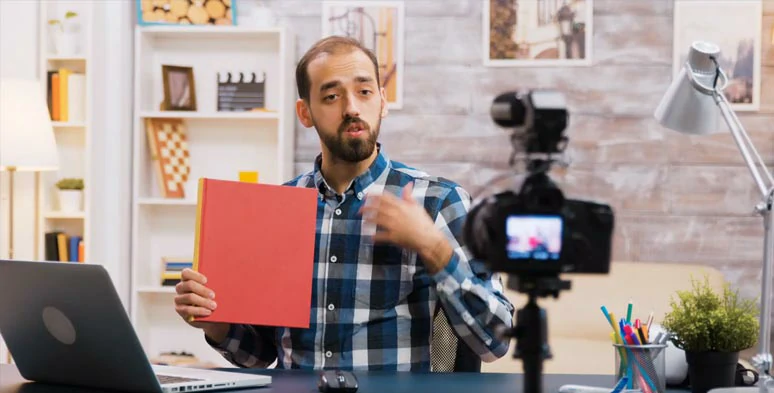 Record the book report at home.
Manually set your iPhone or DSLR, mirror camera to 1080P/30FPS for FHD video quality, and lock the camera exposure.
If you record the video book report alone at home, do mount your iPhone/camera on a tripod for a stable image. With enough budget, you can buy a 6-axis phone/camera gimbal stabilizer with tripod and auto face-tracking mode for easy recording alone. Also, read
how to screen record on Windows 11
.
Having consistent and even lighting is key to a high-quality video book report. Get an affordable ring light to give you the flattering catch light in your eyes. Or face the window to use the natural window light to light up your face. Do avoid overhead, backlight, or light from below unless you wanna look like a Frankenstein. LOL.
Use an external lavalier mic for crisp-clear audio recording. You can clip the lavalier mic onto your shirt or jacket. Nice and dandy!
How to Easily Create a Great Video Book Report Online
Now, you have everything prepared for making a video book report. It's time to edit all the images and footage into a captivating video book report. For students, teachers, and booktubers who are new to video editing, a versatile tool you can use is FlexClip, an easy-to-use, and feature-packed online video maker.
Use FlexClip online video maker to make a video book report.
What makes FlexClip extremely handy for making a video book report is that it offers you plenty of trendy and fully-customizable
book report video templates
. You can easily drag and drop to customize all the video elements to make it yours in clicks away.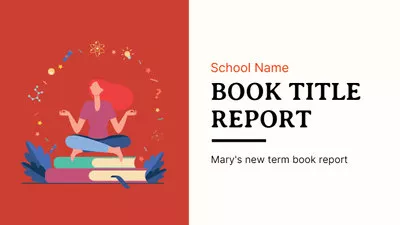 Book Report Sample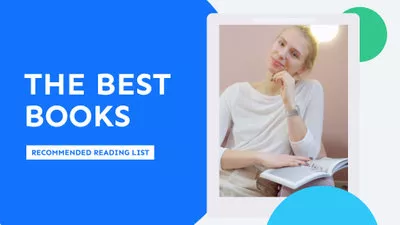 Book Recommendation
Book Review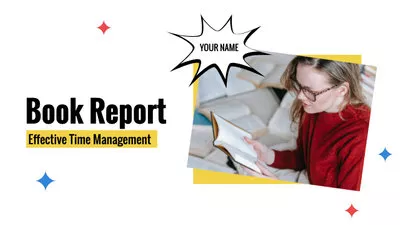 Student Book Report
Then intuitive timeline makes it easy for you to trim, split and merge clips, images, and audio. Besides, you can gain free access to 4M+ royalty-free video assets, including images, videos, music,
sound effects
, GIFs, and dynamic illustrations and shapes, which makes your video edit 10x faster and avoid copyright issues.
In addition, tons of image and
video tools and effects
, such as image background remover, picture-in-picture effect, speed control (0.2x-8x), video transitions, crop mask, screen recorder, video filter, etc. will unleash your creativity for making a well-received video book report.
Step 1
Select a book report video template, preview it and click the Customize button.
Select a book report video template.
Step 2
Upload your video assets to FlexClip from your PC or phone.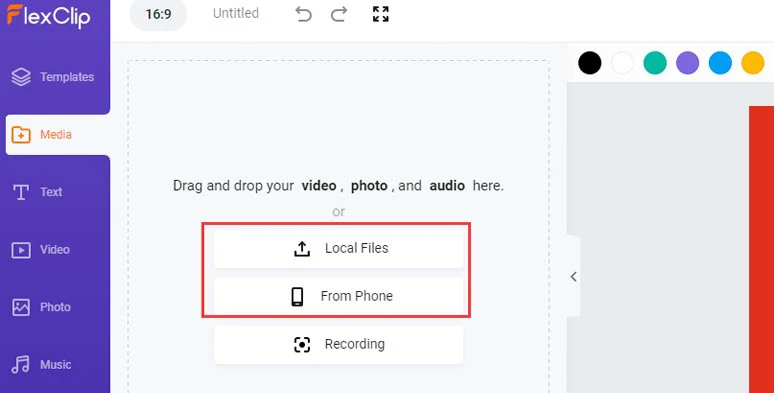 Upload your footage and images to FlexClip.
Step 3
Drag and drop your images and videos to replace the default video background or images. Then you can add all the clips to the timeline. Trim and split clips for the video moments you want and adjust the sequence of clips for the rough cut. If you need more templates, find them in the Template tab on the top left corner.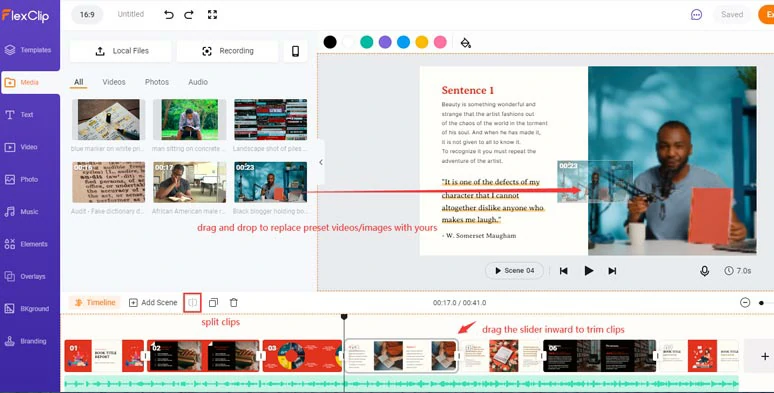 Drag and drop to replace premade videos and images with yours and do the rough cut.
Step 4
Customize the text and animation: Double-click the pre-made texts > type in your words > customize the text font, styles, color, size, opacity, layer, and text animations, such as typewriter, fade, glitter, etc. In the Text tab, you can find more call-to-action text animations and text titles like speech bubbles, quotes, and callout titles for your book report.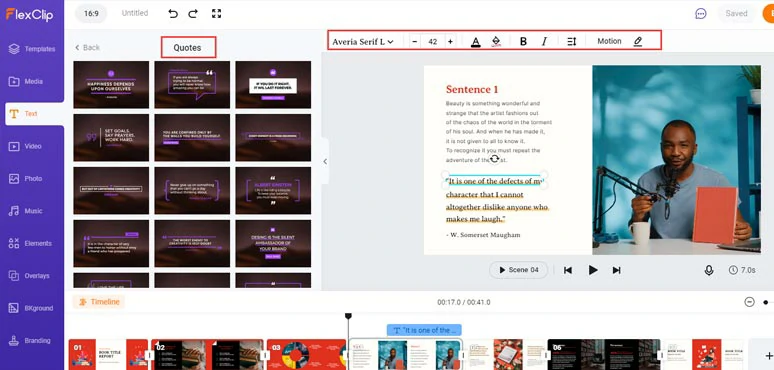 Customize the texts, text animations, and styles.
Step 5
Spice up the video book report: Click the picture-in-picture tool to add a clip or image for your presentation and set its animation and duration on the timeline; add a liquid video transition between two scenes; Click the Elements tab and add decorative and dynamic shapes, illustrations to add interests to your video book report, etc.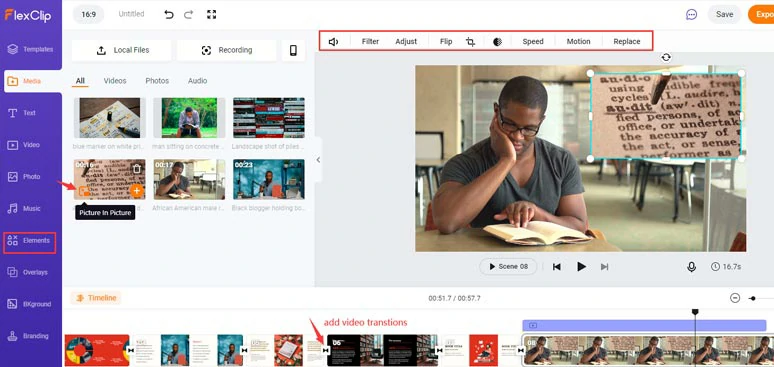 Spice up the video book report with picture-in-picture effects, transitions, etc.
Step 6
Add royalty-free music and sound effects: Click the Music tab and add multiple layers of music and sound effects to evoke the emotions and vibes that fit your book and introduction.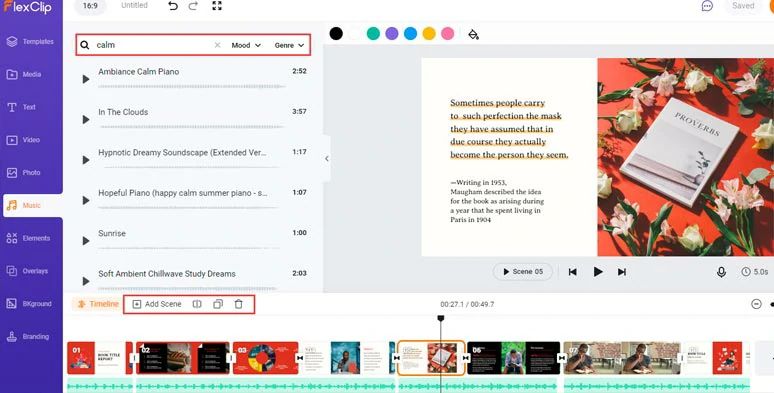 Add multiple royalty-free music and sound effects to your book report.
Step 7
Preview and share: Click the Export button to download the video book report to your local PC or directly share it to your YouTube channel, Google Drive, or Dropbox; or you can use the clickable link to get feedback from your friends; an embed code is also available for your blog.
8 Creative Video Book Report Ideas You Need
Knowing how to create a video book report online is one thing; Making it stand out from the crowd is another, esp. on YouTube.
So, here we would also like to share you with some of the most trendy video book report ideas mastered by one of the most charismatic booktubers—Jack Edwards, who has 1M+ subscribers on YouTube so far and is definitely a mentor for your video book reviews or book reports.
Jack reviewed all 164 books he has read in 2021. Each book with one sentence.
Here are some of the actionable video book report ideas you can use: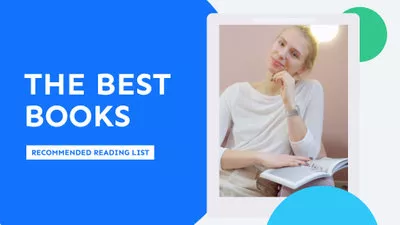 Book Recommendation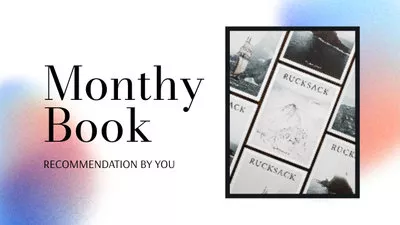 Monthy Book Recommendation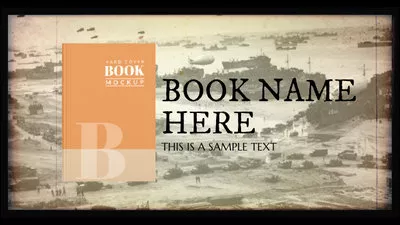 History Book Ad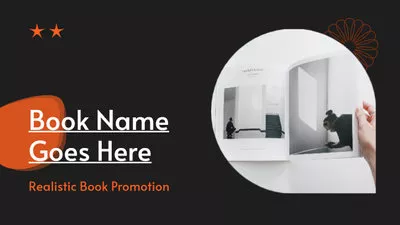 Book Promotional Video
Review all the books you've in a week/month/year.
Review multiple books in the same genre like crime and mystery, etc.
Use Numbers to review your book: a great example is "Review 10 books in 10 mins".
Review books recommended by celebrities like Bill Gate, Adele, Taylor Swift, etc.
Even review books read by strangers on the train or in the cafe.
Review books recommended by Instagram, TikTok, YouTube, Google, etc.
Join a book club and review their books.
Review multiple books in a specific region or country like Asian books.
Now, It's Your Move
Creating a video book report is a great way to share your thoughts on interesting books you've read lately with better engagement. Hopefully, you can create a compelling video book report with the help of FlexCLip and the tips and video book review ideas we've mentioned. If you find this helpful, don't forget to share it with friends on Facebook and Twitter and leave your comments for us. Much appreciated!