Nowadays, the use of educational videos is an effective way for teachers to enhance students' learning experience. With animated texts, vivid images, audio, and videos combined, teachers can easily introduce the classroom rules to kids, explaining abstract concepts or making presentations through video learning.
So, in this post, we've rounded up the top 6 online educational video makers and will walk you through their interface, educational video templates, editing features, and ease of share and pricing to help you make the best choice, plus offering you actionable strategies to create engaging educational videos for YouTube and promo.
Education Course Promotion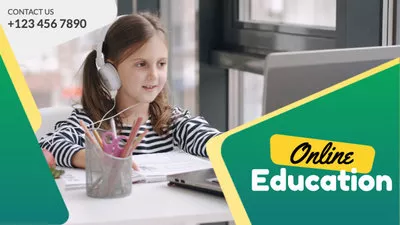 Online Education Promotion
Here's What You Will Learn:
Also, read the 7 best animated text generators online.
1. FlexClip
Well, although you are an expert in teaching and learning, when it comes to video editing, many might feel overwhelmed. No worries! As the top-recommended online educational video creator, FlexClip helps you strike a perfect balance between putting your thoughts into an engaging educational video and ease of use.
Interface of FlexClip
Create educational videos with FlexClip online educational video maker.
The aesthetics of the video editor is fully illustrated by FlexClip's minimal and user-friendly interface. Even if you are a newbie to video editing, you can easily upload clips/images/audio/GIFs to FlexClip, and navigate yourself to free educational video templates, text images, audio, and branding tools on the left sidebar, while the intuitive timeline below makes it easy for you to trim, split, merge clips, audio files, and text animations, etc.
Diverse Free Educational Video Templates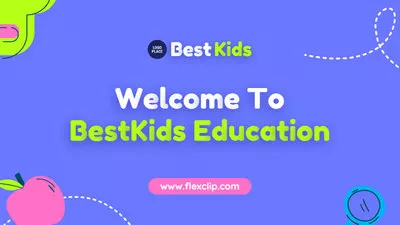 Education Agency Promo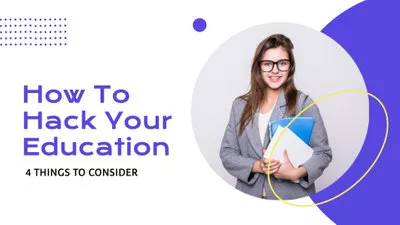 Secret Education Hacks
Online School Enrollment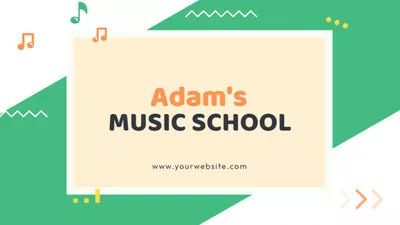 Music School Promo
You can select from 200+ stylish and custom educational and training video templates and easily drag and drop your videos/images to replace default video elements to create captivating educational videos in clicks way.
All the text animations, fonts, color schemes, dynamic elements, animation, music, styles, etc. are fully customizable. It saves you tons of valuable time in preparing your video presentations.
Text, Video, Photo, and Audio Editing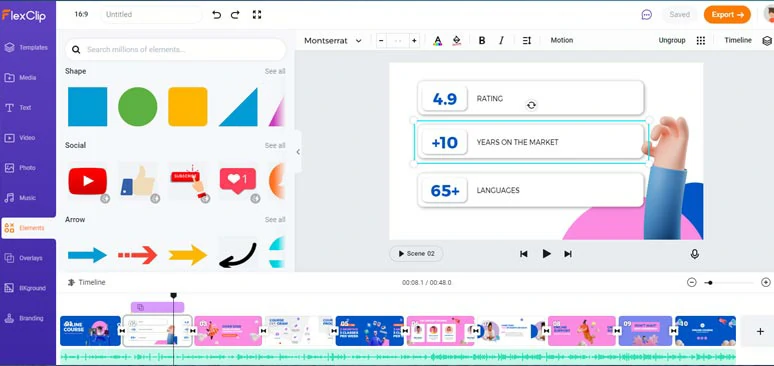 Edit clips, images, and audio files by FlexClip
You can click the Text/Video/Photo/Music tab on the left sidebar to add multiple elements (3M+ video assets) you need in the video. While drag and drag the slider on the timeline to trim its duration. The detailed parameter will appear above the video for customization.
In the Elements tab, you can use a crop mask and video frame to crop videos and photos. or use animated arrows, shapes, and other dynamic elements to draw students' attention to the educational video.
What makes FlexClip stand out from the crowd is that you can edit and playback your edit and export the final video project without feeling laggy through our real-time test.
Besides, powerful AI video tools, such as, text-to-speech generator, auto subtitle generator, image background remover, and video-to-audio converter come in handy in adding realistic AI voices with auto subtitles for your educational videos and save you tons of precious time.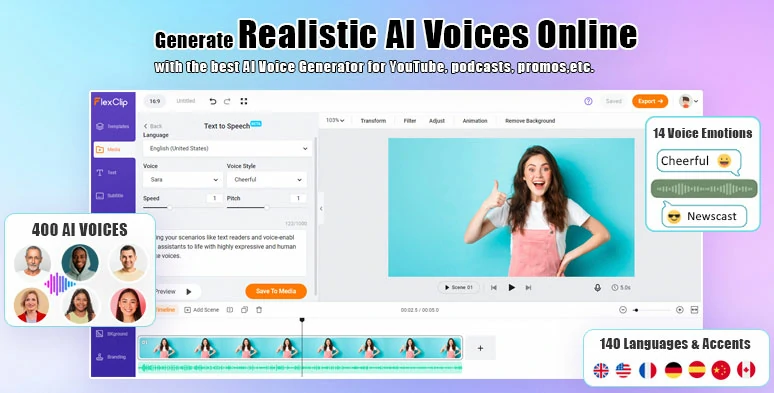 Create realistic AI voice for your educational video with FlexClip's text-to-speech generator.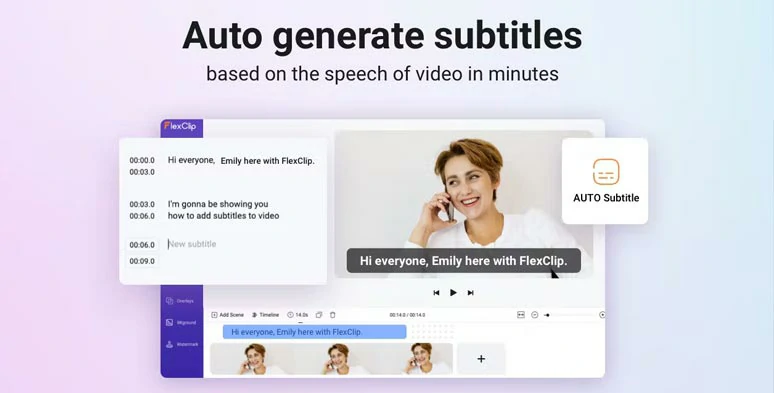 Automatically add subtitles to your educational video with the click of a button.
Meanwhile, picture-in-picture feature, video speed controls (0.2x-8x), screen and webcam recorder, 74,000+ royalty-free music tracks and sound effects, 200+ trending transitions, 300+ effect overlays, etc. will fuel your creativity for making a captivating educational video for YouTube or other social media.
Add royalty-free music, sound effects, trending transitions, and other video effects to educational videos.
Video Sharing
Done with the editing. You can directly download the video to your local PC. Or share it to your YouTube channel or save it to Google Drive, One Drive, Dropbox or TikTok, or use the clickable link to share it with your students. The auto-generated embed code can be added to your blog.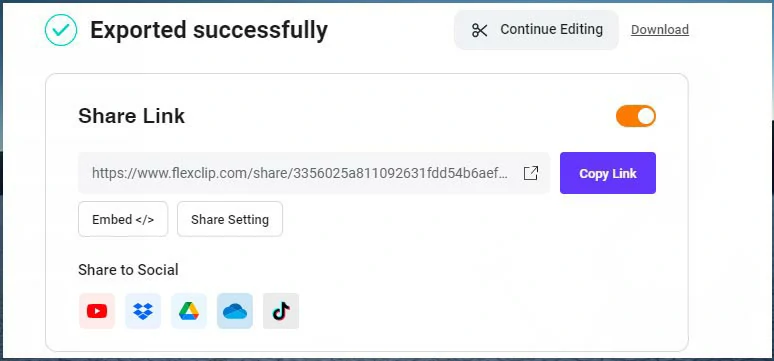 Multiple ways to share and repurpose your educational videos.
Pricing
Done with the editing. You can directly download the video to your local PC. Or share it to your YouTube channel or save it to Google Drive, or Dropbox, or use the clickable link to share it with your students. The auto-generated embed code can be added to your blog.
Billed annually: $5.99/mo (basic); 9.99/mo (plus); $19.99/mo (business).
2. Renderforest
Creating animated education videos has been another popular way to capture students' attention for teachers teaching K12 students. If you plan to make whiteboard animated education videos without the hassle of learning pro software, Renderforest can your savior. Check the top 8 whiteboard animation makers.
Interface of Renderforest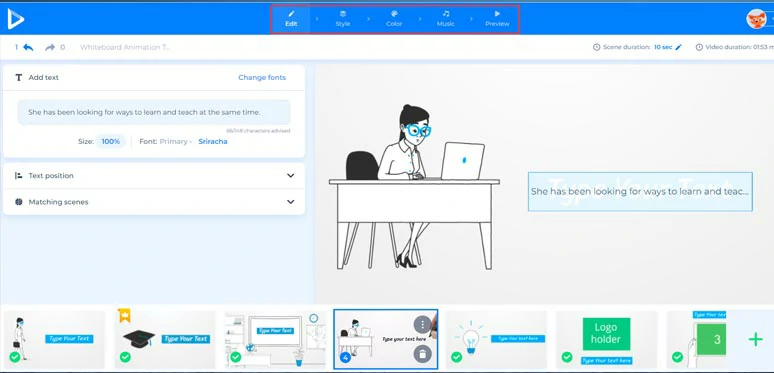 Make whiteboard animated educational videos with Renderforst online.
Renderforest offers you an easy-to-use storyboard interface for adding, replacing, and deleting the video scenes. You can follow the workflow of Edit, Style, Color, Music, and Preview to create a whiteboard animated educational video in no time.
Education Video Templates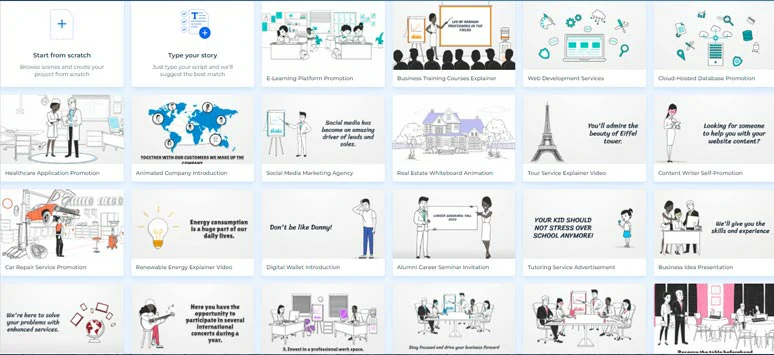 Diverse whiteboard animated educational video templates of Renderforest.
With 450+ ready-made whiteboard animation scenes, Renderforest offers you an easy way to create decent animated educational videos with learning pro software like Adobe After Effects.
By clicking the Plus button, you can select casual, corporate male/female characters, and different themes of animations, such as healthcare, problem situations, sport, fitness, etc. The scene switch was made easy.
Although the hand-drawn animation is not that precise with the showing of animated characters and props, it works perfectly for a simple whiteboard animated educational video. And the animated characters and scenes are more of business educational videos.
Text, Video, Photo, and Audio Editing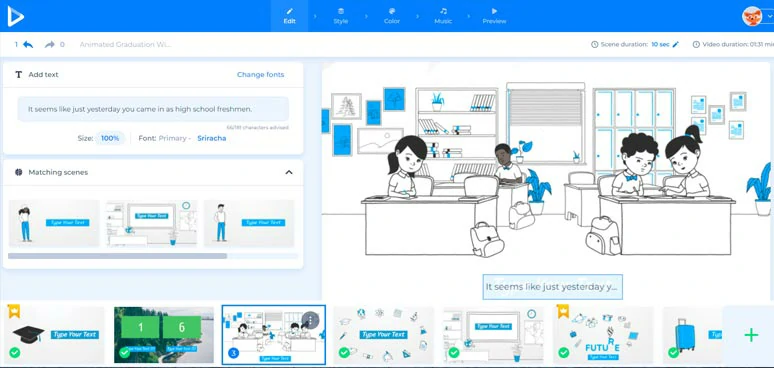 Edit whiteboard animated educational video templates of Renderforest.
In each animation scene, you can type in your texts, adjust fonts, and text position, or replace them with another scene. If you don't like the whiteboard animation, you can set it to paper cut style or customize the color scheme or add music to it.
As you hover over an animated scene, you can get a preview of it. The only drawback is the text position is not fully customizable and you only have premade font to use if you are not the subscribed user with one piece of music. If you want to preview the final animation video, the rendering speed is somewhat slow.
Video Sharing
Only support local video download on your PC.
Pricing
Annual subscription: $9..99/mo (lite); $14.99/mo (pro).
3. Animaker
Well, if you want your animated educational videos with more colors, styles, and controls of everything, Animaker should be your man. As a professional animation video maker online, Animaker allows you to customize the movements, facial expressions, clothes, skin color, and hairstyle of an animated character and even do audio-lip syncing. That's amazing.
Interface of Animaker
Create animated educational videos by Animaker online.
Animaker offers you both Full (timeline) and Lite (basic storyboard) interfaces to edit all the animated elements and you can switch between mode editing modes without any trouble. The video assets and tools are on the left menu, such as animated characters, props, text, background, photos, and videos. While the detailed edits are done on the intuitive timeline.
Education Video Templates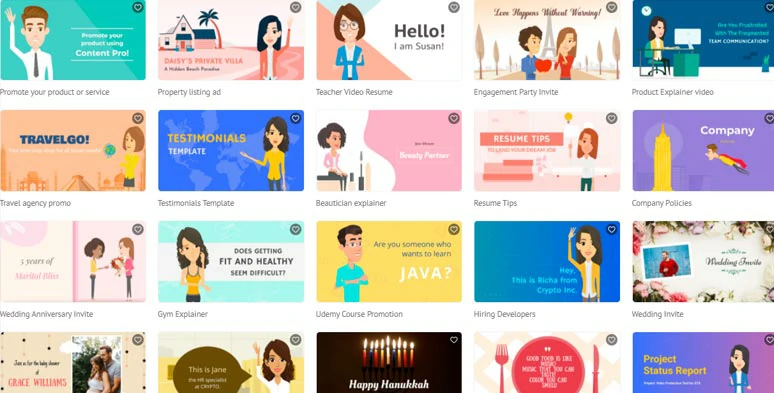 A wide array of animated video templates available in Animaker.
Like Renderforest, although most of the educational video templates Animaker has are related to business explainer videos, you can have no trouble customizing it an educational video for your students. Most of the animated video templates feature harmonious and vibrant colors and lovely scenes and are extremely engaging to viewers of all ages. It's easy to see that many animated how-to videos on YouTube were made by Animaker's video templates.
Text, Video, Photo, and Audio Editing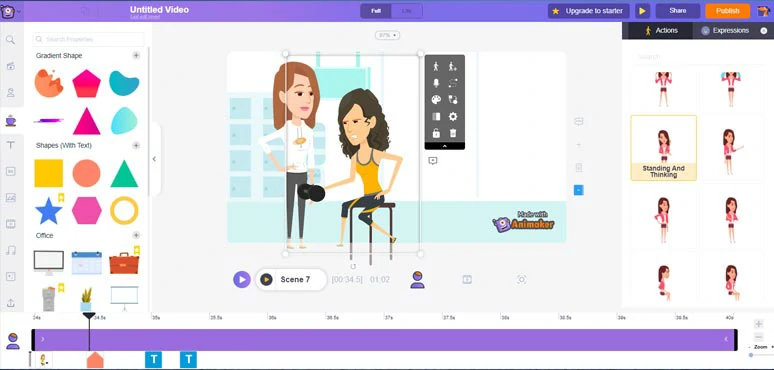 Edit animated characters by Animaker.
After you select a video template, you can click an animated character on the timeline and set its action, facial expression, body movements, and enter/exit effect. You may also add a new character from the left character menu.
You may also record your voiceover, do text-to-speech or upload your voiceover onto the timeline as well. video fonts, video background, and tons of decorative shapes, props, and music are also available. Even if you are the first-timers to Animaker, you have no problem using its intuitive interface for editing. Pretty impressive.
Video Sharing
Animaker supports direct download of the video to your local PC and also offers you a link for sharing. Besides, the share on Facebook, Twitter, and Reddit is also available. The only drawback is that the download speed of the final video is slow.
Pricing
Annual subscription: $10/mo (basic); $19/mo (starter); $49/mo (pro).
4. Moovly
Nowadays, teaching and learning are no longer teacher-centered. If your school advocates flipped classrooms and you need to create video assignments or revision videos for students to watch at home, the Moovly, with custom educational video templates, can do you a great favor.
Interface of Moovly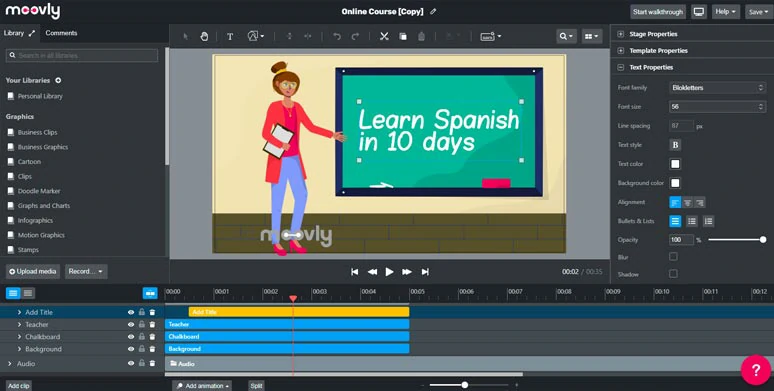 Edit educational videos by Moovly online.
Of all the 6 online educational video makers, Moovly has the more complex UI. Overall, you have all of the video assets such as image, video, and audio on the left library panel, then the central stage is where your video is displayed. Down the bottom is the timeline for video edits. To the right is properties where you can fine-tune the details of every element in the video.
Education Video Templates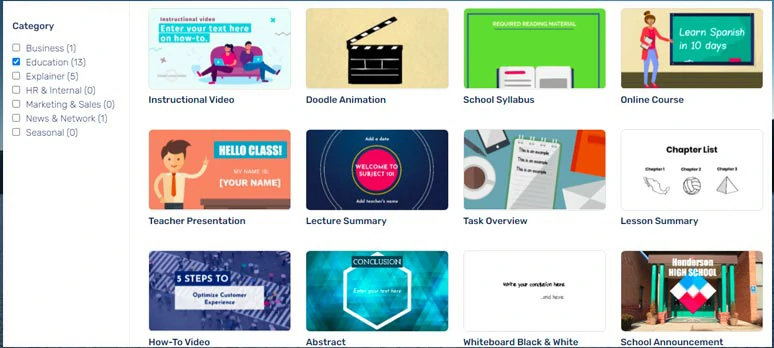 Educational video templates of Moovly.
Although there are only 13 educational video templates in Moovly's video template category, each video template is specially designed for teachers, such as school syllabus, lesson summary, task overview, lecture summary, etc.
As you edit an educational video template, you can use the share button to invite another teacher to give you feedback, which is exceedingly useful for teamwork in a school.
Text, Video, Photo, and Audio Editing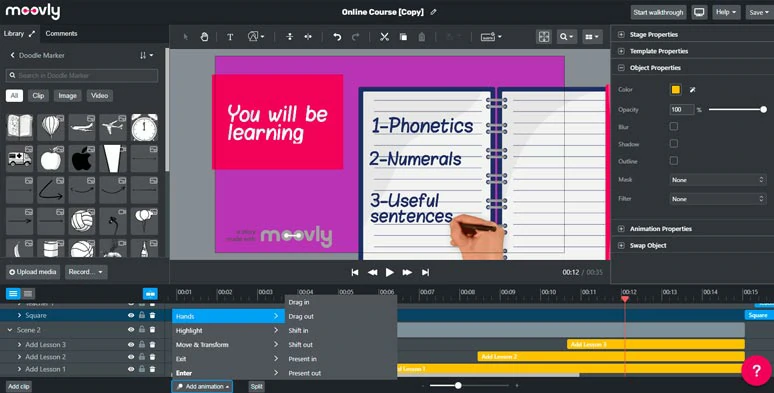 Edit text animations and other elements by Moovly.
On the left library panel, you can add video/image/audio files to the timeline. The built-in screen recorder also allows you to record your voiceover, your screen, or yourself by the webcam. You can reposition the object and adjust its opacity in the property panel on the right.
Above the stage or video display, you can add text, and shape for math lessons and set color, fonts, etc. On the timeline, you can drag and drop to adjust each element's duration, add animations, including a hand animation for the text object, etc.
A useful feature is that the text, audio, image, and video files can be grouped easily in different scenes. However, due to the complex UI, you do need to get used to it for a while.
Video Sharing
Moovly supports direct MP4 and MP3 download to your hard drive on a PC. There are ways to share the video to Facebook, Google Drive, HubSpot, Instagram, OneDrive, etc.
Pricing
Billed annually: $24.92/mo (pro); $49.92/mo (max).
5. Canva
If you want to grab students' attention with high-end color schemes and image design in your educational videos, the prestigious Canva has the know-how and tools you need to make it happen.
Interface of Canva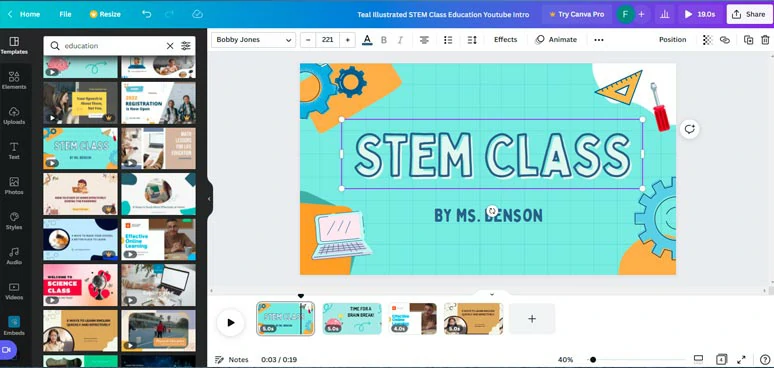 The clear and minimal interface of Canva.
As one of the world's leading graphic design platforms, Canva never lets you down with its simple, consistent, and intuitive interface. All the main features such as templates, elements, text, photos, styles, audio, video, embed, etc. are perfectly aligned on the left menu. You can easily find the scene, and video assets you need. Awesome!
Education Video Templates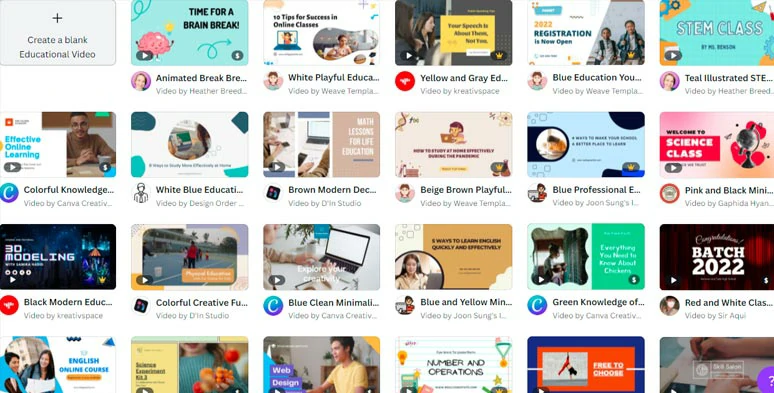 Canva's educational video templates for YouTube.
Unlike Moovly, most of Canva's educational video templates are made for YouTube intros, such as welcome to science class, stem class, etc. So, you can combine different templates within its video editor to edit into a coherent and consistent educational video.
Text, Video, Photo, and Audio Editing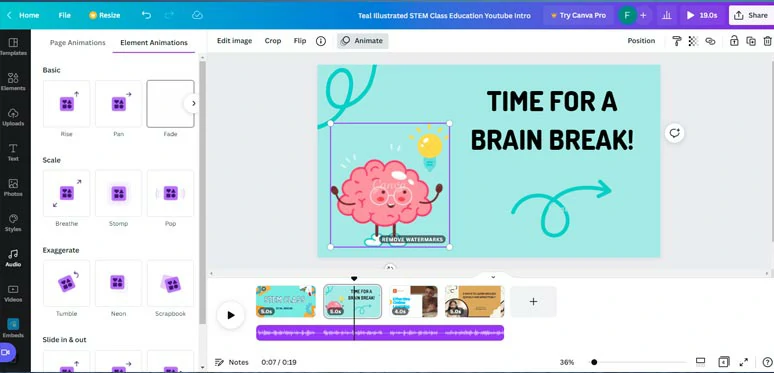 Animate objects and add music by Canva.
In terms of tex animation design, Canva and FlexClip share many similarities, both enjoying tons of trending text styles and animations. However, Canva can't change the video speed.
What we like Canva is that it offers you loads of color palettes and font sets, which is quite useful if you don't have design experience and are being torn apart by which color schemes or fonts to choose from.
Besides, picture-in-picture effects and adding multiple music to multiple clips are also available. The only drawback is many of the audio assets are not royalty-free.
Video Sharing
Canvas offers a wide array of choices for video project sharing. Direct download as MP4; share the video with an individual, a group, or a team who are using Canva; or share it to Facebook, IG, TikTok, Twitter, Google Drive, Dropbox, Microsoft, etc.
Pricing
Billed annually: $119.99 (up to 5 people).
Enterprise: $ 30/mo (per person).
6. Biteable
The last but not least option we recommend is Biteable online educational video maker. Like many of the video makers mentioned above, Biteable offers computer novices a hassle-free experience to create quality training videos in minutes.
Interface of Biteable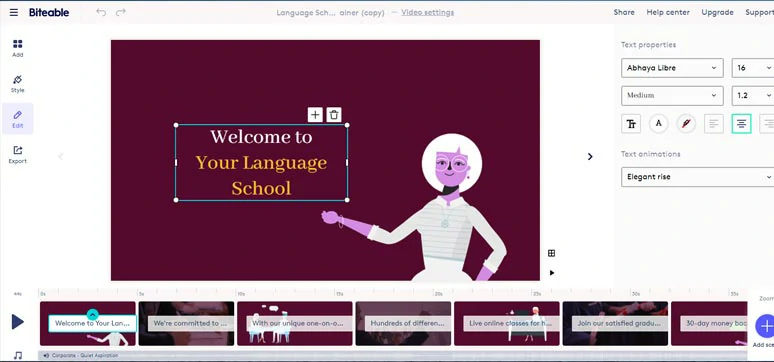 Create educational videos by Biteable.
The video editor of Biteable looks pretty similar to that of the Renderforest mentioned above. You add video assets, set the tone of your styles for the video, edit details of clips, images, and audio and finally export the video. Simple and fast.
Education Video Templates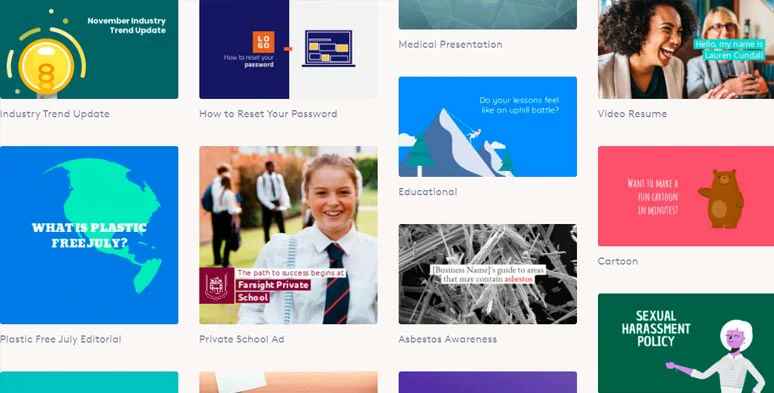 Education and training video templates of Biteable.
As the Biteable has become more of a video booster for business teamwork and video marketing, most of her educational videos are about explainer videos for business, charity, presentations, etc. So, just pick one and upload your video assets to edit it into an educational video for your lessons.
Text, Video, Photo, and Audio Editing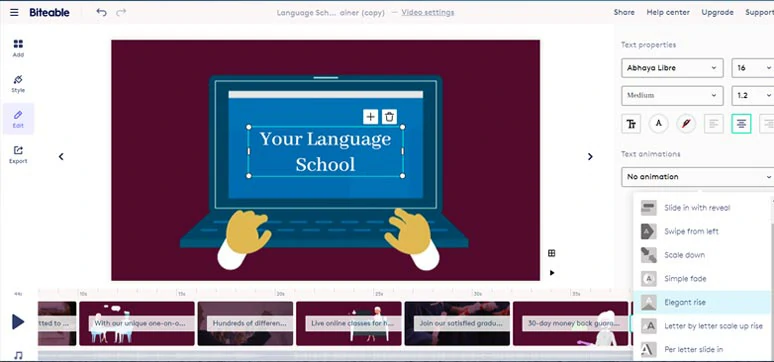 Animate texts in the video by Biteable.
Click the premade text, you can set its fonts, color, color background, size, and text animation. Or drag the slider to trim the video duration and add transitions between clips.
However, one thing we've found is that there is no way to add another video as a video overlay or add multiple BGM as well and the animated characters are not fully customizable as Animaker does. So, Biteable is more for a simple video project.
Video Sharing
Biteable supports MP4 video download and share links, and embed code. You may also share it on Facebook, Twitter, YouTube, and LinkedIn.
Pricing
Billed annually: $49/mo (individuals); $249/mo (teams).
Bonus: 6 Strategies to Create Compelling Educational Videos
Have a clear teaching objective. Make it clear what is the purpose of this lesson in this video, such as discussing an algebraic equation, or how to correctly use the comma. So, you won't drift off-topic as you create the video.
Know your students. You need to foresee what students may be interested in most, what questions they may raise, and which parts of the video might be most difficult for them to understand, etc., and prepare accordingly.
Keep the video short. Research suggests that there will be a significant drop in students' attention after they watch an online video for more than 6 minutes. In other words, a shorter video is more engaging to students than a longer video.
Encourage proactive learning
. You may design tasks and
quizzes
like gap-filling or matching games for students to reflect on what you've taught minutes ago and this is also a great way to check their understanding.
Make it easier to read. Use a different color, font, or style to annotate key information; pay attention to the alignment of the texts (left-aligned or center-aligned); use visual cues like diagrams, arrows, and images to better explain an abstract idea.
Personalize your teaching video. Facts have shown that students are more likely to be drawn to educational videos that are humorous, authentic, and bear teachers' unique character and style.
Now, It's Your Move
So, take time to create an educational video like a revision video yourself with any of the online educational video makers recommended above. And share this post with friends on Facebook or Twitter and tag us to tell us which one works best for you. Hopefully, you enjoy our article and can create original and engaging educational videos soon.