Whiteboard animation has been with us for quite some time now but has only improved over time. The whiteboard animation use to be a human hand drawing on a whiteboard, but with subsequent modifications, it degenerated into many styles, designs, and patterns. This type of animation has grown to become a popular way of communicating complex information to your audience because the graphics that comes with it made it extremely easy to understand. The quality of the animation will come out depending on the settings you gave it, if it is done right, it will sure reflect on the outcome.
There are many reasons why people take to whiteboard animation, the major reason is its simplicity in churning out information. It has this descriptive graphic way of explaining things and making it very explanatory. To further prove the simplicity that comes with this animation style, it still passes its message even in the absence of sound. Whiteboard animation is better used for any descriptive product preview. It is often needed by digital marketers and product managers when introducing a new product line hence, it's descriptive-analytical graphics.
The Top Online Whiteboard Video Makers You Can't Miss
There are many online whiteboard animation tools out there, all you need to do is to make your pick according to the standard of video you want to produce. Below, we have listed some top-performing whiteboard animation makers out there. But mind you, there are not all that is, rather, they are the most recommended based on popular reviews.
1. Videoscribe
After its launch in 2012, Videoscribe, created to provide quality animation for its users, has continued to help advertisers, video content creators, etc. create amazing animation styles at an instant. Unlike the conventional animation tools like Pencil2D, it comes with more analytical graphic displays, which made it a perfect tool for marketers who wish to explain their new product to their prospective clients. Even with the large features, it is still easy to wrap your head around it. Some of its features include Premium images, Import music & fonts, Work offline, Save project online, etc. Videoscribe is not free, it costs $29 to acquire, no watermarks, and yes! You can find it online.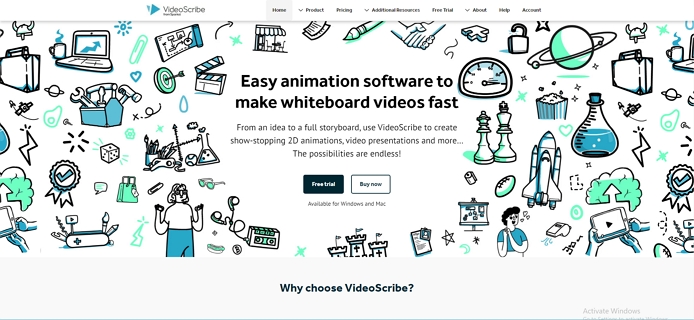 Image Board: Best Whiteboard Animation Video Makers - Videoscribe
2. Renderforest
Renderforest is another reputable online whiteboard animation tool with appealing features. Aside from the animation section, it is also recommended for branding tools, creating high-quality logos, graphics, and quality videos. You can't really compare this tool with the conventional whiteboard animation tools like Doodley and its likes. Unlike its counterparts, Renderforest is a great tool for brand designers, logo designers, and graphic designers. Aside from its interesting features, it also comes with many interesting styles and logo designs. Again, it is very easy to use, and everyone can access it free on the app store. But mind you, you will have to battle with watermarks.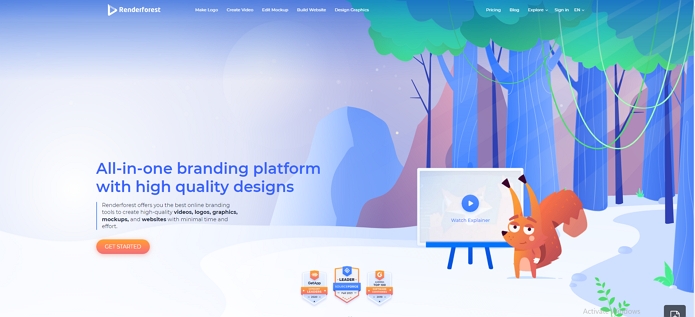 Image Board: Best Whiteboard Animation Video Makers - Renderforest
3. Animaker
Launched in 2017, and used by over 10 million people, this whiteboard animation online tool is really breaking grounds. Not your regular whiteboard animation tool, Animaker went a bit off the book by creating a DIY-like animation video maker. Unlike the usual animation tool, the Animaker brings to the table a studio-like presentation tool that can be accessed by anyone, from any location. This tool is very much recommended for product presenters, instructors, and marketers. Like others, it comes with interesting features like Animaker Class, Video Maker, etc. Animaker is free, but expect a watermark moniker.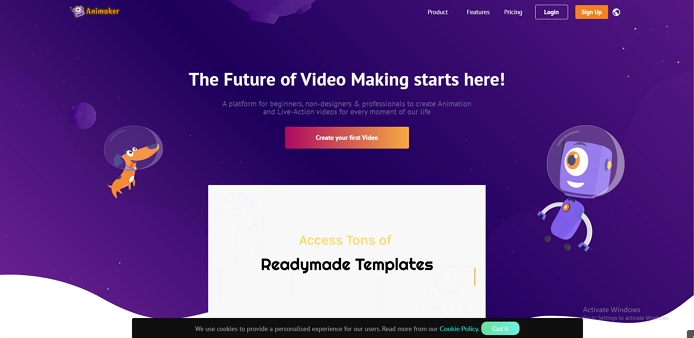 Image Board: Best Whiteboard Animation Video Makers - Animaker
4. Doodly
Doodly is not like every other Whiteboard animation video maker. Here, it gives you the opportunity to be creative thus, its name, the "a tool for the creative hands." While other tools are trying to integrate more sections in their tool, Doodly focuses more on whiteboard animation videos, creating new ways to create whiteboard animations. Doodly has both monthly and annual payment options. The monthly package comes in two options: Standard $39, and Enterprise $69, the annual package goes for Standard $20, and Enterprise $40. This tool is strictly made for product promoters, marketers, and brand developers alike. This is an online tool, and you don't have to worry about watermarks.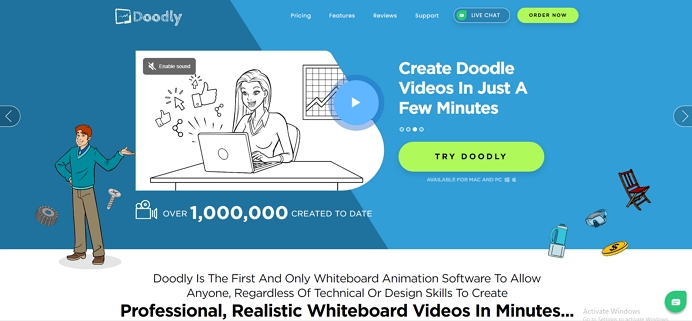 Image Board: Best Whiteboard Animation Video Makers - Doodly
5. Vyond
This is said to be the most expensive video tool you can get on the internet. Unlike others, Vyond is cloud-based and gives users the opportunity to create quality videos, GIFs, whiteboard animation videos, and lots more. Some of the most interesting features of this video include Studio (where you can create the finest video content), Template Library, Training and eLearning, Marketing, and lots more. Vyond charges as much as $299 annually for the Essential package, $649 yearly for Premium, and $999 for the Professional package. But they also offer users the opportunity to explore using their try trial section.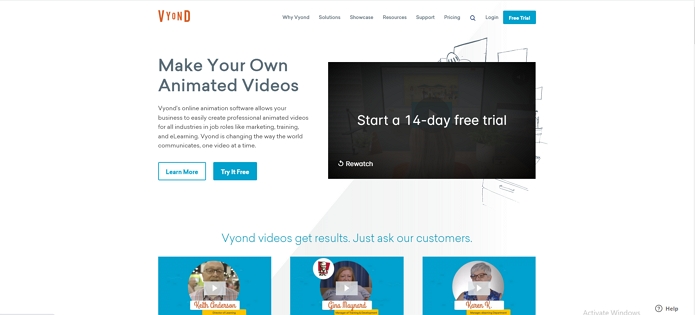 Image Board: Best Whiteboard Animation Video Makers - Vyond
6. Adobe Animate CC
Adobe Animation is an offline tool designed to work as a computer animation program and is produced by the famous Adobe Inc. It is deployed in the creation of graphics, TV series, game development, etc. Today, both advertisers and marketers are leveraging this tool to create descriptive whiteboard animation videos. Compared with other tools, the Adobe Animate CC is the most sophisticated video maker in the industry and has a way of solving one problem or other for each of them. Because of its sophisticated designs, one can barely mention all its features, but the major ones include VR authoring and publishing (Beta), vector and bitmap deformations, texture publishing for HTML5 canvas, layer parenting, and lots more. Adobe Animation is free and doesn't come with a watermark.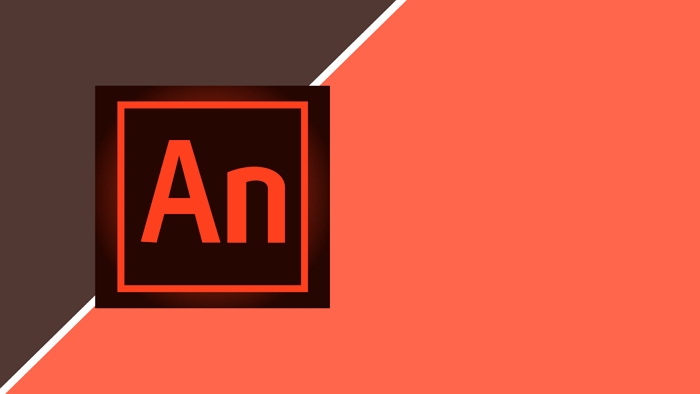 Image Board: Best Whiteboard Animation Video Makers - Adobe Animate CC
7. Animiz
This has been named as one of the best business solution tools. It is also good at making an interactive business presentation and animated video alike, and that includes a whiteboard animation video. Animiz is free and can be used while offline. Some of the unique features of this tool include a 10G Cloud Storage, 8 Built-in Roles, 5 Scenes per Project, 2 Backgrounds per Scene, and lots more. Animiz is a paid tool but has a free version. The pricing ranges $29 Monthly for the standard package, $299 yearly for Professional, and $999 one-time payment for the Enterprise package. The paid version doesn't have a watermark on it.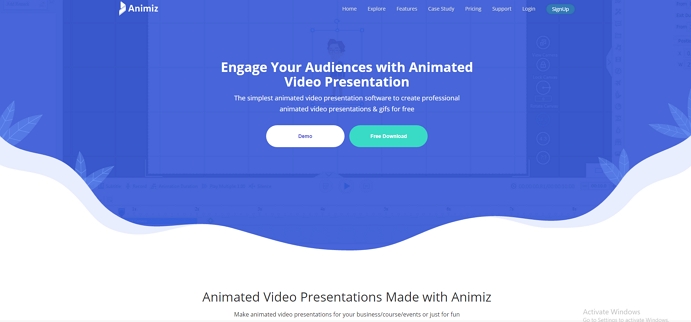 Image Board: Best Whiteboard Animation Video Makers - Animiz
8. Easy Sketch Pro
This tool has 12 different styles of brush, it is yet another offline whiteboard animation video maker designed with the most easy-to-use function. This tool charges €2.09 before download and is used by over 55,000 people. This tool is designed mainly for digital marketers, business presentation experts, and lecturers to help them make a descriptive, comprehensive presentation to their audience. This tool can be compared to Doodly considering the number of brushes present. Again, you don't have to worry about watermarks 'cos there won't be any.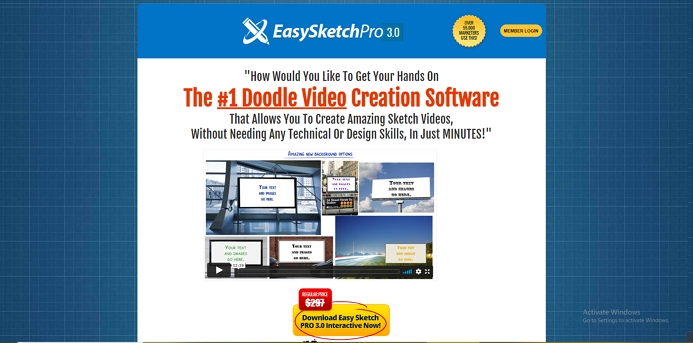 Image Board: Best Whiteboard Animation Video Makers - Easy Sketch Pro
In Conclusion:
The Whiteboard video maker is here to stay, its impact on its audience is better imagined. It is a good thing that developers are working round the clock to find better ways to augment this tool, and in time to come, it will serve a greater purpose in areas of marketing, presentation, teaching, etc. For all industries. We also urge you to look up for better video editing skills that can serve a greater purpose for the entire industry. Finally, go ahead and share this video if you find it interesting, you never can tell whom you are helping out there.