Hilarious and punchy, animated GIFs are a popular means to express our emotional response, ideas, and tell a joke when words won't do. We use GIFs for mobile messaging, add them to videos to create funny visual effects, and even post GIFs for promo in E-mails or on Facebook or Instagram, etc.
While making a looping animated GIF couldn't be easier these days. In this post, we will walk you through a perfect way to easily create an eye-catching animated GIF online and offer you 4 other free and valuable sites to harvest animated GIFs of all kinds for your needs.
Here's What You Will Learn:
How to Make an Animated GIF Using FlexClip Online GIF Maker
Apart from merging a stack of images to make an animated GIF in Photoshop, nowadays, an easy and quick way to create an animated GIF is by using an existing video or free online GIF assets and edit them to make it yours.
To that end, our top recommendation, which is arguably the most flexible option we believe, is using FlexClip, a free and feature-packed online GIF maker that can help you create high-quality and captivating GIFs with just a few clicks.

Free and powerful FlexClip GIF maker
Here are the major benefits you may enjoy using FlexClip to make a GIF:
Since FlexClip is integrated with GIPHY's GIF assets, you can easily look for the trending GIFs from GIPHY within FlexClip for your creation, which saves you tons of time.
Tons of versatile tools like
trimmer
, in and out effects, animated texts, customizable fonts, video filter, dynamic elements, etc. will get your creative juices flowing.
It's watermark-free and there is no software to install.
So, now, let's take a closer look at how to make an animated GIF using FlexClip in two popular ways:
Use Video Assets to Make an Animated GIF
A "laughing out loud" GIF made by FlexClip GIF maker
Step 2
Look for a Video to Create the GIF Project
Hit the "Video" icon on the left sidebar and enter keywords like " laughing", "blink", "cat", etc. to find an ideal video for GIF creation. Then, add it to the storyboard. At the same time, you can use the trimmer to select the exact frames you want.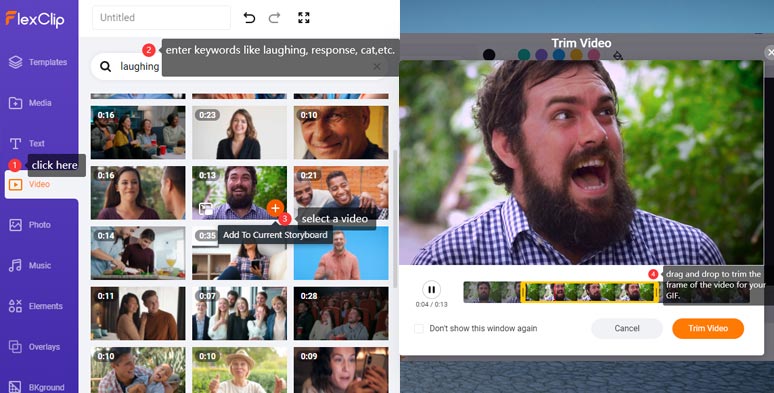 Select a video and use it for GIF making
Of course, you may upload your clips to make an animated GIF as well.
Now, you may select from dozens of designer-made text animations and add one to the video. Then customize its fonts, color, alignment, duration, and motion and styles, etc. customizable animated emojis and social icons, shapes, etc. are also available when needed.

Customize the text animations, styles of a GIF
Step 4
Preview and Export it as a GIF
You can even customize the resolution and FPS for your GIFs and then download it to your local computer or save it to your Dropbox.

Options to download a GIF
Use GIPHY's GIF Assets to Create GIF Overlays
Proposal GIF overlay made by FlexClip
Step 2
Upload a Video and Add it to the Storyboard
As you add the clip to the storyboard, you may trim the video for the duration you want.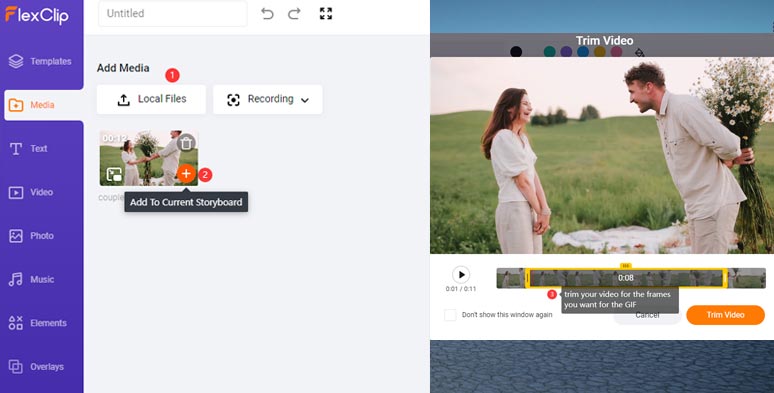 Upload and trim clips for GIF making
Step 3
Select GIFs from GIPHY and Add Them to the Video
Hit the "Photo" icon on the left sidebar > search for the GIFs and left-click to add one or multiple GIFs over the video > drag and drop to adjust GIFs' position and alignment.

Use GIPHY's GIF assets and add multiple GIF overlays over a video
Step 4
Adjust the Duration for Each GIF
Left-click on one GIF > hit the "Clock" icon on the top right corner > drag and drop the slider to set each GIF's duration, so they can appear and disappear at the exact time you want.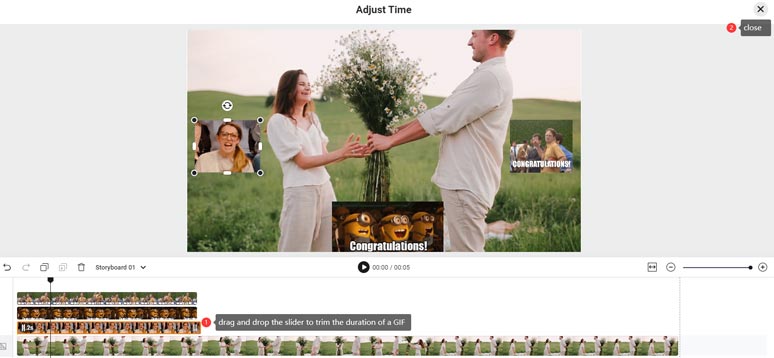 Adjust the duration of GIF overlays
You may add text animations or animated elements as well. If you want to export the file as an MP4, don't forget to check the royalty-free music library where you can find cool sound effects for your GIFs as they pop out in the video.

Add dynamic elements or music to an MP4 GIF
Step 5
Preview and Download the GIF
4 Other GIF Sites to Find and Make Animated GIFs
In addition to FlexClip online GIF maker, some of the online GIF sites may also be a great source to find and make your GIFs. Below, we've put together 4 valuable GIF sites that deserve your bookmarking.
1. GIPHY
As the most prestigious source for the best and most trending GIFs, GIPHY is literally a synonym of animated GIFs in cyberspace. So, no more words are needed to explain its huge stock of diverse GIF assets.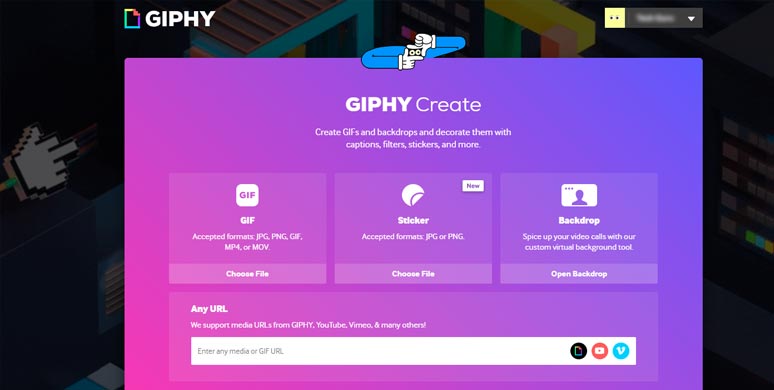 Make animated GIFs by GIPHY
What is worth mentioning is that GIPHY also allows you to paste a URL, let's say an online video from YouTube and Vimeo, etc., then trim the online video instantly and add animated texts or stickers to make a new GIF.
Besides, you can even make an animated backdrop GIF and use it for the virtual background of your video calls like a Zoom meeting. You may also paste the embed code of an animated GIF and use it for your blogging, which is extremely useful.
2. Tenor
As a big rival to GIPHY, Tenor is another great source for finding and making basic animated GIFs online. You can directly use Tenor's database to search for the animated GIF and download it locally. Tenor will generate a sharable URL and embed code for your newly-made GIF. However, its editing features for a GIF are only limited to add basic text or crop a GIF.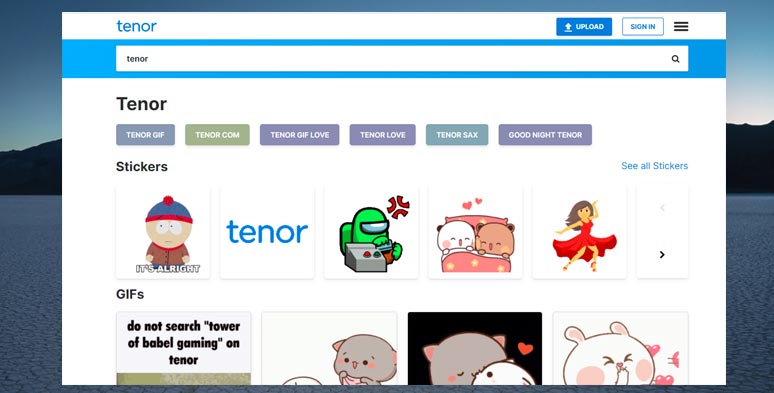 Create GIFs by Tenor
3. Imgur
Well, Imgur is more of a renowned online image sharing and hosting platform than a sheer GIF site. With that said, Imgur's gigantic GIF assets offer you a great alternative to finding and making animated GIFs, especially an animated meme GIF. Imgur also allows you to make an animated GIF by pasting an online video's URL. So, it's worth giving it a go.
Use Imgur to create animated GIFs
4. Reddit
To find original animated GIFs online, sometimes we need to think out of the box. Aside from the top-rated GIF sites like GIPHY, or Tenor, etc, Reddit could also be a great option to harvest create GIFs curated by global GIF or meme lovers.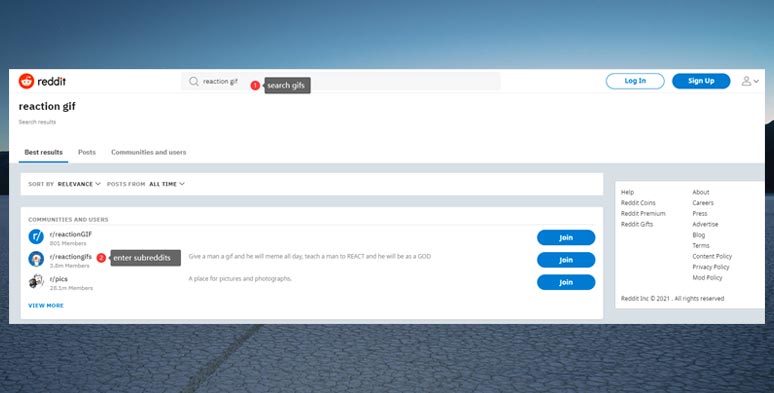 Use subreddits to discover animated GIFs
The funny thing is Reddit doesn't have a GIF category on its homepage. To find the GIF, you need to go to the subreddit or a forum of a specific topic. For example, to find "Cat" or "Reaction" GIFs, simply enter the keywords "cat gif or reaction gif" on the search bar. Then you can see the r/CatGIFs or r/reactionGIF where you can directly download animated GIFs to your local computer.
Since most of the animated GIFs on Reddit are mostly in MP4 format, which made it easier for wider sharing on various social media.
Now, It's Your Move
To sum up, of all the online GIF sites or GIF makers mentioned above, FlexClip is arguably the most versatile one for both finding and making original animated GIFs, given its easy access to tons of videos, images, and even GIPHY's GIF assets. So, now, start creating your own animated GIFs with FlexClip.