A stop motion video or stop motion animation is a film-making technique in which you take a photo of an object, then move the object a little bit and take another photo of it. The process goes on until thousands of photos are taken and put together to make an animated video.
Unlike the extravagant Hollywood blockbusters, relaxing stop motion videos are far easy-to-make and budget-friendly to most people, including kids. That's why making stop motion videos has captured people's hearts for years.
So, in this post, we will introduce you to the popular stop motion styles for you to choose from and walk you through the essentials and the best stop motion tools for shooting and editing stop motion videos. Let's get right into it, now.
Here's What You Will Learn:
Firstly, Choose Your Stop Motion Style
For beginners, to create a captivating stop motion, the first step is to decide which kind of stop motion animation you wanna make. Though the steps of the shooting of a stop motion video look similar, there are some differences in styles. Here, we would introduce you to the 4 popular stop motion styles for you to choose from.
1. Claymation
Claymation is the most time-honored stop motion video. Literally, it means using clay figures as the main characters for the entire stop motion. Some of the classic Claymation movies include Corpse Bride, The Nightmare Before Christmas, and Shaun The Sheep, etc.
Shuan The Sheep, a classic stop motion movie
2. Object-Motion (easiest, highly recommended)
Object-motion is using any movable object as a subject for a stop motion video. It could be an apple, citrus, a toothbrush, a cup, or a toy, a dice, candles, etc. Object-motion is also the most manageable stop motion video for beginners to make.
An example of Object-motion video
3. Cutout-Motion
Cutout-motion is using paper cuts as the main object for making stop motion video. If you are good at paper-cutting or you are a teacher teaching low-grade students paper-cutting, creating a Cutout-motion video can be a fantastic choice. Learn how to make an educational video for students.
Isaac Newton: a sample of Cutout-motion video
4. Pixilation
Pixilation is a novel stop motion video that requires a person to change his/her body movement or facial expressions to achieve the animation effect. Very often, a Pixilation stop motion video is done together with Object-motion. Many polished cooking stop motion videos on YouTube belong to this category. Check the top 8 animation video makers.
A sample of Pixilation stop motion video
Best Stop Motion Apps and Editors Recommended
Once you've figured out which kind of stop motion video you are into, now it's time to get the right tools for making a stop motion video. Here, we recommend 3 viable stop motion apps and editors for you.
1. Stop Motion Studio (iPhone, iPad, Android)
Stop Motion Studio is an easy-to-use and full-featured stop motion video app for making a stop motion video. It allows you to set the time interval for shooting photos. So you can easily adjust an object's position within the interval time.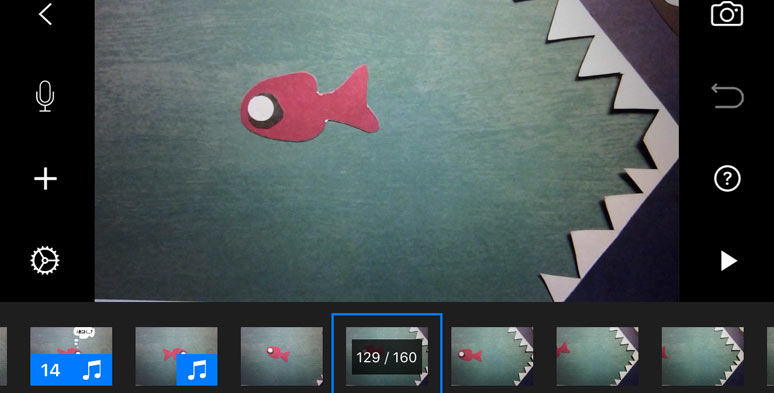 Use Stop Motion Studio to shoot stop motion photos
Besides, Stop Motion Studio also offers you basic tools to trim, paste, rotate, mirror photos or add sound effects , record a voiceover and set FPS for the stop motion movie. For paid subscribers, you can even replace the background, add video filters, or add facial expressions to clay figures or even remotely trigger another iPhone or iPad to help you shoot the object from a different perspective. So, for actual shooting photos of a stop motion video, Stop Motion Studio can be your go-to choice.
2. FlexClip (In-browser editor, across systems)
Although Stop Motion Studio offers you an easier way to shoot and merge pictures for a stop motion video, very often you do find its built-in video editing tools and stock assets like audio, text animations, etc. quite limited.
So, to up your stop motion game, it's highly recommended to combine Stop Motion Studio with FlexClip, a user-friendly and feature-packed online video editor, to polish your stop motion creation.
FlexClip, a user-friendly and versatile tool for editing stop motion videos
You may use FlexClip's 4M+ stock assets, including 74,000+ royalty-free sound effects, music, HD videos, and photos, stylish video templates, and fully-customizable text animations, and tons of versatile video tools like video transitions, video filters, video brightness adjustment, picture-in-picture effects, etc. to take your stop motion video up a notch.
In the later part of this post, we will cover how to use FlexClip's video editing features to edit a stop motion video in detail.
3. Dragonframe (Pro stop motion software/hardware, Mac, Windows, Linux)
If you wanna create studio-like stop motion videos on a desktop pc and have a decent budget, then Dragonframe, a pro-level software for making Hollywood-like stop motion animations, shall live up to your expectation.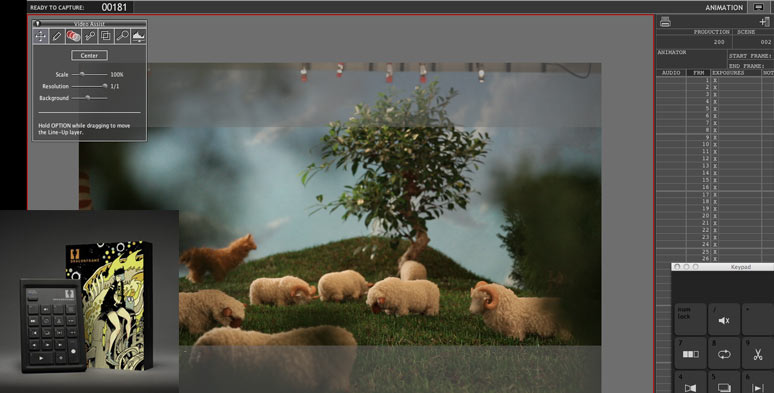 Use Dragonframe to create professional stop motion movies
You spend $305 and get a professional Dragonframe stop animation software, together with a Bluetooth/USB controller to bring full control of stop motion video making to your hands. And Dragonframe is compatible with Mac, Windows, and Linux systems. For first-timer users, it may take a while to learn how to use it.
6 Essentials for Shooting a Stop Motion Video
Great, now you have the right tools for making a stop motion video. Let's move to the actual shooting part.
To make a stop motion video, only 4 steps are involved:
Step 1
Take a picture of an object
Step 2
Move the object slightly
Step 3
Take another shot of the object
Step 4
Repeat the first 3 steps until all the scenes are shot and finally merge all the photos into an animated video, done.
Timelapse of shooting each frame of a stop motion video
Sounds like a piece of cake, doesn't it? Yeah, theoretically it does. But for the real-time shooting, many only end up with a nasty stop motion video, because they overlooked the following 6 essential details for shooting a great stop motion video. So, let's take a closer look now.
1. Use Tripod for Shooting
To ensure only the subject moves while all the props and video composition stay the same, a tripod is a must-have for shooting a stop motion video. If you use blue or yellow paper as the background of the scene, remember to tape it on its corners. So, it won't be unintentionally moved either as you adjust the movement of the subject.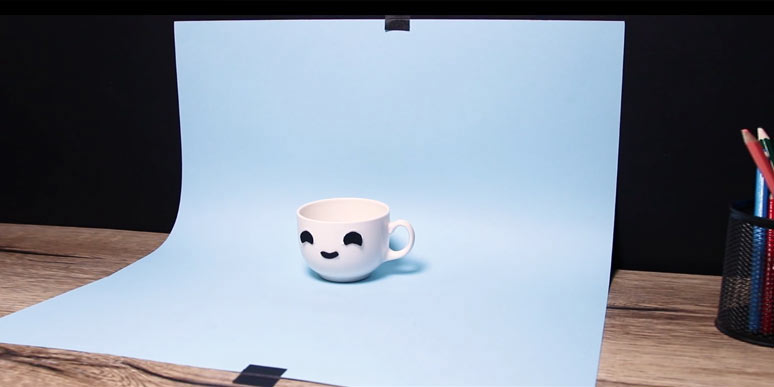 Use a tripod to shoot stop motion video and tape paper background
If you don't have a tripod for shooting a stop motion video with an iPhone or iPad, a backup solution is to flip your camera app to front-facing first and later put your iPhone or iPad on the edge of a higher chair for shooting.
2. Get Consistent Lighting
Apart from securing the composition of the frame, for making a stop motion video, you need to have consistent lighting, otherwise, the quality of a smooth stop motion video will be compromised by sporadic flickering. Make sure you shoot a stop motion video indoors, using consistent LED light or continuous lighting kits. You can find many affordable ones on Amazon.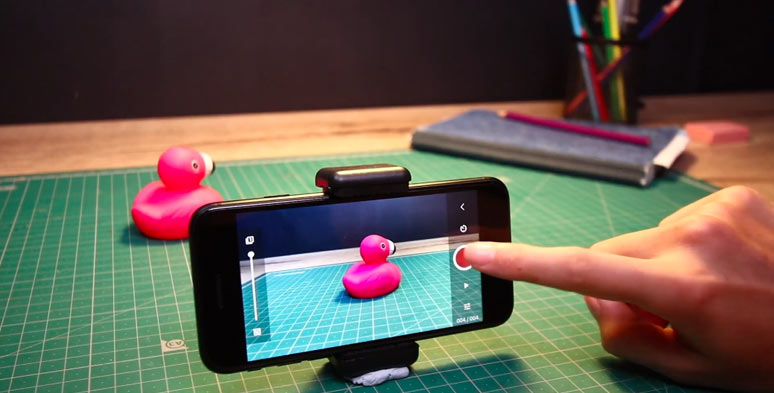 Consistent lighting is vital for shooting a stop motion video
3. Setup Your Camera to Manual Mode
Whether you shoot with your iPhone, iPad, Android, or a DSLR, you need to switch the camera on manual mode. By doing so, you can adjust and lock the white balance, focusing point, ISO, shutter speed, zoom area.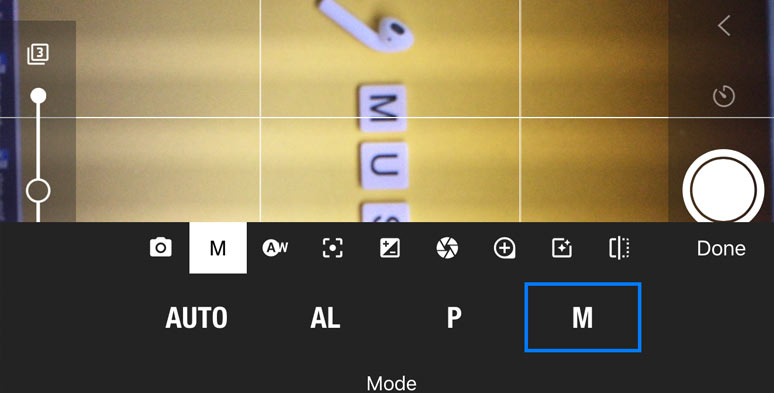 Switch on manual mode on Stop Motion Studio for shooting
So, as you move before the camera, all these important settings won't automatically change. You can easily use Stop Motion Studio to do so. Ideally, to reduce the vibration of the camera, once you start shooting, a remote trigger for shooting is preferred.
4. Set Interval Time and Frame Rate
Instead of taking every picture and then manually pressing the shutter button over and over, a great way to shoot a stop motion video is by setting the interval time.
For example, with Stop Motion Studio, you can set the interval time to 10 secs. so, you can move the object between 10 secs and move your hands out of the frame for the camera to take the shot automatically. It can largely boost efficiency and avoid camera vibration.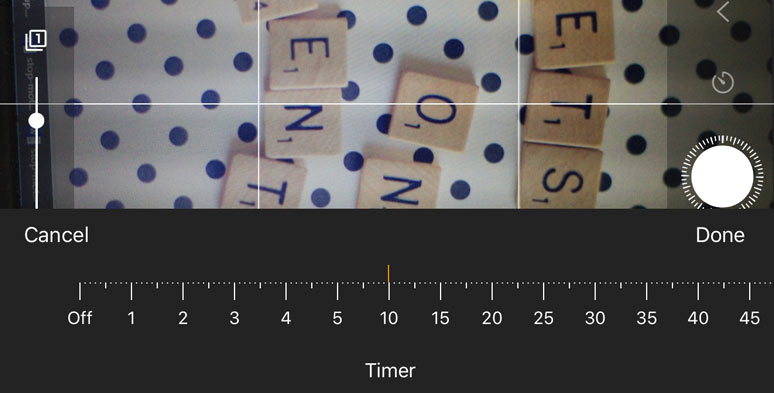 Use Timer to set the interval time for shooting each photo
Another vital issue is the frame rate or frame per second (FPS), which means how many photos are taken for one second of the stop motion video. The higher the FPS, the smoother the video. Currently, the TV is 24 FPS. In other words, one second of the TV consists of 24 static pictures.
However, to have the classic jerky movement of a stop motion video, you don't need that high FPS. Normally, 7-10 FPS will do for a stop motion video. Well, you can experiment yourself while shooting a stop motion video. In reality, very often, you need to incorporate both low and high FPS to depict a walking or running object.
5. Add Audio to Stop Motion Videos
To bring a stop motion to life, adding sound effects and background music are crucial. You can merge all of your photos into an animation video. Then, import it to FlexClip to add sound effects and BGM.
All you need to do is upload your stop motion video to FlexClip and check the "Music" tab on the left sidebar and key enter words to search from thousands of royalty-free sound effects and music and add one or multiple sound effects and music to your stop motion video.

Add sound effects to a stop motion video by FlexClip
6. Make Small Movement for Each Shoot
The final small yet big issue is that you'd better move small little movements between two shots. Otherwise, after you put photos into a stop motion video. The subject will pop up from one place to another, which looks like a magic show or camera illusion, instead of a smooth stop motion video.
How to Edit a Stop Motion Video
Once you have finished shooting all the photos for all of your scenes using Stop Motion Studio, you can preview and export it directly to your iPhone or iPad. But if you need to add more text animations and sound effects or music and other effects like video transition, video filters, etc. using FlexClip would be a better alternative.
Step 1
Upload Video/Photo Assets to FlexClip
Just drag and drop your stop motion video to FlexClip's media library and click on the "+" button to add it to the storyboard. If you wanna have two stop motion videos appear in the same frame, you can even use the picture-in-picture effect.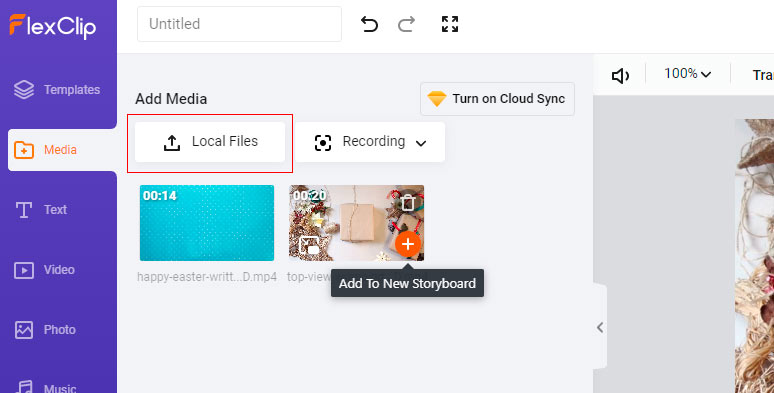 Upload stop motion videos to FlexClip
Step 2
Add Animated Texts to the Stop Motion Video
Go to the "Text" tab > select from dozens of text animation styles like speech bubbles, comic bubbles, lower thirds, social media, birthday, minimal, callouts, quotes, and Christmas, etc. > customize the fonts, color scheme, size, motion, and styles, etc.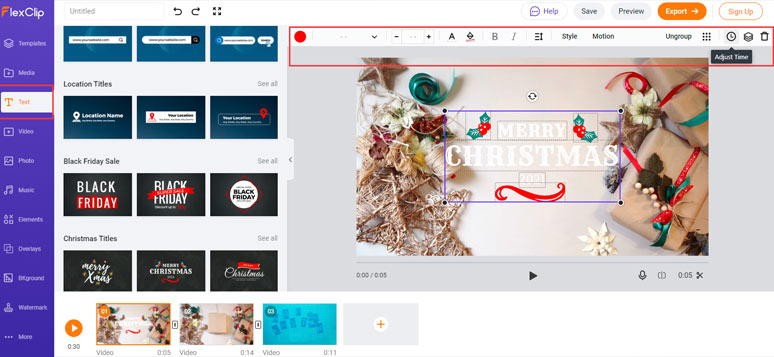 Add text animations and customize elements and adjust the time
You can even use timers to decide when the text animation appears in your stop motion video and use the trimmer to adjust its duration as well.
You may add dynamic elements like emoji, colorful shapes, and lines, subscription buttons, promo elements, etc. to spice up your stop motion video.

Add dynamic elements to spice up your stop motion videos
Step 3
Add Sound Effects and BGM to the Stop Motion Video
Head to the "Music" tab > enter keywords or use different music moods and genres to preview multiple cinematic sound effects or BGM and add them to the stop motion video. With sound effects and BGM, the mute stop motion video will become alive.

Add sound effects and BGM to your stop motion video
Step 4
Add an Intro or Outro to Your Stop Motion Video
Head to the "Templates" tab on the left sidebar > enter "intro" and "outro" > select the intro/outro template and add it to the stop motion video > customize the text and audio, add your logo. Done.

Add an outro/intro to your stop motion video to boost engagement
Step 5
Preview and Export the Video
Done with all the editing. Preview and later click on the "Export" button to export your stop motion video to your local pc. Or you can directly share it to your YouTube channel or save it to your Dropbox. Or even export it as an animated GIF. So, flexible, isn't it?
Now, It's Your Move
To sum up, making an engaging stop motion can be fun and easy so long you have the right stop motion editors and great patience. You can combine the shooting features of Stop Motion Audio with the powerful editing tools and precious royalty-free stock assets of FlexClip to create epic stop motion using just your iPhone or iPad available. Hopefully, you find this post helpful. So, start shooting and editing your first stop motion video now.