You may not notice, but most people would like to add a sticker to the photos before posting. Stickers now are more than just a way to level up a single photo, but also one way to express your personality.
Adding a sticker to a photo is not hard at all. The trouble is, among the market intermingling with the good and bad, what's the best tool to put stickers on photos?
To save you from endless searching, we collected the best ways to add stickers to photos online and on mobile phones. Refer to those easy methods and pick the best one to follow. Let's get started.
Can't Miss: How to Upload Instagram Reels on PC >
Part One. How to Add Stickers to Photos Online
We are not recommending everyone to add stickers to photos online. Actually, adding stickers to photos online or on mobile phones have their own advantages. Most online tools are more powerful than photo editing applications, allowing you to make better edits. Adding stickers to photos on mobile phones, however, is a greater choice for people who like to post their work on social media.
Now, let's see how to add stickers to photos online with the best photo editing tools.
Various still/animated interesting stickers could be the biggest reason why FlexClip tops on the list. FlexClip is integrated with GIPHY, the largest GIF sticker resource online, which means you can find any stickers for your photos. What's better, you can use FlexClip to edit the photos like removing the background, adding filters, text. Last but not least, all edits won't harm the video quality.
Step 1
Click on the Edit the Photo button below to enter the editing panel.
Step 2
Upload photos to the Media section and then apply to the timeline.
Step 3
Go to Elements > GIPHY. You will find various stickers. Find the one that fits your photo.
Step 4
(optional) Make edits to level up your work. You can animate the sticker, change its transparency, or add filters to the photo. Explore all possibilities.
Step 5
Download & export. Download the photo.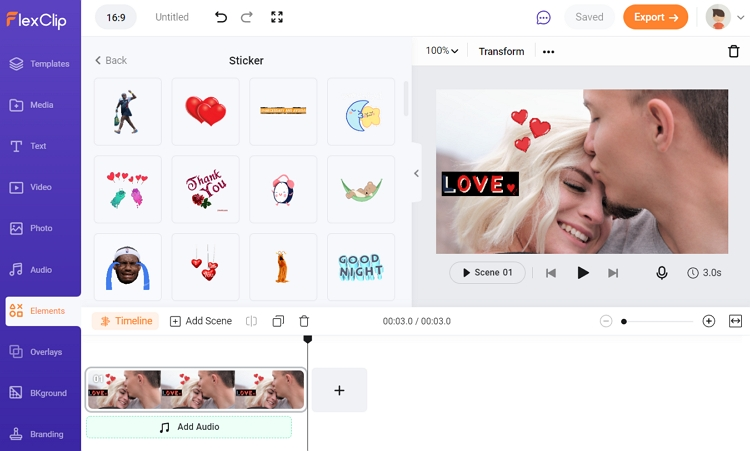 Add Sticker to Photos - FlexClip
2. FotoJet
FotoJet is a professional photo editing tool that has been popular among people for many years. It allows you to make all sorts of edits on photos, like creating a collage, adding effects, frames, overlays, text and stickers.
Fotojet provides over 222,000 stickers for users to add. Switch to the global icon and enter keywords to find one you love. However, all the stickers are still and not all of them are for free users. Subscription is needed to unlock all stickers. Also, you can't download the photos in GIF.
Step 1
Clear the canvas and open your photo.
Step 2
Go to Clipart section, choose a sticker you love for the photo.
Step 3
Click on Share icon to download your photo in JPG or PNG.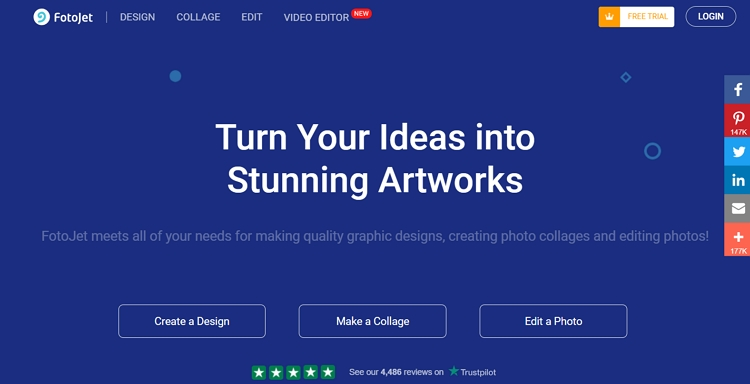 Add Sticker to Photos - FotoJet
3. Canva
Canva is a renowned tool in graphic design sector. It wins huge reputation because of its beautiful templates, rich resources, easy but powerful editing tools. Even though being a powerful tool, it respects people's needs to use their own resources. You can upload your own photos, videos, fonts and insert to your project. Any work you created with Canva will be a masterpiece.
You can download your photo in various formats, like JPG, PNG, PDF, SVG, GIF. These features may sound too good to be true, but to use Canva, you will need to log in. Also, you need to subscribe to unlock some features.
Step 1
Go to Canva website, create an account and log in.
Step 2
Go to the Uploads option and upload a photo to the panel.
Step 3
Go to Elements, type the keywords of the stickers. Find the one you like most and add.
Step 4
Download your photo to desktop.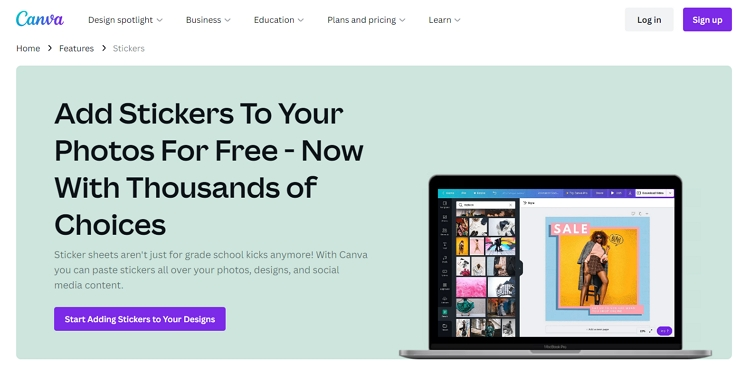 Add Sticker to Photos - Canva
4. Fotor
Fotor provides loads of image-enhancing tools like wrinkle remover, smoothing, reshaping, clone to make picture look great. Even though it can't viral Photoshop's range of tools and plugins, Fotor is much easier to use.
As for adding stickers to photos, Fotor provides over 300,000 stickers for you to choose, ranging from simple flowers, heart to complicated zodiac, art words, and characters.
Most of the tools and stickers are free and they are basically enough for you to edit photos. However, you might get ads in the interface. To remove them and unlock features, you will need to upgrade to Fotor Pro.
Step 1
Visit Fotor website, click on Edit a Photo tab.
Step 2
Upload your photos to the editing panel.
Step 3
Go to Elements. You can't search for a sticker that you need. Please browse all categories of stickers and pick one you like most.
Add Sticker to Photos - Fotor
5. Pixelied
Pixelied is an easy-to-use design solution allowing users to create stunning designs from 25+ formats with a full suite of editing tools and millions of stock photos, icons and illustrators. When it comes ease-of-use, there are no much difference.
Some people don't like Pixelied. The customer support service is up to the mark. More templates should be designed. Most important of all, it doesn't provide animation tools.
Step 1
Upload an image in PNG or JPG, drag it to the editor.
Step 2
Go to the Icons section on the sidebar, search for your favorite stickers.
Step 3
Place it to anywhere you like by dragging. Customize its size, color and orientation.
Step 4
Download and save your work in different format.
Add Sticker to Photos - Pixelied
Part Two. How to Add Stickers to Photos on Mobile
1. TikTok
TikTok is known as one of the most popular video sharing platform. To encourage viewers to share more videos, it is also embedded lots of photo/video editing tools. The stickers TikTok provided are very classic. You can easily tell which one is popular among the people.
TikTok is just one video sharing platform with stickers. Other platform like Instagram, Facebook also have similar features. Give them a try!
Step 1
Launch TikTok on your mobile phone, click on the "+"icon.
Step 2
Click Upload. Choose a photo you would like to add stickers to.
Step 3
Select the Stickers option, you can add any stickers you like. You can even use the TikTok stickers to do a poll or broadcasting trail.
Step 4
Tap Next and ready to post.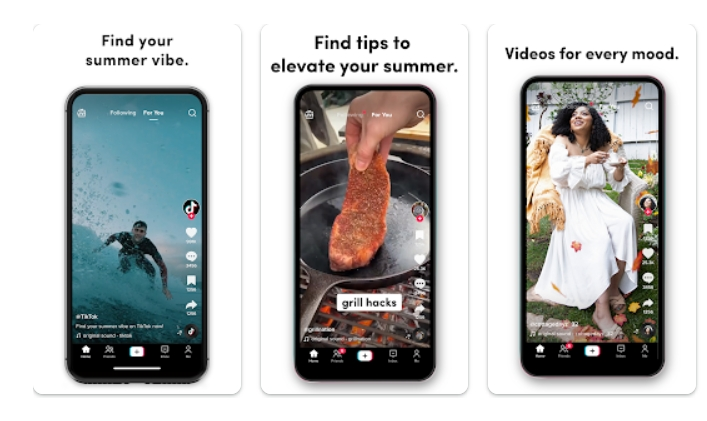 Add Sticker to Photos - TikTok
2. PicsArt
PicsArt has a great set of tools, features such as photo effects, stickers, text overlays and background to enhance your photos. Boost your creativity without burning your pocket.
Step 1
Download PicsArt to your phone, launch it.
Step 2
Upload your photos to the app.
Step 3
Browse the stickers and then add to your photo.
Step 4
Download your photo, you will have it on your phone in seconds.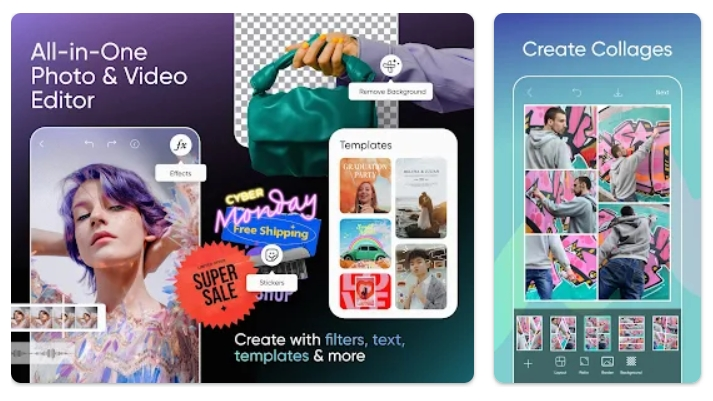 Add Sticker to Photos - PicsArt
3. YouCam
YouCam allows you to take excellent selfies and edit photos. It has powerful beautifying tools like teeth whitening, collages, filters, frames. Even though it doesn't emphasize too much on stickers, the stickers are easy and great to apply to the photo.
Step 1
Download YouCam Perfect to your mobile phone and launch it. YouCam Perfect is available on both iOS and Android.
Step 2
Once the photo opens, choose Photo Edit, scroll to the right to find Stickers and add to photos. If you want some animated stickers, go to Photo Edit > Animation > Stickers. There you will find hundreds of exciting animated stickers.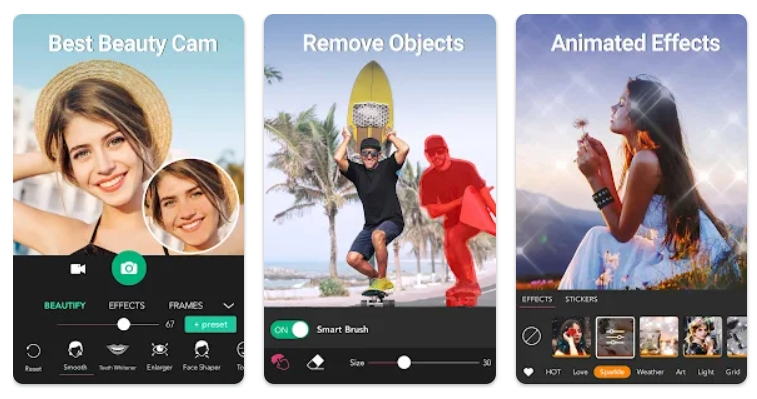 Add Sticker to Photos - YouCam
4. PicLab
PicLab, also known as Photo Editor, is the premier all-in-one editor to fulfill all of your photo editing needs. You can easily make any kinds of edit with it, like adding filters, adding custom text and stickers, creating collages.
Here is one thing to mention. You will need to pay $0.99 to save your photo without watermark.
Step 1
Download and launch PicLab on your phone.
Step 2
Pick one photo from your Camera Roll.
Step 3
Go to the Stickers icon. You will find numerous stickers ready for you to choose. Pick one and add to your photo.
Step 4
Download and export.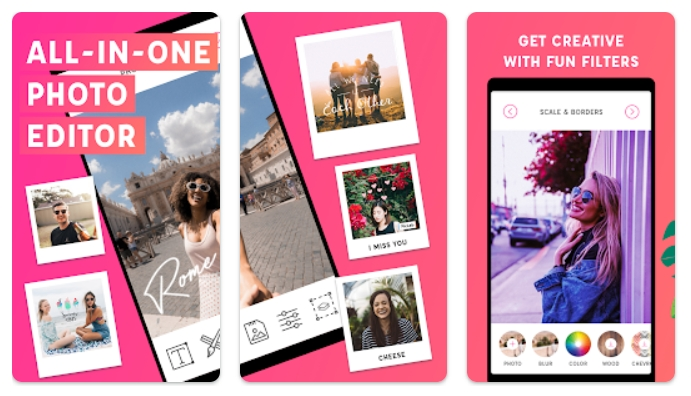 Add Sticker to Photos - PicLab
5. B612
B612 has been popular for nearly 10 years. It is an all-in-one camera and photo/video editing app with various free features and tools to make your photo special. Explore in the vast sea of stickers, filters, and effects!
Step 1
Download and launch the app.
Step 2
Upload any picture and click on the Edit.
Step 3
Tap on the smiling face icon. You will meet with hundreds of stickers. Some stickers are even with animations and music. Pick one and add to your photo.
Step 4
Download and export your video.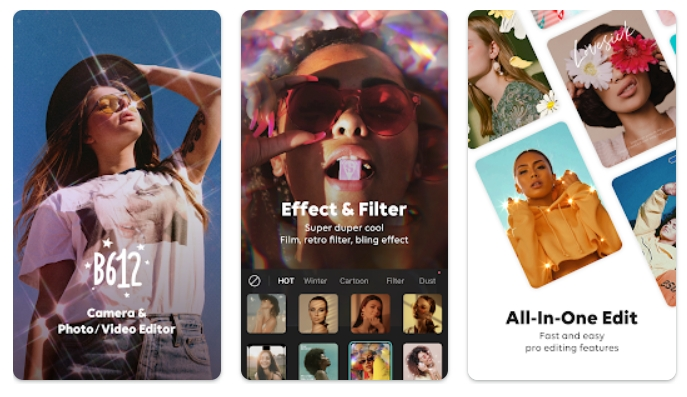 Add Sticker to Photos - B612
The Bottom Line
That's all for how to add stickers to photos. The above 10 are the best tools to go to put stickers to photos. Which one is the best according to your needs? Share us your ideas via Facebook.