Gone are days when one after one images were drawn by hand to create animations. Now, high-quality animation videos can be made easily. A great many of free animation makers are available online.
Each animation maker has its merits and limitations. In this market intermingling with the good and bad, what is the best option to create animation videos?
Here in this post, we will show you the best free animation makers online and illustrate their shortcomings and merits. Pick the one that suits you most.
Can't Miss: Top 7 Best Free Slideshow Makers You Must Try >
Animation Video Templates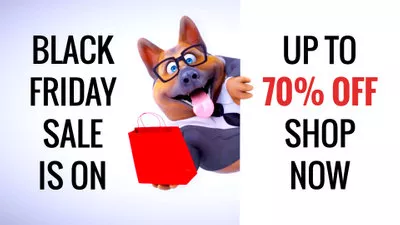 Black Friday Shopping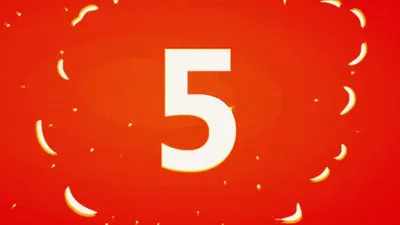 Birthday Countdown
Top Animation Maker - FlexClip
FlexClip is a professional online video maker. When it comes to making animation videos, it allows you to customize already-made animated video templates or combine 3D animated video clips together then edit. Any edits can be done in a few clicks, even for a laymen. Rich animated video resources meets all your needs. Animated icons can also be used freely.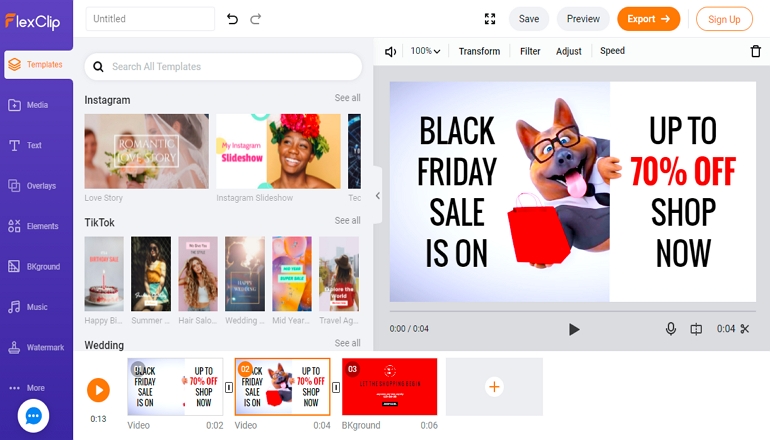 Top Animation Video Maker - FlexClip
2. Animaker
Animaker claims itself as a platform for beginners, non-designers & professionals to create animation and live-action videos. Compared with its other competitors, it gives more room for its users to create. Animaker provides numerous models of different figures and movements. Moreover, it recommends you figures and movements for different circumstances. Last but not least, Animaker has clear instructions on how to create animated videos with it. No need to worry that you are new to it!
Shortcomings:
1. Registration required before the creation.
2. 3D animation videos can't be created.
3. Careful content planning is required.
4. The editing process can be complicated.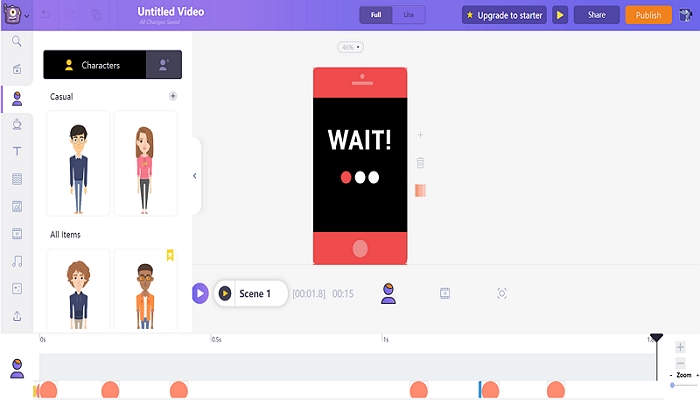 Best Animation Video Maker - Animaker
3. Biteable
People who use biteable can really feel the balance between the animation templates and scene editing. Yes, it provides very nice animated video templates. And also, it offers great animated video clips that are free to edit. Besides that, you can adjust colors and background music of the animated video. The one-click sharing is quite convenient to share your finished animated video.
Shortcomings:
1. Registration required before the creation.
2. To download your work without watermark, subscription is required.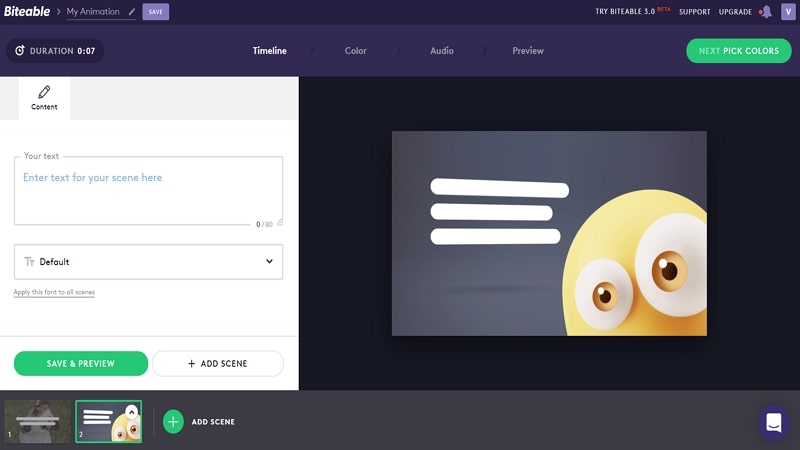 Best Animation Video Maker - Biteable
4. Pixteller
Pixteller specializes in animation editing. The best thing you can do with Pixteller is you can play with any aspect of animated elements separately, from size, color, position, filters and even more video motion effects. Your work can even be downloaded as GIFs to share on any social media platforms.
Shortcomings
1. Pixteller only meets the needs of these people who want to create a single animated clip. You are not allowed to combine several clips together.
2. Registration required.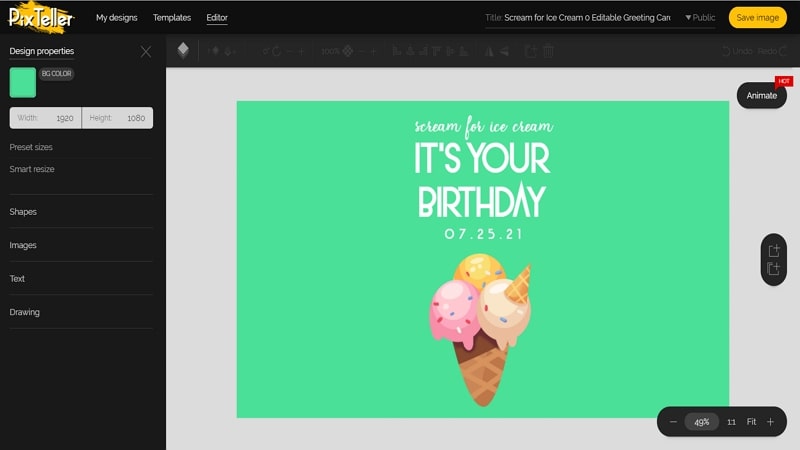 Best Animation Video Maker - Pixteller
5. Powtoon
Powtoon is quite similar to other video makers. Easy-to-use, rich animated video templates, and rich animated icons, you can get them all on this site. Each slide can be edited separately. The biggest limitation is that you can only store 100M of videos without subscription, and the exported video will contain watermark.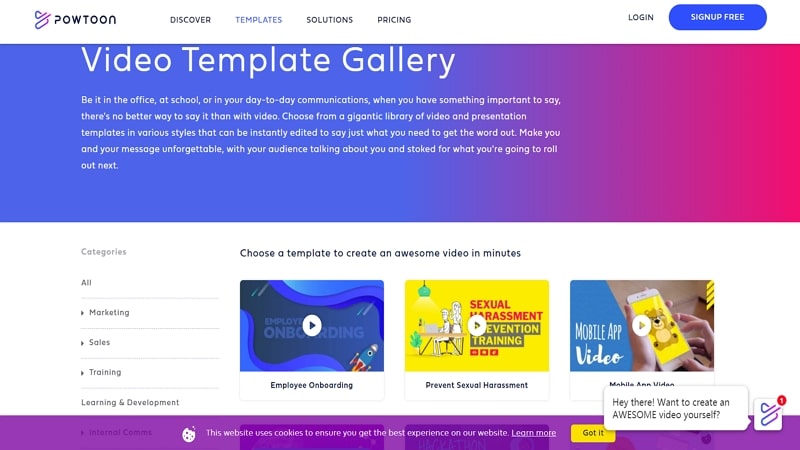 Best Animation Video Maker - Powtoon
6. Renderforest
Renderforest also provides rich animated video templates. You just have to pick one animation video template you like and personalize it by adding text, images, colors, music and logo then export. No much room for creating.
Shortcoming:
1. The presets and scenes are very limited.
2. To save HD exports, subscription is required.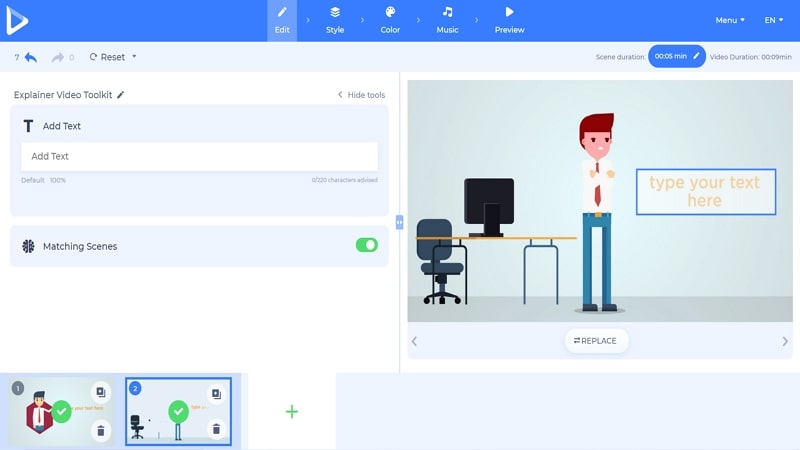 Best Animation Video Maker - Renderforest
The Bottom Line
What's the best free animation maker of the six? Tell us! If you have other recommendations, let us know via Facebook! If you find this post helpful, we will appreciate it if you share it with others.