This article shows you the 12 best free AI tools that would make your life easier than ever. This list is based on thousands of tests, comments and feedback from users without particular order. Let's jump on in.
AI tools are now capable of doing lots of repetitive work that once required human intelligence. It is quite a blessing because AI saves us lots of time and reduces errors. In a few more decades, AI is expected to be fully integrated into people's daily life.
Still, AI has a lot to improve, but it would be unwise to wait for AI to be fully developed. These 12 free AI tools are being used to help people in different ways. So, don't fall behind and try them out now!
How to Make Animated Videos with ChatGPT and AI >
Table of Contents
Best 12 Free AI Tools to Try in 2023
1. ChatGPT - Best AI Chatbot
ChatGPT has only been launched for less than a year but now it has evolved itself to ChatGPT-4, the largest language processing model so far. ChatGPT can understand any prompt you enter and give you a proper and unbiased answer based on the massive training data. You can use it to have a daily conversation when got bored, ask it to compose a resume, essay, video script, or even write code.
Sounds cool, but ChatGPT has its limitations. First, ChatGPT's data is limited up to 2021. If you are asking a question beyond that, ChatGPT may not be able to answer your question. Moreover, ChatGPT may give you false answers. Last but not least, ChatGPT only allows you to input 5000 characters at a time.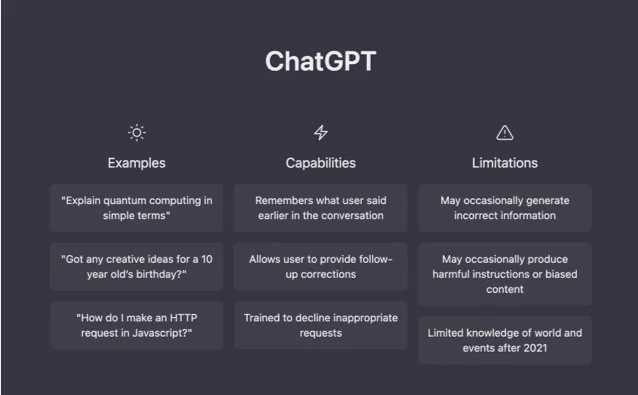 ChatGPT - Free AI Chatbot
Key Features:
3
Chat like a human and give unbiased answers.
2. Fotor - Free AI Image Generator & Editor
People use Fotor to make photo edits like cropping, blurring, flipping, adding effects. It always has, and will provide those nice photo editing tools. However, to make the most of Fotor, its AI-powered photo editing and image-generating features are must-tries.
AI empowers Fotor users to play with photos in more advanced ways. You will love Fotor's AI photo enhancement tool that automatically improves image quality. The AI image generator tool unleashes your creativity by bringing your imagination into realistic photos. Try Fotor to renew all your experiences with images now.
Fotor - Free AI Image Generator & Editor
Key Features:
1
Normal photo editing tools like cropping, flipping, adding visual effects.
2
AI-powered photo editing features like photo enhancement, removing photo background.
3
Generate images from text.
4
Erase unwanted objects from the image.
3. Gen-2 - AI Video Clip Generator
Gen-2, developed by Runway, has pushed the boundaries of generative AI. Now, you can have a video clip with nothing, but words. Besides text to video model, Gen-2 is also capable of generating a video from just an image, transfering your video clip into other styles, turning your mockups into fully stylized renders, and modifying anything in your video clip with a text prompt.
Gen-1 can do the exactly same thing, but Gen-2 can generate results with better consistency, fidelity, and resolution. However, it is still far from being perfect. You might notice something in the generated video clip is weird.
Gen-2 - AI Video Clip Generator
Key Features:
1
Generate a brand new video clip from only texts.
2
Stylize your video clip from an image or text.
3
Isolate subjects in your video and modify them with simple texts.
4
Turn mockups into fully stylized renders.
4. Synthesia - AI Avatar Video Generator
Feel like creating a video without filming? Except for Gen-2, Synthesia is also good to go! There are over 140+ realistic AI avatars of all nationalities waiting to be used in your video and speak out anything for you. Farewell to the camera shyness!
You may doubt if the result is quite robotic, as a matter of fact, the AI avatar video generated from Synthesia is quite natural. There are options enabling you to add different body gestures to let the AI avatar look more natural. Synthesia also saves you from the trouble of doing voice-over. Select a familiar voice, and tone from over 200 voices, 120 languages.
Synthesia - AI Avatar Video Generator
Key Feature:
1
Create videos with realistic AI avatars.
2
Add body movement to make the AI avatar more realistic.
3
120 languages, 200 voices to do voiceover.
4
Powerpoint video templates.
5. FlexClip - AI-Powered Video Editor
Traditionally, a video editor only allows you to trim, crop, flip, add music, voiceover to video, and more. FlexClip helps you with all. you can make any video edits in flash at FlexClip's video editing panel. Thousands of ready-to-use video templates provide you with the shortcuts to perfect video clips.
FlexClip also integrates with a list of AI tools to make video editing more effective than ever. The AI text-to-image tool makes sure you always have the right image for your video. The AI speech generator saves you from the trouble of doing voiceover. The AI text-to-video tool generates a video from your text in seconds. Explore endless possibilities at FlexClip.
FlexClip - AI Video Generator
Key Features:
1
Normal video editing features like trimming, cropping, adding music, filters, voiceover.
2
Stock library with millions of royalty-free photos, videos, music.
3
Ready-to-use video templates.
4
AI tools like speech-generator, AI image generator, AI video script generator, AI text-to-video tool.
6. PDFgear - AI PDF Processor
Admit it, we all have been stuck in the sea of PDFs. Whether we need to edit, or read the PDF and find any useful information, that takes hours of work. That's no longer the case with PDFgear.
PDFgear is an easy-to-use PDF editor. It is equipped with many practical tools for you to edit your PDFs. To name a few, edit texts in PDFs, annotate and comment, OCR, add e-signature. Besides that, PDFgear revolutionizes the way people interact with PDFs. You can ask any questions based on the PDF document you uploaded and get correct answers in seconds. Your prompt can even awake the editing feature. Input a prompt like compress this PDF, your will soon get a compressed PDF.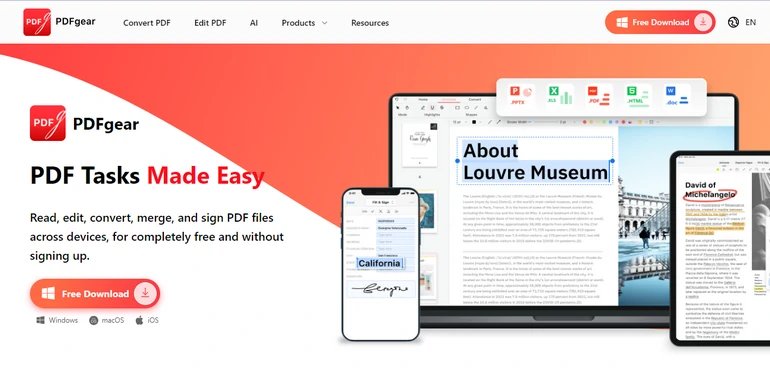 PDFgear - AI PDF Processor
Key Feature:
1
Make PDF edits like editing texts, adding comments, annotations.
2
OCR feature that extracts the texts of scanned PDF documents.
3
Chat with PDF by asking any questions related to the document.
7. Hypotenuse.AI - AI Writer
Hypotenuse.AI uses the latest language processing model to help write any content in seconds without language barrier and thinking limitations, in just a few keywords. Once you tell Hypotenuse.AI what type of content you want to create, it can automatically analyze and extracts the important factors. After that, Hypotenuse.AI will soon work on writing a high-quality article. Hypotenuse.AI can be used to create articles, blogs, descriptions, ads, emails and more.
Hypotenuse.AI can help with more. You can ask it to rewrite, summarize any content, and help search articles with specific content.
Hypotenuse.AI - AI Writer
Key Features:
1
Write articles, blog posts, ads, emails for you in seconds.
3
Summarize anything for you.
4
Search for all articles online on a specific topic.
8. Soundraw - AI Music Generator
Soundraw is a totally game changer for the music industry. It utilizes AI to create a piece of music without worrying about copyright issues. Tell Soundraw the music mood, the genre, and the length, a music is done. Never mind if Soundraw doesn't give you the clip you like. You can always perfect it via easy-to-use editing tools in simple clicks. Drag the slider to make the intro shorter, or change the position of the chorus.
Soundraw does have some shortcomings. It can only generate music without lyrics. There is no SFX available to edit Soundraw's music track. The maximum music length that Soundraw support is 5 minutes.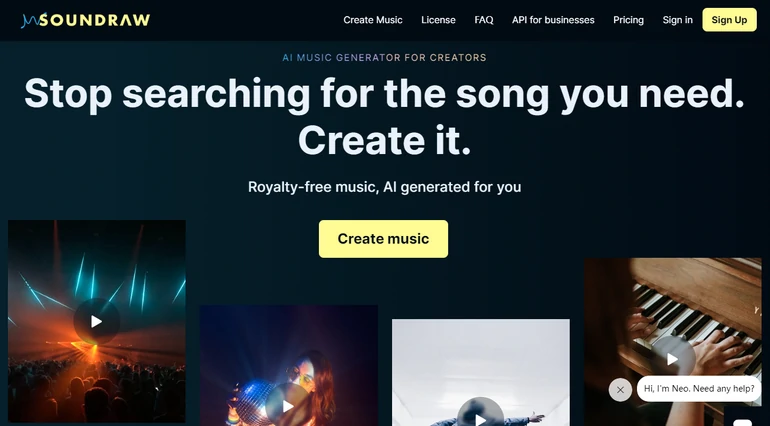 Soundraw - AI Music Generator
Key Feature:
1
Generate music less than 5 minutes with mood, genre, and length.
2
Edit the music track in seconds.
9. Murf.AI - AI Voice Generator
Murf.AI allows you to go from text to speech with AI-enabled, real people's voices. It is the only tool you will need to get professional voiceover for your video ads, explainer videos, e-learning videos, podcasts and more. Currently, Murf supports over 20 languages and offers 120 voices.
To enable you to control the output quality, Murf.AI provides the options to add pitches, emphasize and change speed. You are also able to add video, music, or images to make it a simple video.
Murf.AI - AI Voice Generator
Key Features:
1
20 languages, 120 realistic voices are supported.
2
Add pitches, emphasize, and change speed to make the voice more realistic.
3
Add video, music or images to form a video.
10. Spline.AI - AI 3D Modeling
You may still stick to complicated 3D modeling tools, but the power of AI is coming to the 3D modeling sector. Use any prompt, and a 3D model is created. The whole process is just like generating a picture. It is still in the whistle version, but it is improving every day.
After creating a 3D model, you can use Spline's AI-style transfer tool to visualize your model. Can you imagine turning several cubes into buildings?
Spline.AI - AI 3D Modeling
Key Features:
1
3D modeling in just text prompt.
2
AI style transfer to visualize your 3D model.
11. Simplified - AI Social Media Management Tool
As a celebrity, working on different social media platforms is an arduous task. You have to switch among different platforms quite frequently. Simplified's social media management tool can integrate your social networks and allows you to schedule posts, customize social designs, write posts, and manage all messages and engagement in one platform.
Even better, you can assign tasks to different people and finalize them effortlessly with Simplified. Since Simplified works on Chrome extension, you can log in to it and start social media working anywhere, any time.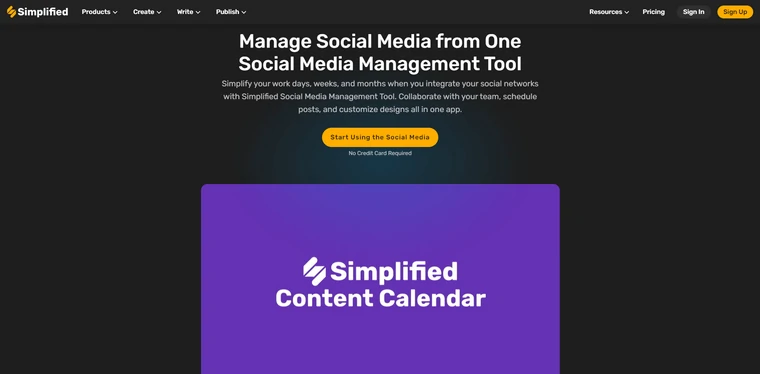 Simplified - AI Social Media Management Tool
Key Features:
1
Schedule posts, write posts, customize social designs.
2
Real time collaboration.
3
Chrome extension allows you to work anywhere, any time.
12. Slidesgo - AI PowerPoint Generator
Creating a great PowerPoint takes lots of time. Slidesgo can generate you a great presentation in seconds. Choose a topic, the tone, and style, then have a cup of coffee and let AI do the rest!
Well, Slidesgo is still not ready to go. Make some edits without using other program and software. Change some text, rearrange the elements, modify the animation. It is also worth mentioning that Slidesgo is integrated with Freepik and Flaticon. That means millions of images and icons are at your disposal.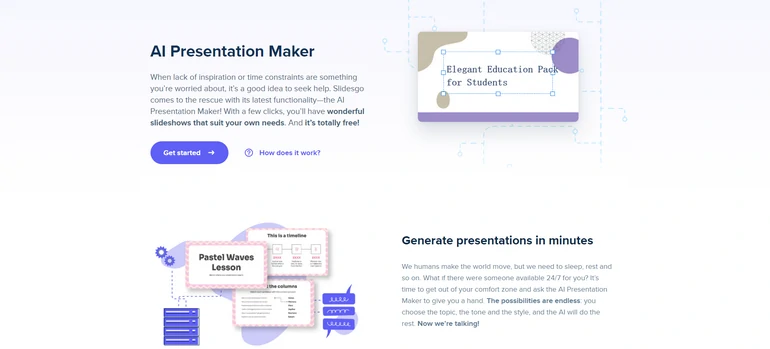 Slidesgo - AI PowerPoint Generator
Key Features:
1
Generate a PowerPoint in seconds.
3
A picture and icon library to enrich your PowerPoint.
The Bottom Line
The above 12 free AI tools that can help you in many different ways. Try them to make your life easier and more convenient. As AI is evolving, this list of the best free AI tools may expand or change. We will update this post as frequently as possible. Do come back often and check for any updates. If you find this article helpful, do remember to share it so that others may benefit.