A wedding montage video has become essential, whether its a childhood montage to share your love story or a wedding highlights montage to record your big day, etc. You might be looking for ideas for your wedding montage video, especially for the wedding childhood montage at your wedding receptions. Just find the best wedding montage video ideas with free templates from this article.
Besides, we'll also introduce a powerful online wedding montage maker called FlexClip, to help you create a wedding childhood montage and more other wedding montage video quickly and easily, no matter whether you're a veteran or a novice in video editing.
Contents:
Free Editable Templates for Your Wedding Montage Inspiration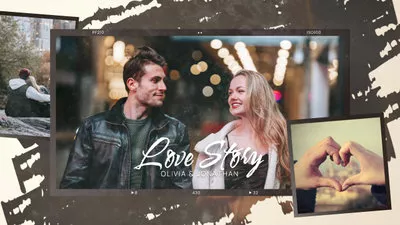 Love Story Photo Album Propose Slideshow Video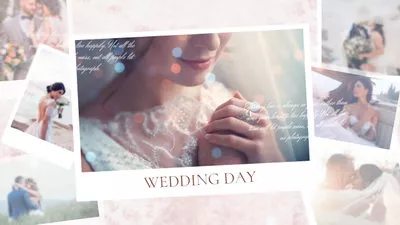 Wedding Photography Memories Slideshow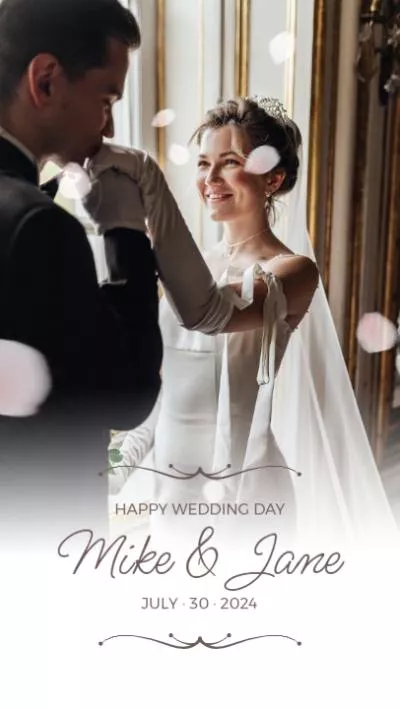 Minimal Petal Style Wedding Day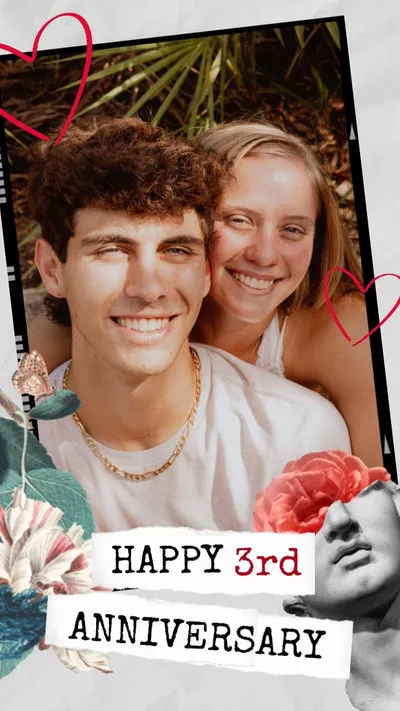 Happy 3rd Anniversary Collage Social Video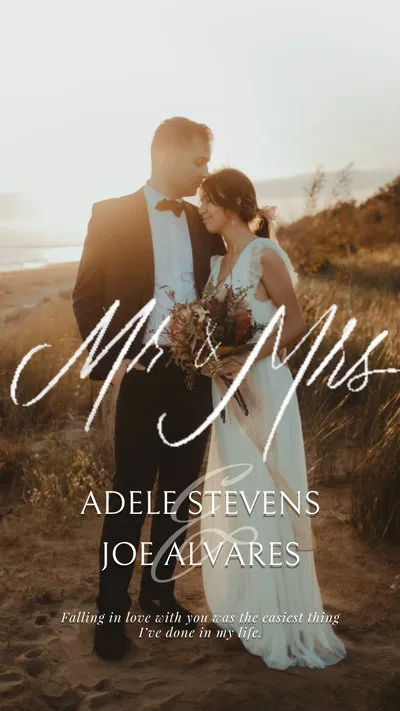 Bokeh Romantic Wedding Story Instagram Reels
Create Montage Video Faster with FlexClip's Pre-Made Templates →
Start from Scratch Easily with FlexClip's Online Video Maker →
Also Read: Best Save the Date Video Maker to Create Your Own Save the Date Videos >
Part 1 Best Wedding Montage Maker for Your Childhood Montage Creation and More
Here, we have FlexClip, a powerful online wedding montage maker to help you easily and quickly create a fantastic wedding montage video. Never mind if you're a novice to video-making, as FlexClip's beautifully designed templates and user-friendly editing tools will make putting together a simply unique wedding montage video a breeze, no matter your design level.
You can easily start your wedding montage creation by browsing wedding montage ideas from its templates gallery. Here are numerous elegant, romantic, minimal, floral styles to suit your relationship story. Select a sample wedding montage that is closest to your style so you can further customize it with your favorite photos and videos together and simply drag and drop them onto your canvas. Here are also millions of stock photos, videos, music, borders, patterns, and animated elements to enhance your project!
FlexClip Video Editor - The Ultimate Beginner's Guide (Start to Finish)
The following are more details about FlexCLip's wedding montage video maker:
Numerous designer-made and fully-customizable wedding montage video templates (16:9, 9:16, 1:1), ranging from childhood montage, wedding day highlights,
save the date
,
wedding wishes video
, etc. With easy drags and drops of your video assets, you can create a romantic wedding montage in minutes.
Wide range of customization options let you arrange the perfect setup for your wedding montage. Easy customize to change the default text message, simple drag and drop to replace the visuals with your own footage, adjust the theme color, change the background music and more.
Cool
text animations
, and creative overlays like
bokeh
, heart, golden particles, bubble, petal, and other decorative elements, such as confetti,
emojis
, etc. to jazz up your wedding montage. Besides, you can use crop masks to crop your photos and videos into any shape imaginable and animate these with styles.
Integrate with resource-rich stock media providers, including Storyblocks, Unsplash, GIPHY, etc., to offer you royalty-free music and sound effects, high-quality stock videos and photos, and funny GIFs to level up your wedding montage video creation.
In addition, FlexClip also provides you with diverse AI tools to boost your productivity and save you tons of precious time. You can try its advanced AI tools to
write scripts
, add
auto captions
, generate
human-like voice
to narrate your love story and more. Streamline the wedding montage video creation process with AI.
FlexClip's AI Features Walkthrough
Part 2 Must-Try Wedding Montage Ideas with Free Templates from FlexClip
Lack of the wedding childhood montage ideas? Struggling for the wedding childhood montage creation? It's time to turn to FlexClip's pre-made templates. All of them are professionally designed and fully customizable, which can help you get started quickly. You can simply pick a free template and customize it freely to make your wedding montage video in minutes.
There are many different wedding montage videos you can try, from weeding childhood montage to wedding day highlights montage and wedding wishes montage video, and here are our favorite ones you can make to celebrate a happily ever after.
Wedding Childhood Montage
Wedding childhood montages are done to remember the journey of how you came together. Childhood montage is a beautiful way to show wedding guests your love story - how you met, fell in love, and decided to spend the rest of your lives together.
Sweet Love Story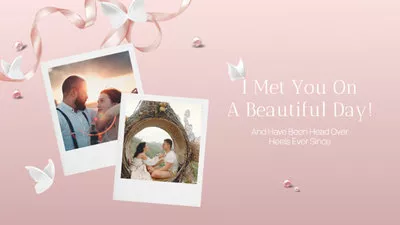 Pink Ribbon Propose Marriage Wedding Slideshow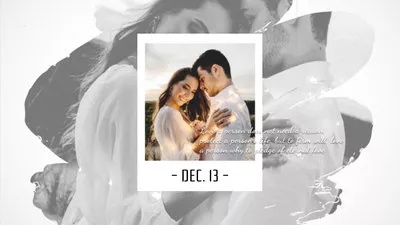 Story Of Love
Sweet Marriage Proposal
If you want to create a wedding childhood montage to show your love story, you'll need to gather media, including childhood photos/clips, pictures from when you first met or first started dating, footage of the proposal or engagement party, and any other memorable moments throughout your relationship.
Wedding Wishes Montage
A video montage full of the wishes from the couple's friends and family shows the new couple the support, love, and blessings on their special day, and it must be one of the best wedding gifts for the married couple.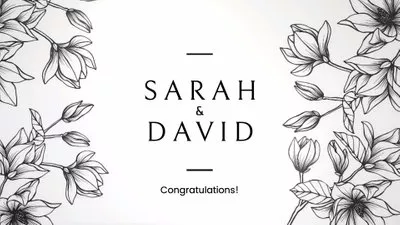 Sweet Wedding Wishes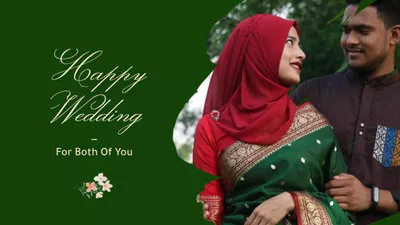 Indian Wedding Wishes
Wedding Photo Slideshow Love Flower Simple Wishes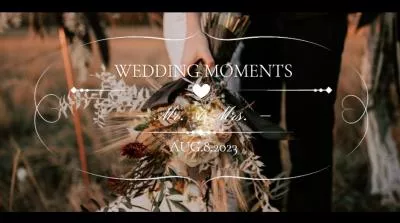 Wedding Title Love Wishes Slideshow
To make a wedding wishes montage, you need to ask each person to film a short clip wishing the new couple all the best or simply give their wedding wishes message in advance. And then combine those wedding messages with the photos and videos of the couple throughout their relationship.
Wedding Highlights Montage
You can also make a wedding highlight montage of your big day by combining heartwarming moments, like the first dance or cutting the cake. This is a great way to share your wedding day with friends and family who couldn't attend.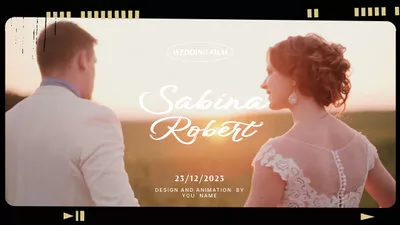 Wedding Teaser Template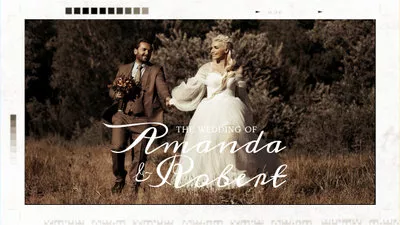 Wedding Teaser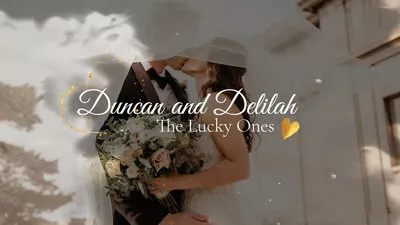 Golden Love Wedding Slideshow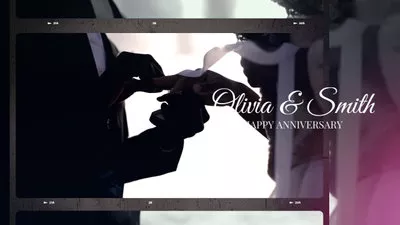 Wedding Collage Facula
Part 2 How to Make a Wedding Montage Video with Free Templates
Have you got your wedding montage ideas? It's time to make it come true using FlexClip! Follow us and learn how to make a childhood montage or any such for your wedding using those free templates.
Step 1
Access FlexClip online video maker, go to the Templates section and scroll down to pick one video template you like or you can search the proper templates by keywords, and then apply it to the Timeline.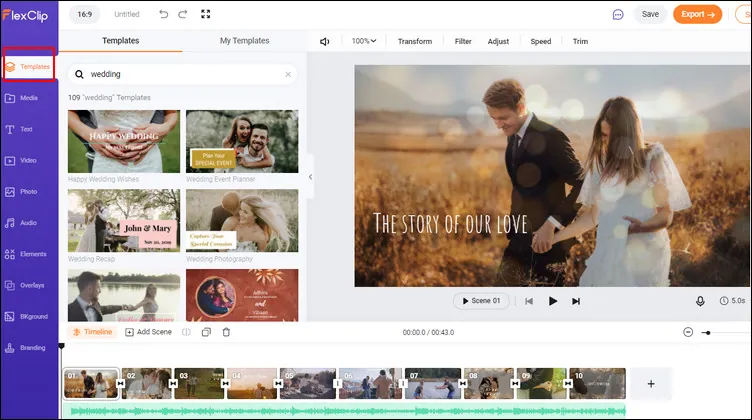 Make Wedding Montage Online for Free - Pick a Template
Step 2
Now, go to the Media section to upload all the wedding montage footage from the local file on your PC or mobile. Then drag them to the canva to replace the default imagery in the templates. If necessary, you can trim your footage as you wish using the free trim tool of FlexClip.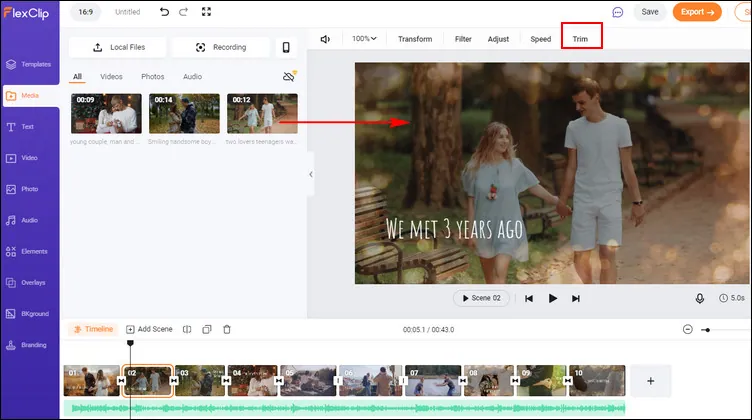 Make Wedding Montage Online for Free - Replace
Step 3
Double-click the text box to enter your message and then modify the font and color, or you can go to the Text in the sidebar to add multiple text boxes in your wedding montage video.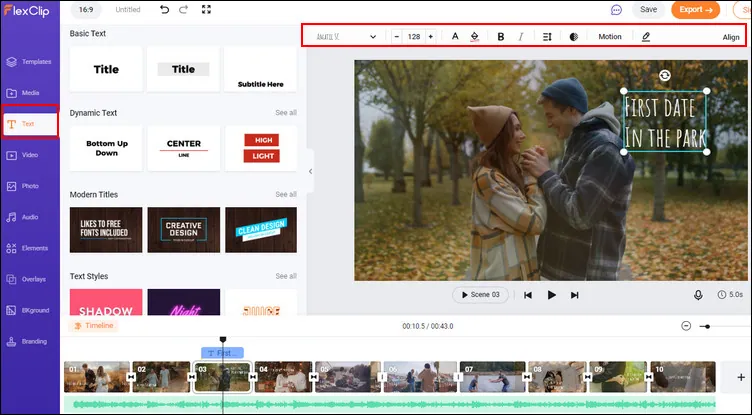 Make Wedding Montage Online for Free - Edit Text
Step 4
You can make more edits to customize the wedding montage video freely with the powerful feature of FlexClip. Choosing your background music, recording the voice-over, applying
filter effects
, and more.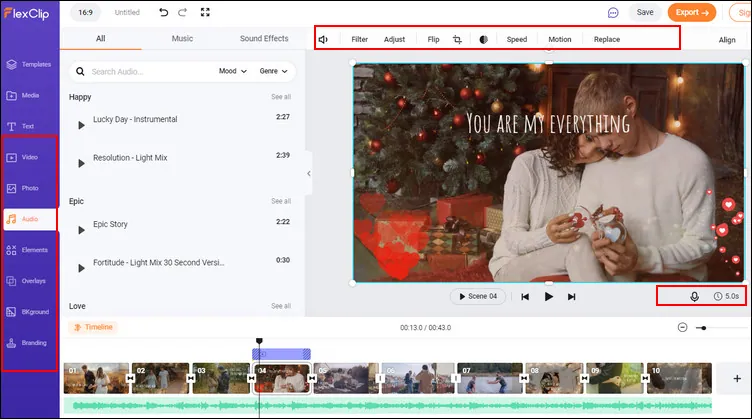 Make Wedding Montage Online for Free - More Edits
Final Words
A wedding montage video is a creative way to relive your special day and share your memories with others. With FlexClip, you can easily create a professional wedding video montage in a few clicks. Just try it for free now!