Want to surprise your friend at his wedding ceremony? Looking for a unique way to send wedding message? Make a surprise wedding wishes video for the couple! It's super easy to create a wedding wishes video if you have a professional video editor. This blog will take you through the three best ways to create appealing wedding wishes videos for free. Let's dive in right now!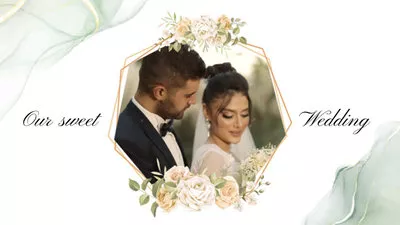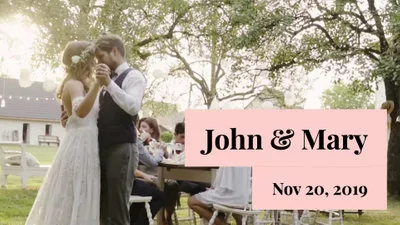 Can't Miss: How to Make a Rehearsal Dinner Video>
The Best Tool to Make Wedding Wishes Videos Online
To create a wedding wishes video, most people would like to choose a professional video editor like FlexClip. As an online video editor, FlexClip packs everything you need to make a stunning wedding video, be it handy editing tools or stylish-looking video templates. Thanks to its super easy interface, either a rookie or master can get a lovely wedding wishes video in clicks.
Key Features of FlexClip:
1. User-friendly interface and no installation needed.
2. It packs loads of editing tools including trimming, splitting, compressing and more.
3. Diverse dynamic text, overlays, stickers and other animated elements.
4. Millions of royalty-free stock media files including photos, videos and soundtracks.
5. Multiple sharing paths like Google Drive, Dropbox, clickable links and local download.
How to Create a Creative Wedding Wishes Video with FlexClip
To create a surprise wedding wishes video, follow the steps below to know how it works.
Step 1
Click Create a Video below to upload your video clips and drag them to the timeline. If you need some inspiration, choose the Template icon to pick a ready-made wedding wishes template for help.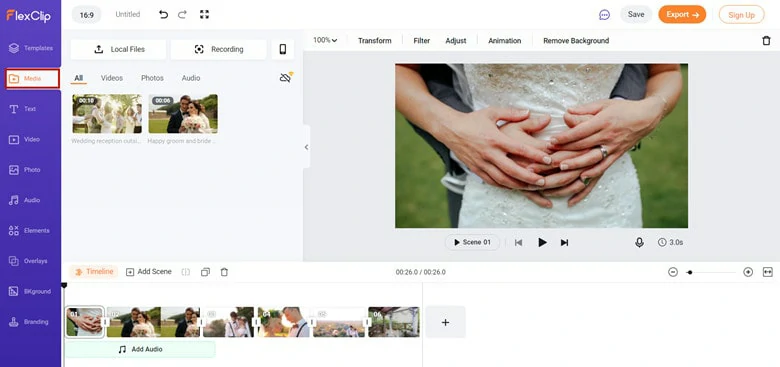 Upload Media Resources to FlexClip
Step 2
Now make basic edits to your raw clips like trimming and
splitting
to remove unwanted parts.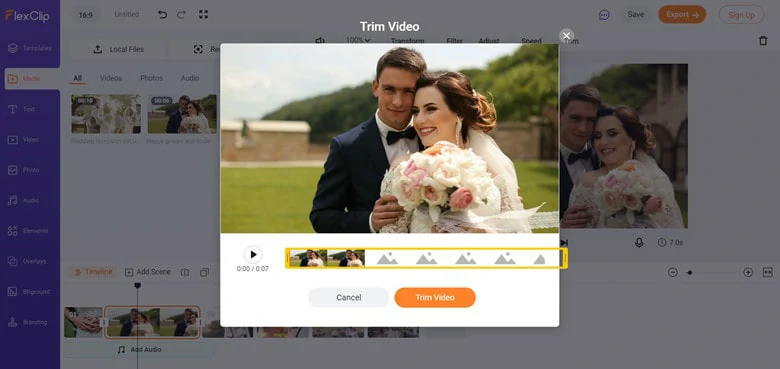 Make Basic Edits to Your Video
Step 3
To level up the wedding wishes video, you can add text,
transitions
and other animated elements to your videos.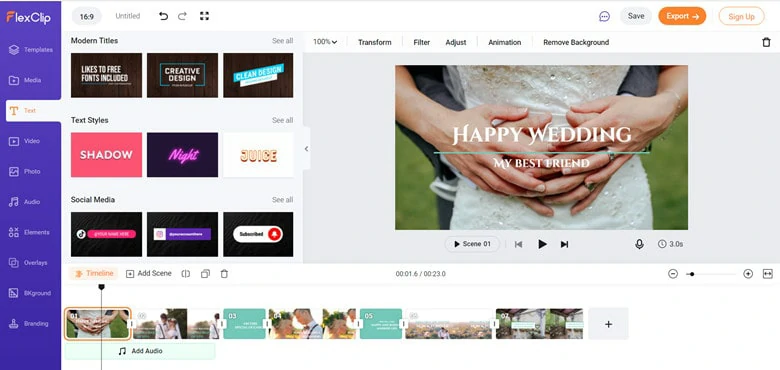 Add Text to Your Video
Step 4
Move your cursor to the Audio section and select one favorite soundtrack for your video. If you want to use original audio, upload and apply them to the wedding wishes video.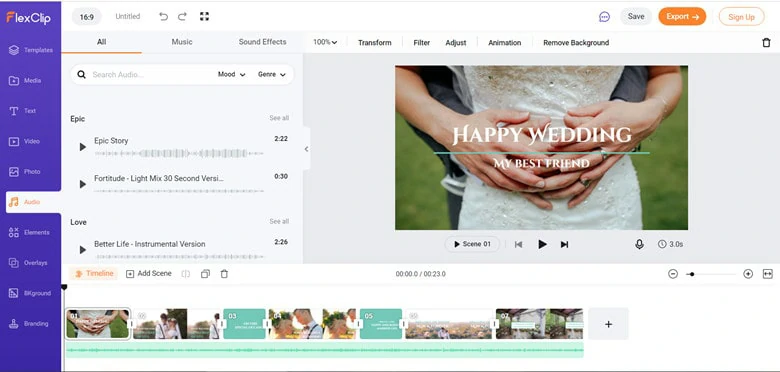 Add Background Music to Video
Step 5
Click on the Export icon to save the audio and then share it with your friends who you want to send your wishes.
A Simple Way to Create Wedding Wishes Videos on Windows 10
Windows 10 comes with every computer running Windows 10 system and later. As an inbuilt video editor, it comes with essential editing tools that a beginner would like to use. To create a wedding wishes video, Windows 10 video editor allows you to resize the video, change the audio volume, and add filters and motion effects with ease.
Besides essential editing tools, it has the feature to automatically turn images into a slideshow video, saving you time if you don't need any editing. Generally speaking, it's a good option for a rookie to make a simple wedding wishes video.
How to Make Videos Using Windows 10 Video Editor
Step 1
Open Photos and click on the Video Editor tab, then choose the New video project button.
Step 2
Here click the Make a video for me option and select the video and images for the project. After that, hit Create icon and give the project a descriptive name.
Step 3
Now click on the Finish video button to export the video. Video Editor gives you three options for video quality including High 1080p, Medium 720p and Low 540p.
An Inbuilt Way to Make Wedding Wishes Videos on Mac
Whether you're a Mac or Windows user, you must hear about iMovie - an excellent tool to make and edit videos for free on iOS systems. It's especially easy to use if you're new to creating wedding videos. Like most video editors, iMovie also packs trimming, cutting, transitions, filters and themes to make your editing a breeze.
How to Create a Video with iMovie
Step 1
Download iMovie to your computer and start a new project. If you'd like to use some template styles, pick one from the 14 theme style options.
Step 2
Import your video to iMovie and drag them to the timeline. Feel free to trim, cut and split the video clips to match your needs.
Step 3
Use the text feature to add captions and apply the audio to perfect your videos. To make the video flow naturally, use transition feature between the two clips.
Step 4
Export the video to your computer and send it to your friends.
The Bottom Line
That's all for how to create a wedding wishes video using your computer. With an easy video editor like FlexClip, making a stunning wedding video is simple and enjoyable. Pick your favorite video editor and try to send your sincere wishes now!