Do you ever feel the audio on your PC is too low when watching videos or listening to music? Indeed, it's very upsetting when you have a hard time listening to sound but find the computer has already reached the maximum level of volume available.
No worries! A volume booster will help you increase the sound to different volume levels. Here we will take you through 10 best volume boosters for Windows and follow this guide to pick your favorite one. Let's get started!
Top 10 Volume Boosters for Windows to Increase Volume
1.FlexClip
FlexClip is the best tool to boost volume on Windows, Mac and Linux for free. As an online program, it helps you adjust the volume of your video and audio easily, without any launcher or plugin installation. Besides, it supports a wide range of file formats, including MP4, MOV, WEBM, M4V, AAC, FLAC, M4A, MP3, OGG, MAV and many others.
To boost volume, load your file and drag it to the timeline. Then, move to the Volume icon and drag the slider to increase the volume. Besides boosting volume, FlexClip can also trim, add text, filters, and transitions and make more edits to refine your video.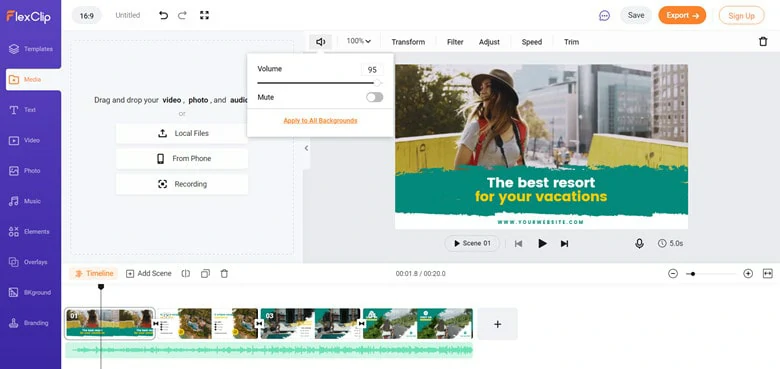 Volume Booster for Windows - FlexClip
2.VLC Media Player
VLC is a free, open-source and cross-platform media player that plays everything on your Windows, from files, discs, webcams, and devices to streams. With high compatibility, it runs well on Windows, Linux, Mac, and more. This program is famous for handling all types of audio and video formats.
Besides being a media player, VLC also acts as a sound booster, letting you increase the volume in the range of 100% to 300%. By default, you can adjust the volume to 125%, but after modifying the setting, it will support the maximum volume of 300%. So, if you want to boost volume while playing files locally, VLC is a go-to option for Windows.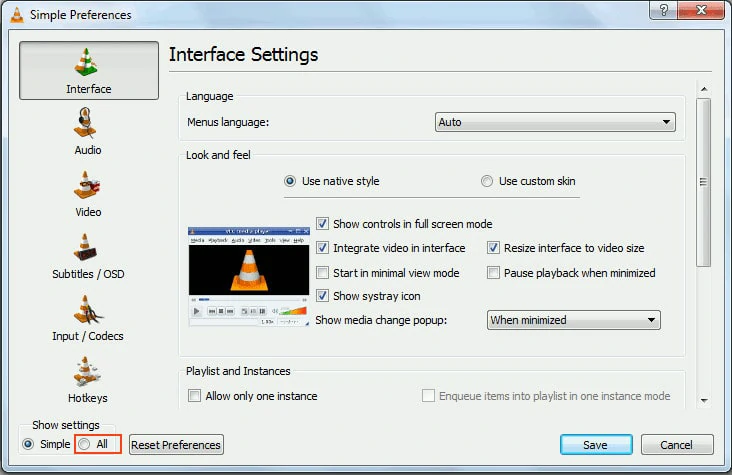 Volume Booster for Windows - VLC Media Player
3.Chrome Volume Booster
If you're a Chrome extension die-hard fan, Chrome Volume Booster is the definite program to amplify your volume effortlessly. When your computer speaker and headphones fail to reign over the noise, you can use this plugin to increase the volume to match your needs.
To boost volume, all you need to do is add it to your browser and control the slider. With this Chrome plugin, you can increase your volume up to 1000%, which is frankly insane. It's easy to use and can significantly affect volume levels.
Volume Booster for Windows - Chrome Volume Booster
4.Equalizer APO
Equalizer APO is a parametric/graphic equalizer designed for Windows that can be used to boost the sound on your PC. In this volume booster application, you will get loads of options and settings to modify audio like pitch, treble, bass and audio boost.
Besides, it can control the microphone input volume and create custom presets. It comes with a built-in spectrum analyzer, providing things you need to track audio problem and fix it. Go ahead and use this sound booster to increase volume on Windows 10.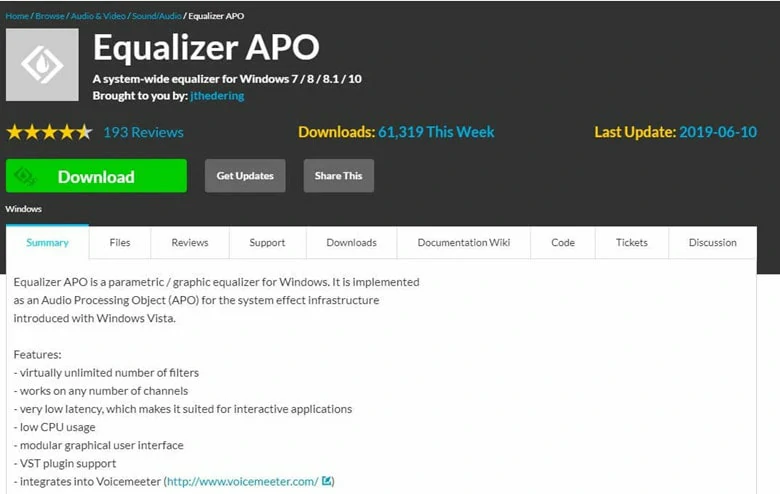 Volume Booster for Windows - Equalizer APO
5.Boom 3D
Packed with lots of features, Boom 3D is a solid sound enhancer for Windows to amplify the volume. It can be used to increase the volume and define the clarity of the audio on your computer without distortion. Just as its name suggests, it also provides a three-dimensional sound experience on your PC.
In addition, it has many equalizer presets for different tasks and genres of audio, which makes your sound a breeze. With so many advanced features, Boom 3D is one of the best volume boosters for Windows.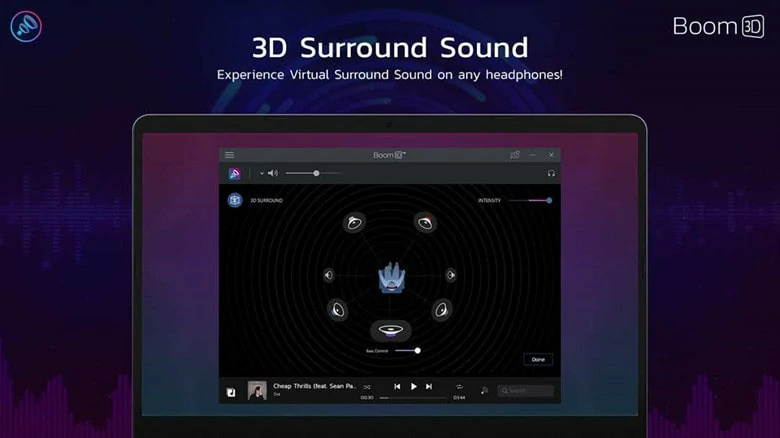 Volume Booster for Windows - Boom 3D
6.Letasoft Sound Booster
Letasoft Sound Booster is a simple software that will enhance the sound of your device. It helps you amplify the sound for almost everything with a maximum volume up of to 500%! This program offers two options to boost volume: the ability to increase the volume of Windows applications and system sounds.
Besides, in the pro version, it has the ability to monitor your sound all the time, save the current sound as the setting profile, and discard any distortion from your sound. It's such an easy-to-use application that significantly boosts your sound without effort.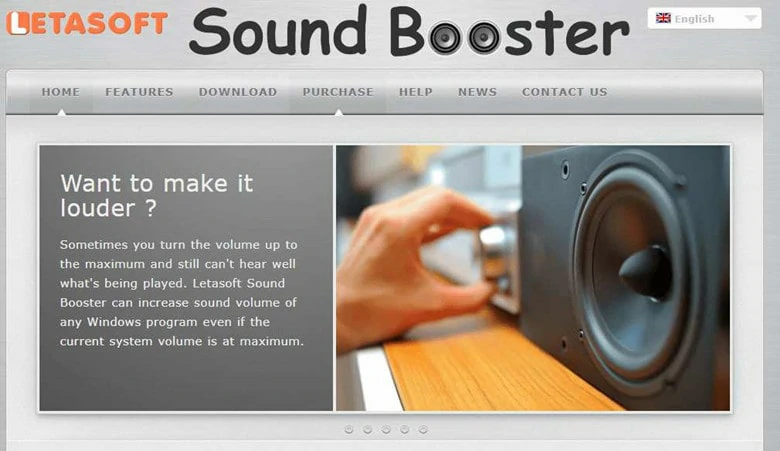 Volume Booster for Windows - Letasoft Sound Booster
7.Audio Retoucher
Audio Retoucher is a good option to help you eliminate volume limitations on the system sound card. With this easy-to-use volume booster, sound can be increased up to 400%. Therefore, it's really helpful if you have an audio file that is hard to listen to or you want to make the sound louder for any particular purpose.
Besides the ability to increase audio, Audio Retoucher also provides a range of other features that improve the audio quality and add special audio effects. Moreover, you can use the application to convert the audio formats as it supports multiple audio formats.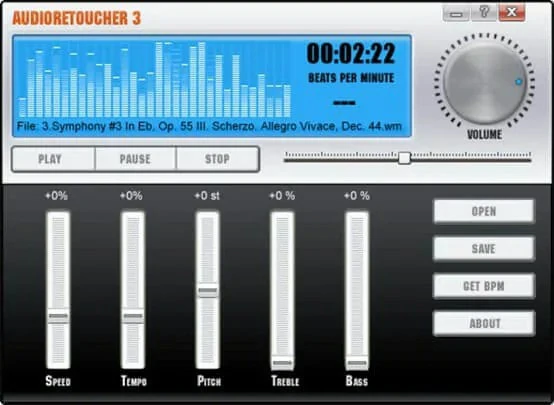 Volume Booster for Windows - Audio Retoucher
8.Fidelizer Audio Enhancer
Fidelizer Audio Enhancer offers effective digital audio improvement solutions for Windows users. Although it's a free audio booster, it greatly helps you set up the system with better sound quality. You can set different audio profiles and make customization as you like.
Moreover, it can also be used to optimize audio quality on platforms including Tidal, Spotify, Qobuz, and more. It's an excellent volume booster for Windows 10 and is worth checking out.

Volume Booster for Windows - Fidelizer Audio Enhancer
9.FxSound
If you're looking for a straightforward sound booster, you should consider FxSound. It comes with various features that improves your experience of listening to music. Firstly, it easily boosts your audio sound and enhances the clarity of your audio. Next, there are many sound effects and pre-made presets to take your file to the next level. Finally, it's highly customizable as it enables you to save your presets.
The volume booster is worth trying because it automatically boosts your volume and sound quality.
Volume Booster for Windows - FxSound
10.EarTrumpet
EarTrumpet is a powerful volume amplifier for Windows. It's not a stand-alone product like other sound boosters. Instead, it's an extension to the already existing Windows 10 audio mixer. With the help of EarTrumpet, you can set the default sound of each app you have opened on your PC. Besides, it improves the sound quality in an audio file, the video playing in the browsers and the audio calls.
EarTrumpet is 100% free and only works on the computer running Windows 10. If you need a volume booster for Windows 10, EarTrumpet is what you need.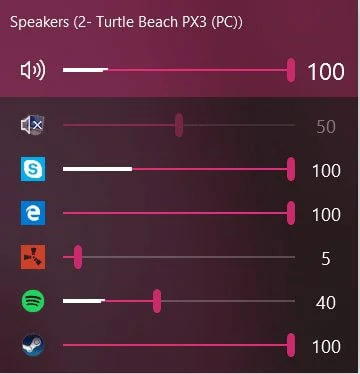 Volume Booster for Windows - EarTrumpet
The Bottom Line
We hope this article is helpful for you in finding out the best volume booster for Windows. Pick your favorite one and use it to optimize your audio. Now, it's your turn!