There are a few events as important as the big day in your life. Therefore, it's necessary to capture all the fond moments with your guests, save the precious memories, share your ceremony with the distant loved ones and much more.
But with loads of things to take care of leading up to the big day, coming up with some creative wedding video ideas is a challenging and time-consuming task. To help you save valuable time and make your wedding distinctive, we will share some best wedding video ideas for inspiration.
Part One: Pre-wedding Video Ideas
Part Two: Wedding Day Video Ideas
Part Three: Post-wedding Video Ideas
Part One: Pre-wedding Video Ideas
A pre-wedding video is an excellent way to tell your love story and add some interest to your wedding ceremony. Some people prefer a traditional pre-wedding video while others like to add their personal touch by adding some humor.
There are some well-designed pre-wedding video templates that will help you stand out from the crowd and make the job easier.
1. Wedding Invitation Cards
Instead of sending traditional wedding cards, the youth opt to share digital wedding invitations as they're simple to make, easy to share and full of creativity. Here is a cartoon wedding invitation template and you can combine the video with photos, illustration words and pleasant music. Share the video with your loved ones in minutes with a few edits.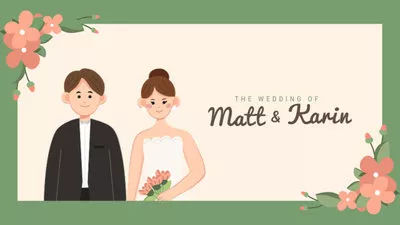 Cartoon Wedding Invitation
2. Wedding Video Proposal
Want to surprise your soon-to-be spouse? Try to make a creative video for the proposal by popping the question in a hot air balloon or displaying romantic words, then bring the video to the plot climax with a ring. It will be the biggest surprise in your loved one's life. Try it now!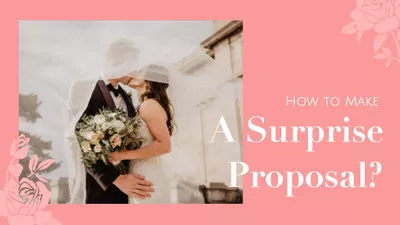 Make A Surprise Proposal
3. Wedding Dresses Video
A wedding is incomplete without a fantastic wedding dress. In most cases, the bride will try on the various wedding dresses accompanied by her closest confidants and pick the most outstanding one from the selection. To maintain an aura of mystique, the groom is not supposed to see the bride in her wedding dress before the big day.
But it's a unique experience for the couple! Although your loved one can't join this special activity, shooting a wedding gown is an alternative way for him to witness the whole process. Just customize this video template and edit it to meet your needs.
4. Bachelorette Party Invitation Video
There is no wrong way to have a bachelorette party! Your bachelorette party is truly all about you without any rules. So, do whatever you want to do with your friends and family to celebrate the last single time at the party where tons of valuable memories will be made and experiences will be shared. Design your Bachelorette party invitation and enjoy the last happiness before the big day!
To perform desktop screen recording with VLC, we have to use the "Capture Device" feature and make some configurations. Follow the step-by-step to know the straightforward process.
Part Two: Wedding Day Video Ideas
A wedding video is a great way to make the memories cherished throughout a lifetime. It usually captures the bride and groom's emotions, the reactions of guests and some funny scenes during the whole ceremony, helping you spot things that were overlooked at the ceremony when looking back. Here you don't need to strain to find out a creative idea, take a look at these templates for inspiration.
1. Love Story
Let everyone know how you fell in love with some photos showing the first date place and highlighting important moments in your relationship. Don't forget to pair this video with your favorite song as it designs the perfect memories of that day.
You can start with this stunning template by adding your photos, playing your favorite music and writing down the heartfelt words.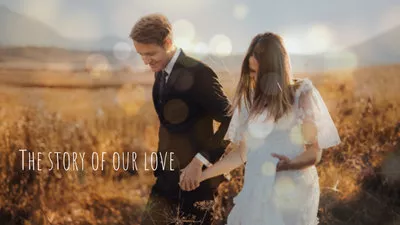 Love Story Slideshow
2. Wedding Reception Video
The wedding reception is held to welcome those who attend the wedding. It's an integral part of your entire wedding process, letting you enjoy the time of chatting, dancing and eating with your loved ones. The wedding ceremony is momentary but a wedding reception video will be everlasting, letting you relive your big day whenever you what.
Here is a perfect template for creating unique wedding reception videos. You can edit this template in any way you like.
3. Stop-motion Save-the-date Video
Stop-motion is a magic filmmaking technique that stops filming, manually moves the objects and starts filming again. It makes the still images and objects animated and gives the video a special style. You can use stop-motion on items such as the bridal party's shoes, the groom's ties and the ring box. Below is an example of a gorgeous wedding video using the stop-motion trick.
Stop-Motion Wedding Film
4. Video Booth
Video Booth is a fun way to entertain your guests and capture videos in a custom way. Just set up a camera in a quiet area in or outside the reception and invite guests to stop by throughout the night to record some best wishes on camera. Below is an example of an interesting video booth at your wedding party.
Wedding Video Booth
Part Three: Post-wedding Video Ideas
Post-wedding videos can also be a great option to save memories and share them with your family. There are many ways to extend happiness and joy, one of which is making a stunning post-wedding video. Sparkle your creativity with examples below!
1. Wedding Highlights Video
Keep the joy alive with a wedding highlights video. Pick out your favorite moments from your wedding day and create a video around that. For example, we've watched a video capturing the bride's laughter when the groom mistakenly pronounces a word during the vows ceremony to torture him. So the sky is the limit.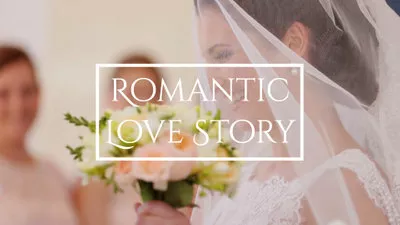 Wedding Highlights Video
2. Honeymoon Video
Want to treasure the honeymoon sweet time forever? Your phone is handy for taking incredible photos and videos during the adventure. Film whatever is interesting on your trip: your partner is dozing off by the pool, your first dinner together, and any memorable moments you may share while you're out adventuring.
Below is a stylish honeymoon video template. You can edit it as you like and share it with great ease.
Honeymoon Slideshow
3. Anniversary Collage
Ready to celebrate your first anniversary? An anniversary collage is a wonderful gift idea that will bring back all sorts of precious memories you spent with each other and look at your relationship entirely afresh. This collage template is designed to put your moments together and relive your happiness. Have a try now!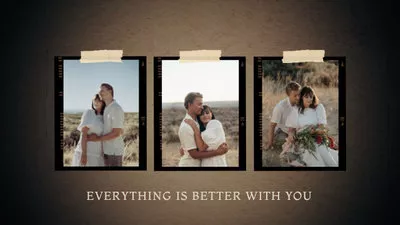 Anniversary Collage
4. Wedding Anniversary Wishes
Choose one or two photos per year to show off in this video. You can include your first date pictures, wedding day photos, your honeymoon traveling clips and much more. Write about how you feel, and go over the significant milestones in this wedding anniversary wishes video.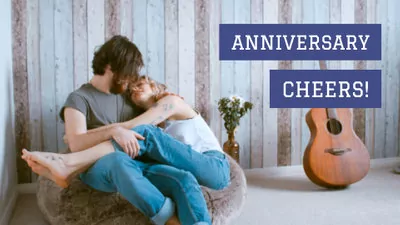 Anniversary Cheers
How to Make Your Unique Wedding Video in Minutes Using FlexClip
Hiring a professional videographer to film your wedding is feasible for saving memorable moments. While here, without any editing experience, you can also create awesome wedding videos by using FlexClip. Handy editing tools and well-designed templates help you make a video a breeze. Here we will take you through how you can create your own wedding videos effortlessly with the help of FlexClip.
Step 1
Go to the Editor Page
Click on the Create a Video button to start from scratch. If you need some inspiration, tap the "View Template" to get some creative ideas.
Step 2
Upload Your Footage
Under the Media panel, upload all your photos and clips with a drag-and-drop. Once the footage is loaded, drag them to the timeline.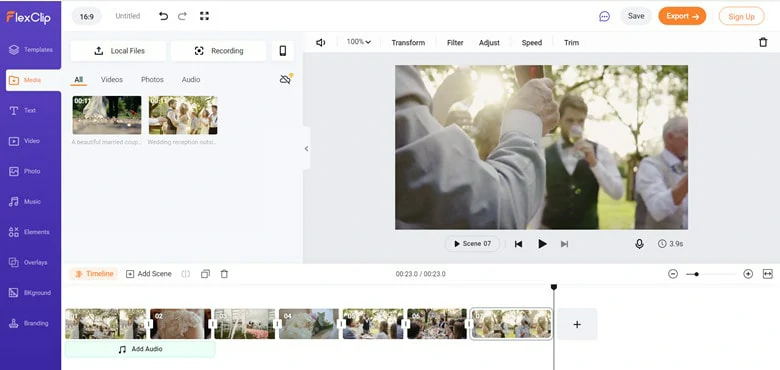 Upload Wedding Clips to FlexClip
There are loads of things you can do to perfect this video. Add your heartfelt words, play pleasant background music and place some interesting items to your video. Besides, additional editing features are also available. Feel free to level up your video with transitions, filters and special effects.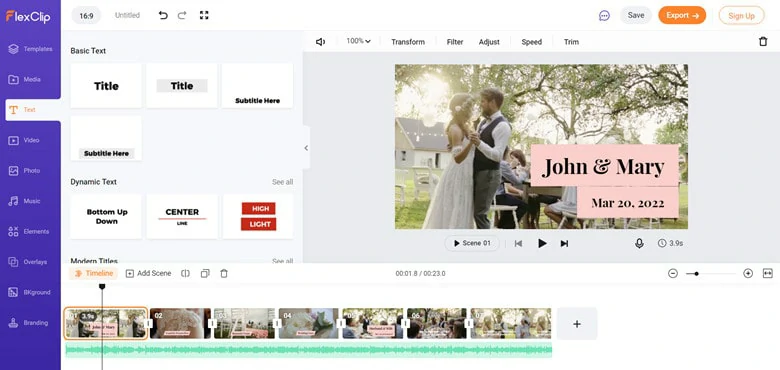 Customize the Video as You Need
Once you finish editing, click on the Export button to save it locally or share it to your social media sites in minutes.
The Bottom Line
Creating a wedding video is an excellent way to save valuable memories for a lifetime. With numerous wedding video ideas to refer to, making an awesome wedding video is not an arduous task anymore. Besides, you can use the video editor - FlexClip to take your video to the next level. Now, it's your turn!