Proposal is one of the biggest relationship milestone, just like the wedding day and every anniversary, and your proposals should be caught on video, which can help you preserve the sweet memories.
Here in this blog, we'll share the best proposal video maker to help you edit an combine your proposal photos and clips into a perfect marriage proposal video and take your proposal to a "Wow" level.
Free Templates for Your Marriage Proposal Video Inspiration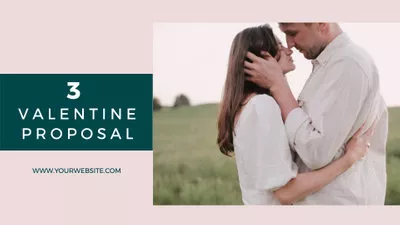 Proposal Preparation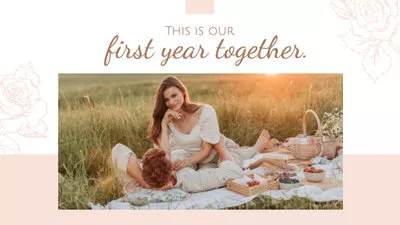 Romantic Proposal
Sweet Marriage Proposal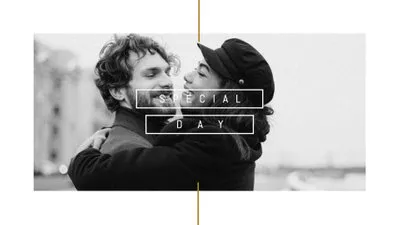 Valentine Proposal
Also Read: Best Save the Date Video Maker Online No Watermark (Free Templates Included) >
How to Make a Marriage Proposal Video
Have no any video making or editing experience, can I edit and make my marriage proposal video by myself?
You just need an easy proposal video maker for help. We suggest turning to FlexClip proposal video maker, it comes with the powerful yet easy-to-use editing tool and an amazing set of video templates ideal for wedding proposal and help you make edit and make the perfect video quickly and easily.
All of them are professionally designed and fully customizable, so you can even simply pick a free template and customize it freely to customize and make your own marriage proposal video in minutes.
Step 1 Start with a Free Template
Simply turn to FlexClip online video maker, go to the Templates section and scroll down to pick one video template you like or you can search the proper templates by keywords, and then apply it to the Timeline.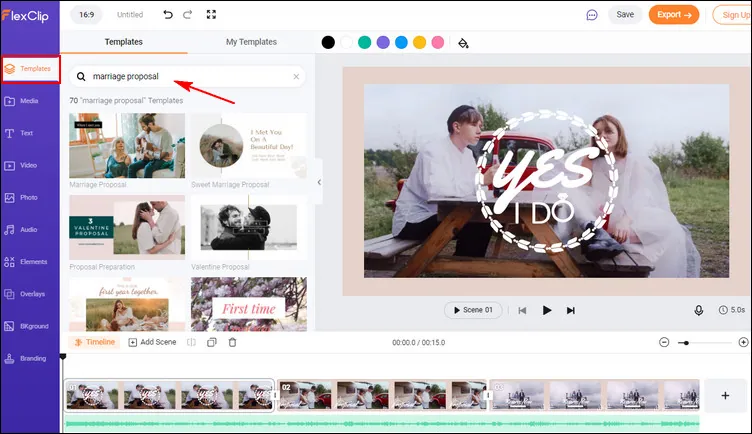 Make a Marriage Proposal Video - Start with a Free Template
Well, if you already have the ideas in mind, or need something custom, it's not too hard to create something yourself from scratch with FlexClip's user-friendly interface and powerful editing tools.
Here we'll walk you through the way to make a marriage proposal video easily using a template at FlexClip.
Step 2 Personalize the Template to Make it Your Own
Once you pick the template or scene you like and add it to the timeline, you can personalize your marriage proposal video in lots of ways here.
Upload your own proposal photos or clips to the Media section and drag them to the canva to replace the default imagery in the templates, or you can simply pick some proper resources from FlexClip's video and photo library and add them to your proposal video directly.
Make a Marriage Proposal Video - Upload Your Media
To add your own proposal video messages, just double-click the text box and enter your info and then modify the font and color, or you can go to the Text in the sidebar to add multiple text boxes in your marriage proposal video.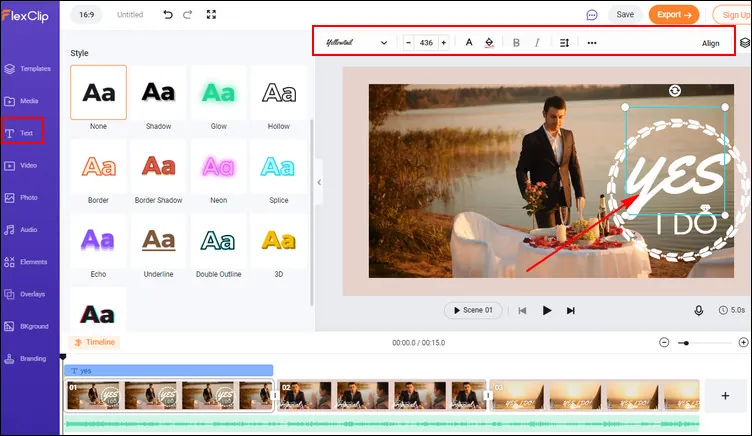 Make a Marriage Proposal Video - Personalize the Text
And also, you can change the audio track, adjust the background, and make until it fits your needs.
Step 3 Make more Edits to Level up the Marriage Proposal Video
With the rich animated elements and stunning overlays and much more effects for you to choose from at FlexClip, it's not hard for you to add extra personality to your marriage proposal video and make it far more appealing.
Add animated stickers from its abundant Elements library to add fun to your proposal video. You can also apply the cool overlay effects to your video, like film grain overlay, heart overlay, snow overlay, etc. Feel free to add filters, upload your logo, make pip effects, and use transitions and motions to make your marriage proposal video more attractive.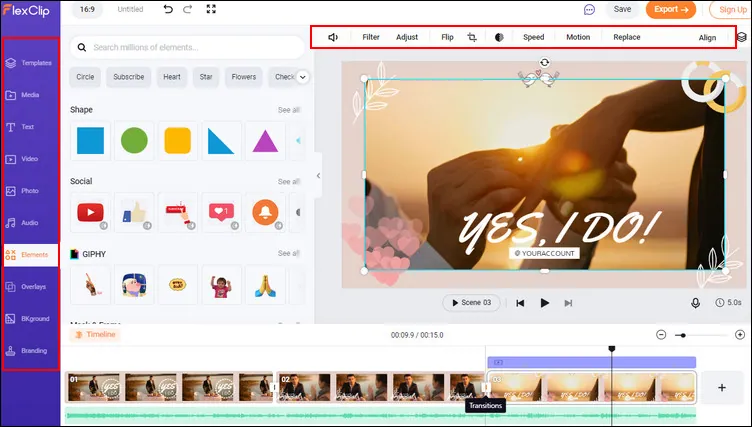 Make a Marriage Proposal Video - Make More Edits
Final Words
So, have fun and good luck making a perfect marriage proposal video with FlexClip. If you find this tutorial helpful, do share it with others. Much Appreciated!