You must have observed that videos on social media or even animations and movies are now coming with typography in some scenes, which might have led you to think why it's becoming the new norm. Well, in order to make things a tad bit more clear and to explain to people something regarding a video, it is essential to add some text in any video. Besides, adding multiple text in a video is the perfect way to make people get a clear understanding of what's happening at any particular scene in the video
Windows 10 offers quite a lot of features and flexibility to its users in almost every aspect. When it comes to video editing, the Windows default Photos App is a fantastic tool that offers you several editing options. With this editing tool, it becomes significantly easier for you to add text to any video. You must be wondering how do you add multiple text in Microsoft Video Editor? Well, the answer lies below.
Quick Navigation:
Free Templates for Your Video Inspirations
Team Member Birthday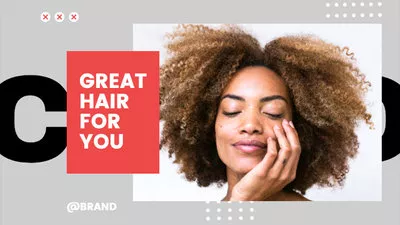 Hair Salon Promotion
Also Read: How to Create Free Text Animations Online for Your Video >
Part 1 How to Add Multiple Text in Windows Video Editor
There has always been a myth that default Windows apps are not capable of performing the tasks efficiently. Some may agree to this, while others may not agree to this. But, if you're wondering how to add multiple text in Windows Video Editor, we have the right set of guidelines for you.
You may not be able to enjoy pro-level editing action in Microsoft Photos, but it is decent enough to allow the addition of multiple text in a video. Listed below are the steps that you are supposed to follow if you wish to add text to a video.
Step 1
Find the Photos app in Windows Application, launch it, and then go to the video editor screen.
Step 2
Navigate through the Storyboard section and select the clip in which you wish to add text.
Step 3
Click on the "Text" option, which you can find in the toolbar above.
Step 4
After clicking on the "Text" option, you will be able to see a text bar around the top right corner of your screen. Click on it and type out the text you wish to add.
Step 5
Once you have written out the text, it is time for you to explore different fonts and choose the right one as per your needs. Note that you can also change the position of the text as per your requirements.
Step 6
Now that you have written the text and set its position, it is time for you to set the time duration for which the text will be displayed. For that, you would be required to change the position of the two blue markers that are present on the slider right below the window of the video.
Step 7
To make sure that everything is done in the way you wanted, you are requested to press the play button to view the video
Step 8
If something is missing or something is not done right, go over the steps again and make the required changes., In another case, if you have achieved what you wanted, hit the done button, and save the new video.
How to Add Multiple Text in Windows Video Editor
Part 2 An Easier Way to Add Multiple Text to Video
While it is a decent and handy video editor, the Windows Photos App does tend to lack quite a number of features. For example, you may lack the option of a timeline, and you may also lose the ability to sync metadata across devices. Moreover, you may also miss out on some fine-tune controls and may have a limited amount of editing options
If you are someone who prefers to spice up your videos in a more professional way, you are recommended to try out FlexClip for editing your videos. This free online tool offers a series of features that tend to be very helpful in the editing process. Hence, you will be able to add numerous dynamic texts, fonts, and animations and the user-friendly and intuitive design of the app will also make it significantly easier for you to edit your videos.
So, if youre wondering how to add more than one text in a video editor, here is how that can be achieved with FlexClip.
Step 1
Open the FlexClip video editor and upload the video in which you wish to add text.
Step 2
Click on "Texts" in the left toolbar and add mutiple texts to the video. Explore different options and perform customizations accordingly. When you're done, navigate to "Adjust time" button at the top-right of the screen.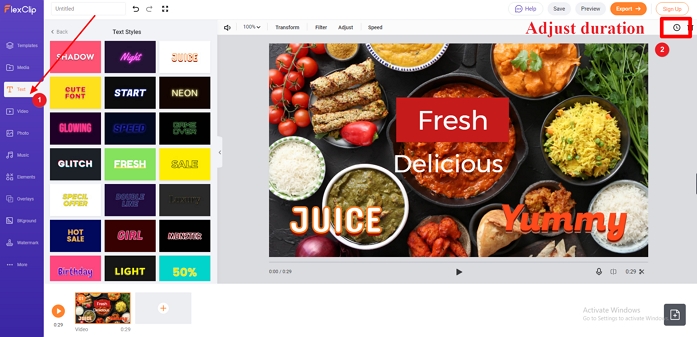 Image Board: Add Multiple Texts to Video with FlexClip - Step 2
Step 3
Adjust the duration of the added text. Here, you can tweak the text duration and decide the time when the text appears by dragging and dropping the text.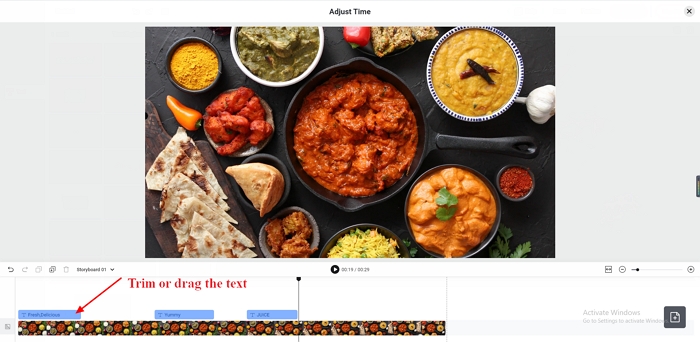 Image Board: Add Multiple Texts to Video with FlexClip - Step 3
Step 4
Preview the final video to check if everything is done in the way you wanted and then export it.
Bottom line
Adding multiple texts in your videos will undoubtedly engage the viewers differently. Not just that, it will also enable them to connect with the video more understandably. So, what's the wait for then? Start doing pro-level editing right away and follow the above-listed steps to make the process easy and hassle-free.