Briefs: Compressing videos will only do good whether you work on YouTube, FaceBook, Twitter or website. Read differences between compressed videos & uncompressed videos. Also, we've rounded up 6 best free video compressors, so that you can compress a video easily.
When a video fails to load or can't be played on a browser, uncompressed video can be a reason. You can troubleshoot the issue by compressing the video.
Part 1: Uncompressed Videos VS Compressed Videos
When uncompressed video uses up PC resources, PC will get stuck!
Tip: Uncompressed videos use normal algorithm to store all pieces of visual & audio information (piece by piece without sorting, and there can be repeated messages to ensure a piece of message is correct). Because of that, an uncompressed video may take up massive PC resources (i.e., memory and space). It's no good news to both servers(website host machines) and end-users(PCs).
Uncompressed Videos Cons:
Uncompressed video storage wastes bandwidth.
Uncompressed videos take more memory & space.
Q&A: Why are uncompressed videos slow or failed to load? - Besides that uncompressed video file size is large, transfering uncompressed video speed is much slower. (2 factors determines message-transferring efficiency: a)The order of message sending/receiving, b)How many messages are sent/received each time. Uncompressed videos have no edge on these sides.)
Compressed Videos Pros:
Your video will load faster, which means a better user experience and engagement.
Compressed videos are more platform-friendly, i.e., friendly to YouTube, Tiktok and Instagram.
Part 2: 6 Best Free Video Compressors
#1.FlexClip Swift Video Compressor[Free & Online]
URL: https://www.flexclip.com/tools/compress-video/
Platform: Online, across Platforms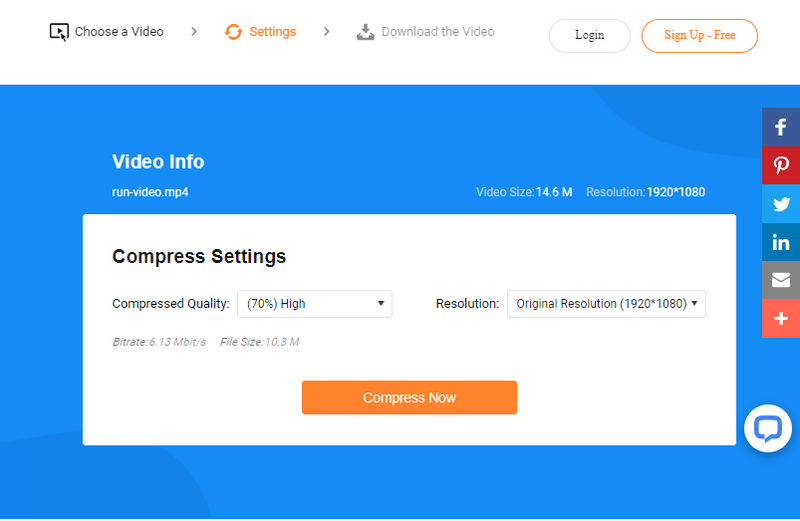 Image: FlexClip video compressor free online.
The handy video compressor allows you to compress a video based on quality & resolution. It compresses video size, from 10% all the way up to 80%. For video resolution/dimension, you can choose from 360P, 480P, 720P, and 1080P.
FlexClip highlight is that you can see original video size, output video size and other variables based on your choices.(Many video compressors won't tell you these things.)
#2.Format Factory Converter for Windows
Official URL: http://www.pcfreetime.com/formatfactory/
Platform: Windows x32 & x64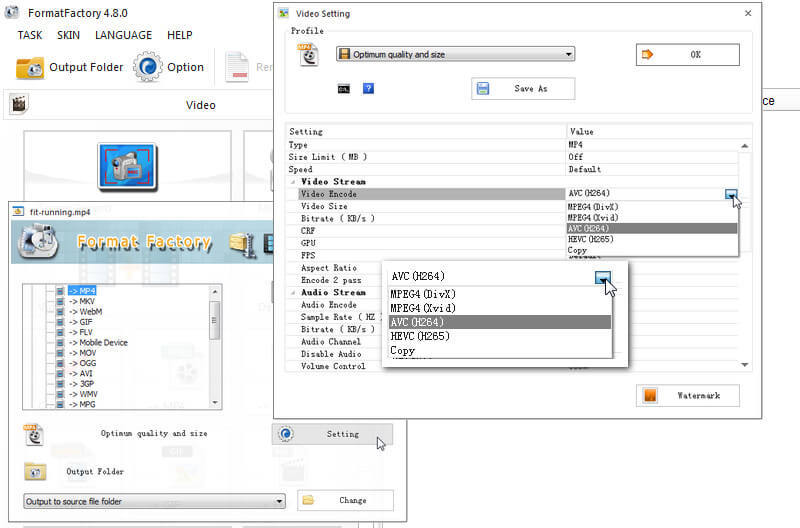 Image: Windows Format Factory Converter.
Format Factory Converter dominates video conversion. Supporting all kinds of video formats, Format Factory Converter allows you to compress a video to any format. You are also available for all kinds of free codec compressions.
#3.KeepVid Video Compressor Free Online
Official URL: https://keepvid.com/video-compressor.html
Platform: Cross-platform, Web-based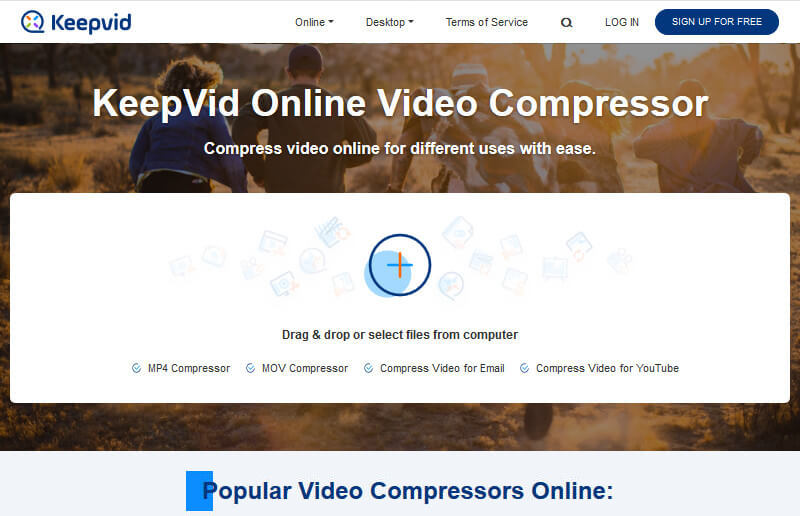 Image: KeepVid video compressor for MP4 & MOV.
Although KeepVid shuts down its download support, it launches an online video compressor.
Ensure you have a good network. Upload a video for compression, wait 10+ minutes, and you'll have 3 compression options in quality of High, Medium or Low for download.
Need to mention: The online free KeepVid video compressor only reduces video size of MP4 or MOV videos.
#4.YOUCOMPRESS Video Compressor Free Online
Official URL: https://www.youcompress.com/
Platform: Cross-platform, Web-based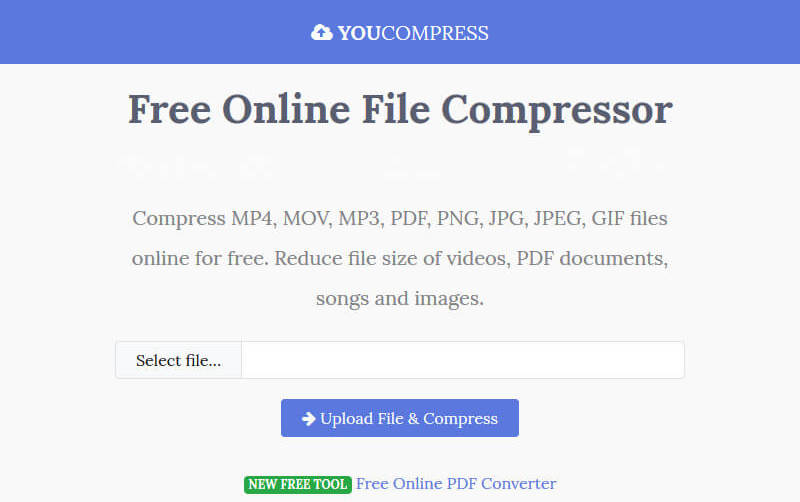 Image: YOUCOMPRESS video compressor free online.
YOUCOMPRESS is another free online video compressor. Just like FlexClip and KeepVid video compressors online, you need to have a good network. YOUCOMPRESS will help you compress video via drag-and-drop.
Different from other video converters, YOUCOMPRESS won't allow you to choose compression codec or video codec. But it will tell you how much video size will be reduced when it's finished.
#5.WonderFox Free HD Video Converter for Windows
Official URL: https://www.videoconverterfactory.com/free-hd-video-converter/
Platform: Windows x32 & x64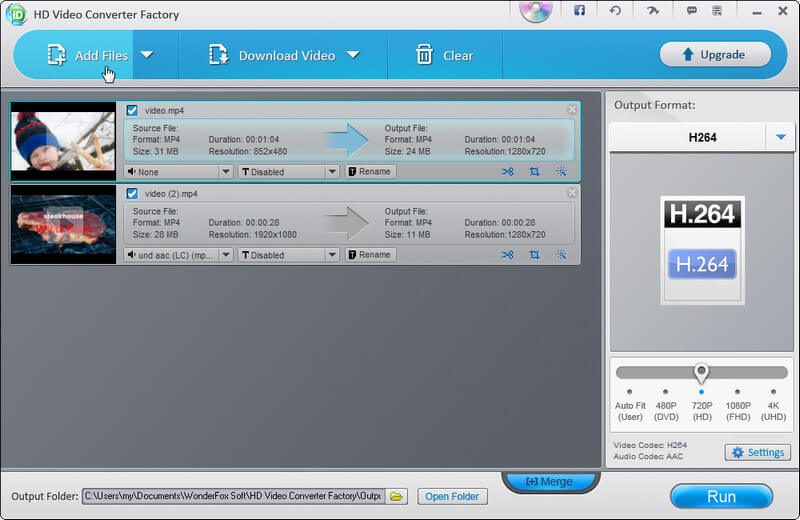 Image: Free HD video compressor.
The partial free video compressor has equipped the most trendy codec compression technology. As for MP4 compression, you'll find H.264 and H.265 as download options.
If you have no idea of what those codecs, it won't matter. Free HD video compressor has catogeries tagged with device names, and you can just choose yours easily.
#6.AVC for Mac(and Windows)
Official URL: https://www.any-video-converter.com/products/mac_video_converter_freeware/
Platform: Mac & Windows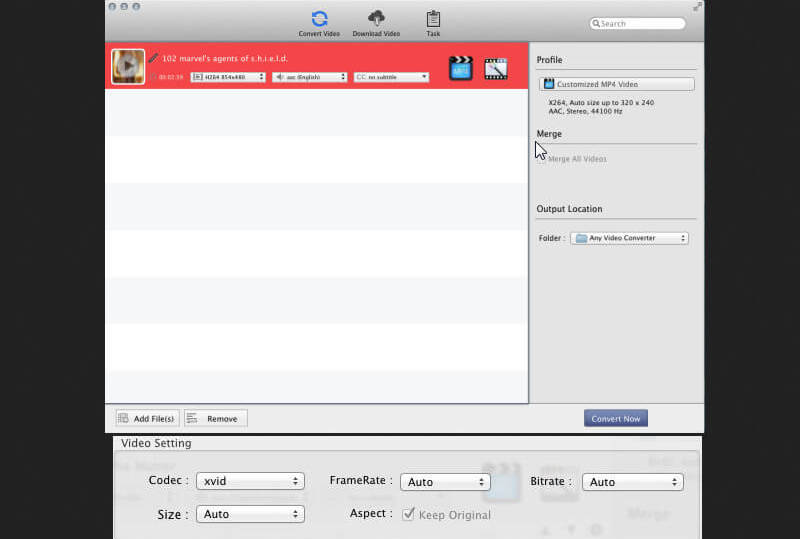 Image: AVC free video converter & compressor for Mac.
Any Video Converter Free for Mac is another partial free, feature-limited video compressor. (AVC has a free version for Windows users, too.) There are a few free video converters online, AVC for Mac is one of the tops. It presents multiple compression options to choose from.
Part 3: Finally
Which video compressor do you like best? If you don't know which one to pick, FlexClip video compressor is a great tool to reduce a file size fast.