Say goodbye to announcing all your wedding events using the traditional ways! Your wedding can be different and unique! There are animated videos to give you more room for inspiration and customization. Whether you want to create a wedding invitation, anniversary trailer or engagement video, animated videos will always make you stand out effortlessly.
This blog will take you through the three best ways to make an excellent wedding animation video online. Let's have a look right now!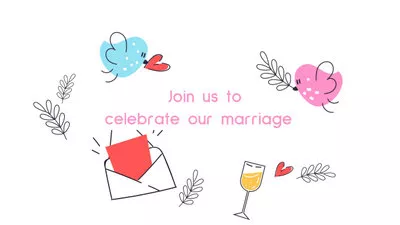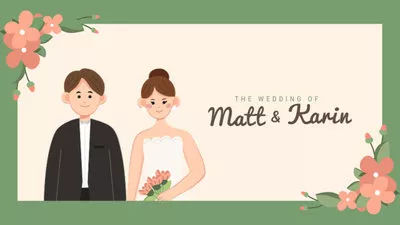 Can't Miss: How to Make a Rehearsal Dinner Video>
#1 FlexClip - Easy and Flexible Animation Online Maker
FlexClip is an online animation maker which is entirely cloud-based. No need to download or register requirements before editing. When it comes to making wedding animation videos, FlexClip lets you customize already-made wedding animated video templates or combine 3D animated video clips then edit. All edits can be done, even for a newbie. Moreover, it offers rich media resources and handy editing tools to meet all your needs.
Wedding Animation Maker Online - FlexClip
How to Make a Wedding Animation Video Using FlexClip
Step 1
Click on Create a Video to start a new project with solid color background or pick an animated background from FlexClip's library. Besides, you can directly use a ready-made template to get a satisfying video in seconds.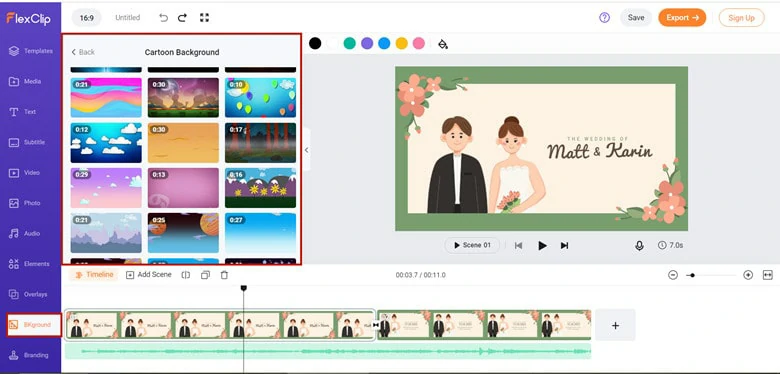 Add Background for Your Wedding Animation Video
Step 2
Add animated items like the bride and the bridegroom stickers, red-heart shapes, garlands, and everything you can think about related to the wedding under the Elements panel.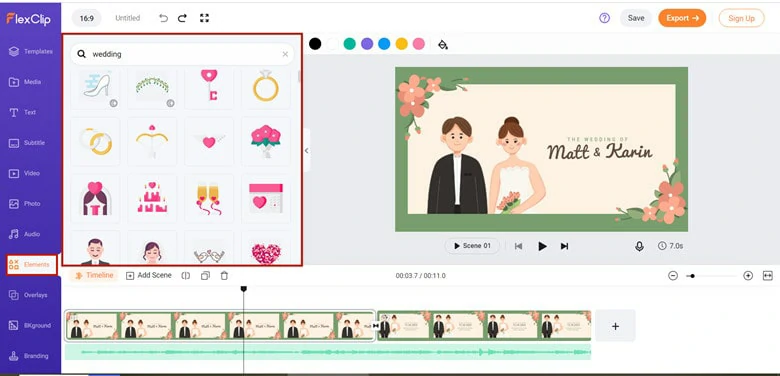 Add Animated Items to Your Wedding Animation Video
Step 3
Add
animated title
packs to your wedding video from the Text panel and you can change the motion track as you like.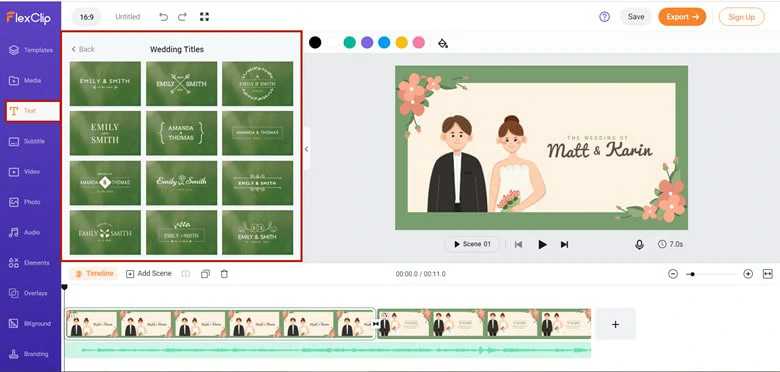 Add Text to Your Wedding Animation Video
Step 4
Use a lovely soundtrack to perfect your wedding animation video. You can select from FlexClip's music library or upload your audio file.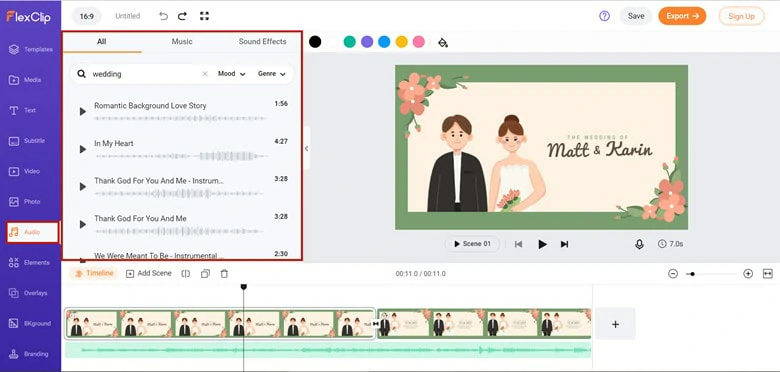 Perfect Your Wedding Animation Video with Music
Step 5
When you've finished editing, tap the Export icon to save video or email a clickable link to announce your Big News!
# 2 Animaker - Popular Animated Video Maker Online
Animaker is an online do-it-yourself video maker that brings studio-like animated and live-action videos within your reach. It offers versatile assets and features to give you more room for wedding video creation, including animated infographics and typography animations. Moreover, you can make cartoon-like characters in numerous models of different figures and movements. 
Additionally, this animation video maker has a wide range of stunning wedding templates with pre-made animated elements. If you're a master who needs professional tools to unleash creativity, you can try Animaker!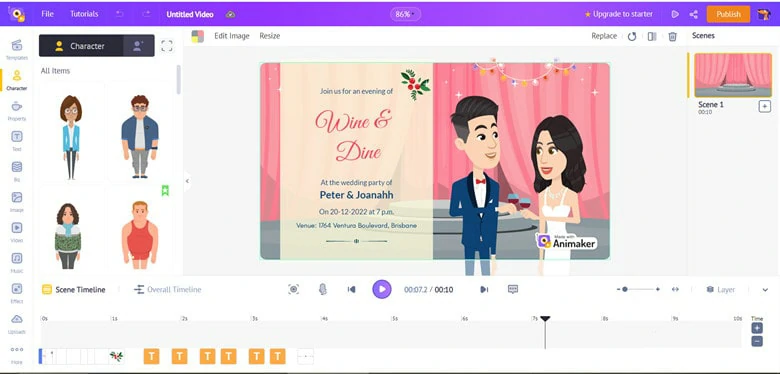 Wedding Animation Maker Online - Animaker
How to Create a Wedding Animation Video Using Animaker
Step 1
Go to Animaker's official website and register to your account before making edits. Then, choose a ready-made wedding animated template from its library or create a new blank to start from scratch.
Step 2
Build your character by changing color, hairstyle, clothes, gestures, decoration and other things related to the lovely bride and the bridegroom.
Step 3
Next  edit the text, add or
change the background
, add special effects, and choose transition effects to smooth the video.
Step 4
Once you're satisfied with the animated wedding video, you can add background music, a
voiceover
or a robotic voice to read text.
Step 5
When the video is complete, it's time to save and share it on your social media platforms.
# 3 Powtoon - Versatile Animated Video Maker
Powtoon is another leading online animated maker that helps beginners with no design knowledge to create professional-looking wedding animation videos in minutes. Avail the rich media resources and character items to wow your audience without effort. Moreover, it's free to customize your wedding animation video with  icons, illustrations, music, colors, fonts and more. Overall, it's a powerhouse for making animated videos and content marketing.
Wedding Animation Maker Online - Powtoon
How to Produce a Wedding Animation Video Using Powtoon
Step 1
Visit Powtoon.com and sign up for your account to start creating an animated video.
Step 2
Choose one of the ready-made animated video templates or create a new one from scratch.
Step 3
Use this flexible video editor to customize your videos with icons, illustrations, animation, music, colors, custom character and other graphics for a personal touch.
Step 4
It's time to end editing! Download your animated wedding video as an MP4 or share your new video directly to social media platforms.
The Bottom Line
That's all for how to create a personalized wedding animation video online. By the way, FlexClip not only helps you make wedding videos but also allows you to create movies, family videos, holiday videos and more. Don't wait anymore! Come and tell your story via an animated video now!