Summary: Learn how to write a video script with detailed steps - as well as the best practices of scripting to help you get started.
Whether you're going to make a movie, a YouTube video, a corporate video, or an explainer video, writing a good video script can save you from many problems.
That's to say, the first thing you need to do before you make a stunning video is to write a compelling script.
Writing a script for a video seems daunting, but don't worry. You just need a few simple steps and tips to write a great video script.
Here in this blog, we'll go over how to write an effective script for your video.
Also Read: Video Storyboard Guide: How to Storyboard Your Video Effectively >
Contents
Follow our step-by-step video scripting guide to write your own video script.
Step 1 Start from a Brief
A video brief can help you understand your objectives and your audiences so that you can write a script that drives the results you want.
When developing your brief, there are several key questions you should focus on:
Questions:

What's the purpose of this video?
What's your video topic?
Who is the audience of this video?
What action would you like your viewers to take?
Come up with the answers and use that as an outline for your script to start scripting.
Step 2 Craft Your Story Outline
Once you've written your video brief, it's time to start constructing your video script with a story outline.
In this stage, you need to create the "story" skeleton, which you can flesh out later. Here s a simple exercise for you to craft an outline: distill your story using just five sentences.
Step 4 Close Your Video Correctly
Your narrative in the script should build toward an ending of your video. Once you have your story ready, it's time to think about how to close your video correctly.
A good ending of a video always includes a good CTA that you want your viewer to do. It always goes along with your logo and URL.
Step 5 Review Your Script
So finally! You've written a script for your video! Do not forget to take a pass and review your video script before you start shooting.
Just check the following things:
Checking:

Is this script likely to achieve its goals?
Will the audience understand the concepts presented?
Is it written in a way that will resonate with the audience?
Does the script communicate the core information or message?
Does it tell a story with a logical flow?
If the answer to any of question above is no, you need to go back and edit your video script into a perfect one.
To help you write an effective script for your video, we share some killer tips:
✓ Identify Your Target Audience
The first tip for writing a compelling script for your video is identifying your target audience. With a clear image of the person, you'll be targeting with your videos, and your video content can attract and engage the right people.
✓ Write as you speak
When you sit down to write your video script, you need to write as you speak. In other words, you need to make your script sounds natural when spoken aloud, especially when it comes to dialogue.
✓ Be as concise as you can
Shorter videos always are more compelling than longer videos. To make short videos, you need to write a short script for it. Never write a video script longer than two pages, it's better for you to keep it to just one page.
✓ Show, Instead of Telling
Now, let's turn a script from something written into something visual by sketching them out.
The golden rule for any type of writing is to show, not to tell, and video script writing is no exception.
✓ Use Humor Wisely
Humor is an excellent tool for storytelling, and the same goes for scripting. So you can try to include written humor in your video script writing.
By now, you've got your script ready, and it's time to spark your script and make your video!
Turn to our video maker, FlexClip, to brew your custom video now.
Here we recommend a powerful yet easy-to-use video editor, FlexClip, to help you edit your videos with great ease. Whether you're a green hand who just getting started with the basics or an expert who already mastered video editing, FlexClip is the perfect way to turn your video or movie into a masterpiece.
Step 1 Create a New Project
Create a new project to start creating your video. You can choose a video template or start from scratch.
Step 2 Add Video Footage
You can upload your local media or find some asserts from FlexClip's media library that provides your numerous stock media.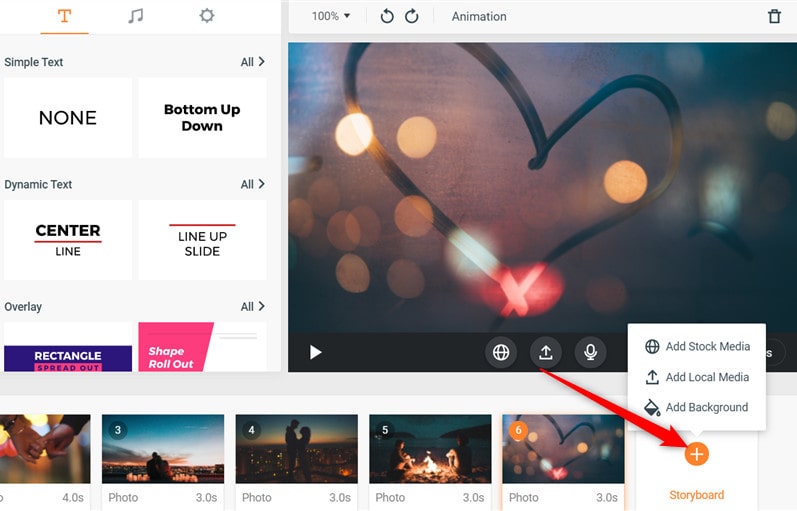 Image board: Add Video Footage
Step 3 Add Transition
Make the transition between your video scenes more smooth with the stunning transition effects of FlexClip.
Depict video: Add Transition
Step 4 Highlight Your Video Content with Text and Overlays
Here are various text effects you can use to highlight your content, including simple text and dynamic text. Pick one you like and enter your messages.
Besides, you can also apply some overlays to your video frame to make it far more appealing.
Depict video: Highlight Your Video Content with Text and Overlays
Step 5 Add Audio
You can pick a piece of music or sound effect to your video from FlexClip's media library, or upload your own song.
What's more, you can also record a voice-over to your vide to explain your content clearly.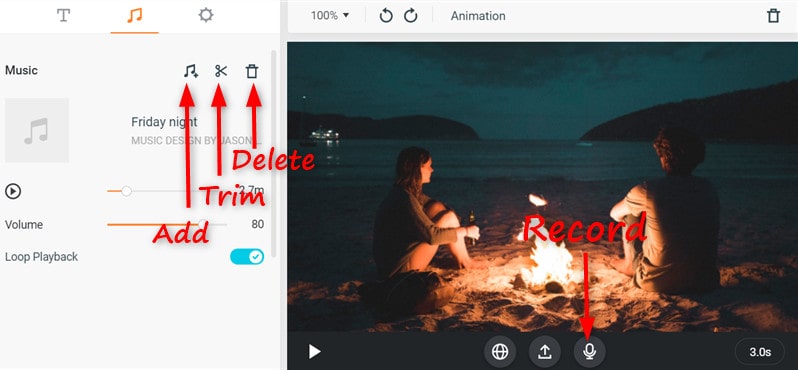 Image board: Add Audio
Step 6 End Your Video with an Outro
FlexClip offers cool intro/outro templates for you to customize your own one with great ease. Just choose the one you like the most and then personalize it with your own details.
Depict video: End Your Video with an Outro
Final Words
Get the detailed steps and practice tips for writing your video script. Ready to get started? Just do it now!