A talking head video is a 3D or 2D animation video in which the main character appears like a talking human head. Although sometimes it can appear as an ordinary real-life human head talking to the camera depending on the camera position, the only thing the viewers will be seeing are the head and the shoulders of the interviewed.
Talking head videos are seen in virtually every part of the presentation: YouTube video presenting, company product descriptions, official announcements, etc. There is this special attraction that comes with using talking head videos to send a message across to your audience.
Benefits of Creating Talking Head Videos
Talking Head videos are always considered one of the most eye-catching: more reason it easily grabs the viewer's attention. Product marketing experts have, on different occasions, confirmed that using talking head videos remained the best way to introduce their products to prospective customers. It has remained the most authentic way of communicating to the public or either for making a special announcement or introducing a new product to the public. And for the fact that it doesn't take much to create makes it even more promising for an average video content maker.
Tips to Make Great Talking Head Videos
Below are some of the tips you need to come up with a talking head video that works. Please follow.
1. Focus on the Outcome
You have to visualize the outcome of the video even before you start shooting. Visualize what the audience will think about it, and see the video in the eyes of the audience even before you get on with it. Which that in mind, you will be able to make a better decision on how to pull it off – you will get to know which tool to apply and how to apply them.
2. Use Enough Lighting
In this art, the quality of video production matters a lot. And to do that, you need enough light to bring out the needed brightness in the video. To succeed in this, don't let the light go too close or far from the speaker. You have to watch closely from the camera; that's the only way you can get to know when there is enough light to light up the studio.
3. Get the Right Set Design
Talking head videos can easily get boring at a point; there are not many things to see in such video format, only the head and shoulders of the interviewed. So, to make it right, have a nice-looking background, and make the content as interesting as possible. That way, the viewers will have something to stay glued to.
How to Do Talking Head Video Editing
Remember that we once mentioned that the software tools you apply to your talking head videos have a lot to do with the Outcome of your video? One of these editing tools is FlexClip, the industry's best talking head video maker. There are some impressive features that come with this tool; some of the unique ones include a no download feature: it is an online tool, so you won't bother downloading it or taking up more storage space on your device.
Another is the easy-to-use yet powerful editing tools, rich music, photo, video, or even animation resources to level up your work. And finally, it comes with a one-click share to YouTube feature. Below are the detailed steps to edit your talking head videos using FlexClip.
Step 1
Upload to the timeline. Upload your video to your timeline using the "Upload File" function.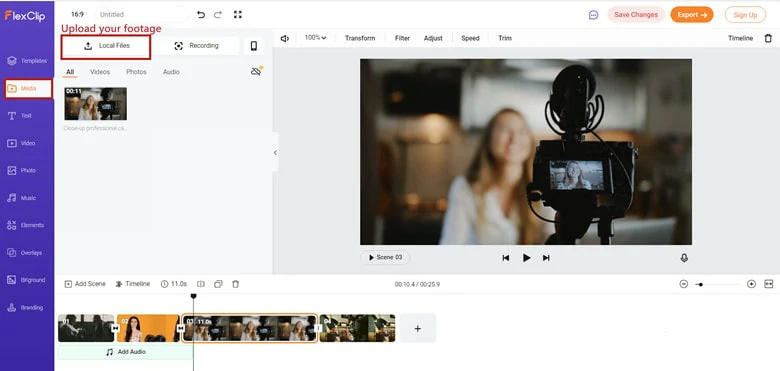 Upload Your Footage to Timeline
Step 2
Edit the video clips. From the "Media" section at the sidebar, you can
trim
and add filters,
transitions
, or widgets.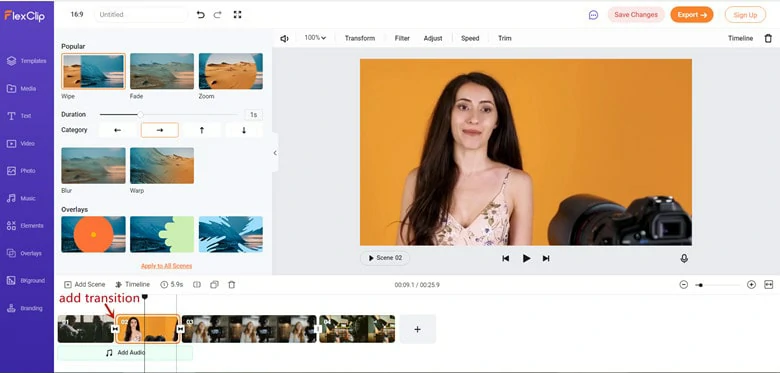 Make Edits to Your Talking Head Video
Step 3
Add text. From the "Text" section of the sidebar, pick your preferred text from the many text options.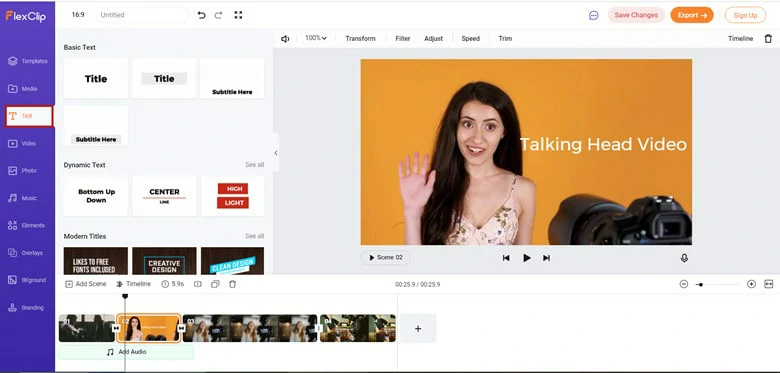 Add Text to Your Talking Head Video
Step 4
Add music and voiceover. This is where you need a good microphone for the
voiceover
or a fitting song for your
background sound
.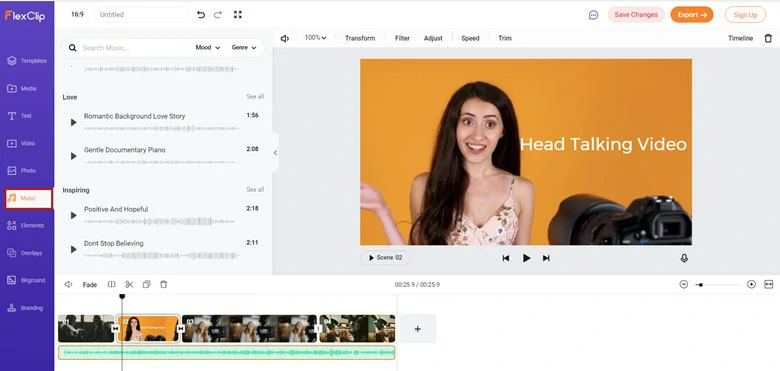 Add Music to Your Talking Head Video
Step 5
Download & export. Now that you are done, click "Download" to download your video to your local disk or "Export" to export to any video sharing platform.
The Bottom Line
Talking head videos may be peculiar with shooting documentaries and conducting some high-profile interviews. And endeavor to make your video session worth the time of an average viewer watching it since there is not much to see except the person talking. So, make sure to like and share this content to reach others who might need this information.