Due to the COVID-19 pandemic, people have spent more time at home, and with limited mobility, gaming has become a popular pastime. Gaming-related channels have two of the top five most subscribers globally, with 48% of YouTube gamers spending more time viewing gaming videos than playing games. If you are a good gamer, this is a chance you can't never miss.
Before getting started, please be noted you can't just record your whole game and share because that nobody wants to see your whole game. Their attention span is short, and they want to be captured by the most epic moments. And how do you do it? Using the best video editor for game clips can make your gaming video more useful and enjoyable. By editing your gaming video with the best video editor for game clips, you may make it more useful and enjoyable.
I have compiled a list of the best game video editing software and tools below.
Best Game Video Editing Online Tools
Best Game Video Editing Software
Best Game Video Editing Online Tools
1. FlexClip
FlexClip is the best game video creator because of its powerful and easy-to-use editing capabilities, as well as its extensive resources. To begin, it has a variety of tools for making it to the top of the list for video editors for game clips, such as adding transitions, filters, and adjusting video speed. All of this can be accomplished with a few mouse clicks with this video game editor. It also has a media library with millions of photographs, movies, and music resources ready to take your work to the next level.
Pros:
There is no need to save projects on a local server.
Templates and elements are pre-installed for speedier working.
Professional videos can be made by anyone, even if they are unskilled.
For advertisers, a low-cost video editing solution is available.
Cons:
Team collaboration is not possible easily.
Price Plan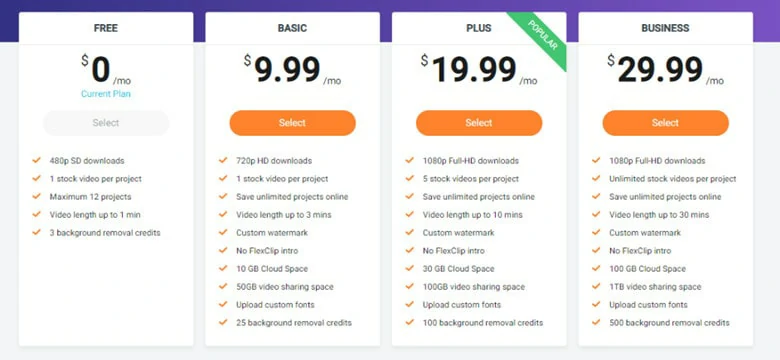 The Price Plan of FlexClip
2. Kapwing
Kapwing is a free online image and video game editor for both amateur and professional creators. With collaborative, accessible, and fast software, you can enable your entire team to create multimedia with the best video editor for game clips. Save time by subtitling, creating collages, editing bug reports and screencast videos, annotating photos, and doing other chores.
Pros:
Easy to use for both novices and professionals.
Free to use for maximum features.
Useful for
trimming
, dividing, and merging videos.
The software's ability to share your edited and final videos on social media sites makes it more reliable.
Cons:
It necessitates several cutting-edge skills.
It is easy to post
4K UHD videos
, but the viewer expects quality consistency, which is not available when exporting files.
Price Plan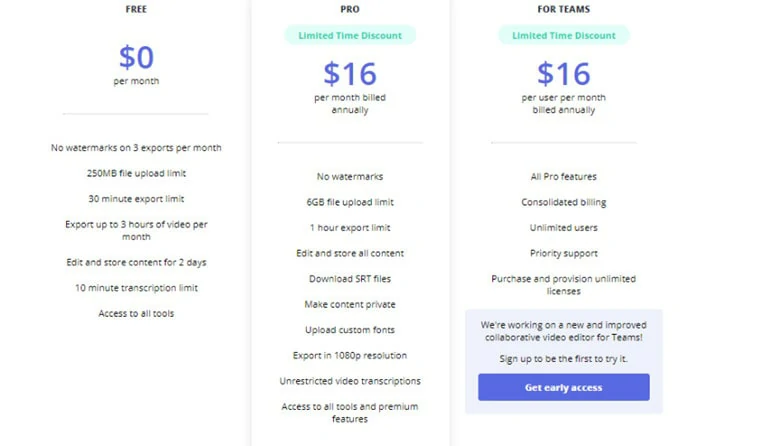 The Price Plan of Kapwing
3. Movavi
Movavi's video game editor is a more powerful version of a consumer-friendly video editing tool. This application has everything you need to edit videos for social media and video streaming. This is the reason it is considered the best video editor for game clips. It also works with Windows 11.
Pros:
Intuitive for first-timers
advanced features made easy
Cons:
not built for more professional editing
Price Plan
The Price Plan of Movavi
4. Fastreel
With fastreel video game editor crop, compress, convert, or perform any other operation in just a few clicks with any of 23 stand-alone functions. You can also use our ready-made templates to quickly create professional videos.
Pros:
Built-in music collection is free
A library of
templates
that is constantly growing
There are numerous video editing capabilities available
To get started, you do not need to download the application
Cons:
You can only upload a file up to 500 MB
There is only one output format (MP4)
There are only a few input formats available (MP4 for video; MP3 for audio; JPEG, PNG, and GIF for images)
Price Plan

The Price Plan of Fastreel
Best Game Video Editing Software
1. iMovie
Apple's iMovie is a video editing software tool. Editing options include the ability to tweak and improve video color settings, crop and rotate video clips, stabilize shaky movies, add video transitions, and change clip speed. It is a top video editor for game clips.
Pros:
A very user-friendly interface
Cons:
Requires a high level of HDD space
Importing MP4 files for editing is complex
Price Plan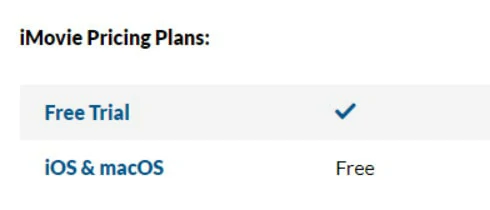 The Price Plan of iMovie
2. Openshot
This video game editor allows you to easily integrate several video clips, graphics, and music; cut off extraneous areas; separate the audio file from the video; mute or reset the volume; and mix audio and video files.
Pros:
Non-linear Editor with Infinite Tracks
3D 2. Curve-based Time Mapping
Cons:
Less Powerful Hardware Acceleration
Price Plan
It's free to use.
3. Final Cut Pro
Final Cut Pro is a fantastic tool for video game editors who want to work on Macs. This professional video editing app for macOS users includes a variety of powerful tools such as filters, motion graphics, special effects, and more and makes it the best video editor for game clips.
Pros:
2D/3D Support and Application
Filters and Effects Support and Application
Cons:
Price Plan

The Price Plan of Final Cut Pro
4. VSDC
VSDC is a Windows non-linear video editor. Here are some popular features made possible by non-linear video editing technology:
Removal of the green screen (Chroma Key)
Split-screen and side-by-side videos
Pros:
Incredible Visual Effects
Effective text Processing
Custom Color Correction Drawbacks
Every video editing tool is available
There are numerous Blending modes available
Cons:
There are no pro editing features
There is no video stabilization tool
Price Plan
VSDC is offered in two versions: free and $19.99 Pro.
The Bottom Line
This post has provided the top video games editors in 2022, along with its essential features, pros, cons, and information on what to consider before downloading. The programs mentioned above are particularly adept in usability and feature-rich, allowing you to create a professional video using only clips and audio.