Try to make portrait movies with iMovie? Or edit a vertical video in iMovie for TikTok?
Unfortunately, iMovie only supports exporting a video of 16:9 aspect ratio, it doesn't give you a option for the portrait mode. If you have a vertical 9:16 video you will get black bars on each side to make it fit iMovie's 16:9 screen, instead of a portrait one.
So how to edit portrait videos in iMovie and keep them vertical? How to make your iMovie vertical for TikTok? This post will show you how make iMovie portrait via a free third-party iMovie alternative and how to make iMovie vertical on iPhone for your Tik Tok, Instagram, YouTube Shorts, or any other platform that uses vertical video.
Also Read: 5 Best Vertical Video Editor - Free & Fast>
How to Make iMovie Vertical:
Customizable Vertical Video Templates Free Download for TikTok/Reels: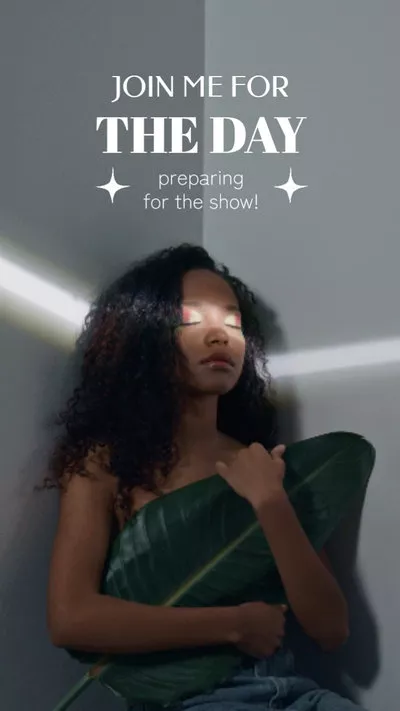 The Great Day Makeup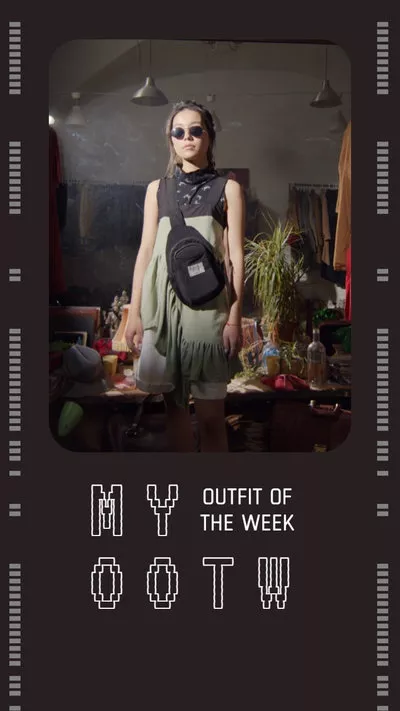 Film Style A Week To Wear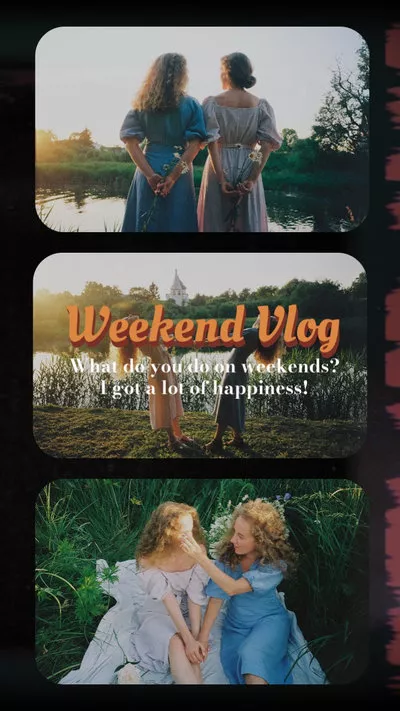 Weekend Vlog Instagram Reels
Method 1 Recommended Way to Make iMovie Vertical & Change Landscape Video to Portrait
As we said before, iMovie doesn't support the portrait mode, a full screen vertical video with an aspect ratio of 9:16, so you can not edit a vertical video in iMovie and keep it vertical without black bars directly. You'll need another tool to remove black bars or make your iMovie vertical.
Here we'll share a much easier way to edit vertical videos or make your iMovie vertical for TikTok, Reels, YouTube Shorts, and more using FlexClip.
With FlexClip, creating or editing a vertical video is pretty easy - simply pick an aspect ratio you want and start making your video using FlexClip's powerful features and stunning effects, including animated text, overlays, elements, and more!
Step 1
Add your photos and clips to the Media section and apply them to the Timeline. Here you can upload your footage form the local file of your Mac computer or you can also upload your iMovie video from your iPhone directly by scanning the QR code.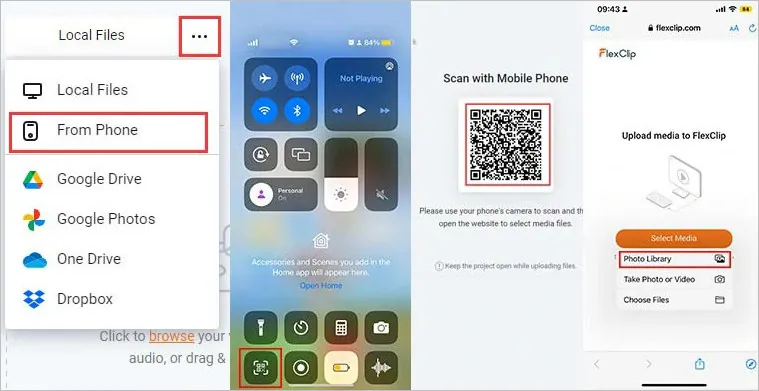 Make iMovie Vertical & Change Landscape Video to Portrait - Add Media
Step 2
Go to the ratio icon on the top left of the screen to pick an aspect ratio you want to convert your iMovie; here, we choose the 9:16 portrait aspect ratio to make it vertical. You can also make your video fit the whole screen by zooming or dragging.
Make iMovie Vertical & Change Landscape Video to Portrait - Change Aspect Ratio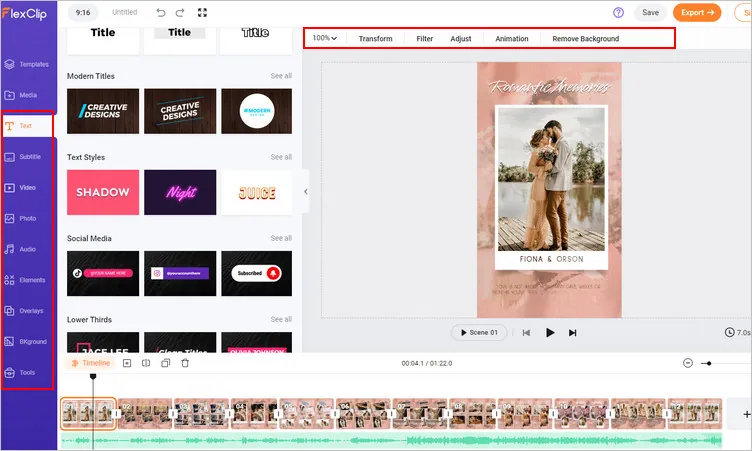 Make iMovie Vertical & Change Landscape Video to Portrait - More Edits
Pro Tip: We highly recommend you give the AI tools a try to automate your video edits, generate video script with AI, easily turn your ideas into video in one click, and also effortlessly generate auto subtitles for your video with AI, and more, which will spark your creativity and help you create videos like never before.
FlexClip AI Tools Walkthrough
Method 2 How to Edit Vertical Video & Make iMovie Portrait on iPhone
In fact, iMovie does not support the portrait mode or give you an option to make vertical video full screen directly. But, you can edit the vertical video in iMovie and export with the black bars, then use the stock Photos app on your iPhone to remove black bars and make the iMovie video vertical in clicks.
Check the simple guide below to learn how to make iMovie vertical video full screen on iPhone:
Step 1
Start iMovie on your iPhone and tap the plus sign to start a new movie, then import the vertical videos you want to edit.
Step 2
Now, you might notice that your portrait video footage will be zoomed in a square one by default. To make it back to a portrait one, tap on the Pinch to zoom icon in the upper right corner, and make the pinch gesture on the screen of your iPhone to zoom in/out the video, this will make iMovie show the full clip and convert the clip to the original ratio as a vertical one.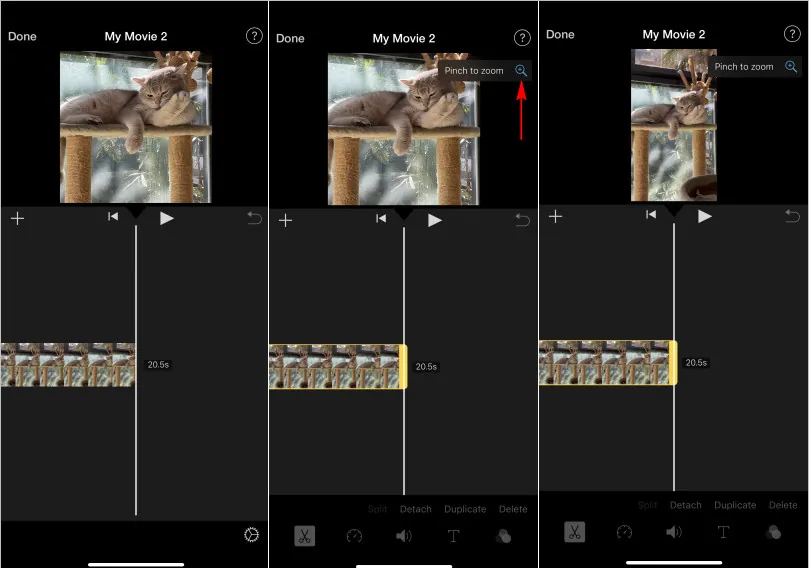 Edit Vertical Video in iMovie iPhone
Step 3
Once you make the video to vertical, you can edit your video in iMovie as usual, whether that's adding titles, backgrounds, transitions, or anything else! Once finished, you can tap Done, then click on the Share button and Save Video.
Although you've edited the vertical video in iMovie, it doesn't save the project as a full vertical video, it attached the black bars on either side of the vertical video, so you need to do the final touch to make the iMovie video a portrait one on your iPhone.
Step 4
Press the home button to go to the main screen, launch the Photos app, select the exported "iMovie vertical video", and tap Edit in the upper right corner.
Step 5
Go to the cropping section and drag the cropping tool to crop the black bars out and then tap Done, and save the iMovie "vertical" video as a real portrait one.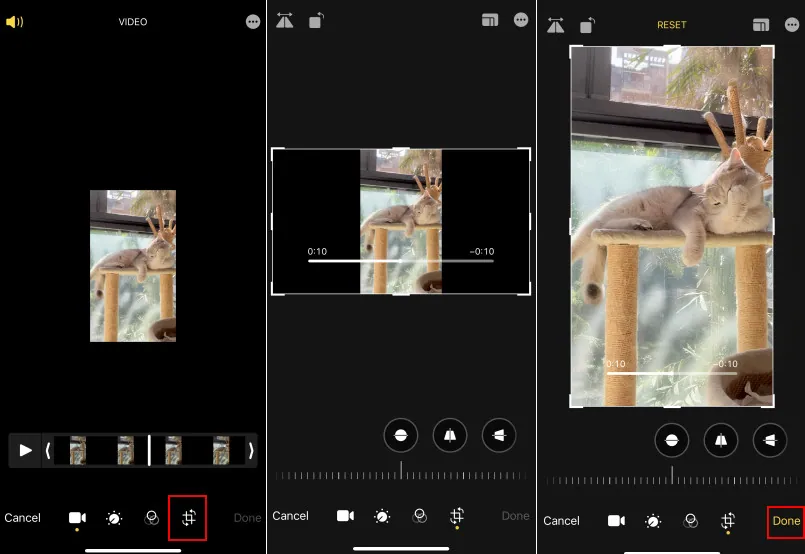 Change Landscape iMovie Video to Portrait on iPhone
Now you've got the iMovie vertical video on your iPhone without turning horizontal and black bars.
Final Words
Now that you know how to edit a vertical video without black bars in iMovie on your iPhone or how to another powerful online vertical video editor, FlexClip, to make the iMovie portrait, it's time to put these tips into practice now!