When you're drowning in YouTube videos, what halts your scrolling and draws you to click the video? It's an eye-catching thumbnail. As videos are so booming, thumbnails do play a crucial part when it comes to boosting click-through rate and attracting more followers.
When uploading videos to YouTube, it will automatically generate thumbnails allowing you to pick one from three options. But if you need a Hollywood-like cover to draw huge crowds, a professional thumbnail maker is what you need.
There are various YouTube thumbnail makers but not all of them perform well. For example, some thumbnail makers add the disturbing watermark to your thumbnails, messing up your whole layout. Therefore, we directly gather 5 best thumbnails makers without watermark for you. Refer to the blog now!
There are some popular YouTube thumbnail templates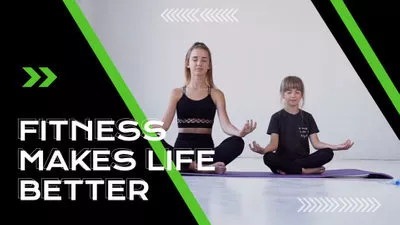 YouTube Fitness Video Thumbnail
YouTube Tutorial Video Thumbnail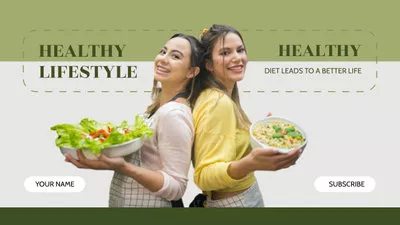 YouTube Cooking Video Thumbnail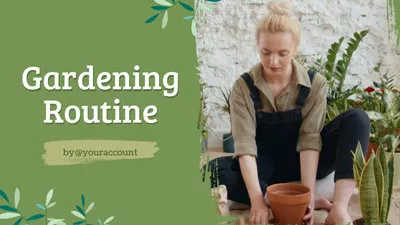 YouTube Gardening Video Thumbnail
The Top-notch YouTube Thumbnail Maker Without Watermark - Canva
Canva is a top-notch graphic design tool, which lets you create stylish YouTube thumbnails without watermark. It has credible thumbnail templates allowing you to get professional-looking thumbnails within reach, regardless of your editing experience.
Besides, Canva will enrich the cover by adding text effects and changing fonts. To download this thumbnail, you need to sign up and choose to save it as PNG, JPG, PDF and more.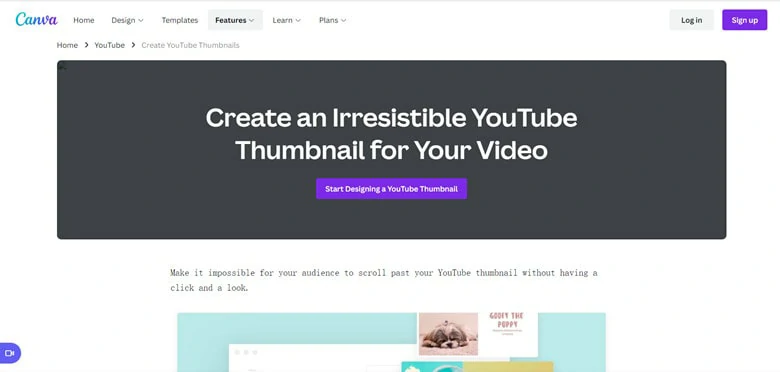 YouTube Thumbnail Maker Without Watermark - Canva
Key Features:
PNG, JPG, PDF and more formats are available.
It offers customizable YouTube thumbnail designs.
It supports text effects with various fonts options.
YouTube Thumbnail Maker Without Watermark - Fotor
Fotor makes it possible to halt people's scrolling and view your YouTube video via an eye-catching thumbnail. As an all-in-one YouTube thumbnail maker, it packs remarkable text, stickers, emojis and other design elements offering ways to unleash your creativity and match your brand with great ease.
Moreover, if you need inspiration, there are abundant free and well-designed YouTube thumbnail templates for help. As the processing is extremely simple and fast, you don't need any editing experience to make a thumbnail without a watermark.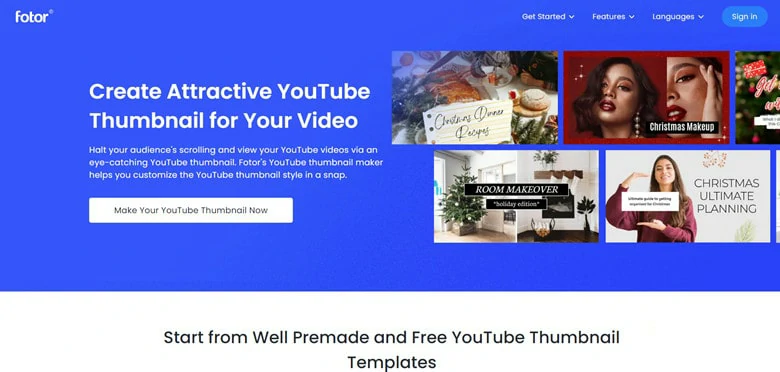 YouTube Thumbnail Maker Without Watermark - Fotor
Key Features of Fotor:
Various free YouTube thumbnail templates.
Fast processing speed without editing experience requirement.
You can use elements like stickers and emojis to make the thumbnail more interesting.
The Best YouTube Thumbnail Maker Without Watermark - Fotojet
Fotojet is an online graphic tool widely used as a collage editor and a YouTube thumbnail maker. Many users consider it the best free YouTube thumbnail maker since it allows for cropping, filtering, adding elements and much more, letting you create awesome covers in one fell swoop.
In addition to speeding up your work, Fotojet includes various types of templates for YouTube thumbnails and posters, letting you make professional-looking covers effortlessly. Once you finish editing, download this work without the watermark stamped.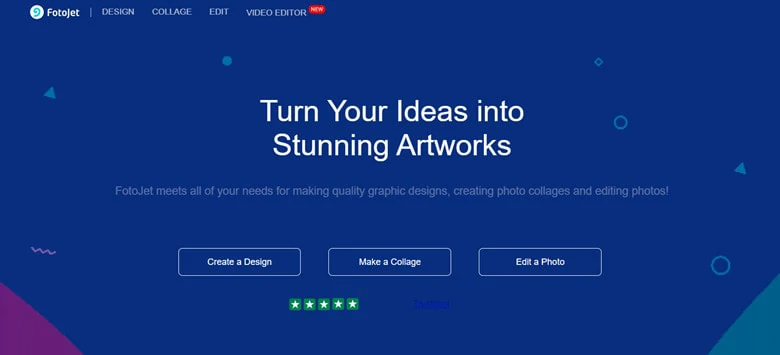 YouTube Thumbnail Maker Without Watermark - Fotojet
Key Features of Fotojet:
Additional editing tools to make your work stand out.
Various types of thumbnail templates to match your needs.
A Popular Thumbnail Maker Without Watermark - PicMonkey
PicMonkey serves as the best YouTube thumbnail maker without watermark for people, who are looking for a tool with enticing fonts, filters, overlays and additional features. Thanks to its wide range of options, whether you're an amateur or a master, intriguing thumbnails will come to hand in a snap.
PicMonkey has over 100 well-designed templates that you can instantly edit to match your needs. Furthermore, you can apply the background erase feature or the outline function to get trendy images.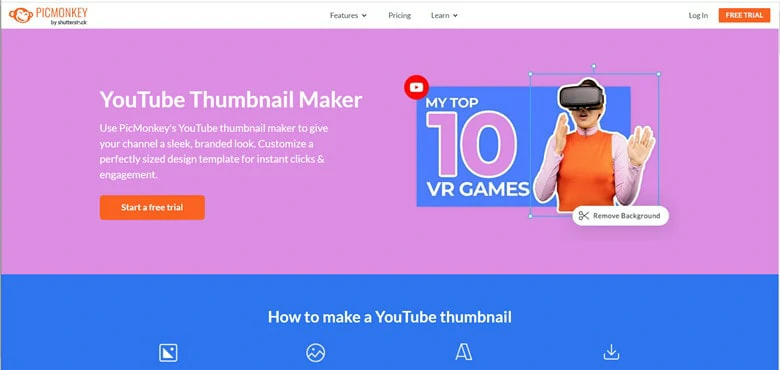 YouTube Thumbnail Maker Without Watermark - PicMonkey
Key Features of PicMonkey:
It's trustworthy and popular.
Over 100 well-designed templates.
Feature background erase and the outline functions.
A User-friendly Thumbnail Maker for YouTube Without Watermark
Adobe Creative Cloud Express is a popular graphics editor that allows you to create catchy thumbnails for almost any content. To create a catchy thumbnail, it not only provides the professional-looking templates but also offers multiple additional features like blurring. It's such a user-friendly YouTube thumbnail maker that a novice can create a high-quality cover without much efforts.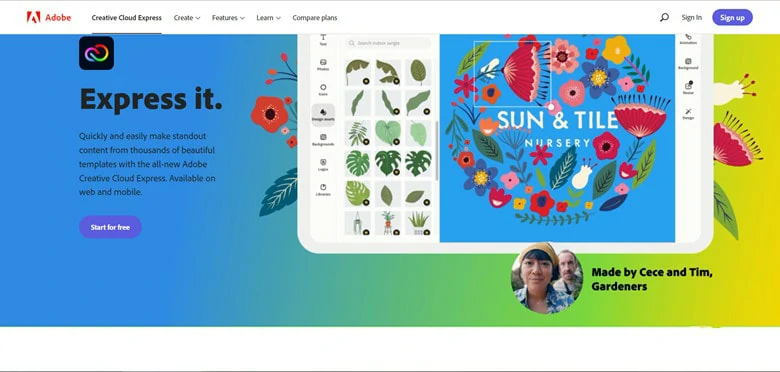 YouTube Thumbnail Maker Without Watermark - Adobe Creative Cloud Express
Key Features of Adobe Creative Cloud Express:
It's a user-friendly platform.
Adjustable color, backgrounds and text.
Additional features like blurring to level up your image.
Bonus Tips: An Excellent Tool to Create Video Thumbnails for Free
If you don't want to go out of your way to make a thumbnail, then what you need is a professional-looking video that enables YouTube to grab any frame as the cover. FlexClip is here for help.
Quick Tutorial on How to Create Videos Online with FlexClip
As an user-friendly video editor online, it provides AI-powered functions and additional editing tools to level up your videos. For example, text-to-speech and text-to-video features empowers you to create jaw-dropping videos even without any editing experience. Besides, it comes with 1000+ well-designed YouTube video templates helping you create masterpiece in clicks. No editing experience is needed! Use this high-quality YouTube video editor right now!
YouTube Fitness Video Thumbnail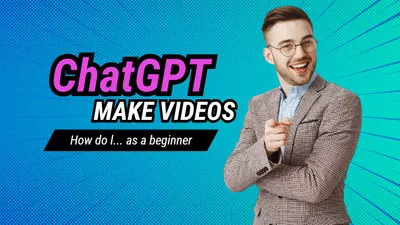 YouTube Tutorial Video Thumbnail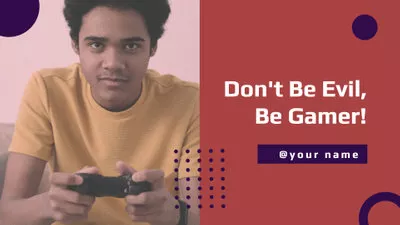 YouTube Fitness Video Thumbnail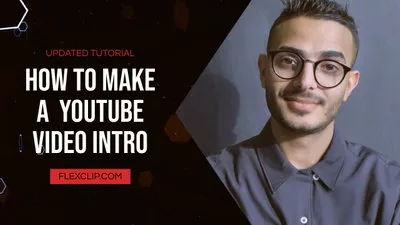 YouTube Tutorial Video Thumbnail
The Bottom Line
Making a YouTube thumbnail without watermark is easy if you have the right tool at your hand. In this article we introduce five best online YouTube thumbnail makers to assist you in making high-quality covers without watermark stamped.
It's hard to say which one is the best as the answer varies to the demands in actuality. Now it's your turn!