How to add a mosaic to any video/photo? If you don't know where to get started, here are the best mosaic video makers you must try! Check this list out and pick the best mosaic video maker for you.
The mosaic effects can cover or blur the parts of the photo or video. They are widely used to protect privacy and cover parts of the video that is improper to be displayed in public. If you want to know how to add a mosaic to a video or photo, keep reading. Here is a list of the best mosaic makers for videos and photos. Try them now!
Part 2. Best Mosaic Makers for Photos/Videos
Part 1. How to Add a Mosaic to Video
To add a mosaic to video, you will surely need FlexClip, a great online video editor that helps mosaic any video in clicks.
The reasons why FlexClip wins our recommendation are, first, it has numerous mosaic styles. Whether you want the mosaic to cover the video completely, or make the mosaic more natural, you can always find the style you'll love. Secondly, FlexClip is easy to operate. There will be no confusion while adding mosaic. Last but not least, no registration, no plugin download involved. Follow the detailed steps to add mosaic to any video/photo.
Step 1
Click on the Create a Video button to enter the editing page. Need some templates? Feel free to go to the Template page.
Step 2
Upload your photo/video to the Media section and apply them to the storyboard.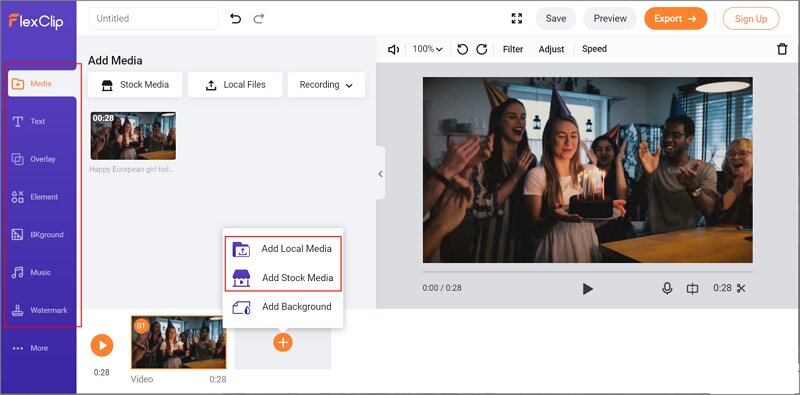 Image board: FlexClip - How to Add Mosaic to Video Step 2
Step 3
Go to the Element section, type Mosaic, find a style you like and add to the video.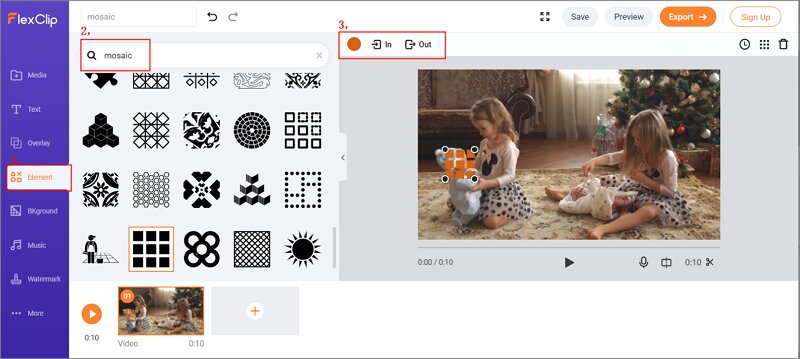 Image board: FlexClip - How to Add Mosaic to Video Step 3
Step 4
Download & export. You can also one-click to share to YouTube.
FlexClip also has many built-in features, such as
adding music
, text, overlay, filter, changing video speed, adjusting brightness and more to your video. Give those features a try!
Part 2. Best Mosaic Makers for Photos/Videos
Tool 1. Filmora Video Editor
Apply For: Windows and Mac
Download From: https://filmora.wondershare.com/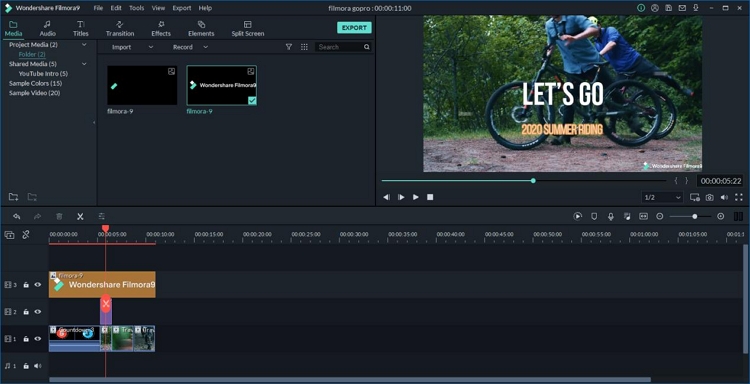 Image board: The Mainscreen of the Filmora
Filmora Video Editor is a popular video editing software at present. This software applies in Windows and Mac, so whatever you use which computer system that you can use this program. This software has provided a lot of video editing tools, such as adding filter effects, adding mosaic to video, green-screen effects, and more.
Although this program is so powerful, it is a little difficult for beginners. If you are a beginner, you may need to spend some time learning how to use the editing functions. And the price has a little expensive, and you need to pay $155.88 per year.
Tool 2. Video Mosaic App
Apply For: iPhone and iPad
Download From: https://apps.apple.com/us/app/video-mosaic-app/id1185459031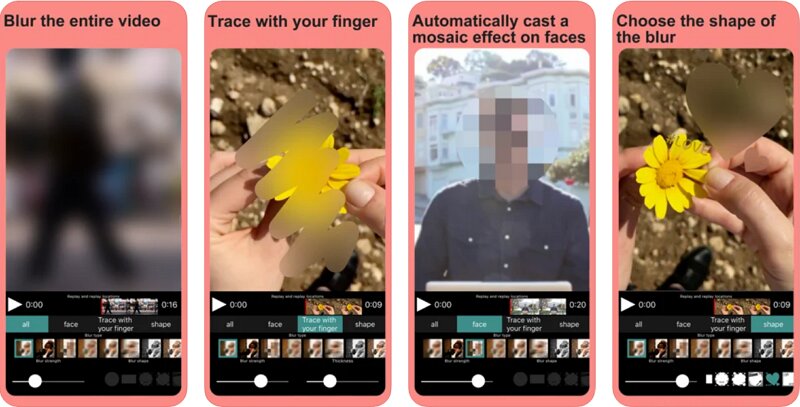 Image board: The Mainscreen of the Video Mosaic App
If you are a deeper phone user, here I list a video mosaic app for you. Video Mosaic is a video blur processing app, you can use this software to record video with mosaic or blurring effect. And you can also use your finger to track the part of the video blur place, and even choose the blur shapes.
Tool 3. FotoJet
FotoJet is an excellent photo editing website. This software provides many templates that users can simple to create collages, social media graphics, posters, cards, banners, and much more. And this software also built-in a lot of powerful design and editing tools that you can use these tools to achieve high-quality results quickly.
For picture editing function, you can add effects, overlay, frame, text, mosaic, and more effects to your photos. And this online editing software, when you finish editing your picture, you can directly share on some popular social media, such as Twitter, Tumblr, and more.
Image board: FotoJet - How to Add Mosaic to Photos Step 2
The Bottom Line
To sum up, on this page, we are talking about the best five mosaic adding programs, and you can choose the one according to your needs.
If you need to add a mosaic to your videos or photos, we still suggest you choose the FlexClip for its ease of use, powerful tools and rich resources. Do remember to give it a try!