Real estate videos are undoubtedly the best way to attract attention to your listing and increase the conversion rate. The Profile of Home Buyers and Sellers reported that 69% of sales agents had a website and 51% of buyers found their homes online.
Want to jump on the board? You don't have to spend hundreds of money hiring a real estate videography. The only thing you need to start from scratch is an easy-to-use real estate video maker, especially providing real estate templates. Look no further! Here we've gathered seven best real estate video editors with templates to help you easily unleash creativity. Let's dive in!
Part 1. Popular Real Estate Video Types You Can Try
Before we step into the real estate video maker list, let's look at the trending real estate videos and get some creative ideas. Below are popular video types and real estate templates that are free to download.
#1 Real Estate Company Promo
The first real estate video type you can try is the brand promo video. This video can be used when presenting at a conference or promoting your company wisely. To create a real estate video, make sure to incorporate all the aspects of your company like the specialty and how you take care of clients' needs.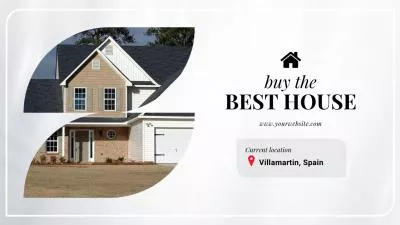 Minimal Real Estate Business Sale Promo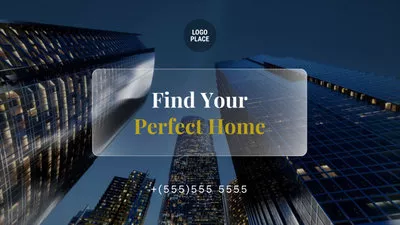 Real Estate Marketing
#2 Real Estate Agent Video
To carry out a video to stand out from others, a real estate agent video can be helpful. This video can smoothly reach potential customers and boost your marketing. You can combine this video with all the testimonials that demonstrate your expertise, reliability and uniqueness, then post it on your social media.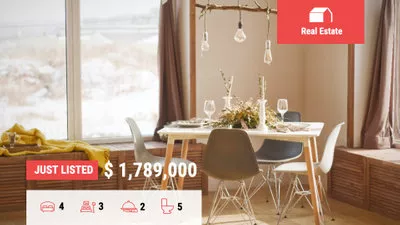 Real Estate Broker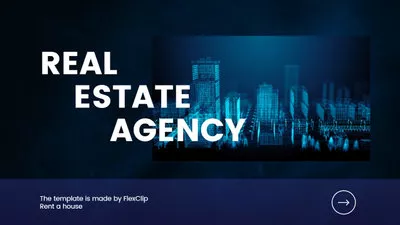 Real Estate Agency Ad Promo
#3 Creative Real Estate Video
In addition to common real estate videos, another creative real estate video type is within your reach. Instead of introducing a particular house, you can make a tutorial video to select houses. People love to watch helpful videos better compared with dull advertisements.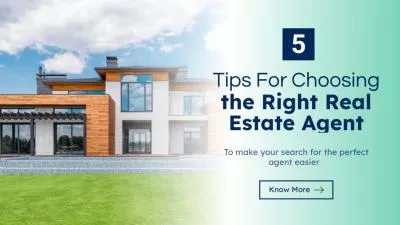 Choosing The Right Real Estate Agent Tips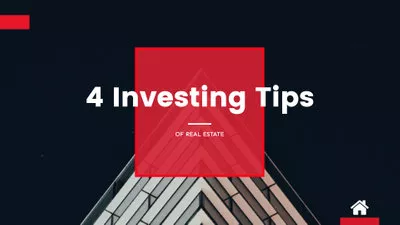 Real Estate Investing Tips
# 4 Selling Points Video
What are the selling points of your real estate? Is the outdoor swimming pool or the charming garden? Convince your potential customers via a selling points video.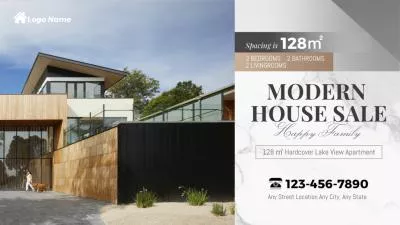 Real Estate Apartment Model House Display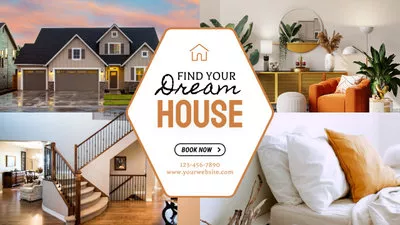 Open House Real Estate Ad Promo
#5 Real Estate Listing Video
Listing videos show an overview of the house and properties you're selling. An engaging real estate listing video will arouse people's interest and make them more likely to reach out to you or your real estate agency.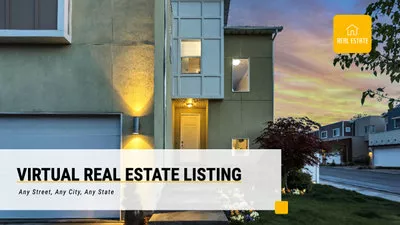 Virtual Real Estate Listing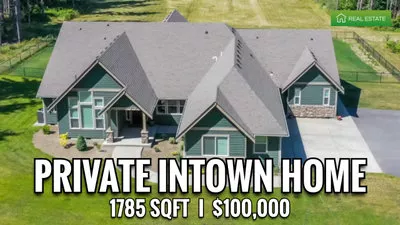 Real Estate House Sale List Youtube Ad
Part 2. Top 7 Real Estate Makers Online for You
1.FlexClip
FlexClip is an AI real estate video editor that generates eye-catching house selling videos from text in seconds. With a simple prompt, you will get a satisfying real estate video with stylish design, subtitles and background music, regardless of your editing experience. Besides, advanced AI editing tools like AI image generator and background remover will help you demonstrate your property in different surroundings.
On top of that, this intuitive video editor offers a decent soundtrack library, 6000+ template library and extensive real estate related assets, allowing you to make professional-looking real estate videos without copyright issues. As for brand features, there are team collaboration, brand watermark and company font functions to create customized videos efficiently. After editing, you can directly share your real estate videos to social media platforms like YouTube and TikTok.
How to Create Real Estate Videos Using FlexClip
To leverage the AI text-to-video feature, follow the steps below to generate real estate videos.
Step 1
Tap on Create a Video button and move to the Tools panel where you can find the Text to Video option.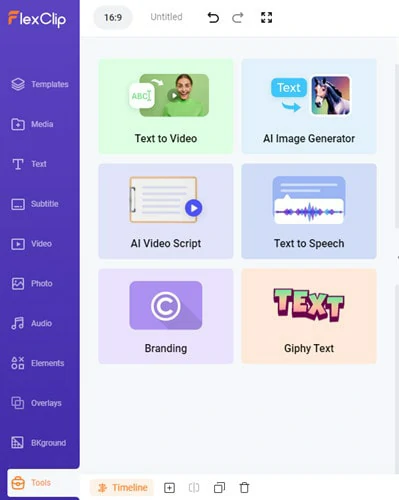 Enter the FlexClip Page and Find the Text-to-video Tool
Step 2
Write a simple prompt like "a professional-looking real estate promo video for YouTube" and then choose the generate method and subtitle style..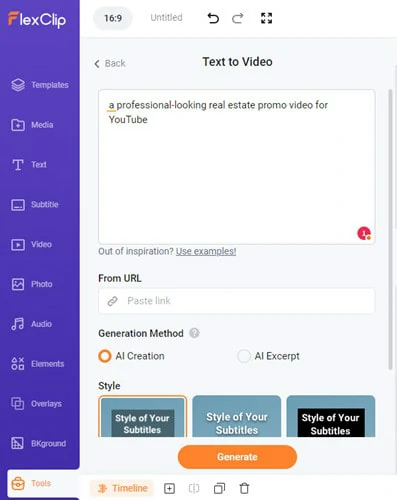 Write a Prompt to Generate Real Estate Videos
Step 3
Now it's the magic time! Hit on the Generate icon and you'll get the AI generated real estate videos in seconds.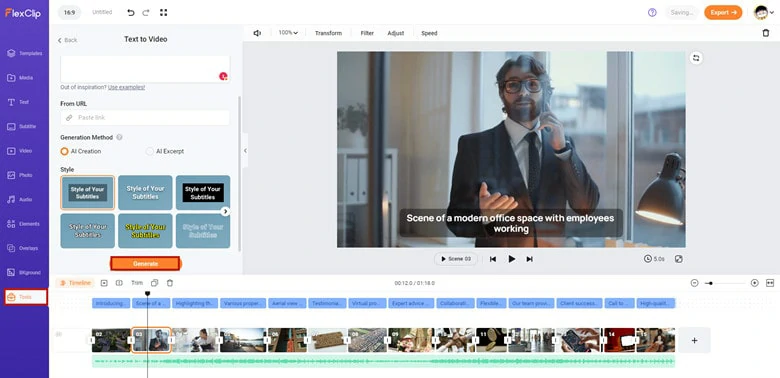 Hit on the Generate Icon to Launch the Process
Step 4
Perfect the video with your brand logo and font. When finishing edits, download or share the real estate video to YouTube.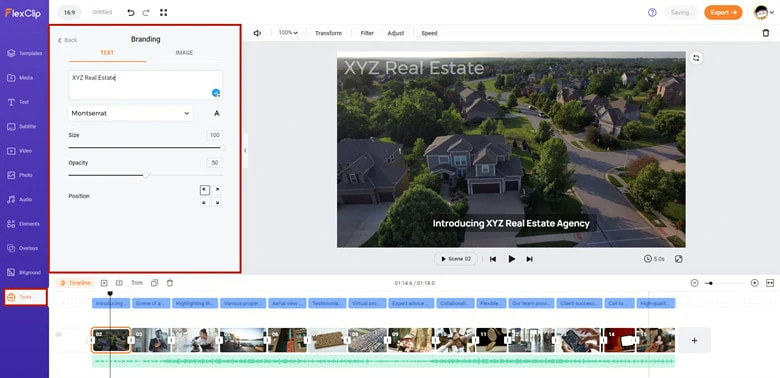 Customize the Real Estate Video with Your Brand Logo
You can also pick a professional-looking template and customize it with your photos and videos without any further edits.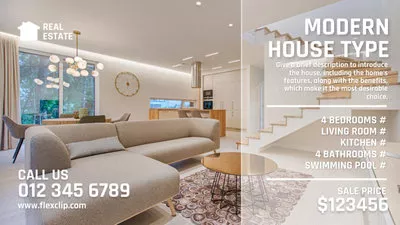 Real Estate Collage Promo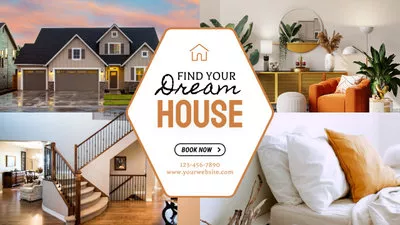 Open House Real Estate Ad Promo
2.Animaker
If you're looking for an animated real estate editor, Animaker is an excellent option for you. With its character feature, you can create an interesting real estate listing video using a cartoon model and multiple animation actions.
Besides, it has a bunch of editing tools, including voice capture, annotation, text overlay and 2D drawing to perfect your videos. Although it lacks various real estate templates, you can still quickly get fantastic videos in a few clicks.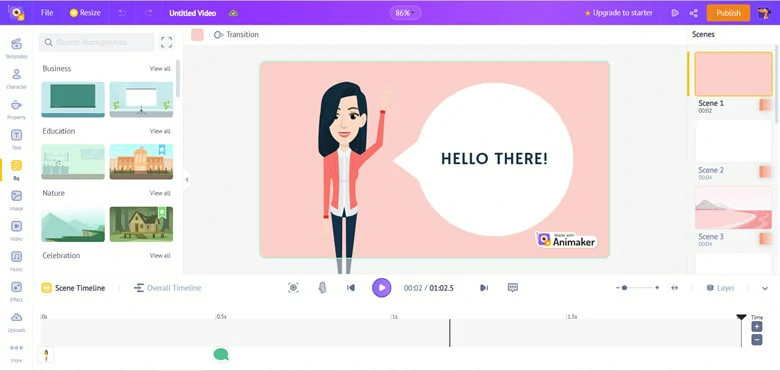 Real Estate Video Maker - Animaker
How to Make a Real Estate Video with Animaker
Step 1
Visit Animaker website and log in to the editor.
Step 2
Upload the real estate photos and video clips to Animaker.
Step 3
Choose a character if necessary and then apply effects, filters, and text to your videos.
Step 4
Combine your real estate video with background music.
Step 5
Download the edited video to your computer or directly publish it on Instagram, YouTube and other social platforms.
3.Animoto
Animoto lets you combine photos, video clips and music to create high-quality real estate videos in minutes. It's an easy-to-use video maker with a drag-and-drop process and limited real estate templates. Besides, using Animoto, you can change the layouts, add branding elements and customize the video as you like. Well, the drawback of Animoto is that free users can't download videos and they only have access to share the video with links.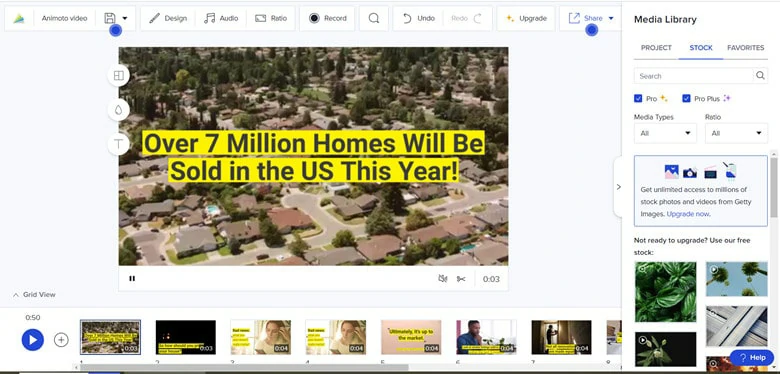 Real Estate Video Maker - Animoto
How to Create a Real Estate Video with Animoto
Step 1
Go to Animoto website and log in to your account.
Step 2
Upload all your media resources to Animoto.
Step 3
Choose a real estate video template or start from scratch.
Step 4
Adjust the layout, pick a background music sountrack and add text to level up your video.
Step 5
Share the real estate video via a link or upgrade to download it.
4.Invideo
Invideo, an all-in-one real estate video maker, has 5000+ templates, professional-level editing tools and a media library of photos and videos. Additionally, it supports brand kits, fluid animations and team collaboration to serve your real estate marketing purposes.
What's more, you can record the voiceover for your real estate videos or transcribe the text to input audio. Although the loading space and the rendering process is extremely slow, Invideo is still a good choice for its flexibility and compatibility.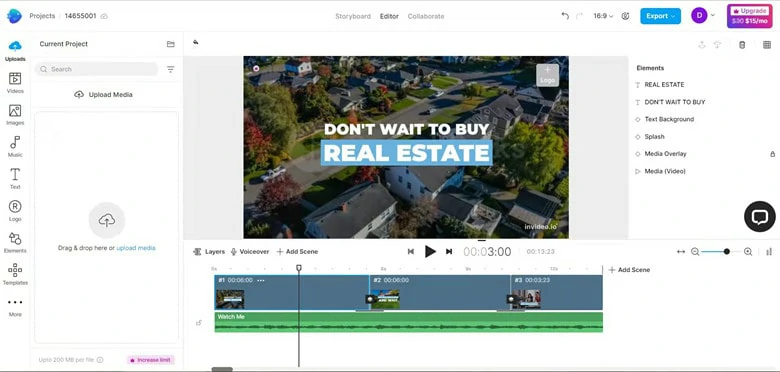 Real Estate Video Maker - Invideo
How to Create a Real Estate Video with Invideo
Step 1
Go to Invideo website and log in with a Google or Facebook account.
Step 2
Select a template or click on the Editor icon to get started.
Step 3
Import and load your photos and video clips.
Step 4
Choose a text effect, customize its text color, and size, and add animations.
Step 5
Add music to the video from its large music library.
Step 6
Save the video and post it on your Instagram, YouTube or Facebook to gain more views.
5.Biteable
Biteable is a cloud-based real estate video maker to help you create prominent videos for your business. It has a wide range of real estate slideshow templates and you can customize it with your logos, images, text and audio. Additionally, Biteable also lets you establish a brand identity by applying personalized animations like 2D or 3D cartoon characters in your real estate videos.
For a beginner, it takes time to understand the complex interface and operate without the shotcut feature.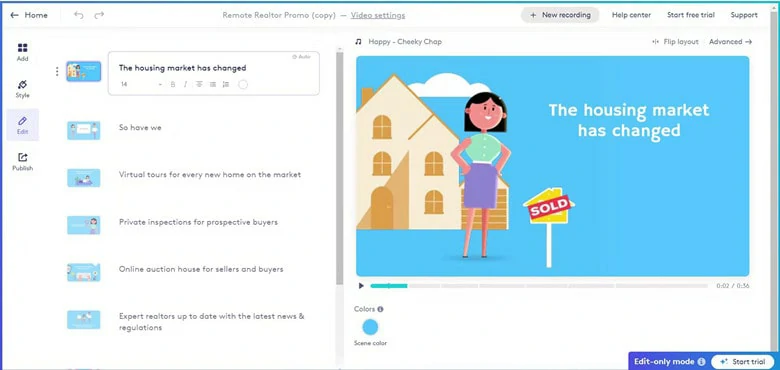 Real Estate Video Maker - Biteable
How to Create a Real Estate Video with Biteable
Step 1
Open Biteable.com and log in to it.
Step 2
Click on New Video icon to start with a template or create a video from scratch.
Step 3
Upload your footage and customize the video with text, logo, scene and audio.
Step 4
Download this edited real estate video and share with great ease.
6.Magisto
With an AI-powered video editor like Magisto, making real estate videos will become easy. It has auto-editing features and a wide range of editing resources. Moreover, there is a plethora of editable business templates that are suitable for various target markets. Whether you're a pro or a beginner, you can make an eye-catching real estate video with Magisto's step-by-step instructions. However, it only allows you to create videos within 10 minutes.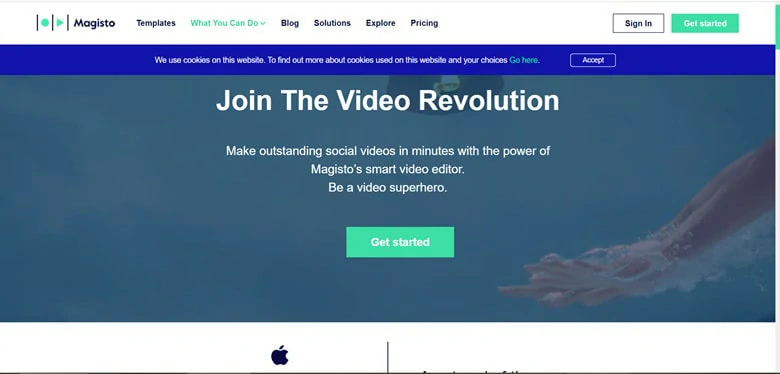 Real Estate Video Maker - Magisto
How to Create a Real Estate Video with Magisto
Step 1
Go to the Magisto website and log in to it.
Step 2
Upload your photos and video footage to this editor.
Step 3
Magisto will automatically edit and analyze the real estate video.
Step 4
Download the real estate video and save it to your device.
7.Renderforest
With 800+ templates and handy editing tools, Renderforest is a good real estate maker to get your brand noticed via a stunning video. Besides, it also allows you to combine your real estate videos with background music, voiceover, colors and more to meet your different needs. Using Renderforest you can get satisfying videos in minutes.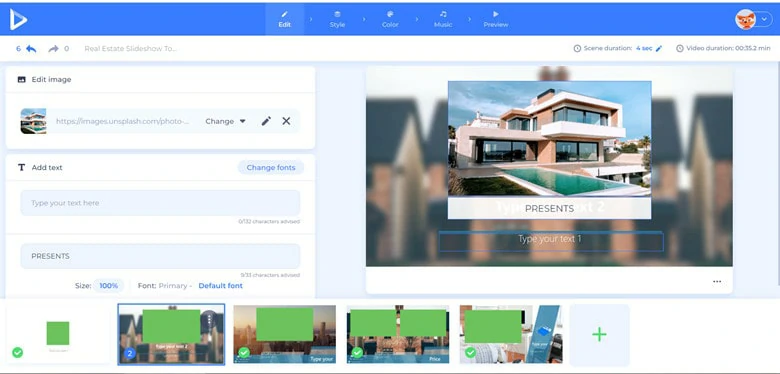 Real Estate Video Maker - Renderforest
How to Create a Real Estate Video with Renderforest
Step 1
Launch Renderforest website and sign in to your account.
Step 2
Select a real estate template or start from scratch.
Step 3
Import your photos and videos to this video editor.
Step 4
Edit the video as you like, including adding text, transitions, music and more.
Step 5
When finishing edits, download and save the video to your computer.
Part 3. Tips for Making Excellent Real Estate Videos
Before you shoot a real estate video, try to make an overall plan in advance. Think about questions like what angle to display these rooms when taking photos or recording videos? Where do I want to post this real estate video? What is the target audience of this video? Or think something like that.
Focus on the Selling Points
Customers are likely to view various real estate videos to compare the differences. Hence, you need to tell the selling points of this house directly like convenient transport, low price, stylish layouts, extra storage spaces and more. Just convince them with these selling points.
A 360-degree video lets people know the house clearly and make them feel immersed in this house without missing any details. Moreover, it saves buyers time especially when they are busy with daily work.
You can create various types of real estate videos to promote your business. However, many people need clarification about how long a real estate video should be. Depending on the video you make, the video length varies. Generally speaking, the ideal duration of a real estate video would be between 3-7 minutes with crucial information, and always under 10 minutes.
The Bottom Line
That's all for the top 7 real estate makers. As videos become the trending marketing way, it's the best time to boost your sales. No matter what types of videos you need, pick your favorite maker and get started now!