The future of marketing is here, my friend! It's called video marketing.
A picture might worth a thousand words, but a video is worth over 2 billion and counting; that's how many comments and click-through conversion rates have been made from a single video posted in July 2020.
What would your profit margins, branding campaign, and social following look like with those kinds of numbers? Whether you're a newbie or seasoned champ, this quick read outlines the need to know and where to go so that you can win with video marketing.
What Is Video Marketing?
Let's be clear what video marketing is and isn't. It's not those unrefined, smartphone vids being randomly posted on social media platforms. That's not to say smartphone videos are not valuable, but they need some refining.
Video marketing isn't uploading a still image with some background audio.
It's much, much more than that. Video marketing is the creation, refinement, and positioned sharing of engaging videos that trigger a desired response in viewing audiences.
Successful video marketing is an artistic combination of images, text, video, and audio content, with a clear flowing message that is visually attractive.
Video marketing is versatile, offering flexibility, and supported by every media platform. You can flex between audience preferred formats, use stunning clips as demo videos showing what to expect, and how to use your product or service, such as those in FlexClip's Video Maker.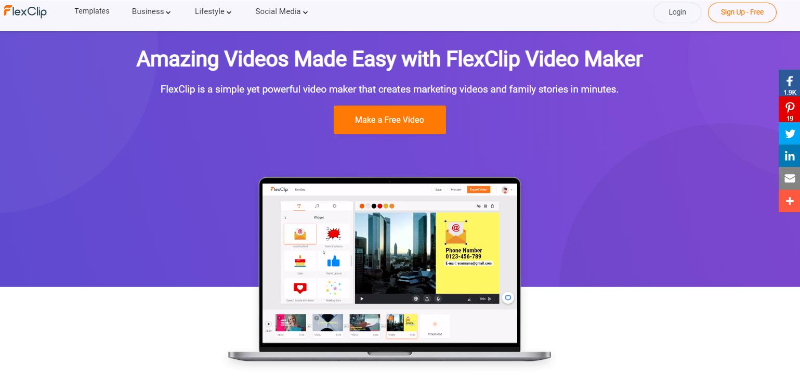 Flexclip Video Maker offers easy-to-use interface for entry-level users.
You could also utilize Explainer and educational videos from reels of content that guide step-by-step instructions, activities, or information, which creates trust and a positive value concept.
Leading social media platforms such as Facebook, Instagram, YouTube, LinkedIn, and TikTok have created openings for even more video marketing powered possibilities. Kick start a live stream, watch-party, or video call with a savvy, snappy video.Look for insider tips for how to TikTok to get more likes .
Benefits Of Video Marketing for Small Businesses
If the formats have whetted your marketing appetite , then knowing the benefits will surely delight. First of all, creating, refining, and editing videos now becomes a cinch with simple tools at FlexClip.com.
You literally benefit from fewer costs, quick turnaround delivery at no hassle to you.
Video marketing is an SEO treasure trove. You can outfit in-video interactive backlinks by adding backlinks from videos posted on social media platforms that direct to your website and store.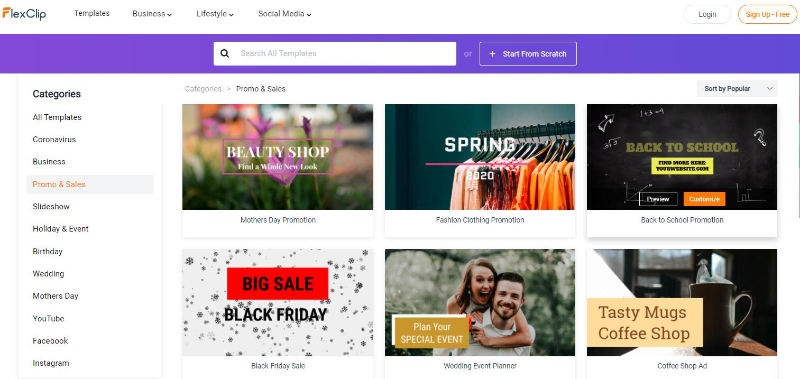 You can easily use ready-made promo & sales videos on Flexclip to enhance SEO.
Plus, video tagging on YouTube immediately gets you a spot on Google's video and Web search results page. Since posted comments are now searchable, it means bonus SEO Rankings.Check the top strategies for video content marketing in 2020.
Video inspires interaction creating engagement, even building rapport and trust. I'm no psychologist, but their studies have shown that you and me, we feel connection and attraction to movie stars and media personalities even though we've never met them.
Videos build affection that slips behind barriers to buying. Video marketing allows your audience to view your work through high-quality images and start internal conversations about your brand products and services.
Video marketing also reassures credibility and belief in product value. Viewers get to see, hear, and interact with you as you demonstrate and educate them on products and services.
It brings brand awareness and solidifies that what you say about your offering is credible. Seeing is believing videos allow you to see.
Video Marketing Statistics Echoes the Importance of Marketing with Videos
I know you may be thinking that, if it's this good, it can't be true, so we did the research and came back with the numbers as quantifiable proof for you.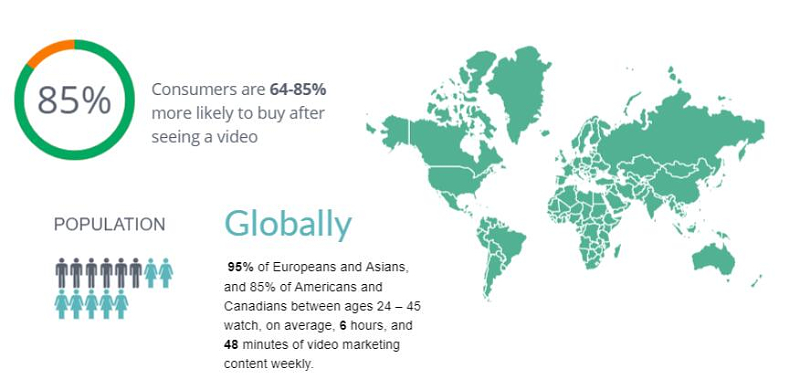 Based on the statistics, video marketing is gaining ground globally.
Using video making tools like FlexClip for video marketing is statistically sound. Consumers are 64-85% more likely to buy after seeing a video.
There's a 65% increase in click-through links pointing to videos when used in email. What is more, 95% of Europeans and Asians, as well as 85% of Americans and Canadians between ages 24 – 45, watch, on average, 6 hours, and 48 minutes of video marketing content weekly.
Also, 88% of 2 billion Facebook users convert into completed purchases annually, and 93% of video marketers agree that video marketing was vital to their continued success.
FlexClip Is All You Need for Video Marketing
However, without a strategy and the proper tools, video marketing, like any other marketing approach, can get complicated. What makes it even worse, paying studio fees is just costly and time-consuming.
Luckily, FlexClip video tools can help you manage your video marketing without the overwhelm. Use FlexClip to ace video marketing. with eye-catching, clear, and engaging videos. It is effortlessly easy as 1,2,3 or ACE. Add media, customize and export the finished work. Check the steps below.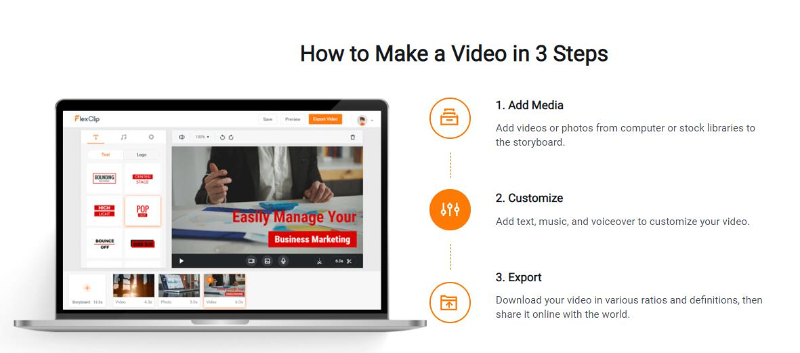 You can easily follow the 3 simple steps to edit videos.
Log in and explore how easy and quickly you can create High definition, cinematic quality videos that are visually attractive, engaging, and perfect for your every video marketing needs.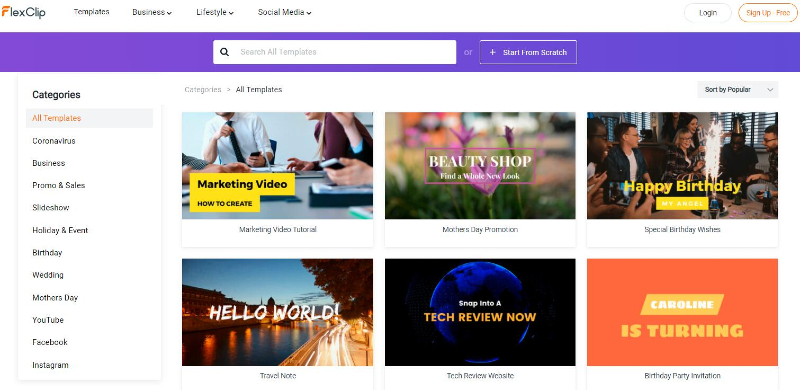 Tons of templates of different categories are available in the video library.
Work smoothly and efficiently through text font, position, color schemes, animations, sound effects, audio, and transitions.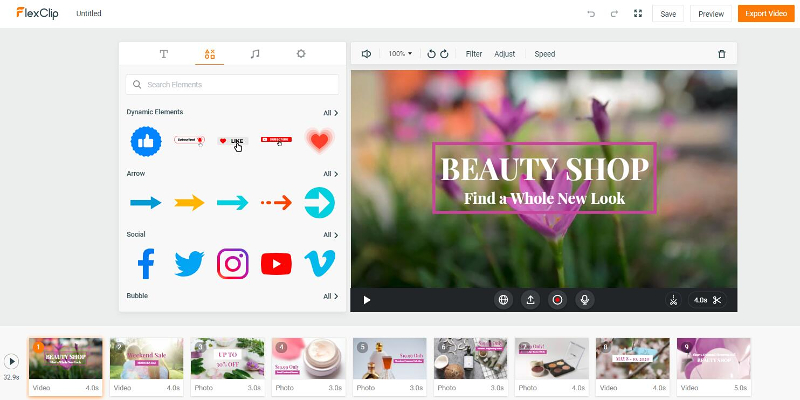 Fine-tune the font, music and animation effect,etc. you want at Flexclip interface.
Add your own video, logo, and graphic if you so desire or use our curated templates of professionally crafted videography. Review or explore other customization options, then export your high quality, professionally done video that is ready to gain you all the benefits of video marketing.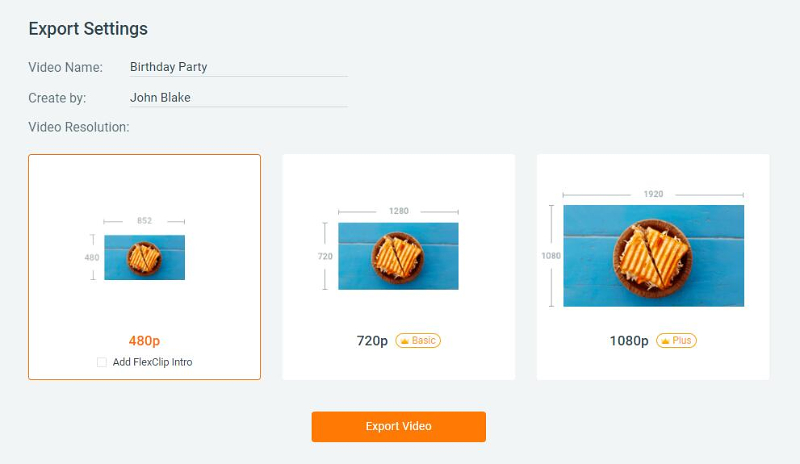 You have 3 formats to choose as you export a video with Flexclip.
Once you're done creating them, your videos will need a home. You can rely on YouTube and embed the video within your site. Free and easy to use, YouTube embeds are not without their drawbacks. Visitors can easily bounce out of your site by clicking one of the many icons appearing on the YouTube player.
Once down the 'Tube, it's unlikely they'll be coming back to your site. Companies looking to approach video marketing strategically, would be wise to explore video hosting solutions. Platforms, such as Cincopa , offer businesses a variety of dynamic video presentation options, along with extensive, in-depth analytics pertaining to individual viewership patterns.
Signup Today!
The future is here, rise, and claim it! Video marketing is ripe, with many available benefits. FlexClip video maker allows for ease, speed, and high-quality creation of videos that are worthy of going viral and gaining high conversion rates.
In a few simple steps, you add media, customize, and export your finished videos to websites, social media platforms, and video meetings.
Profits, brand loyalty, and the ability to impact change exists. If there was ever a time to act decisively, it's now. Sign up with FlexClip today. Or share it with your friends on FB and other social media.