Summary: Want to create an eye-catching real estate video but don't know how? This blog will offer you some excellent ideas and detailed steps on making one real estate marketing video. Keep reading and get more.
Real estate video is an inseparable part of estate deals. One eye-catching real estate video can help you attract more potential customers, bring 403% inquiries and market your services. Some people even say that real estate video is an essential component of being a successful real estate agent.
No matter you are a real estate agent seeking career success or an individual house owner, FlexClip, one online real estate video maker, is what you need. It is designed to help you create real estate marketing video in less time for free.
Now, let's get to know how to use FlexClip to make a real estate video and get some inspiration.
Also Read: Top Video Ad Makers Online You Can't Miss >
Real Estate Video Templates
Real Estate Video Template
How to Create A Real Estate Video
Before getting started, please get all your materials organized, like photos, video clips, background music. You can save them to a folder so that you can find them easily.
Step 1 Visit FlexClip main page https://www.flexclip.com. Click on Get Started - Free button to create a new project or click on View Templates button to get more ideas.
Step 2 Click the "+" button on the down left corner to add photos or video clips to the storyboard. You can also click the Photo or Video icon to add materials to the storyboard.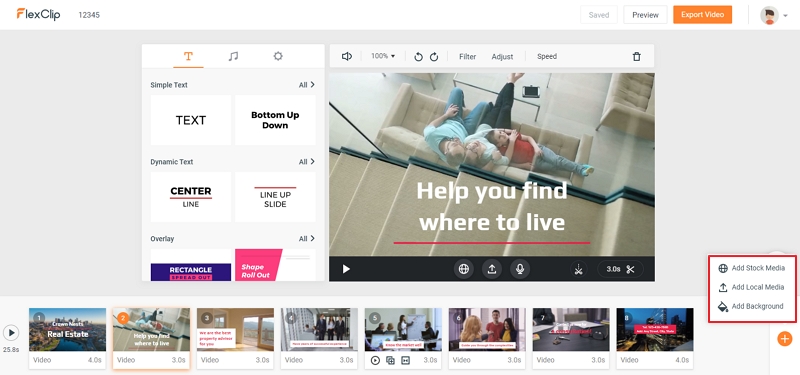 Image Board: Make a Real Estate Video - Step 2
Step 3 Add text or BGM to the video via the Text and Music icon.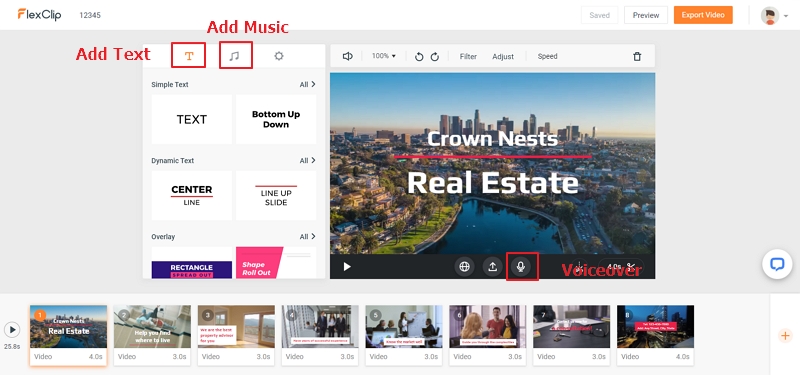 Image Board: Make a Real Estate Video - Step 3
Step 4Make other edits as you like, like changing video speed, adding filters, doing voice-over.
Image Board: Make a Real Estate Video - Step 4
Step 5 Preview and save. Click on the Preview button on the upper right corner. Save the video or continue editing.
Note

1. FlexClip has a media library with music, photos, video clips which helps you level up your work. Check them out and use them for free.
2. FlexClip exports your video 3X faster than other competitors. Please make sure you have good Internet connection while downloading.
Tips on Making A Real Estate Video
1 > Choose the Right Background Music
Music largely affects your customers' mood. The best background music should put people in a positive upbeat space as they walk in a wonderful house. Our suggestion is light music for it can easily trigger customers' desire for shopping.
2 > Focus on the People
Real estate is a people-centered business. Show your customer the story of the house owner and the house, or people's daily life in the neighboorhood. Only doing so, can customers feel connected with this place.
3 > Highlight Features
For some high-class properties, you might need narration to highlight all features of the house, like the big balcony, grant living room. You just need to be more organized and show those features to customers one by one.
4 > Use Drones to Highlight Space & Depth
Using drone footage can fully show customers the house's expanse and depth. This is a trick suiting best for houses with narrow space.
5 > Use Humor to Sell
Things are fun can grab people's attention much easier. Be creative and think of something interesting for the audience.
6 > Small Details
Always leave imformation like price, size, your phone number. Those information are crucial for a successful real estate deal.
Tips to Make Your Real Estate Videos Go Viral
1 > Post Your Post Everywhere
Facebook, YouTube, Instagram and other social media platforms are all good ways to help you get more audiences and connect with potential buyers. It would be better if you can post videos to real estate communities on these platforms.
2 > Frequency
Schedule out contents of each video and update videos on a regular basis so that you are engaging with followers at the right times.
3 > Helping People
Helping people helps you. Answering questions and solving problems for audiences can help you build trust and make people want to hire you.
4 > Improve SEO
SEO is an abbreviation for search engine optimization. The higher rank your video gets, the more audiences it wins. Before making a video, check other high-ranked videos and analyze them. Add good elements that are friendly to the search engine to your videos.
The Bottom Line
Great real estate marketing videos vary. However, the basic elements in good real estate marketing videos are basically the same. With FlexClip and above ideas, you can surely make an excellent real estate video.
Besides real estate videos, you can also make festival videos, like Mother's Day video, Easter Day video. Go to FlexClip main page and explore more.