Sometimes, you may want to post your photos on social channels, like Facebook, Instagram and more to share your memorable moments. But you can't bear to pick just a few photos from numerous photos; after all you have so many beautiful photos want to share. So merging two or more photos together is a great way to showcase your favorite photos. You can merge photos with the same style into one to impress people.
Are you searching for a convenient tool to help you merge two or more photos into one? You've come to the right place! Without further ado. Let's begin!
Part 2 Free Photo Collage Templates for You to Merge and Combine Images Easily
Heart Shaped Collage
Cat Photo Collage
Part 1 Different Situations to Combine Images into a Photo Collage
If you hope to commemorate certain important moments, a photo collage can be your best bet. It's a creative way to share memories in many situations: birthday, family, wedding. You can make travel photo collages, wedding photo collages, family photo collages and more according to your needs.
By merging photos, photographers can make a beautiful work of art, demonstrate photographic abilities and enhance visual storytelling. They build a more thorough visual narrative that more effectively conveys their message by merging several photos.
And if you're a businessman, you can showcase your product features with a photo collage maker. Merging photos from various perspectives or with various details can highlight the features of products.
Also, as we said before, photo collages are popular on social media as it allows you to share two images and more in one frame! If you want to know more about tutorials related to how to add multiple photos or make a photo collage to your social channel, check the posts below.
How to Post Multiple Photos on Facebook: Add Multiple Photos to Make FB Story Collage>
How to Make Slow Motion Videos on Instagram Story/Reels>
So you see that people with different demands can combine their desired images into a photo collage! However, it's never an easy thing for most of you guys to create an aesthetic photo collage. Here, we'll recommend some free templates suit for different situations for you!
Part 2 Free Photo Collage Templates for You to Merge and Combine Images Easily
Are you confused about how to start merging photos quickly and easily? Don't worry! A ready-to-use photo collage template certainly helps you out!
Photo Collage Template for Birthday
If you want to merge several photos into one to commemorate your birthday, choose these templates below to make birthday photo collage.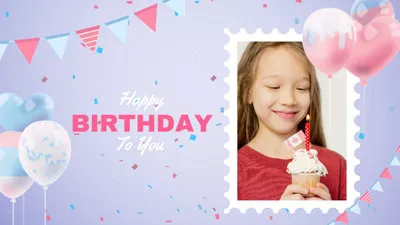 Framed Kids Birthday Slideshow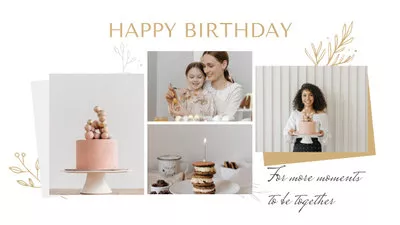 Happy Birthday Celebration Collage
Photo Collage Template for Family
Family photo collage is meaningful to many people, so choose these templates below to achieve your desire to merge photos.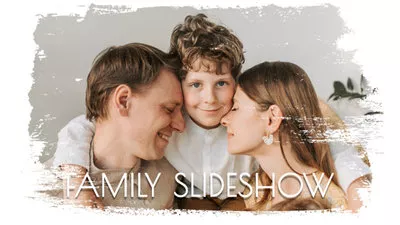 Brush Family Photo Collage Slideshow
Family Photo Frames Slideshow
Photo Collage Template for Travel
You may take a lot of beautiful photos on your vacation trip. So why not choose these templates below to make your own travel photo collage?
Summer Travel Seaside Vlog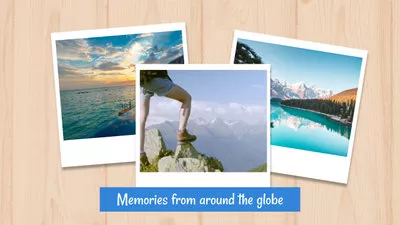 Polaroid Photo Collage
Photo Collage Template for Wedding
The importance of a wedding is obvious. So you should make a wedding photo collage for yourself, choose these free templates below to start it!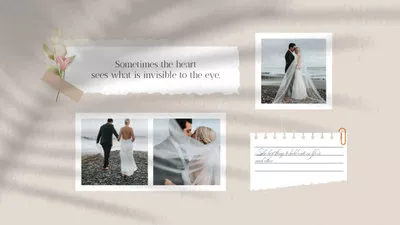 Botany Shadow Wedding Collage Slideshow Scrapbook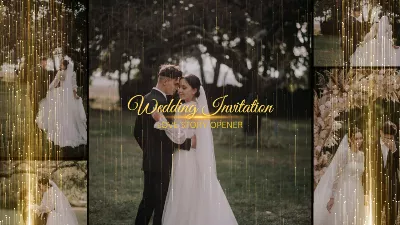 Golden Ray Wedding Slideshow Collage
Photo Collage Template for Business
A business photo collage is important for showcasing the company culture and products. So if you want to make a business photo collage, choose these free templates to merge several photos into one.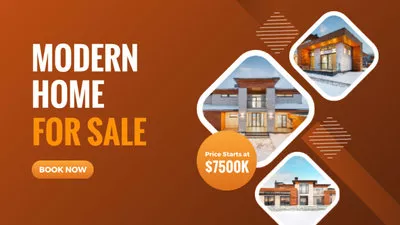 Real Estate Listing Collage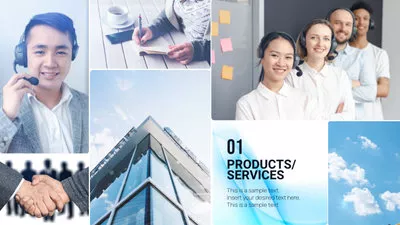 Corporate Photo Collage Business Slideshow
And many people choose to post photos on Instagram, so there we'll recommend some photo collage templates suit for Instagram. You can choose these templates below to merge photos.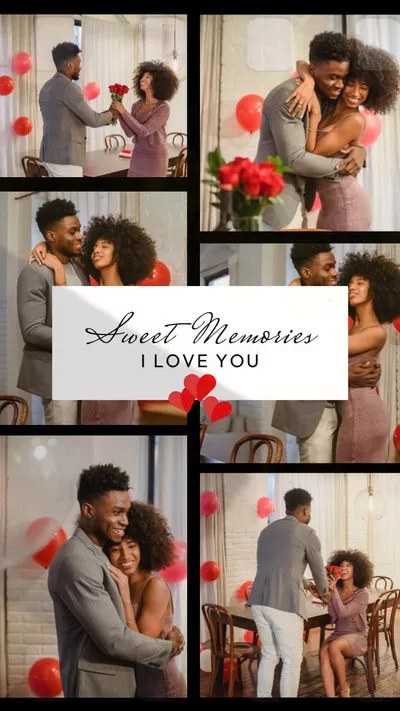 Love Valentine Day Photo Collage Instagram Story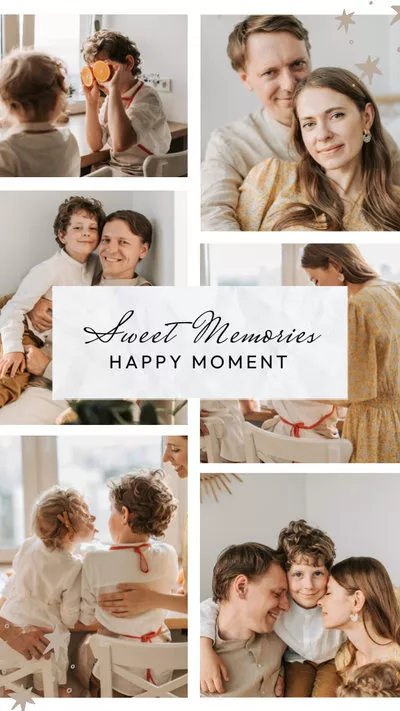 Family Photo Collage Instagram Story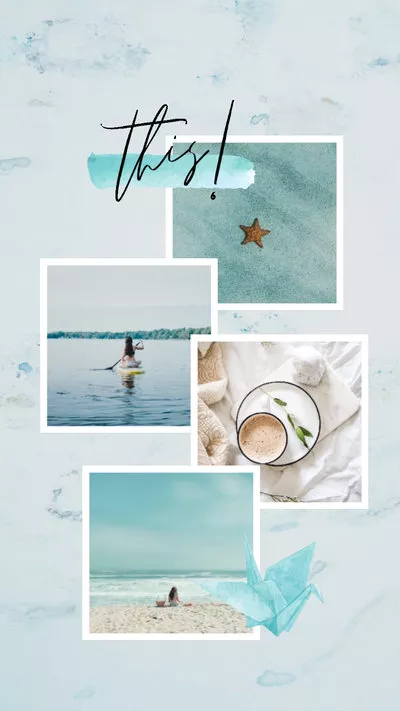 Blue Travel Photo Collage Instagram Story
Whether you want to create a business photo collage or birthday photo collage and more, you can find various types of video templates here. All of them are professionally designed and fully customizable, so you can pick a free template and customize it freely to make your photo collage in minutes. So pick one photo collage template to merge several photos into one!
Part 3 How to Merge Photos into One with Photo Collage Template
FlexClip is a user-friendly and feature-rich editing tool with photo collage templates. The templates shared above are all from FlexClip. It's easy to create beautiful photo collage by uploading your photos into its designer-made templates. Now with an engaging template, let's discuss the steps to merge two or more photos into one in FlexClip.
Step 1
Click Media button to upload your pictures from your phone or computer, Google Drive, One Drive, etc.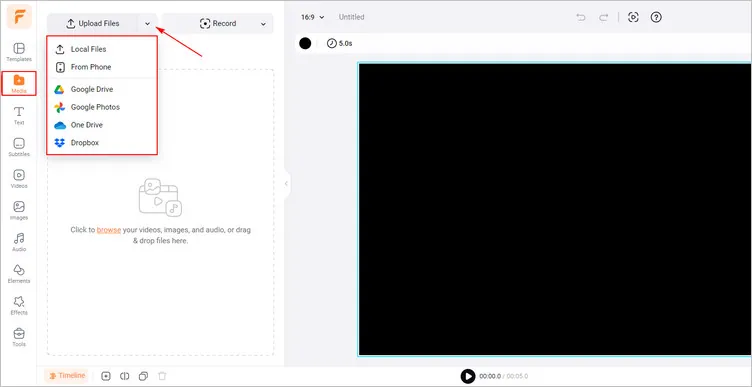 Upload Photo
Step 2
Tap Template Button to search the proper templates by keywords, and then apply it to the Timeline.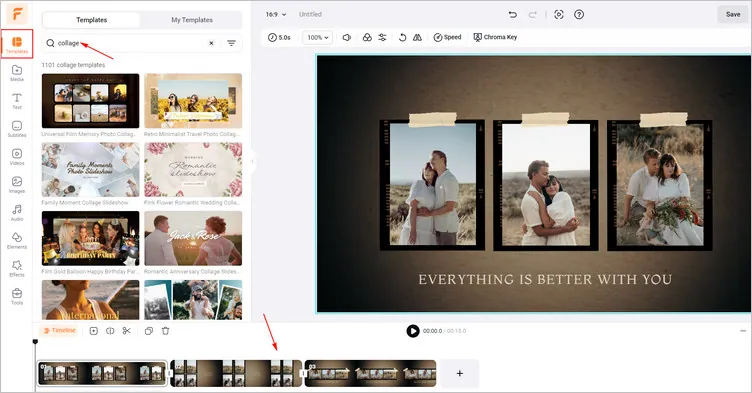 Choose Template
Step 3
Click Replace button to use your photos to replace the original photos. Then tap Crop button to crop your photos into different shapes.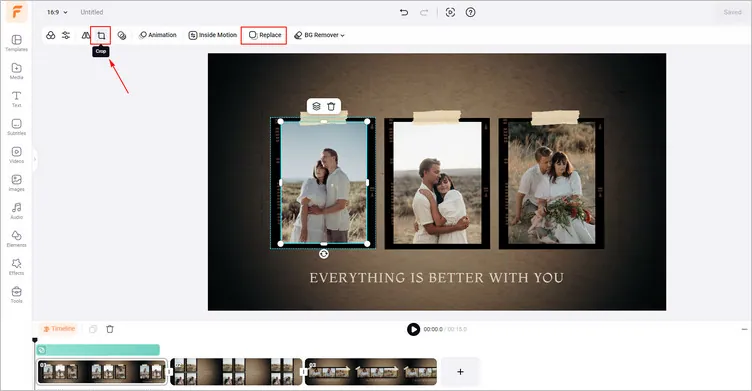 Adjust Photo
Step 4
Adjust the original text in double-clicks and adjust its size and color. Moreover, if you want to do more edits on your photo collage, you can click Elements button to add some elements to your photo collage.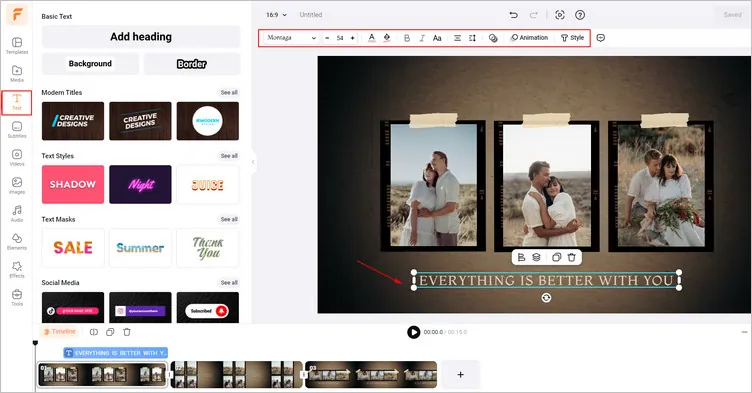 Adjust Text
Step 5
Once finished, tap Export Frame button to download your own photo collage, then you can post it directly to your various social media accounts like YouTube or TikTok.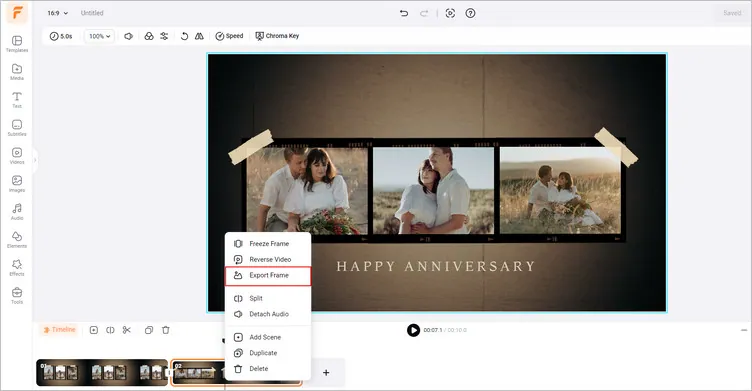 Download
Here, we'll introduce the other features of FlexClip. With this right tool, you can level up your photos or videos using these versatile features easily.
Final Words
In this guide, we hope you have learned how to merge images with photo collage template. And FlexClip provide many excellent features for you to explore.