With the pandemic ruling every part of the world, Instagram stories and posts have helped bridge distance between people and brought them a bit closer virtually. For all those Instagramers looking for ways to upgrade their Instagram, posting photo collages is the ideal way for you. Posting photo collages on your stories make your pictures and videos look visually appealing as there's so much you can graphically design and customize.
Many people don't know how to make a collage on Instagram itself but that isn't a difficult task at all. Yup, you read that right; there's no need to install extra applications on your phone because Instagram's photo grid will pretty much help you design a perfect collage. With Instagram's new feature, making a collage out of your favorite pictures is just a few taps away. Every aspect of your picture-perfect collage can now be customized, from the types of photo grid to the number of images you can add. Take live pictures for the collage or choose them from your phone's gallery; the choice is yours.
Contents:
Part 1: How to Make a Collage on Instagram Story
Free Video Collage Templates for Your Instagram Story
Skateboard Lesson Offer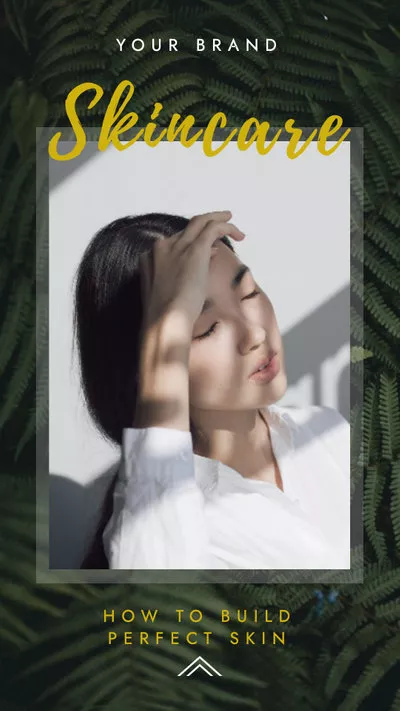 Skin Care Ad
Daily Life
Also Read: 5 Video Resizers for Instagram Stories, Feed, & IGTV - Free & Online >
Part 1: How to Make a Collage on Instagram Story
Now that you know you can make an amazing photo collage on Instagram without further ado let's see how we will make that happen. There are two basic ways to do a collage on Instagram story; one allows you to make a fixed photo grid layout, while the other will enable you to select a background color for the collage along with your type of layout design and theme.
Method 1: Create a Collage on Instagram Story with Layouts
Open your Instagram app and swipe left or open the main camera on your phone. Once done, you'll be able to find a navigation panel on the left side of the screen with numerous options on it.
Choose the layout option, which will then allow the screen to split into a grid of four. You can select the number of grids depending on the number of photos you want in the collage. Double tap on the layout option, and you'll be able to see the different types of grids that are available. The photo layouts available on the app include a grid for two photos, three photos, four and six photos.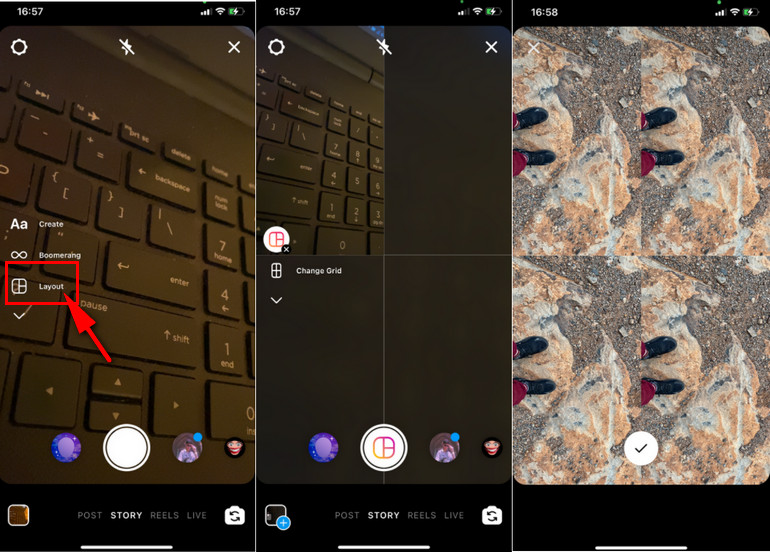 Create a Collage on Instagram Story with Layouts
Select Your Grid and Images
Once you have chosen your type of layout, simply fill it in with pictures. You can take live photos from the camera and then tap on the check option to add them. If you choose to make a grid out of your gallery pictures, you'll find a small blue icon near the screen's bottom-left corner. Simply click on this to open your gallery via Instagram.
Click on the picture you want to add in the exact order you want them to appear in the collage. Repeat this process until the collage is complete. Once done, click on the check option, and there you go! Your Instagram collage is ready to feature your story to impress your followers.
Method 2: Create a Collage on Instagram Story with Add Numerous Photos Option
If you're looking for a more innovative method on how to collage photos on Instagram story to channel your inner creativity, go for this photo collage method. Open your Instagram camera, click a picture or choose one from the gallery that you'd want to use as background. Set the image the way you wish the collage background to be.
On the top right corner of your screen, you'll see a navigation bar with multiple options like adding links, stickers, text, brush tool, and GIFS. Click on the smiley icon, swipe down to locate the 'add numerous photos' options.
Design Your Layout and Add Details
Upon clicking, you can add other pictures one by one from your gallery to this frame. Squeeze, move and adjust the images as you like with the borders of your choice. To customize the border of your pictures, click on the picture repeatedly to choose your favorite style; round, star, heart, and square; you've got it all!
Once your frame is all set, use brush tools, text, or stickers to make your collage look more attractive. Play around with colors, brush tools, and stickers to achieve the perfect collage look!
Part 2: Make a Better Collage for Instagram Story That Gets Likes
Despite Instagram allowing us to make photo collages, the designs and photo grids options seem to be a bit limited. Plus, you cannot make video collages on Instagram either, so why not create a collage for Instagram Story in advance and then upload to Instagram Story?
FlexClip is an online video editor app that helps you create impressive video collages and animation within minutes. It brings out the graphic artist in you by allowing you access to hundreds of video templates, motion presets, and a wide range of animations, transitions along with multiple video editing tools like video trimming, merging, and converter. It also has a wide range of royalty-free music, pictures, and videos that you can easily add to your collages without any fear of copyright claims.
Lastly, don't worry about FlexClip ruining the quality of your media at all because the application features a superior graphic resolution to make sure you feel on top of your editing game.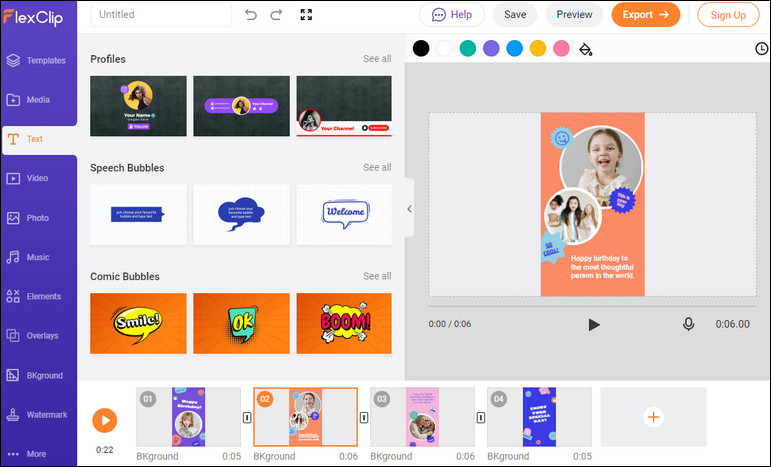 Create a Collage for Instagram Story with FlexClip
Final Words
That's all for how to make a collage on Instagram Story. However, you can always create a video collage with FlexClip to win more likes. From adding royalty-free images and videos to using motion graphics and having a variety of unlimited templates to choose from, you're good to go. Do remember to give it a try!