Adding scattered flower overlays to your wedding videos, family slideshow, travel Vlogs, etc. offers you a creative way to add a touch of beauty and romance to the original footage.
If you are looking for an easy way to add flower overlays such as rose overlays or cheery blossom overlays to your videos to enhance the dreamy and romantic vibes, we've got you covered!
In this tutorial, we will walk you through how to easily add romantic flower overlays to your videos both online and in Final Cut Pro. So, you can use the flower overlays to enhance the storytelling and aesthetic appeal of your video.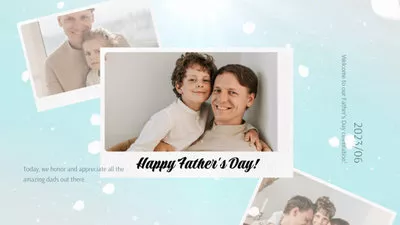 Father Day Petal Slideshow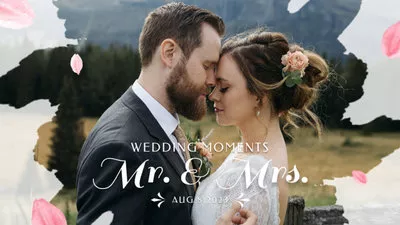 Flower Love Wedding Slideshow
Here's What You Will Learn:
Also read, the 5 best birthday slideshow makers online.
How to Add Flower Overlays to Videos Online
If you are new to video editing or currently don't have any video editors available on your PC, then the user-friendly and feature-rich FlexClip online video maker is your best bet to add dazzling flower overlays to your video in a breeze.
Effortlessly add flower overlays to your videos by FlexClip online.
With FlexClip, you can:
Directly add transparent flower effects overlays, such as falling rose petal overlays, or scattered cheery blossom overlays to your video in one click on the intuitive timeline.
Adorn your videos with aesthetic GIPHY petal stickers and other lovely petal illustrations with texture.
Select from 74,000+ royalty-free music tracks and sound effects to enhance the flower overlay effects.
You may also find thousands of designer-made and fully-customizable
video templates
, covering wedding videos, lyric & music videos, family slideshows, love story videos, movie trailers, anniversary and holidays, memorial videos, promo videos, etc. With easy drag and drop of your video assets, you can create an eye-catching video in minutes.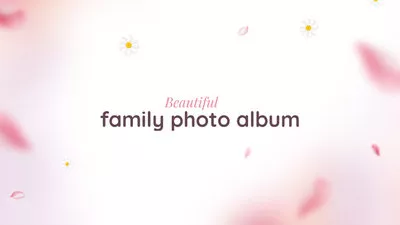 Family Photo Slideshow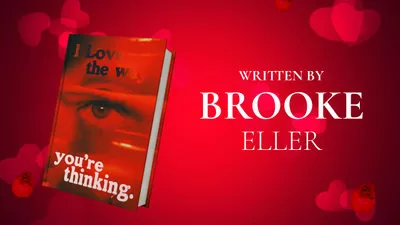 Romance Book Promo with Flowers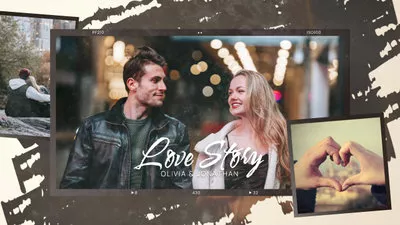 Love Story Slideshow Video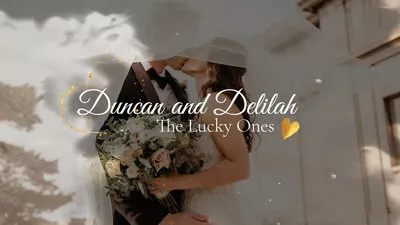 Golden Love Wedding Slideshow
Another icing on the cake is that as a powerful AI video maker, FlexClip also offers you a string of helpful AI video, image, and audio tools, such as
AI video script generator
,
free text-to-speech generator
, and
AI auto subtitle generator
, and
audio extractor
, and
image background remover
,
text-to-image generator
,
text-to-video generator
, which will speed up your editing process and save you tons of precious time.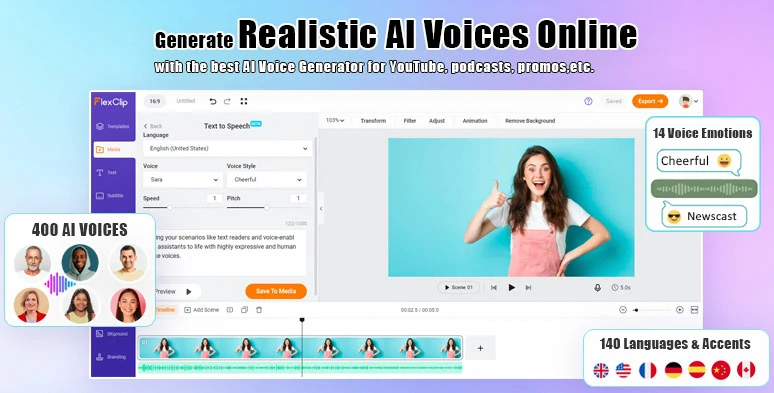 Convert text to realistic AI voices in your videos.
Step 1
Access FlexClip
> upload your video assets from your PC, phone, Google Drive, One Drive, Dropbox or Google Photos.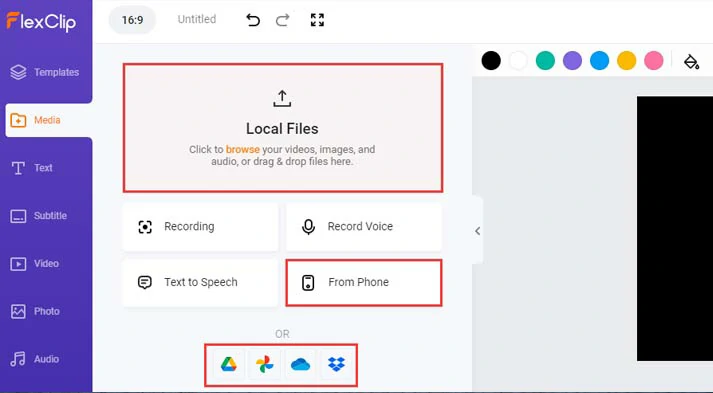 Upload your video assets to FlexClip.
Step 2
Click the Plus sign to add your videos to the intuitive timeline > you may trim or split clips when needed.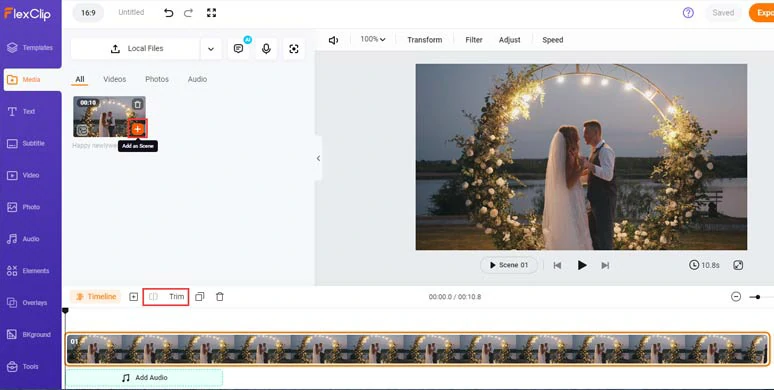 Add video to the intuitive timeline and trim or split the video when needed.
Step 3
Add creative flower overlays to the video.
Click the Overlays tab > Effect Overlays > add flower overlays, like falling rose overlays or scattered cherry blossom overlays to your video > extend the flower overlay to align with the video length.
Add romantic cherry blossom overlays to the video.
Alternatively, you can use high-quality and transparent GIPHY petal GIFs to spice up the video. Just click the Photo tab > GIF > type in "petal sticker" and "sakura sticker"> select animated cherry blossom or rose GIF overlays to adorn your video > drag the GIF to extend its duration needed. Feel free to get your creative juice flowing.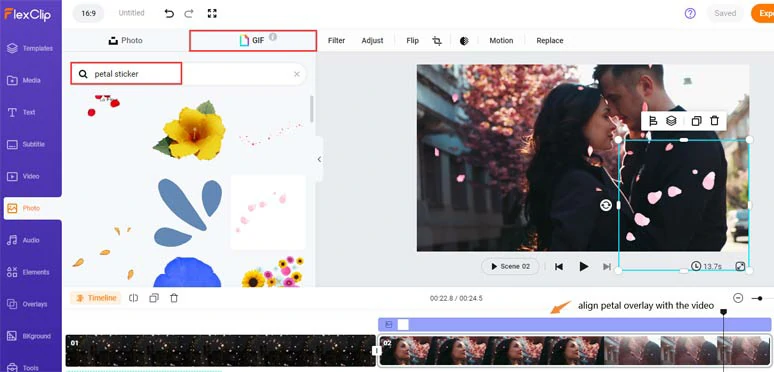 Layer GIPHY petal overlays over the video to create the flower effects.
Step 4
Add royalty-free music and sound effects to create the vibes.
Great music and sound effects are indispensable to video content with dreamy flower overlays. Click the Audio tab > Music > type in "soothing", "uplifting" "joyful", or "love" to select catchy melodies. Besides, in the Sound Effects tab, gentle "chime" and "swoosh" sound effects are your go-to choices for the reveal of flower overlays.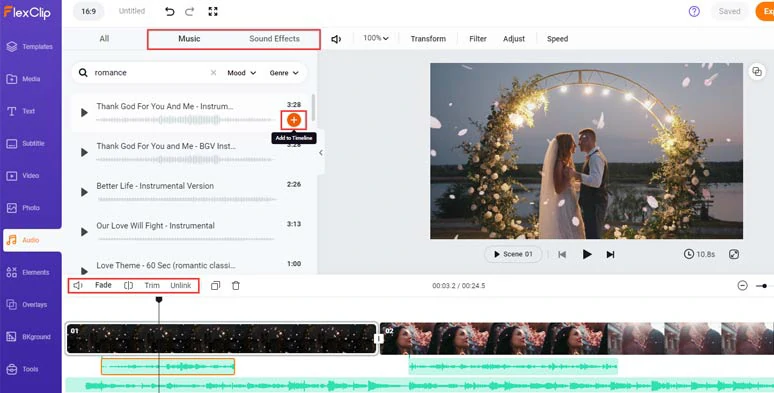 Add romantic music and sound effects to create the vibes for your video.
You can layer multiple audio tracks to create depth, trim, split audio, adjust volume, or apply fade in/out effect for a smooth audio transition.
Step 5
Preview and share.
Done with the editing. You can save the video to your PC or directly share it to YouTube, Google Drive, One Drive or Dropbox, or even TikTok; a clickable link is also available for your blog posts, newsletters, or other repurposings. Pretty handy!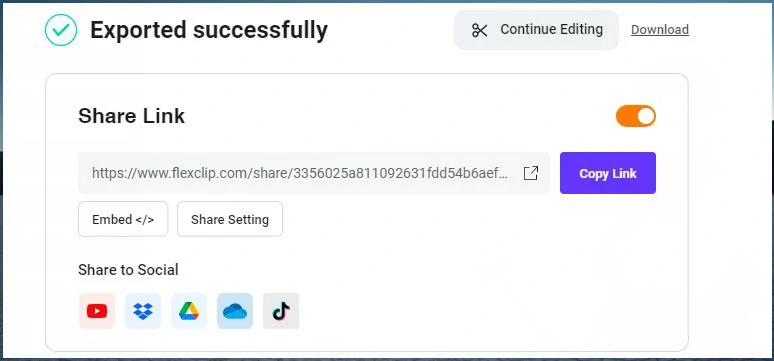 Easily share and repurpose your video content.
How to Add Flower Overlays to Videos in Final Cut Pro
If you have Final Cut Pro or Premiere Pro on your PC, another workaround to add flower overlays to the video is downloading the free rose petal overlay or cherry blossom overlays from YouTube and adding it to your footage by changing the blending mode.
So, now walk with you to add flower overlays to a video in Final Cut Pro. Of course, this solution also works in other video editors, like PR or Davinci Resolve, etc.
Step 1
Visit YouTube's website > type in "free flower overlay" in the search bar > click a free flower video overlay > in the video description section, follow the link to download the free flower overlay to your PC.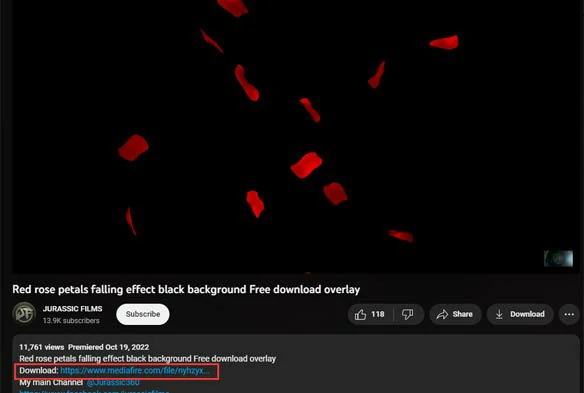 Search for free flower overlays on YouTube and download it.
Step 2
Open Final Cut Pro > import your video to the timeline > drag and drop free flower overlay over the footage > if the downloaded flower video overlay has a black background, then go to the blend mode > switch from normal to "Add", "Screen" blending mode to remove the black background to reveal only the falling petals. Done.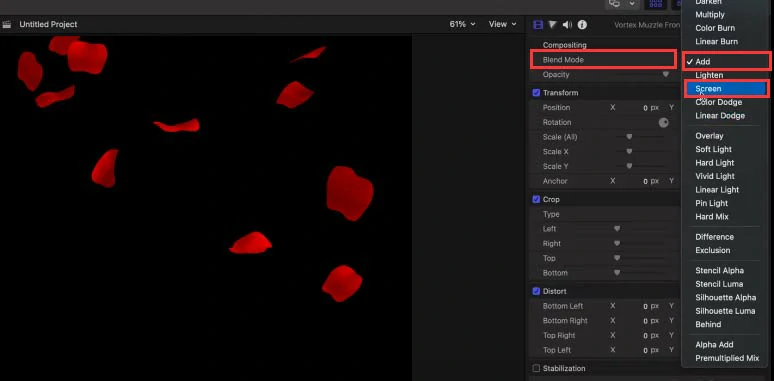 Remove the black background by changing the blend mode to reveal flowers.
If the flower overlay background is white, you can use "Multiply" to remove the white background.
If the flower overlay background is green, you can go to Effects > Keying > drag the "Keyer" effect to the flower overlay to remove the green background.
Now, It's Your Move
So, that's how you can easily add dreamy and romantic flower overlays to a video. Hopefully, you enjoy this short tutorial. If you find it helpful, do share it on your Facebook or Twitter and tag us to leave your comments. Cheers!