Wondering how to make a photo montage video with music? You're in the right place. Learn how to make a montage of photos with music online with this tutorial.
From showcasing a product or displaying your portfolio to simply putting your favorite family photos or holiday snaps into a fun and dynamic digital album, a photo montage video with music helps you for different purposes.
Family Photo Frames Slideshow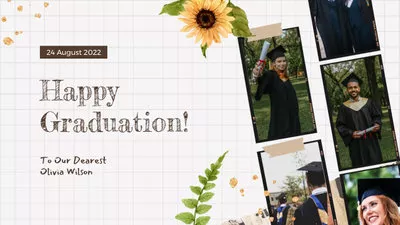 Graduation Collage Slideshow
Lifestyle Photo Collage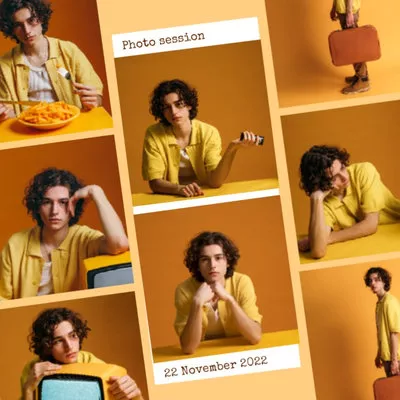 Photo Collage Template
Also Read: Best Free Video Montage Makers You Can't Miss >
How to Make a Photo Montage Video with Music Online
Want to create a photo montage video with music? Nail this task in a few clicks with the right photomontage maker! Check out FlexClip: this brainy editor offers you lots of powerful features and requires no special editing skills.
Best Features of FlexClip Photomontage Maker:
Pretty easy and free to use
Loads of free photomontage templates
Rich stock resources: clips, photos & music
Various ratios for social media
Make photomontage with music in mins
Step 1 Find the Images for Your Photomontage
Where do we get pictures when making a montage? Well, if you do not have the proper images or enough photos in hands foe making a photomntage, no worries! FlexClip is integrate with resource-rich stock media providers, including Storyblock that, Unsplash, Pexels and Pixabay, offers rich stock images for you to choose from and use in your photomontage.
Image Board: Find the Images for Your Photomontage
Also you can upload your own image simply by dragging and dropping them to the Media from the desktop or upload pictures from your phone by scanning the qr code. Or you can import some images form the third-party platforms, like Dropbox, Google Drive, etc. Whether you're using photos that are somewhere on your phone or computer or any, you can easily add them to FlexClip quickly.
Step 2 Set the Background for Your Photomontage
Setting a custom background is essential for a cool photo montage. At FlexClip, you can add any image or video clip to the Timeline directly and use it as the background or just add a scene and change its background color to make a simple colored background for your photomontage.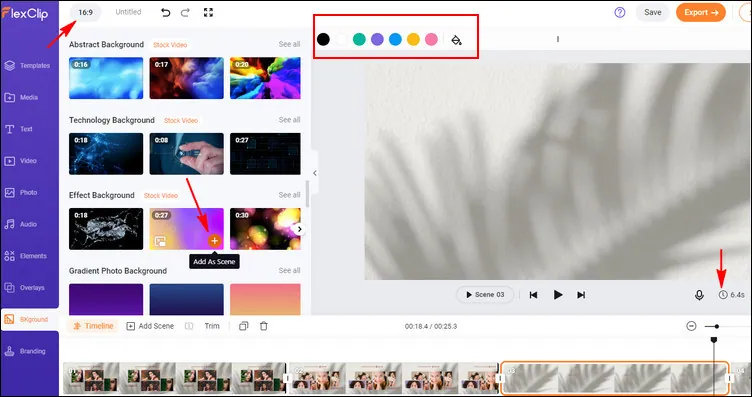 Image Board: Set the Background for Your Photomontage
Here you can change the ratio of the canva on the top left corner to make it fit your need - a photomontage for Instagram or YouTube. Also adjust the duration of the background to determine the length of each scene.
Lack of creative ideas or want to get started quickly? You can go to the Templates section and find a desired montage template and start customizing your own photomontage as you wish directly with great ease.
Step 3 Add Photos and Make the Montage
Once the background of your photomontage gets ready, you can add your photos to the Timeline as a layer on the background, simply click the add as layer button or drag the image to the canva directly.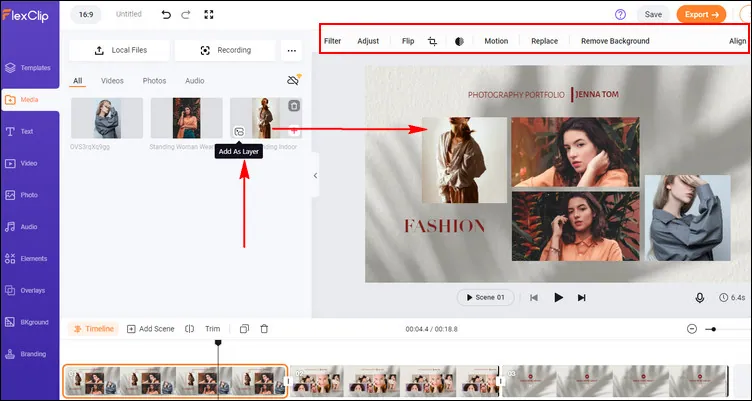 Image Board: Add Photos and Make the Montage
Make use of the powerful editing tool on the top menu to customize the photos and make a beautiful montage. You crop them into different shapes, rotate and flip, change the size and location, add motion to the photos to make the picture move, adjust the duration to control the time when they appear and disappear, etc., to make the montage as you wish.
Step 4 Add Music to the Photomontage
When you're happy with the final appearance of your photo montage, you can add background music to it to jazz up your photo montage video.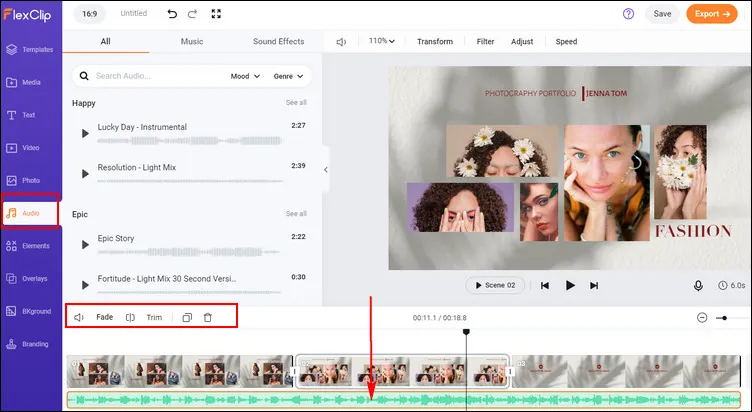 Image Board: Add Music to Your Picture Montage
FlexClip allows you to upload your own song from a local file or pick one from the extensive music library. Then, you can trim it and adjust the position where the music starts and ends, and apply the fade-in/out effect to make the music match your photo montage video perfectly. Also, you can adjust the volume to make the music softer.
While you're in the editor, you can use FlexClip's tools to style and vibe your photo montage video:
If you have no ideas on how to customize your project, FlexClip offers various video templates designed by graphic artists that will spark your inspiration.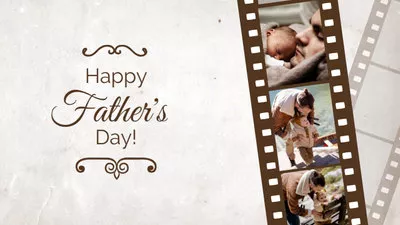 Fathers Day Photo Slides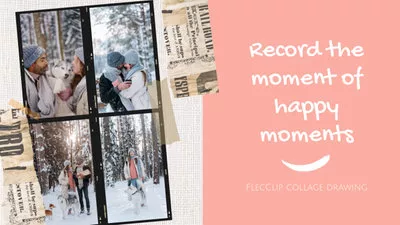 Photo Frame Collage
Final Words
Now you know how to make a photo montage video with music. Just turn to FlexClip and put this knowledge into use. With FlexClip, you will be able to not only create a photo montage with music, but make lots of other things, just check out our blog page and explore more.