In the area of streaming media, videos are booming on website and social media platforms used for entertaining, education and other purposes. With the growing need for video to convey message, the demand for editing tools surges - use the magic tool to turn raw clips into a stunning video.
For most of us, a freebie is the wise option to have a try. Compared with mobile applications, 80% professional video editors are compatible with computers and among computer users, many of them are die-hard fans of Windows 10 system. Therefore, we've compiled a list of 10 best free video editors for Windows 10 to help you unleash creativity with ease!
Free and Customizable Video Templates for You: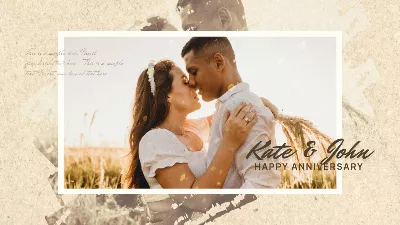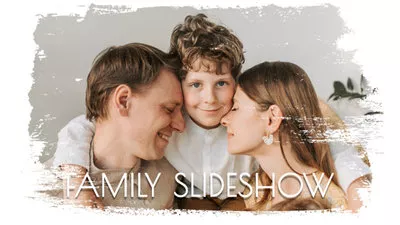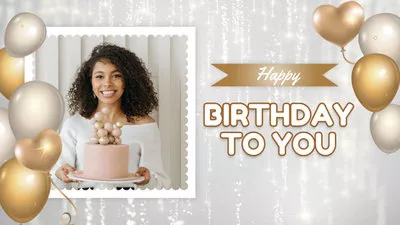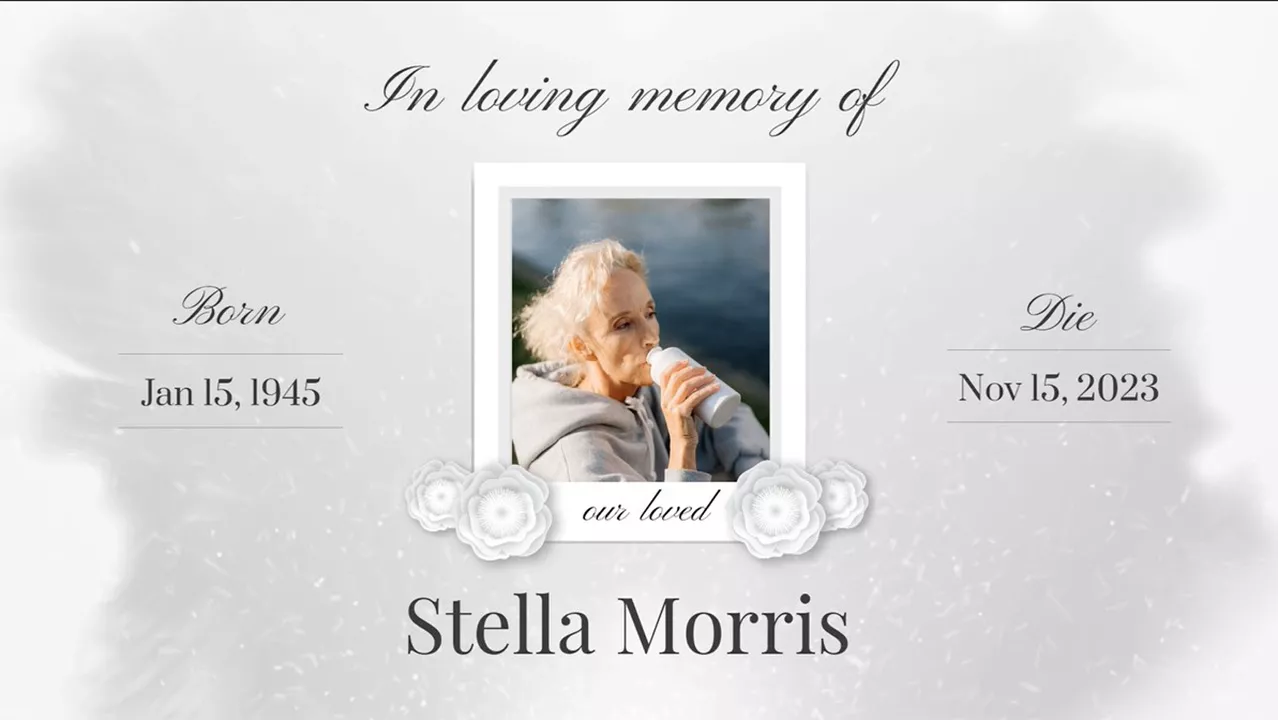 Can't Miss: 4 Best Tools to Crop Videos on Windows 10>
Top 10 Free Video Editors for Windows 10
#1 AI Video Editor Software for Windows 10 Online
No prior experience in editing? Need an online AI video editor on Windows 10? Come to FlexClip! From video script writing to video creation, with FlexClip, just enter your prompts and AI machine will do the rest for you.
Besides, what content creators like most are its powerful editing tools and extensive royalty-free media resource stock and amazing template library, which turn all your ideas into visuals without any hassle. No download or registration is required to get started!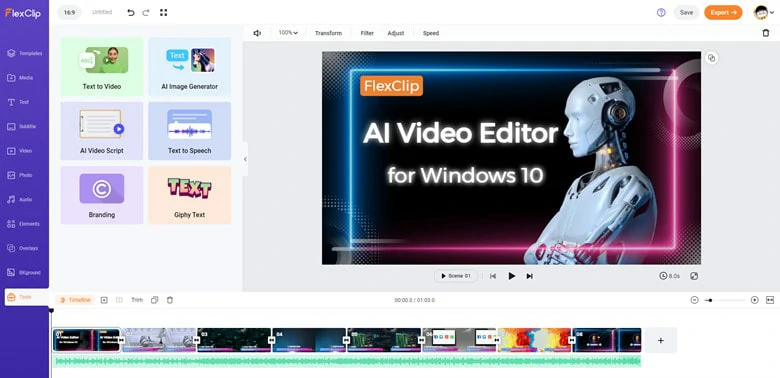 Best Free AI Video Editor for Windows 10 - FlexClip
Key Features of FlexClip:
A script for video creation is like a compass for ship. With the help of FlexClip's
video script generator
, writing an excellent video script will not hassle you anymore. Simply describe what your video is going to discuss and the AI algorithm will automatically analyze your information and generate short/medium/long script with every details you concern. After the process, there is a shortcut to directly turn your generated script as a video.
AI Video Script Generator in FlexClip
Whether you want to
transcribe an existing blog into video
or simply utilize keywords to create professional-looking videos, FlexClip will all get your covered! Besides, you can determine the way that AI machine process the information by selecting between AI creation and AI excerpt modes. All the generated videos will include subtitles, text-to-speech and related visuals. Well, you can also edit and customize the generated video with ease.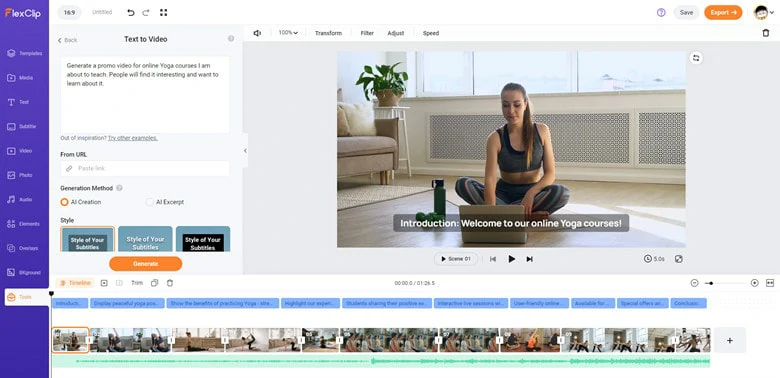 Text to Video Feature in FlexClip
Say goodbye to manually add subtitles to your videos on Windows 10! Now you can use
FlexClip's auto subtitle generator
to automatically extract subtitles from your video or upload an existing subtitle file to add subtitles! All the subtitles will be paired with exact timestamp and also they're editable.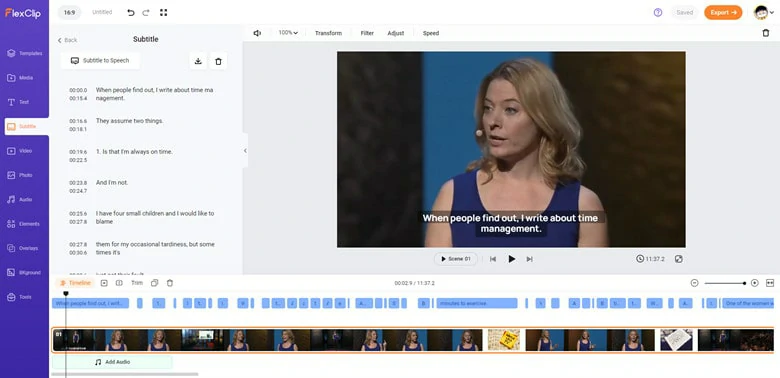 Auto Subtitle Feature in FlexClip
Bring your videos into life by using
FlexClip's text-to-speech feature
. It supports 140+ languages with different accents and provides voice avatars with various styles to match your needs. Moreover, you can modify the voice speed and pitch to make the voice sound natural.
Text to Speech Feature in FlexClip
When it comes to photo edits with AI technology, FlexClip offers two quick solutions: one is for
removing image background
and other is to
generate original images from text
in multiple styles, allowing you to unleash creativity with ease. Images are all in high-quality and you can download with ease.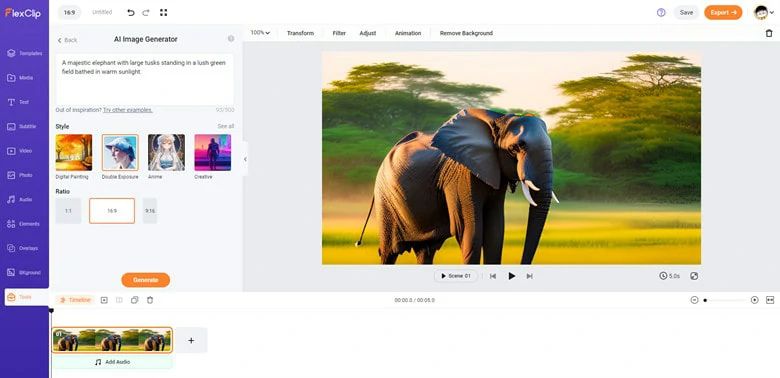 AI Image-related Tools in FlexClip
Aside from AI tools, this free video editor for Windows 10 includes 5000+ designer-made
templates
, millions of royalty-free videos, photos and soundtrack and loads of overlays & masks that you can use for free. As for video editing, basic tools like trimmer and advanced features including curve speed are all available. By the way, the interface is super easy to get started, even for the newbies.
Abundant Media Resources in FlexClip
Support media import from mobile phone using QR code, team collaboration feature and instantly sharing to popular social media platforms like YouTube and TikTok, making your video editing process a breeze.
#2 The In-born Video Editor for Windows 10
Acquired by Microsoft, Clipchamp has become an in-born video editing software for Windows 10. As a versatile video editor, it packs a set of editing tools that a beginner would need in his arsenal. You can use it to resize the video, change the audio volume, add text, apply special effects, etc to polish your project as the desired way.
If you'd like to use a green screen resource or rely on the auto-caption feature for subtitles, this Windows 10 video editor can make it possible in clicks. Although many of its built-in media resources( effects, photos, videos and more) and features are exclusive for premium users, it's still a good video editor for Windows 10 users to unleash creativity with its basic editing functionality.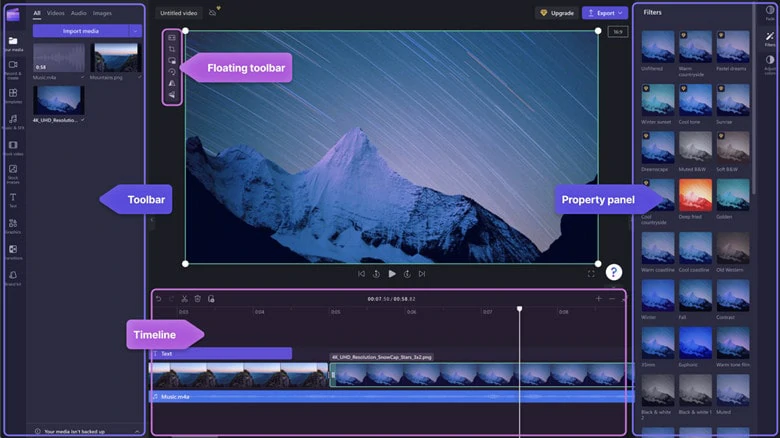 Best Free Video Editor for Windows 10 - ClipChamp
Key Features of Windows 10 Built-in Editor Clipchamp:
Intuitive and user-friendly interface.
It's an in-built editor for Windows 10.
It contains pre-set templates with unified filters, music and text styles.
Basic editing functions like resizing, changing volume and trimming are available.
#3 The Best Free Video Editor for Windows 10 Pro
Have you still remembered the most popular movie in 2011 that won the Academy Award for Best Film Editing - The King's Speech? The remarkable clip is done with a software called Lightworks. If you like Hollywood-style videos, this Windows 10 video editor is what you need.
You can use this tool to adjust audio, add titles and edit as you like. Besides, with a number of advanced features like color correction, several of the film - level processing effects can be achieved using Lightworks.
Best Free Video Editor for Windows 10 - Lightworks
Key Features of Lightworks:
A wide range of video formats is supported.
It offers a clean interface with advanced features.
Gives more controls of audio like hum removal and boost treble.
Color correction and blend modes, Transitions, chroma keying are at your disposal.
#4 The Best Free Video Editor on Windows 10
VSDC Free Video Editor is the best editing software for Windows 10, even professionals are its die-hard fans. There is a wide range of filters, overlays, transitions and video effects. Tech-savvy love this tool because of the chroma key and color correction abilities that take their videos to the next step.
After editing, VSDC allows you to export videos to multiple social platforms such as Instagram, Facebook and YouTube. Although the interface is a little complex, the high-quality results are worth your time and energy.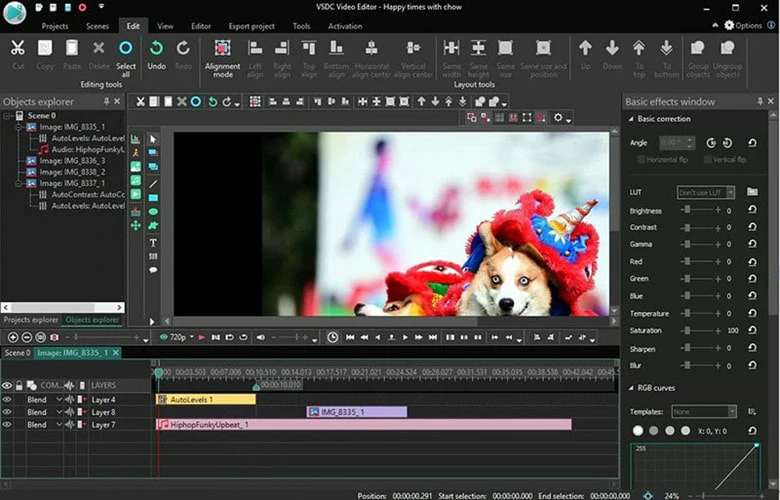 Best Free Video Editor for Windows 10 - VSDC
Key Features of VSDC Free Video Editor:
It has a large of effects,
transitions
, and sound effects.
Instant sharing to YouTube, Instagram, Facebook and more.
Compatible with the most commonly-used video formats.
Advanced features include AI art filters, masking, and video stabilization.
#5 An Open Source Video Editor for Windows 10
Packed with many transition and audio effects, Openshot is another free video editor for Windows 10 without watermark and is still intuitive enough for newbies to take the first step into video editing.
This free video editor offers unlimited timeline tracks, enabling you to add as many clips as you want. Besides, it includes various templates and audio/ video effects, so if you want to have more touches on your video, this tool can help you. If you're working on a project that doesn't require extra edits or high-level video effects, this tool is an excellent option.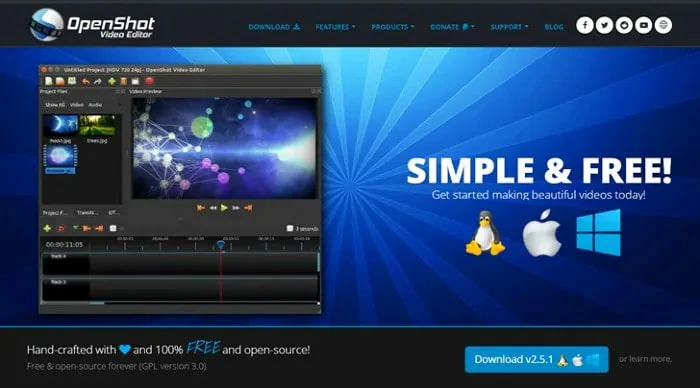 Best Free Video Editor for Windows 10 - Openshot
Key Features of Openshot:
It's user-friendly and intuitive.
Easy trimming, slicing, and resizing of videos.
Animated templates with awesome video and audio effects.
Unlimited layers for background videos, audio tracks, and watermarks.
# 6 A Free Video Editor for Windows 10
Avidemux is the ideal video editor for Windows 10 users who only needs to do the simple cutting, filtering and encoding task. As for video formats, it supports various file types, including AVI, MP4, ASF and more. The whole design and functions are for practical use, not for stylish purposes. This free editing tool is a good choice if you are looking for a free Windows 10 editor with fundamental features.
The whole design and functions are for practical use, not for stylish purposes. This free editing tool is a good choice if you are looking for a free Windows 10 editor with fundamental features.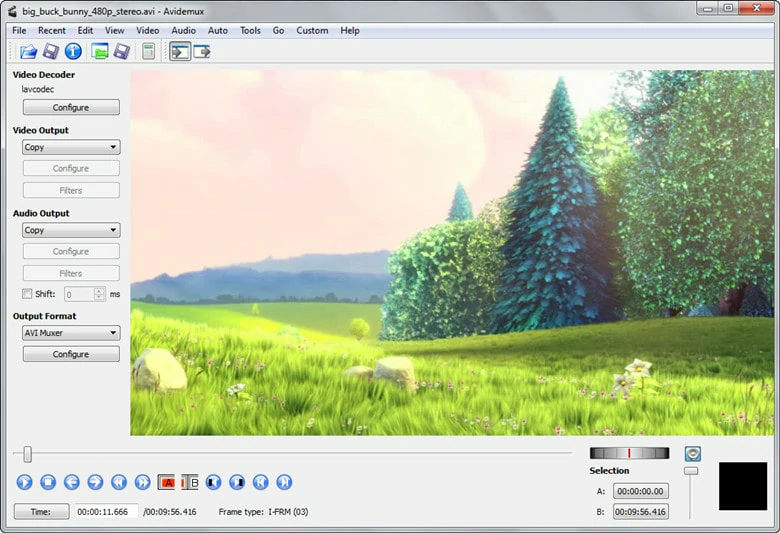 Best Free Video Editor for Windows 10 - Avidemux
Key Features of Avidemux:
Available for simple cutting and filtering.
It's an open-source video editor for Windows 10.
Straightforward interface and solid encoding option.
It's compatible with AVI, DVD compatible MPEG files, MP4 and ASF, using a variety of codecs.
#7 Simple Video Editor for Windows
Kdenlive is a free Windows 10 video editor that claims to be suitable for beginners and tech-savvy. Its basic editing functions allow you to easily trim, change video speed, and add multiple tracks. While for advanced editing features, you can use this video editing software to add effects/transitions, color correction, keyframe and more.
Kdenlive is a good video editor for both personal use and professional editing on your computer without effort.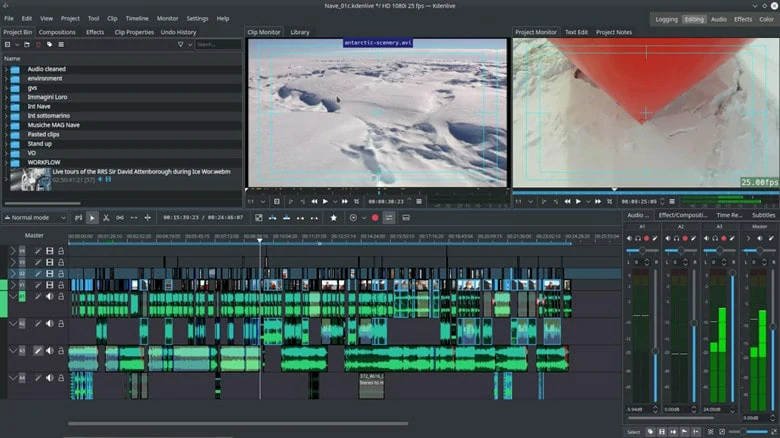 Best Free Video Editor for Windows 10 - Kdenlive
Key Features of Kdenlive:
It's a free and simple video editor for Windows.
You can save videos as MPEG, AVI, MP4, MOV, etc.
Simple trimming, speed change and adding multiple tracks.
Accessible to make color correction, key frame and
add effects
.
# 8 A Free 3D Video Editing Software for Windows 10
Looking for your 3D editing software? Blender is what you need. As a free and open-source 3D creation suite, Blender has many advanced features, such as modifier-based modeling tools, powerful animation tools, motion tracking suites, etc. Moreover, it's one of the best free video editors for Windows and Mac.
Blender will be suitable to improve your video editing to a high level if you have a lot of time and energy to learn it.
Best Free Video Editor for Windows 10 - Blender
Key Features of Blender:
A free 3D video editing software for Windows 10.
Multiple support for both import and export.
A lot of advanced features, perfect for professional users.
It's capable of animation, motion tracking and video editing.
#9 A Stunning Windows 10 Video Editor
Hitfilm Express is a high-end video editing software that can be used to produce Hollywood-style films. Whether an amateur or a professional, Hitfilm provides a wide range of functions to give you a seamless editing experience.
This editor stands out because it's superb for working with visual and technical effects. Meanwhile, it's incredibly user-friendly with drag-and-drop operations.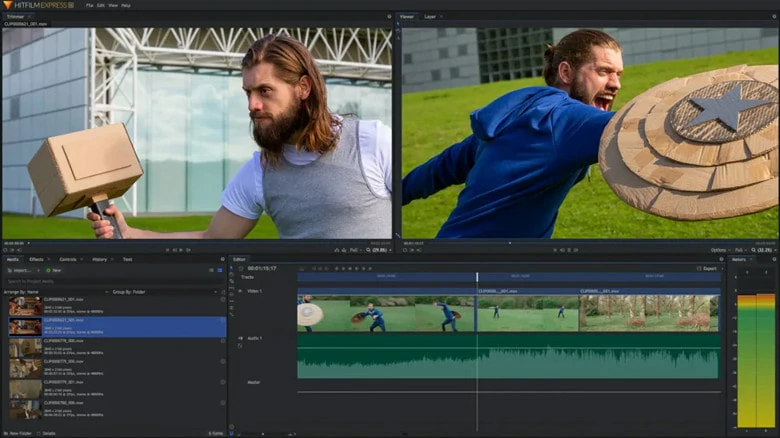 Best Free Video Editor for Windows 10 - Hitfilm Express
Key Features of Hitfilm:
Almost support all types of file formats.
A broad spectrum of transitions and effects.
It has 3D tools to make animated 3D models.
Powerful presets including color grading, motion blur, lights and more.
#10 Easy Tool to Make Video Editing in Windows 10
Shotcut is a free video editor for Windows, providing a stable and easy-to-use service. The interface is intuitive and clean with many function icons, including trimming, rotation, filtering and more. If you're working on a project that doesn't require super-detailed edits or high visual effects, this tool would be a nice option to you.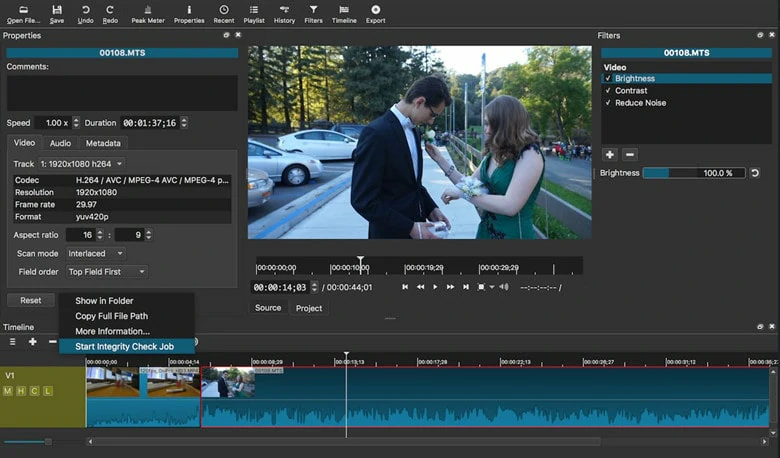 Best Free Video Editor for Windows 10 - Shotcut
It supports video quality up to 4k.
User-friendly interface with drag-and-drop operation.
Come with hundreds of transitions and filters
It has audio scopes and mixers as well as tone generators
The Bottom Line
That's all for the 10 best free video editor for Windows 10. Pick your favorite one and start your journey now! If you don't make up your mind, give FlexClip a try for its user-friendliness and flexibility.