A video title maker is software using which you can easily add a title or any text to your video. A video title is very important to get your target audience to click on your video and watch it. It is very important in video editing these days as only graphics and good visuals are not enough to captivate the audience, instead, the audience loves content or anything they can relate to and know more about the video before watching it. Having a creative, nicely designed video title that is connected to your video is hence very essential if you want your video to gain views.
There's a range of video title makers available on the internet, and it can often get confusing on which ones to use. Using a high-quality video title maker is very important as it will ensure that your video looks appealing to the audience, is unique, and the quality of the video is not compromised. For your ease, we have briefly highlighted some of the best video title makers that you can use to edit your videos.
There are some title video templates: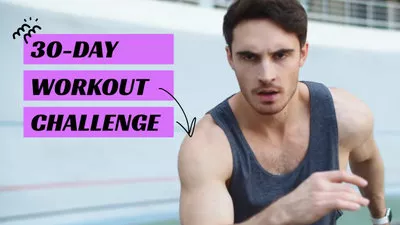 Youtube Workout Channel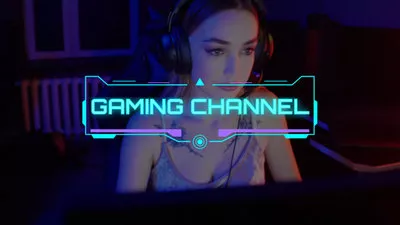 Gaming Youtube Channel
The Best 3 Video Title Maker Online
FlexClip
Topping our list of recommendations for the best video title maker online is FlexClip. The reason it tops our list of recommendations is due to its ease of use, and the wide range of fonts and templates it offers. The video quality is not compromised and the software has a free version that you can use. FlexClip offers around 100 text styles/fonts and also offers users the option to upload their custom unique fonts for the title. A huge range of over 200 templates is provided in the FlexClip library and these templates are divided into many categories such as modern. Social media, birthday, promo, etc., so that it makes it easier for users to choose a title template according to the requirement and of their video.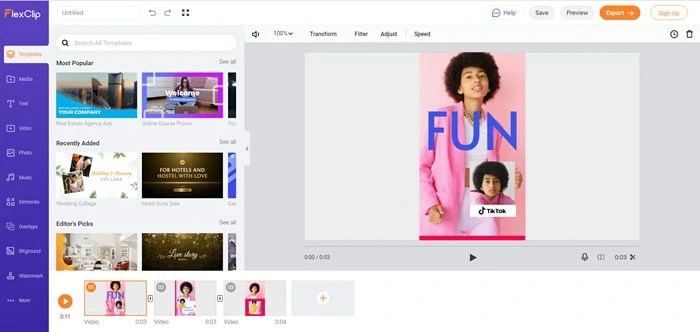 Online Video Title Maker - FlexClip
Pros:
It is a very user-friendly software and anyone can easily use it.
A rich range of creative templates and fonts.
Offers various tools for professional editing.
Easy and fast export of the edited 1080P video.
Cons:
It can lag a bit when long videos are added.
Price Plans:
FlexClip offers 4 plans for its users, based on the features it offers.
Business: $19.99 per month.
Movavi
Movavi is another great tool that offers free video template-making services. It is easy to use, with a user-friendly interface, and offers high-quality video edits. The text fonts and template range are also nice.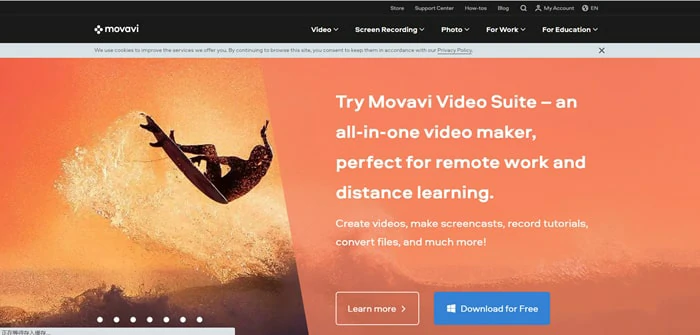 Online Video Title Maker - Movavi
Pros:
Offers 8 various editing tools.
Cons:
A bit slow compared to its competitors.
Offers no advanced editing options and is only fit for non-professional video editors.
Price plan:
Movavi offers three price plans.
Movavi Video Editor plan: $39.95
Movavi Video Editor Plus plan: $59.95
Motionden
Motionden is great for people who want guided editing and are not looking to add their custom templates or effects. It has a huge range of video text and font templates that the user can choose from but they can't add their own templates or add custom effects. It is easy to use but not recommended for professional-level editing.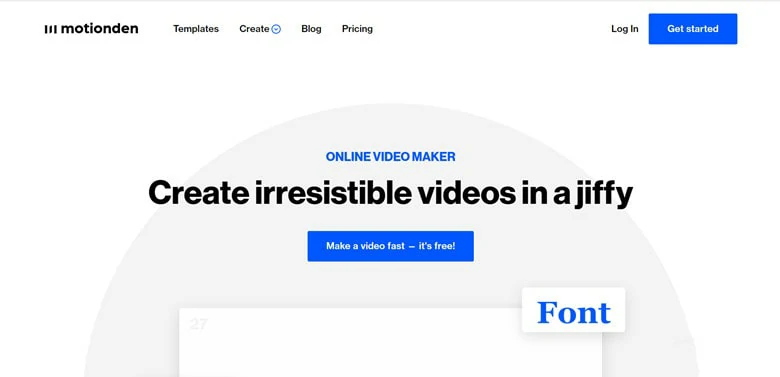 Online Video Title Maker - Motionden
Pros:
Cons:
You need to make an account.
Video editing is possible for free but a fee is required to download the video.
Pricing plans:
Motionden offers two pricing plans:
Unlimited videos: $29 per month.
The Best 3 Video Title Maker Software
Openshot
Openshot is a popularly used video title maker software. With Openshot, you can either select title fonts and templates from their unique and vast range of templates or you can add your custom title font. Openshot also offers 3D animated titles.
Video Title Maker Software - Openshot
Pros:
Good range of fonts and templates.
It is fast and has a good processor that rarely lags.
Cons:
Provides basic and limited editing features and tools.
An old and dull interface.
Price plan:
Openshot is a Movie title maker online software.
Filmora Video Editor
Filmora is another popular video title maker tool. It has a friendly and attractive interface and offers a nice range of text tools and templates. You can edit your videos in high quality using Filmora.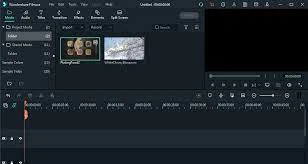 Video Title Maker Software - Filmora Video Editor
Pros:
Cons:
The interface is not touch-friendly.
Price plan:
Filmora offers four pricing plans.
Annual plan: $49.99 per year
Perpetual plan: $79.99 per year
Bundle subscription: $109.99 per year
iMovie
iMovie is a creative and free video editing software. It comes pre-installed on all Mac desktops and can be installed on iPhones from the AppStore. It is free and offers a wide range of video title fonts and templates.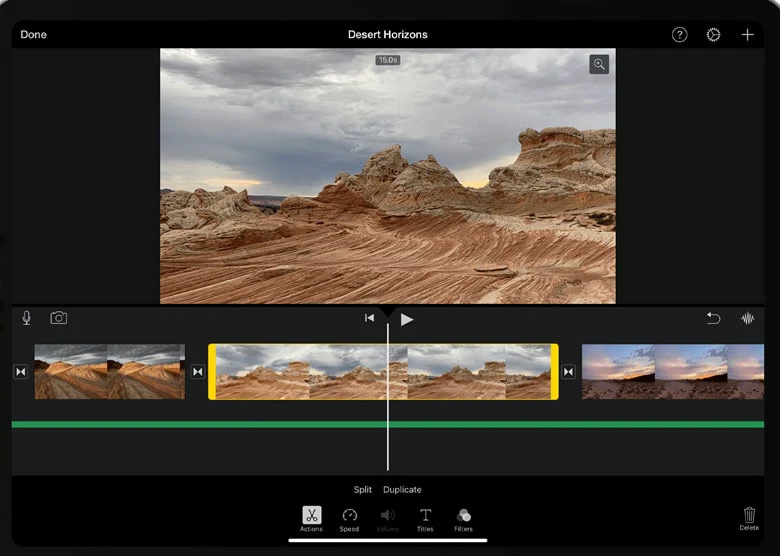 Video Title Maker Software - iMovie
Pros:
High-quality video editing
easy to use, edit, and download.
Cons:
Only supports Mac and IOS devices.
Price plans:
The Bottom Line
We tried all these software and apps so that you do not have to. The market for Video title maker tools is very competitive and these are the best ones according to our experience. Our experience with FlexClip has been the best overall and hence FlexClip tops this list of recommendations, try it and you will not be disappointed. If you liked the reviews, please share them with others.