Clipchamp is an easy-to-use video editor that comes with basic editing features like adding transitions, automatic subtitle generator and more, helping you create stunning videos in a matter of minutes. But for some reasons, the editing process is not going as expected and some people begin to search for an excellent Clipchamp alternative for a better editing experience. Here we'll take you through an overview of Clipchamp and also a list of 5 best alternatives to Clipchamp. Let's have a look now.
Trending and Customizable Video Templates You Can Try: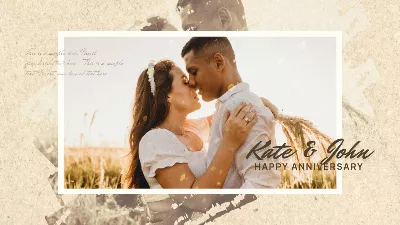 Love Romantic Wedding Anniversary Memory Floral Slideshow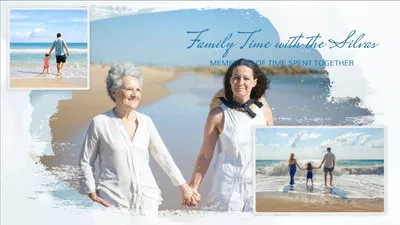 Simple Family Photo Collage Memory Slideshow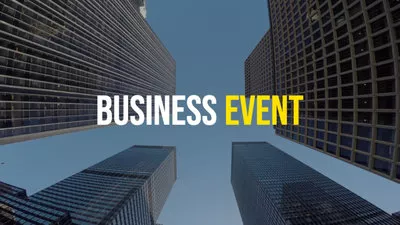 Business Conference Promo
Football Competition Promo Youtube
5 Best Clipchamp Alternatives for Awesome Video Editing
Overview of Clipchamp Video Editor
Clipchamp is a powerful video editor and after being acquired by Microsoft, it now becomes the inbuilt solution for Windows 11 users to handle video editing problems. In the meantime, the online version is also accessible. Common editing features like adding text, filters and animation are all available in one-click operation. Recently, the auto caption feature has been integrated into Clipchamp, helping users automatically extract subtitles from videos.
However, people who have used it give some drawback feedback. Some don't want to sign up on the website every time for personal information safety and spam. Others complain that it takes so much time to load any added resources and export the video. Besides, Clipchamp also lacks various features like converting that make the editing process a little challenging. To conclude, Clipchamp is a user-friendly video editor with basic video editing tools.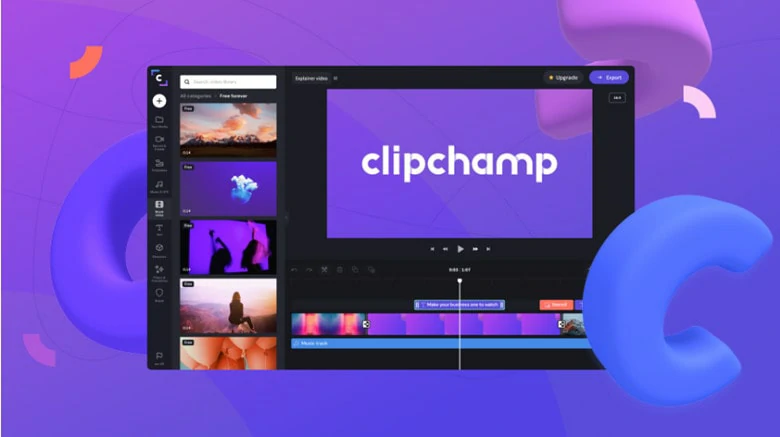 Picture of Clipchamp Website
Pros of Clipchamp
Intuitive and clean interface
High-resolution export up to 1080p (free version)
Awesome transitions and filters
Support screen and camera recording
Green screen and auto caption features are available
Multiple royalty-free templates and stock media
You can directly share the edited videos on diverse social media platforms
Cons of Clipchamp
A basic set of editing tools and video length is limited to 30 minutes
Content backup is only for subscribed users
The free version is limited to resources, storage and editing tools
Users are unable to upload an existing subtitle file
Converting and compressing (not by exporting) is unavailable
Only PC users can download this software package
The loading and rendering process may drive you crazy
Pricing of Clipchamp:
The price of Clipchamp varies according to the version you use( an online one or desktop software) and here we set the online version for comparison.
Free: access to limited media resources and editing tools.
Essential ($11.99/m): able to export videos in 4K; access to premium media resources and editing features like brand kit.
1.FlexClip
FlexClip, an online Clipchamp alternative, is a feature-rich video editor that uses the power of AI to simplify your video editing process with real-time storage support. Whether you want to automatically create a video with text or precisely remove image background, there will always be an AI tool that fits your needs. Besides, its extensive text presets with different styles and animation effects help you highlight content with eye-catching designs. If you'd like to add subtitles, auto subtitle generator, existing subtitle file or manual import are three methods you can rely on.
On top of that, it comes with 6000+ ready-made templates to match all your purposes, be it for commercial use like real estate promo or personal interest like wedding and birthday videos, you can find a professional-looking template to rely on. What makes it distinguishable is its 7M+ royalty-free media stock integrated with Storyblocks, Unsplash and GIPHY, allowing you to unleash creativity without copyright worries. What's more, instant sharing for multiple social media platforms like YouTube and TikTok is accessible in FlexClip.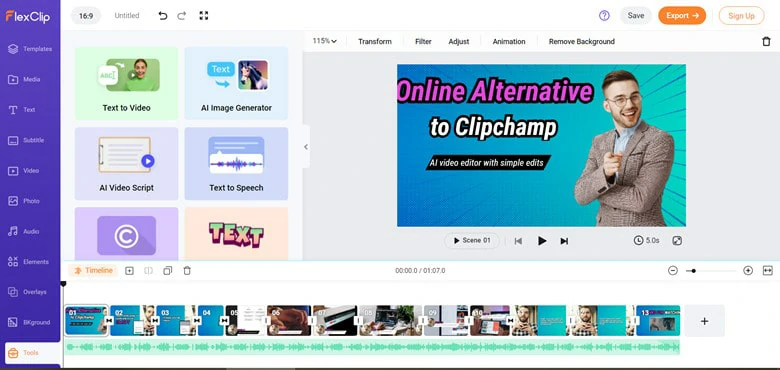 Online Clipchamp Alternative with AI Tools - FlexClip
Its drag-and-drop interface makes it easy for everyone to create stunning videos in minutes, regardless of his editing skills. Generally speaking, it's a flexible yet user-friendly alternative to Clipchamp for people who want to edit like a breeze.
Pros of FlexClip
Easy-to-use and fast speed in rendering and exporting
Support team collaboration and brand kit features to work effectively
A full set of AI tools like text-to-speech, auto subtitle, text-to-video and more
Real-time storage to avoid resource loss
Video conversion and converting in a one-click operation
Able to do screen and camera recording
Hundreds of overlays, special effects, animations and sound effects
Directly sharing to popular social media platforms
Unlimited video length to unleash your creativity
Cons of FlexClip
The free version contains a minimal watermark
It works as an online video editor for PC users
Free users can only download videos in 720p up to 10 minutes
Save up to 12 video projects online and a subscription is needed to get more storage space
Pricing of FlexClip:
Free: free AI credits; video length up to 10 minutes; export videos in 720p
Plus ($9.99/m): unlimited video length; download video in 1080p; support custom fonts
Business ($19.99/m): 100GB cloud storage plus features in the Plus plan
How Does it Compare to Clipchamp
To create videos in Clipchamp, you can only take advantage of basic editing tools and suffer unknown glitches for slow loading speed. While with FlexClip, you can make all sorts of videos using AI technologies and editing tools like a breeze and freely access to extensive media resources stock.
2.Visme
Visme is a popular alternative to Clipchamp that empowers users to create presentations, documents, data visualizations and videos, most of these features are unavailable in Clipchamp. Besides, this software improves your work efficiency by supporting collaborative team features and brand assets saving like the company's color palettes.
It's popular among business owners as Visme always produces professional presentations with slide decks while not dealing with multiple settings. Like many video editors, Visme also packs marketing templates including presentations, infographics, whiteboards and videos, satisfying your different requirements.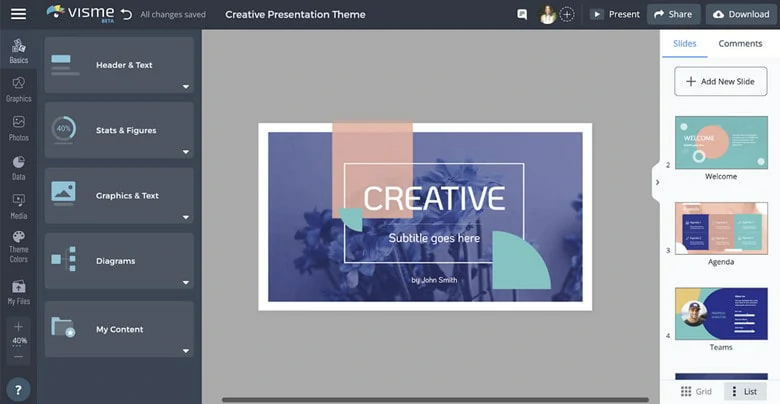 Clipchamp Alternative for Business Owner- Visme
With Visme, you just like have a versatile assistant that handles all the tasks in business marketing without the need to have a rest. Although the price is a little higher than competitors, Visme receives high evaluation in the industry.
Pros of Visme:
Multiple templates for slideshows and marketing materials
Able to create presentations, documents, data visualization, videos and more
Support real-time team collaboration
Connect with massive tools you already use like YouTube
Versatile Clipchamp alternative target for business owners
Terrific privacy controls
Support multiple formats including PDF, GIF, Video, PowerPoint and HTML5
Cons of Visme:
The team collaboration feature is limited
24/7 email % chat support is only targeted to subscribed users
The storage space is so limited even with a paid account
Free users can't download videos until they upgrade to Pro plan
Pricing of Visme:
Visme offers 4 plans for its users to choose from and use this video editor to create stunning videos.
Free: Most of the templates are available; 100MB storage
Starter ($12.25/m): suitable for individuals with 250 MB storage and 24/7 email support.
Pro ($24.75/m): storage space extends to 3GB; multiple downloading options including videos; brand kit is available
Visme for Teams: custom plan according to your needs
How Does it Compare to Clipchamp
Clipchamp focuses on helping users create awesome marketing videos with basic editing tools, while Visme is an all-in-one platform for business owners to create presentations, documents, data visualizations and other brand content.
3.iMovie
Many iOS and Mac users typically resort to this application as a Clipchamp free alternative. Developed by Apple, it embraces the goal of only keeping the necessary features in this video editor. Because of its simple UI and flexible features, social media creators and video enthusiasts always use this freebie to unleash their creative inspiration.
From basic editing like adding transitions to advanced features including audio fade in/out, iMovie will offer you the easiest solution. As for professional techniques like the chroma key, you just need a few clicks to activate it, which is an extra function in paid video editor. Moreover, it even packs the noise-reducing function that modifies and enhances the background noises and boosts audio levels of quiet clips.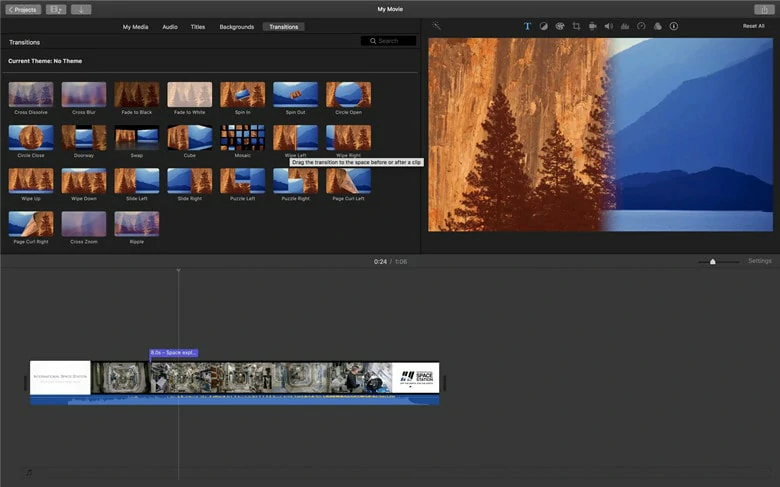 Free Clipchamp Alternative for Mac - iMovie
Additionally, it's compatible with all the popular video, audio and image formats, reducing the possibility of file conversion. Media resources like filters, overlays, motion graphics and more are also available even with limited options. It's a trustworthy Clipchamp alternative for many people.
Pros of iMovie:
An easy-to-use and free Clipchamp alternative for iOS and Mac users
Easy crop, rotate and reverse videos with just a few clicks
Support a wide range of video, audio and image formats like MOV, MP4, MP3,PNG and more
Advanced features like Picture in Picture, Green Screen and split screen are available
Large amount of built-in filters, overlays, texts and motion graphics are here
Clean interface without editing experience requirement
Multiple sharing ways including YouTube and Vimeo
Various trailers and theme templates you can directly rely on
Cons of iMovie:
Limited to two video tracks
It takes up a lot of storage space
Windows users can't enjoy the benefit
Lacks social media templates and trending presets
You can add plain text without effects in iMovie
Pricing:
As an inbuilt video editor for Mac users, it's totally free to use.
How Does it Compare to Clipchamp
Clipchamp only offers the web version for Mac users and its performance heavily relies on the network while iMovie is a free yet powerful video editor for Mac users to unleash creativity with ease.
4.Filmora
Filmora is a top-notch video editor that lets creators produce videos and take their work to the next level. First, it has multiple versions with exhaustive tutorials to help you familiarize with its features. Next, most of the trending effects in social media platforms can be seen and created in Filmora, allowing to catch up with the tend instantly. What makes it stand out is the professional editing features that are on par with industry-leading software like Adobe series but require simple process.
Besides, it comes with massive AI tools and some of them are not even founded in professional editing software. For example, it is common to meet the situation when your clips include so many filler words and silence moments which are difficult to find and delete. But now, with the Silence detection feature, you can automatically remove unnecessary parts from your video and the edited audio is sound-natural. Aside from this, you can also use AI copywriting, AI image and text-to-speech to create a stunning video with the power of AI technology.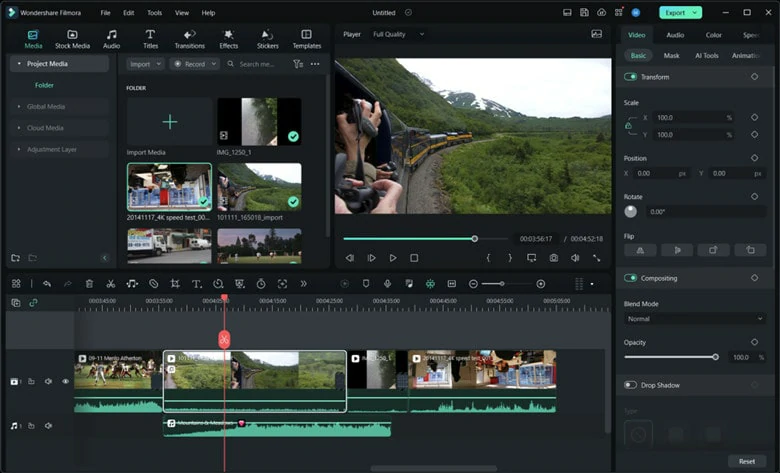 Professional Clipchamp Alternative - Filmora
Pros of Filmora:
Automatically generate video script using the chatbot of ChatGPT
Multiple audio process tools like audio ducking, silence detection and text-to-speech
Compatible with desktop, mobile and iPad devices
Massive trending effects and presets for social media platforms
A full set of AI editing tools from video content to audio editing
Color match and color correction are prepared for editing
Provide screen recorder to capture onscreen activities
Cons of Filmora:
This Clipchamp alternative lacks a free version
Not providing SRT to speech option
A little complicated in the beginning
It takes up large storage space
Need more media resources like FlexClip
The price is a little higher compared with competitors in the list
Pricing:
Filmora's plan changes depending on the usage situation. For individuals, it offers three paid choices.
Annual Plan: billed $49.99 per year
Cross-platform plan: $ 59.99 per year with multiple platform supports like Mac and iPhone
Perpetual plan: With a $ 79.99 payment per year, you can use Filmora forever at this version
How Does it Compare to Clipchamp
Clipchamp works as a basic video editor for content creators with desktop (Windows only) and web versions while Filmora makes people create high standard videos with the help of professional tools and AI technologies. Meanwhile, it goes with desktop, mobile and iPad packages.
5.Renderforest
If you're looking for a Clipchamp alternative specialized in creating animated videos, then Renderforest is what you need. Whether you need a 3D explainer or animated whiteboard videos, Renderforest will get you all covered with a few clicks. Besides, it has hundreds of stylish templates from slideshow to Instagram to inspire you. For customization, you can personalize the text, layout and effects applied to the video to match your needs.
What's more, you'll find a website maker on this video editor that allows you to create functional websites and landing pages with no programming skills right from your browser. The work procedure is simple: directly select your preferred design and customize it as you need. Easily promote your website awareness with top-notch designs.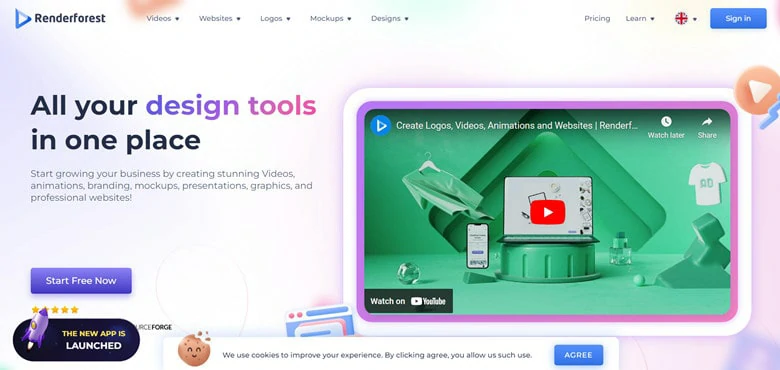 Clipchamp Alternative Online - Renderforest
Pros of Renderforest:
A powerful video editor to visualize and present your ideas
Easy for newbies and it is easy to use
Multiple templates to match your different purposes
It comes with a website maker tool
Specialize in making high-quality animated videos in minutes
A Music Visualizer to produce a visual dimension to your music track
Multiple video resolutions to choose from: 720p, 1080p and 4K
Cons of Renderforest:
It doesn't have an offline version
There are limited customization options for the ready-made templates
A little package of effects, elements and text
Free plan contains a brand watermark
The process of adding a voiceover is complicated
Lack of AI tools to simplify the work
Pricing of Renderforest:
When it comes to pricing, Renderforest offers 4 plan options and we give details separately.
Free: with 500 MB storage; download videos in 720p.
Lite ($9.99/m): get 10 GB storage space; access to Premium media resource; export videos in 720p.
Pro ($19.99/m): advanced website control and editing tools; create unlimited 1080p videos; the storage space extends to 30GB.
Business ($29.9/m): team management; custom watermarks and brand kit; create videos in 4k.
How Does it Compare to Clipchamp
Clipchamp is a basic video editor to create all sorts of videos in minutes. As for Renderforest, it's the final choice for many people who want to make an animated video as Renderforest outweighs other competitors. Additionally, it has a website maker tool which will be helpful for website builder to improve brand awareness effectively.
The Bottom Line
Clipchamp is an excellent online video editor but lacks various features that matter a lot when unleashing creativity. So you'd better make a selection from the list of 5 best Clipchamp alternatives and leverage a professional one like FlexClip to create high-quality videos. Now it's your turn!