The revolution of AI technology changes aspects of our daily life and so does the way to create stunning videos, falling the threshold of video creation to text prompts only! With an text-to-video converter, anyone can easily turn articles or ideas into professional-looking videos in a matter of minutes, regardless of his editing experience. So what is the best AI video generator? Blow your mind from the list of five popular text-to-video AI converters on the market. Let's dive in right now! 
5 Best Text-to-video Converters to Turn Text into Engaging Videos
Also Interested: 3 Best Speech to Text Converter>
1.FlexClip
Suitable for: Anyone who's looking for a comprehensive yet easy-to-use tool to convert text into video with AI.
Turning your ideas or any inspiration into visuals is no longer a dream! FlexClip, the best video editor online, is ready to help. With a massive amount of data, its AI machine can precisely analyze and understand your prompt and automatically produce and deliver jaw-dropping videos in a matter of minutes. Be it a promo video or an educational video, this AI video generator will make you satisfied.
What makes FlexClip stand out is its abundant resource stock, instant storage, and full AI toolkit, allowing your video creation process to be a breeze. Moreover, the team collaboration feature is here in case you need to work with different departments or open communication among clients. Whether you're a beginner or a tech-savvy who wants to generate video from text, this auto video maker won't let you down.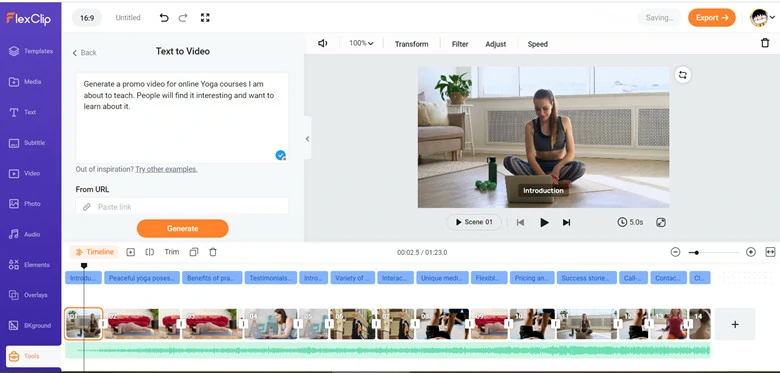 The Best Text to Video AI Converter Online - FlexClip
Key Features
Be it an
online blog
, an existing script or a simple word prompt, FlexClip's has the magic to convert the text you entered into an engaging video with subtitles and background music added. Besides, there are 7M+ media resources and multiple editing tools to take your generated videos to the next level.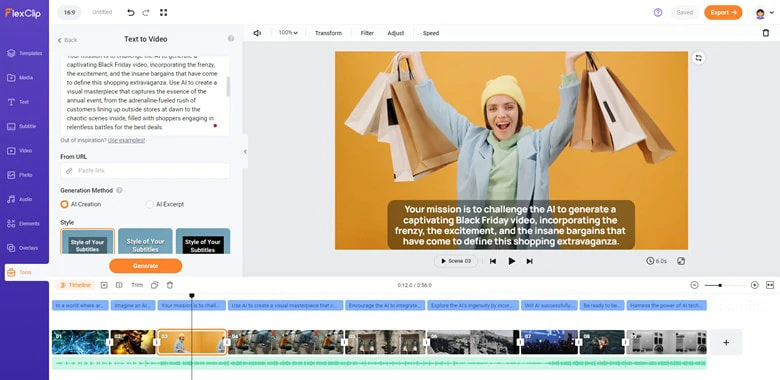 Generate Video from Text with FlexClip's Text-to-video Converter
AI voiceover will greatly amuse your audience and extend video accessibility. FlexClip empowers you to transcribe text in 140+ languages into lifelike voices with an accuracy rate up to 90%. Moreover, you can customize the sound by editing the avatar, speed, pitch, style and more to
craft a tailored AI voiceover for your video
.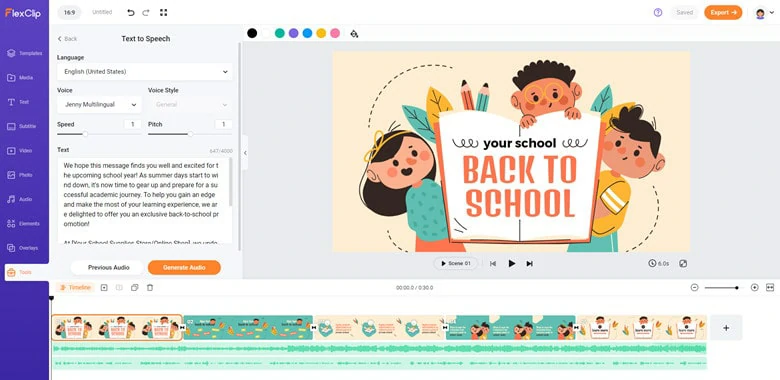 Generate AI Voice for Your Video
Have no ideas about how to write a script? Let
FlexClip's AI video script generator
do it for you. Whether it's a video theme in your mind or an inspirational flash, just tell this AI machine and it will generate a full-content video script for you in minutes. What's more, it can recompose the script at any time and anywhere you want as long as you want. Additionally, you can directly hit the AI to Video button to transform the generated script into an appealing video.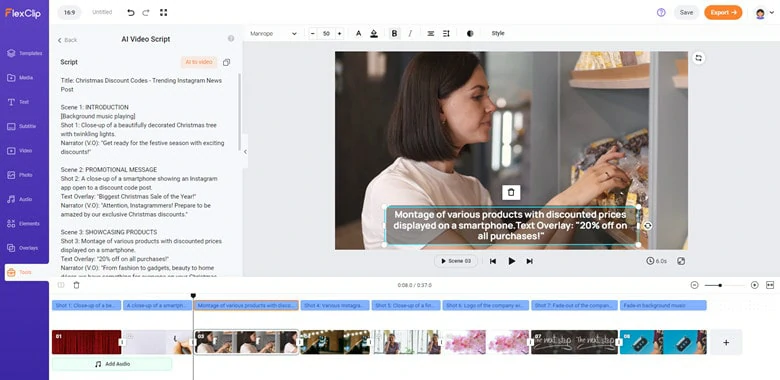 Use FlexClip's AI Machine to Automatically Generate a Video Script
Use
FlexClip's AI image generator
to generate pictures tailored to your plots, which is widely used in kid sleep videos, educational videos and other animated videos. Just enter your text prompt and choose the picture style you want, then a designer-made masterpiece will come in handy after a one-click operation. All the pictures are unique and creative enough to wow your audience.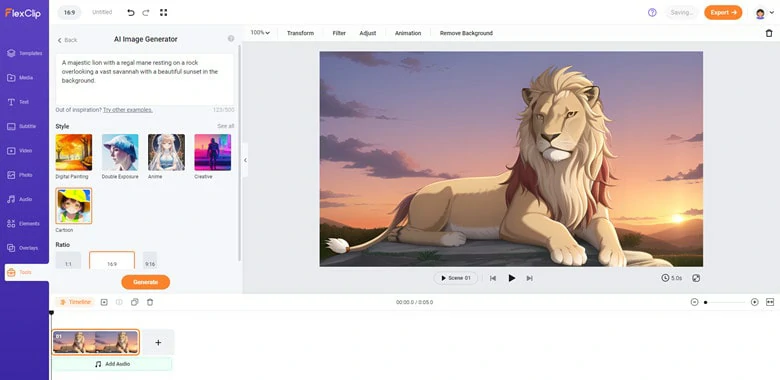 Generate Captivating Images from Text with FlexClip's AI Image Generator
It may drive you crazy when a breakdown happens or you mistakenly close the browser during your creation process without any backup! Here, with FlexClip's instant storage feature, just say goodbye to date loss during video editing process! Once you log into your account, any tiny change you made to your video will be immediately and automatically saved to FlexClip and the video can be edited at any time.
Fast sharing to social media like YouTube and TikTok without any download. Just connect your social account with FlexClip, then directly upload the video with name and description accordingly, which simplify the process for content creators.
Cons:
The AI-generated video consists of images and clips from stock.
Sometimes you need to manually add pause and space to adjust the subtitle length.
Video length is up to 10 minutes for a free account.
Pricing:
Free: 720p HD downloads; save up to 12 videos online; video length up to 10 minutes; free AI credits.
Plus($9.99/M): 1080p HD downloads; plus AI credits; unlimited video length and storage online; upload custom fonts; save up to 100 templates; 30GB cloud storage.
Business($19.99/M): business AI credits; 100GB cloud storage; save up to 200 templates; 1TB hosting space.
2.Lumen5
Suitable for: Enterprise who want to turn existing blogs or scripts into a business presentation-style video.
Geared more towards corporate, Lumen5 is a popular AI video generator that generates presentation-like videos that will upscale your brand effortlessly. Instead of analyzing simply word prompts, it requires full content and a template mode(ready-provided) to work perfectly. To convert text to video, you have to insert an existing URL or manually paste the local script for the AI machine to understand and grab pictures/video from your blog or its built-in stock separately. The result usually sticks to the theme and is customizable in case you want to correct any error.
Recently, it added the AI voiceover feature, but the workaround is a little different compared to similar software. Instead of directly generating a lifelike voice for your existing video, it creates an AI voice foremost and then grabs assets from its stock to produce a low-performing video(the theme is not consistent with low-quality media resources), which requires lots of manual adjustments. However, its clear interface and easy operation ensure an easy amending process.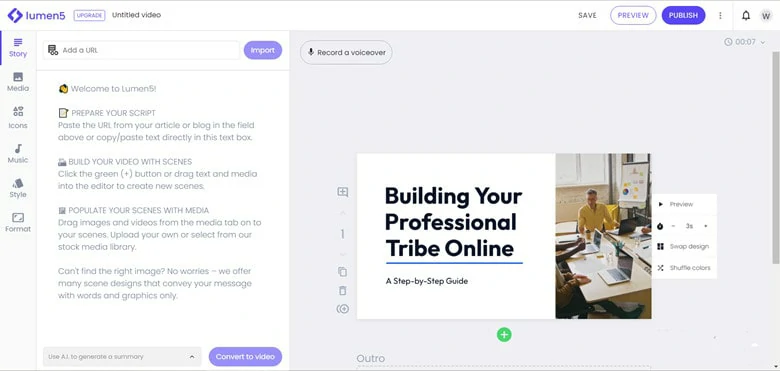 The Best Text to Video AI Converter Online - Lumen5
Key Features:
A clean and uncluttered interface contributes to focusing on the project merely.
Turn your existing blog or script into an AI voiceover video.
Produce video by pulling text and images from your blog articles.
An extensive media stock with soundtrack, videos and photos.
Cons:
AI voices are limited to free users with only two options.
You have to feed it with full content to generate a video.
It only offers basic editing features to fine-tune your AI-generated videos.
Pricing:
Community: free to use; up to 5 videos per month with Lumen5 watermark; 720 video resolution.
Basic ($29/M): unlimited video exports; generate AI voiceover within 600 words; able to save one template; export video in 720p.
Starter($79/M): able to create unlimited videos in 1080p; generate AI voiceover within 600 words; access unlimited media stock.
Professional($199/M): automatically create videos from RSS feeds up to 10; upload custom font, color and watermark; pay extra $25/m to access exclusive media stock.
Enterprise(custom): custom features tailored to your needs.
3.Lucas
Best for: Anyone who likes to generate videos from text by chatting.
Want to generate videos by chatting? Lucas, the best AI text-to-video converter, is your go-to option. From the video creation to the video changes process, this chat prompt-powered AI machine will make it easier for even the newbie to complete videos. The workflow is straightforward: open this editor page and enter your prompt or what video you'd like the AI to create, then it will provide some details about the desired video. After that, hit the Generate Video button to get four tailored results.
If you're unsatisfied with the video style, just type in your requests for the AI machine to amend instantly. Meanwhile, an editing panel allows you to make manual edits for color, voiceover language, music, text, media resources, etc. Generally speaking, its concise interface and one-paid model are incredibly suitable for amateurs with little video needs to generate professional-looking videos by chatting with AI.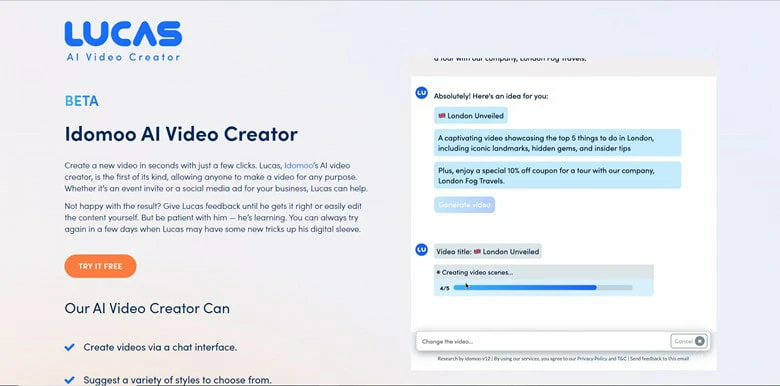 The Best Text to Video AI Converter Online - Lucas
Key Features:
A generative machine to create videos by chatting.
Concise interface and straightforward workflow.
Instant AI video editing based on your prompts.
Ability to add branding and call-to-action button.
Support 50+ languages and 20 voiceover options.
Cons:
The video will only be saved within 30 days.
You have to pay $5 per video to remove the watermark.
The video style is limited and the stock resources are mostly unclear.
Pricing:
Free plan: $5 per video to remove watermark; interactive CTA button; preview free (no credit card required)
Enterprise(custom tailored to your needs): bulk storage; extra video storage; custom features.
4.Pictory
Best for: People who need a flexible tool to convert text into stunning videos.
With the help of Pictory script to video feature, professional high-quality videos matching subtitles, footage and background music will come in minutes. Be it an online article or an existing script, Pictory can transform it into a stunning video without any editing experience needed. Compared with similar products, it performs better in grabbing footage to complete videos, while others might sometimes seize images.
Adding AI voice to video is also available in Pictory if you'd like to make video more engaging. Integrated with ElevenLabs, it has 100+ realistic voice options with complete control of speed, accent and applying scenarios, satisfying your needs no matter what purpose it is. As for video editing, basic feature like adding text, changing music and applying GIFs are available but advanced tools such as carve speed, stylish text and speed up need to look further.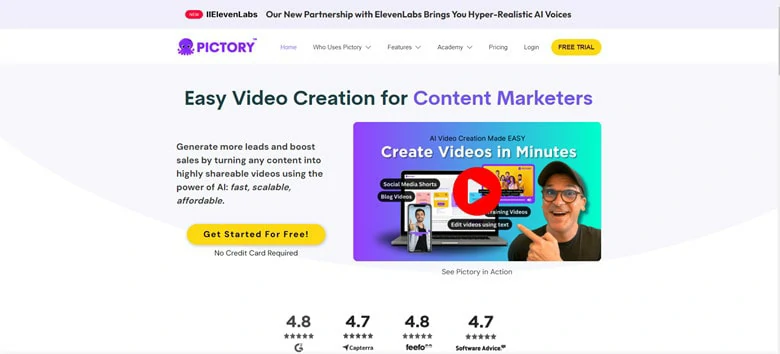 The Best Text to Video AI Converter Online - Pictory
Key Features:
Loads of AI voice options to choose from.
Turn text or URL into a video without any editing experience.
Quickly grab video footage to composite a video based on your content.
Automatically highlight keywords in the generated video for viewers to catch on easily.
Various templates to select from and help AI machine to quickly understand your content.
Cons:
The monitoring area is so narrow, making it harder to edit videos.
It will take time to render the video each time when you want to preview it.
Most of the footage scratched from its media stock doesn't match your theme.
Pricing:
Free plan: create 3 video projects, each up to 10 mins long.
Standard($23/M): create 30 videos per month; access 5000 music tracks; 34 text-to-speech AI voices; transcribe existing videos with subtitles up to 60 mins.
Premium($47/M): make 60 videos per month; 12 million image resources available; 10000 music tracks; transcribe existing videos with subtitles up to 120 mins; bulk video downloads.
Teams($119/M): produce up to 90 videos; 3 users per one account; sharing & collaboration; transcribe existing videos with subtitles up to 180 mins.
5.Wave Video
Best for: People who need a versatile video editor with a simple text-to-video feature for marketing.
Wave Video is known for video editing and live streaming but now an AI text-to-video feature is also included in this web-based video editor. The working pattern is similar to Lumen5: enter text from your blog or paste text story to the corresponding field and choose settings of your future video, then customize it for publishing later. Compared to Lumen5, the video templates are limited but have more control over video settings like duration, stock asset type(premium or free), and text length to reduce the possibility of modification.
As for the AI-generated video, the styles are narrowed to real estate, travel, fitness, real estate and promo, which makes it easier to produce videos that look the same. Besides, the design is rigid with a stubborn layout and low-performing resources of the whole video, which greatly devastates the viewer's mood. To be honest, the process of generating video from text is simple, but the unsatisfying result will waste your time in manual editing.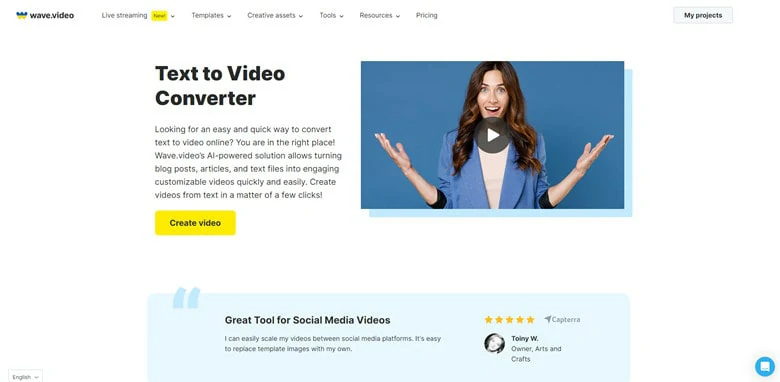 The Best Text to Video AI Converter Online - Wave Video
Key Features:
A full toolkit of marketing tools to promote your business.
Able to convert blog or local text into a video matching music.
Customization of the AI-generated video like changing font, text, background color, music, and more is available.
Produce videos in 16:9, 9:16, 1:1 and 4:5 format.
Cons:
Sometimes, the footage extracted from its stock is irrelevant to the content you entered.
The video style is narrowed to nine options with low-performing designs.
The output video requires lots of manual adjustments.
Pricing:
Free: basic editing features to create watermarked videos within 15 mins; live streaming with watermark; video hosting and recording with watermark; access 2M media resources.
Streamer($20/M): watermark-free video and GIF within 5 mins; sharing presentations; video recording up to 4 hours; 2M media assets are available.
Creator($30/M): create videos up to 30 minutes; 200M media resources available; support text-to-speech, image background removal and subtitle.
Business($60/M): videos up to 2 hours and 60 fps; up to 5 users can share the same login; advanced permission for live streaming and video hosting.
FAQs:
1.What is the best normal video to AI video converter?
There are many tools to turn video into AI animation like Wondershare AILab, Premiere Pro, Video Enhance AI, Ebsynth and more. Most of them will cartoonize your videos with a simple operation.
2.How to convert text to video AI?
The text video converters listed above all empower you to convert blogs or scripts to videos with the power of AI technology. Well, if you want to get AI-generated videos with simple words, use FlexClip's AI text to video function as below.
Step 1: Go to FlexClip's editor page and move to Tools panel where multiple AI tools are located.
Step 2: Select Text to Video to enter your prompt or an exitsing article via URL, then choose the generation mode and subtitle style for the future video.
Or you can use AI Video Script generator to automatically transcribe your simple words into a professional video script that will help you generate stunning videos easily. Besides, there is a Script to AI button to quickly turn your generated script into videos without any extra steps.
Step 3: Hit on Generate icon to launch the generation process and customize the generated video if you like to add watermark, branded font to make it unique.
Step 4: Once you're done, just share your videos for enjoy.
3.Is there a way to generate script automatically for getting videos?
Sure, a lot of video script generators will lend you a hand if you don't know how to write a script or need some inspiration to unlock writer's block. Instead of recommending third-party software, a text-to-video converter called FlexClip in this blog offers an AI video script generator that integrates with ChatGPT to help you come up with a creative video script in seconds!