AI touches every aspect of our personal and professional lives. From digital maps to the recommendation of ads you receive, artificial intelligence is everywhere, including art. Compared with years of painstaking drawing learning to create stunning pieces, with the advent of AI art generators, everyone can make professional-looking artwork with a click operation.
There is a list of 10 best AI art generators you can easily use for work or fun. Let's check the list right now!
Top 10 AI Art Generators You Can't Miss
How Does An AI Art Generator Work?
The workflow of an AI art generator is quite simple: once you enter a prompt into a drawing generator, it will automatically produce something that matches your keywords. In addition, some of them can replace colors and styles in an existing picture with new ones. 
Different art generators perform different levels of text understanding, depending on the size of their training database. Therefore, a matured AI drawing generator has been trained over billions of text-image pairs, which allows them to perfectly understand your demands and give the most accurate results.
Models are the foundation for AI generators to render image results. At present, there are two leading models:
Diffusion Models: Many prominent art generators like DALL.E 2, Stable Diffusion, and Midjourney use this model to generate results. It works by adding noise (Gaussian noise) to the available training data and then reversing the process to match your demands.
Generative Adversarial Networks (GANs): Like VQGAN-CLIP, BigGAN, and StyleGAN, which have been around for a few years longer.
1.FlexClip
Art AI model: Stable Diffusion
Platform: Web
Pricing: Free
FlexClip's AI art generator is a new feature released in 2023, which works based on Stable Diffusion model. It's simple to use and produces satisfying results. The workflow is straightforward: enter your prompts with some keywords or a complete sentence, select the desired picture ratio and style like Anime, then you'll get two generated pictures. Moreover, you can hit the Regenerate icon to get more results.
What's more, you can download or refine the generated picture with FlexClip's video editor, which allows you to add text, emojis, filters and music for free. Besides, It includes a wide range of features found in popular image and video editing software. Image background remover, video trimming and text-to-speech are available to use for free.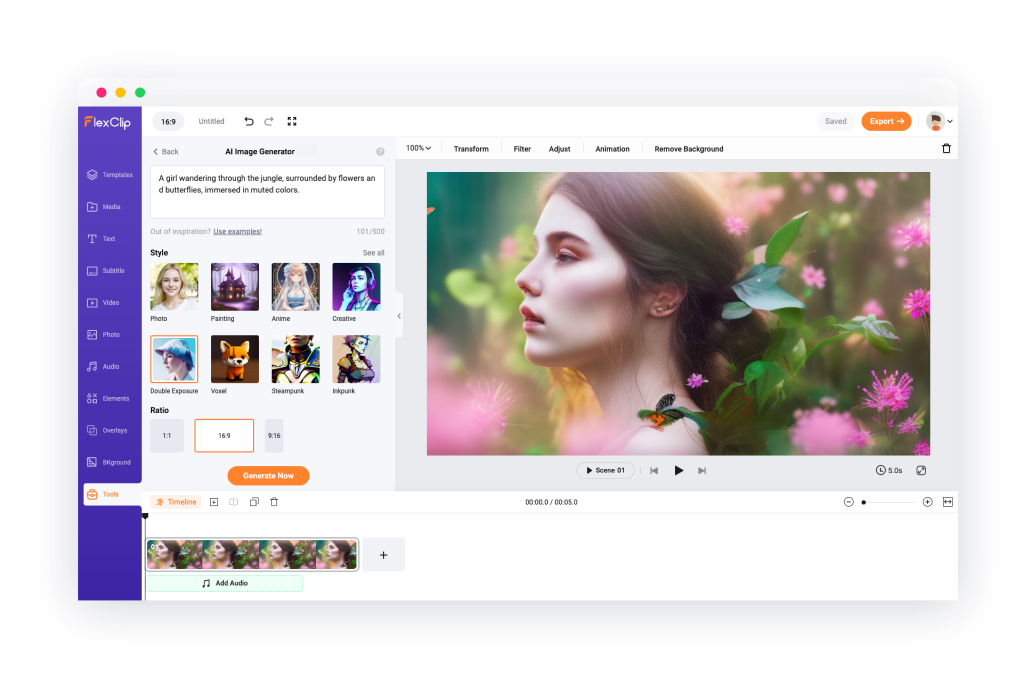 Top 10 AI Art Generators - FlexClip
Key Features of FlexClip
User-friendly and free to use
Able to create pictures in multiple styles
Support image post-production in clicks
High-powered photo and video editing capabilities
An extensive collection of fonts, stickers,
templates
, and images to enhance your creations
Cons:
It only generates two image results at one time
2.Midjourney
Art AI model: Midjourney
Platform: Discord
Pricing: From $10 for 3.3 hours of GPU time per month (enough for ~200 prompts with 4 image options)
Midjourney is a Discord bot that empowers you to use simple sentences to generate a masterpiece with AI. As an art generator only accessible on Discord, users need to have a Discord account to begin with. It has a vibrant community with billions of creators, where users share ideas, help each other with feedback and more.
Unlike many tools on this list handle keywords on your creation journey. Midjourney works better with clean and concise sentences describing the end result you are looking for. As for the generated images, you can choose to download, upscale the image to a higher degree or create amount of variations to meet your actual needs.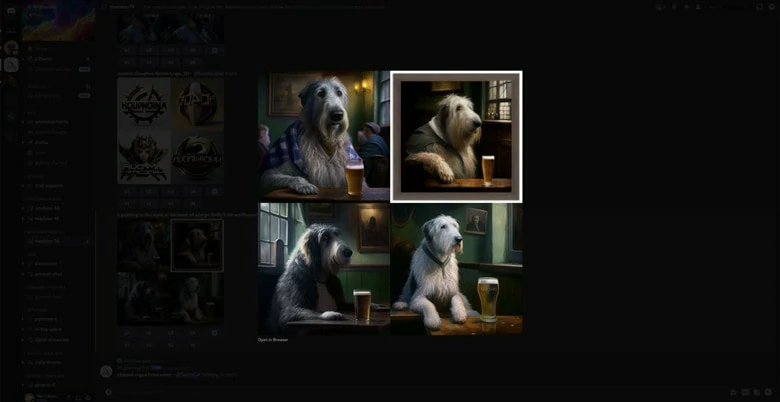 Top 10 AI Art Generators - Midjourney
Key Features of Midjourney
4 variations for each prompt
Upscale images to a higher degree
Community of billions of active artists
Support image-to-text feature
Cons:
You can only use it on the Discord platform
3.NightCafe
Art AI model: Stable Diffusion, DALL·E 2, CLIP-Guided Diffusion, VQGAN-CLIP
Platform: Web
Pricing: From $10/month for 100 credits (enough for 200 images per month)
NightCafe is a powerful AI art generator that allows you to generate digital pictures in seconds. Like many image tools, it generates up to 4 pictures with one prompt each time and you can refine and regenerate the results until you've got images you imagined. What's more, NightCafe provides several models and styles to help you get authentic and creative images.
With its user-friendly interface, everyone can turn simple words into creative masterpieces, regardless of his/her editing experience. Moreover, all the creations you made will be saved permanently in your account, so you don't need to worry about data loss.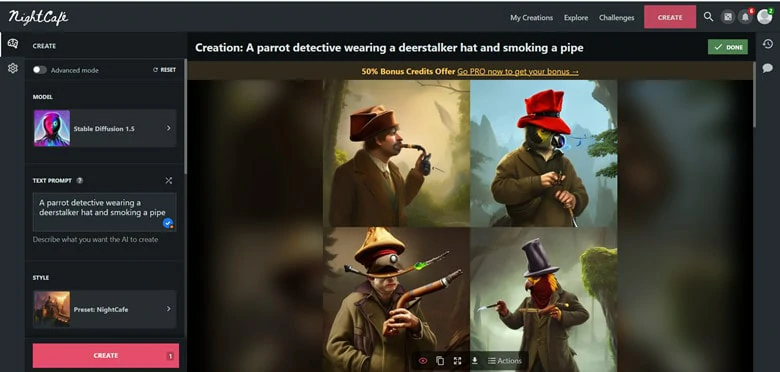 Top 10 AI Art Generators - NightCafe
Key Features of NightCafe
40+ style presets to choose from
Automatically save all your creation
Switch between different models
Low to high-resolution available
Cons:
The censorship in prompts sometimes filters out even benign terms hampering creativity
4.Dream by WOMBO
Art AI model: Doesn't say, but probably VQGAN-CLIP-based
Platform: iOS, Android, Web and Discord
Pricing: Free; from $9.99/month for premium features like getting more outputs from one prompt
Dream by WOMBO is an online and mobile app for AI image generation. Both the web and mobile interfaces are easy-to-use and come with various presets that let you easily create stunning images in seconds. Moreover, you can upload your own images and use text presets to create new art for personal use.
With Dream by WOMBO's free version, you can only generate one image at a time. What's worse, bothering ads and limited features will prompt you to upgrade to a premium.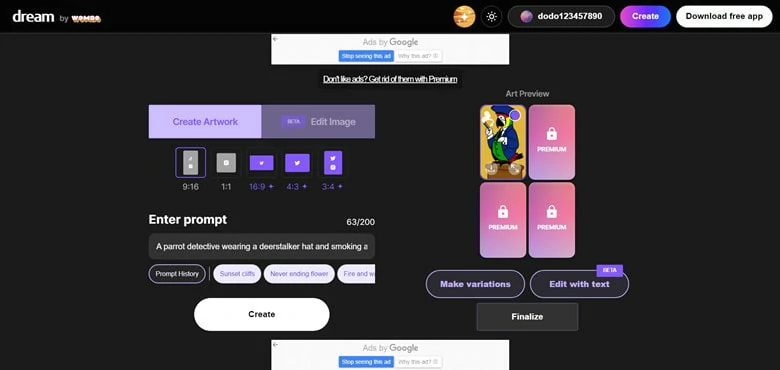 Top 10 AI Art Generators - Dream by WOMBO
Key Features of Dream by WOMBO
Generate images without sign up
Multiple presets styles to choose from
Both web and mobile versions are available
View and download Dream image generation in action
Cons:
Free version only generates one picture each time
An upgrade is necessary to get rid of cluttered ads and feature limits
5.Jasper Art
Art AI model: Doesn't say, but appears to be based on Stable Diffusion
Platform: Web
Pricing: From $39 for unlimited image generation
Jasper Art is an ideal tool to turn your imagination into unique images and photos in seconds. This tool can generate stunning images, illustrations, and artistic pieces in just a few seconds according to any prompt that you feed into it. What's more, it has an active user community where art creators can share ideas and upload their work to gain feedback.
All your images made on this platform are free of watermark and royalty-free, which means you can use these images with joy. However, it comes with a challenging learning curve and there are no free image generation credits.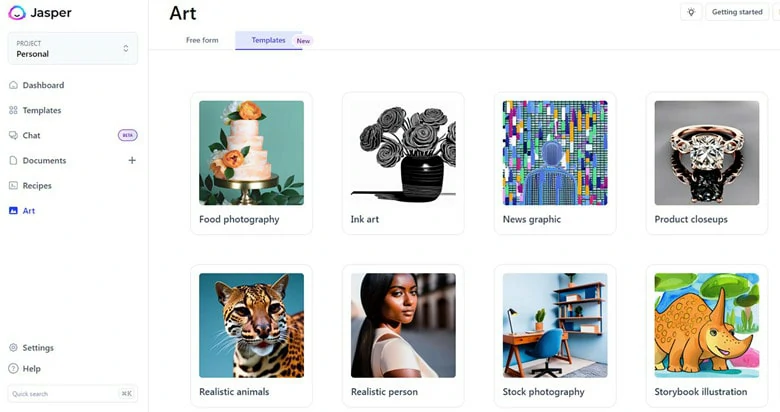 Top 10 AI Art Generators - Jasper Art
Key Features of Jasper Art
High-resolution 2k px images
No watermark will be added to your images
Various template presets to generate images in seconds
Cons:
It's more expensive than other AI art generators on this list
No credits or free trail before subscription
6.DALL.E.2
Art AI model: DALL.E.2
Platform: Web
Pricing: $15 for 115 credits (1 credit = 1 prompt with 4 options)
DALL.E.2 is the AI art generator that started the whole craze. It's able to create realistic images and art from a description in natural language. According to OpenAI, this tool can be used to create illustrations, design products, and generate new ideas for business. Additionally, its simple interface makes it possible for everyone to create images with AI. Not only professional artists but also amateur artist fan can make their royalty-free creation right now.
Moreover, this tool has a paintbrush for shadowing and highlighting, allowing you to create complex images with multiple layers. Using DALL.E.2, you can get the desired image with just a brief description.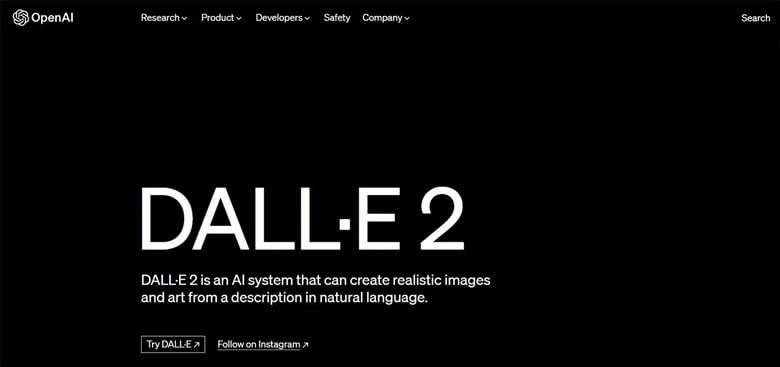 Top 10 AI Art Generators - DALL.E.2
Key Features of DALL.E.2
Output images are royalty-free
You can further edit the generated images
Simple and clean interface
Generate images in high resolution
Cons:
The AI is still in its early stages and may not be able to generate images that accurately reflect the user's description
7.Deep Dream Generator
Art AI model: Custom-trained models
Platform: Web
Pricing: Free for 20 images with default settings; from $19/month for the Advanced plan
Deep Dream Generator is a product of Google and its repository is available on GitHub. Known for its realistic and high-quality images, it runs an "energy" system to generate pictures with AI. Every time you enter your prompt, it will cost your energy points to complete the image generation process. Besides, this tool relies on a neural network that has been trained with millions of images. So, you just need to upload your images and Deep Dream Generator will create the new images based on your styles.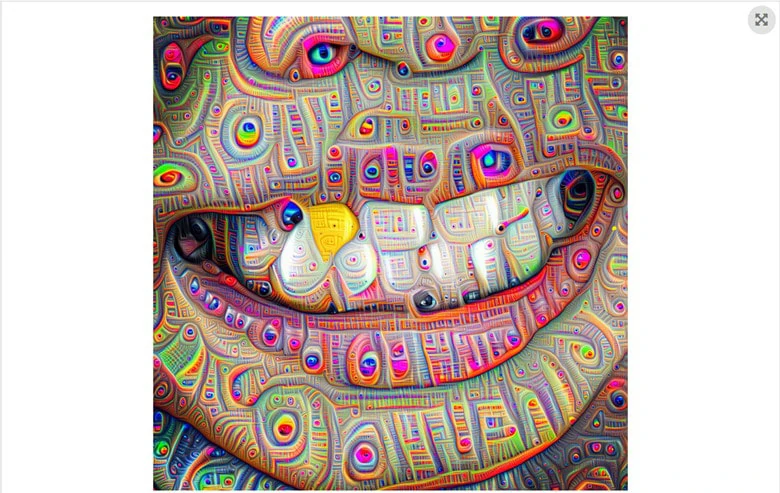 Top 10 AI Art Generators - Deep Dream Generator
Key Features of Deep Dream Generator
3 AI models are available
Multiple painting styles are available
A neural network trained on millions of images
Cons:
To use the images, you need a paid plan
8.DeepAI
Art AI model: Custom-trained models
Platform: Web
Pricing: Free; from $5/month for 500 images
Deep AI offers exceptional service for those who want to generate stunning images with AI. It focuses on providing variety and diversity to its users. Moreover, you can determine the amount of detailing in every image, including textures and colors. With the right prompt, it will produce decent image results in seconds. What's more, There are many image styles on offer, and almost half of those are free. To unlock more style options, you have to get a paid plan.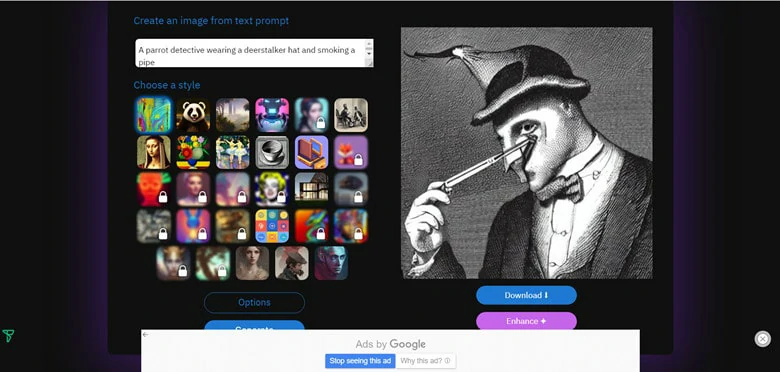 Top 10 AI Art Generators - DeepAI
Key Features of DeepAI
Multiple free images styles to choose from
All commercial uses are allowed for generated images
A logo generator is here to help you produce interesting logo ideas
Cons:
The website contains many ads
9.Fotor
Art AI model: Doesn't say, but appears to be based on Stable Diffusion
Platform: Web
Pricing: Free for 3 images; from $20 for 200 credits
Fotor is the leading industry software to handle image-related problems. Recently, a text-to-image generator has been integrated with its editor. It offers two workarounds to generate an image: either upload an image or use simple text prompts to create your artwork. The ratio of output images and the number of generated pictures can all be adjusted to your needs.
In addition to AI art generator, you can combine various features to enrich and enhance your AI-generated images by adding vintage frames or stickers to make them more interesting.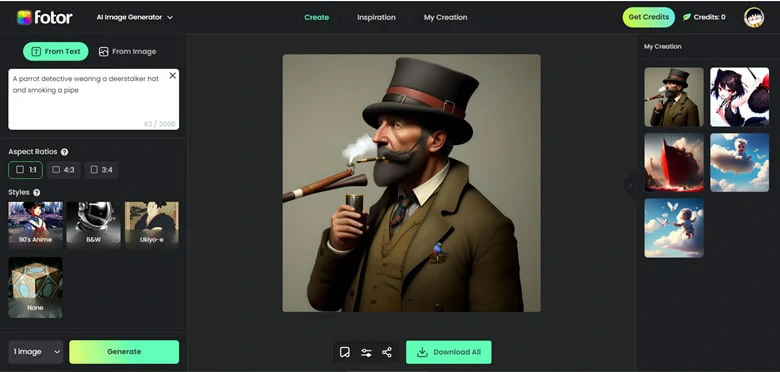 Top 10 AI Art Generators - Fotor
Key Features of Fotor
Use an existing image or simple text to generate new images
Massive templates for graphic designs and collage makin
Generate up to 6 images per prompt
You can make further edits to your generated images
Cons:
It takes a long time to generate any images from your image source
10.Bing Image Creator
Art AI model: DALL.E.2
Platform: Web
Pricing: Free
Our last recommendation for an AI drawing generator is Bing Image Creator. With text commands and prompts, you can use Bing Image Creator to produce digital creations. It's a free picture generator with user-friendly interface and massive image styles. However, you need a Microsoft account to access this tool and currently you can't use this application for photo editing. If you're looking for an AI art generator as a quick and easy solution, this platform can be a safe bet for you.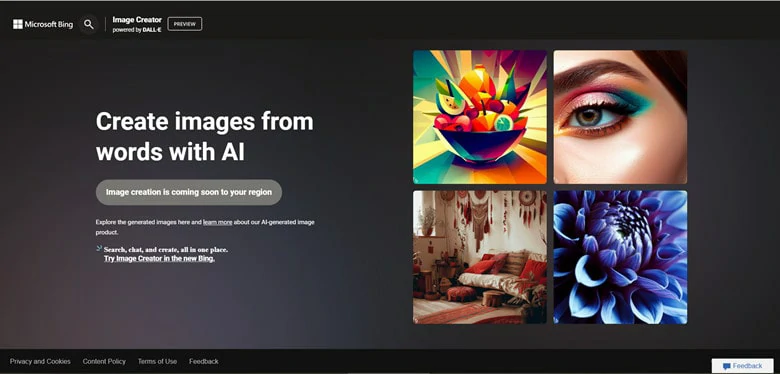 Top 10 AI Art Generators - Bing Image Creator
Key Features of Bing Image Creator
Free to use and user-friendly
Integrated with your Bing and Microsoft account
Download generated images without watermark added
Able to share generated images via link
Cons:
All the pictures are generated in a 1:1 ratio (square) and are 1024 x 1024 pixels
The Bottom Line
That's all for the top 10 AI art generators on the market right now. After reading this blog with details and features of each tool, it's easy to select your favorite to create images with AI. For a free and pleasant creation process, FlexClip is the safe bet you need to have a try! Now it's your turn!