A bedtime story video could be the savior for an exhausted mother to put her crying baby to sleep quickly with the process of learning. Additionally, sleep videos have also become the silver bullet for adults who are suffering from insomnia in such a stressful world to calm down hearts and fall asleep easily. Do you see the opportunity to grow rich overnight? Bingo! It lies in bedtime story videos.
Lack of expertise to get started? No worries! Here we'll take you through a manual about earning money with AI by creating YouTube bedtime story videos in 5 steps. Let's dive into it right now!
Trending Bedtime Story Video Templates You Can Use for Free: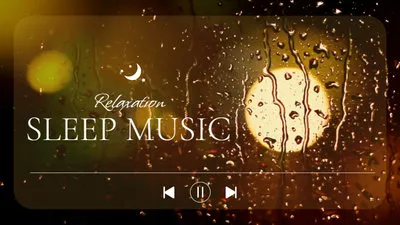 Step 1 Use ChatGPT to Generate a Bedtime Story
Most people have tried to start a bedtime story channel but are intimidated by the first step - creating a creative storyline. Generally speaking, brainstorming and storyline generation are extremely tough, even for the experienced, as they are the backbone of your storytelling video in many ways. Luckily, with the advent of AI-driven generative tools like ChatGPT, creating an excellent bedtime story within the time of a cup of coffee is no longer a dream.
ChatGPT excels in understanding the content and suggesting new ideas based on the content. Whether you're looking for a list of creative ideas or want to expand existing content even imitate the style of popular sleep videos to generate a new storyline, this automated assistant will make you satisfied in a matter of minutes.
Have a theme on your mind? Ask ChatGPT to generate a story for you. Enter your inquiries like a sleep story for a 5-year-kid to explore sea animals and their sleep habits or generating a calm down bedtime story in 300 words. Additionally, you can use a role-play like a stressful adult who is searching for a peaceful sleep video to relax, create a story for him. The generated story will be healing and soothing.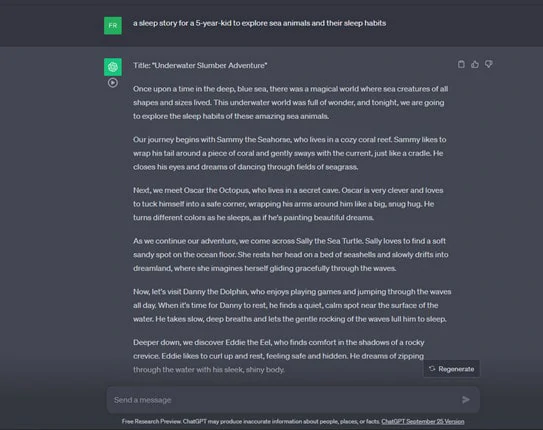 Use ChatGPT to Generate a Bedtime Story
Step 2: Turn Your Storyline into Calming Voiceover
Now with a remarkable story outline, it's time to bring your content alive! A relaxing and peaceful narration is the soul of the bedtime story video to make listeners wind down and fall asleep quickly. Lack of expertise to add a calming narration? No worries! Let FlexClip's text-to-speech machine do it for you.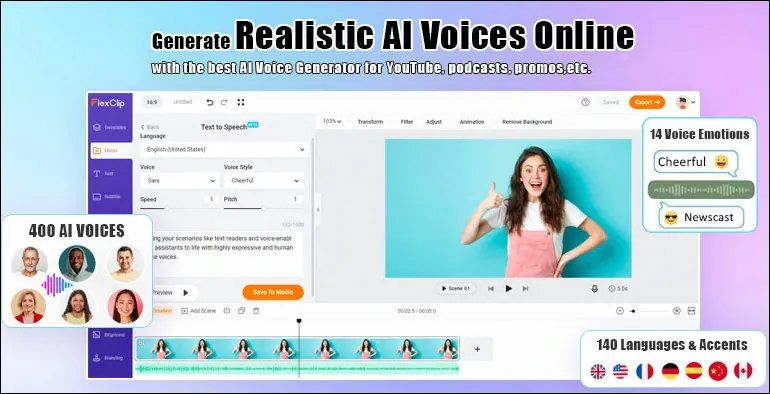 The Text to Speech Feature in FlexClip
It allows you to generate relaxing narration in 140+ languages with various avatars like cute kid, gentleman, sweet lady and more and style options including chat, whispering and hopeful to select from. Meanwhile, you can adjust the pitch and speed of the audio for a dramatic soothing effect.
Simply enter the message you want to transcribe in the dialogue box and make a selection of language, avatar, pitch, style and speed of the upcoming voiceover, then hit the Generate Audio icon to create a realistic-sounding voiceover for your bedtime YouTube videos. After that, download the generated audio recording to your computer.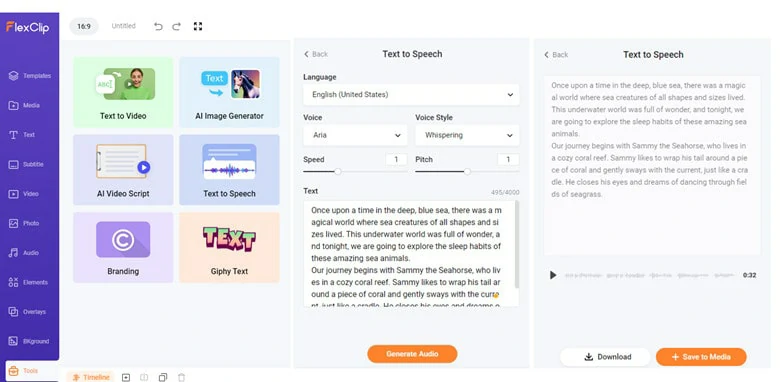 Use FlexClip to Generate Voiceover for Bedtime Story Video
Step 3: Leverage an AI-driven Tool to Generate Images
With the help of FlexClip's AI image generator, it's super easy to generate photos tailored to your plot. Be it for Anime style or oil painting photos, there will be an image template that will precisely generate the desired photo according to your prompt in seconds. Currently, you can use it to create pictures in 16:9, 9:16 and 1:1 aspect ratios.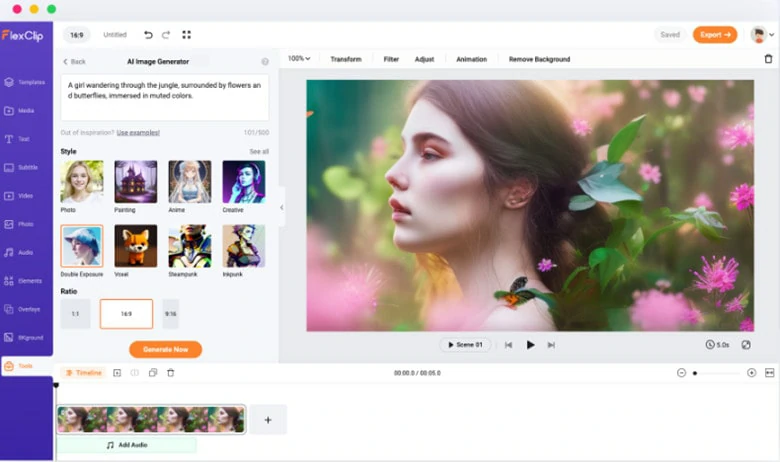 AI Image Generator in FlexClip to Create Image for Bedtime Videos
For a child-like bedtime story video, anime and cartoon style images are recommended to hook little kids focus on your content. While if you're making an adult sleep video, realistic style photo would be better.
To generate an animated-style picture, enter your prompt in the dialogue box and select the image style you like and choose 16:9 for your YouTube bedtime video. Remember the more detailed your prompt is, the better the image result will be. When you're ready, press the Generate icon and two fantastic results will immediately appear.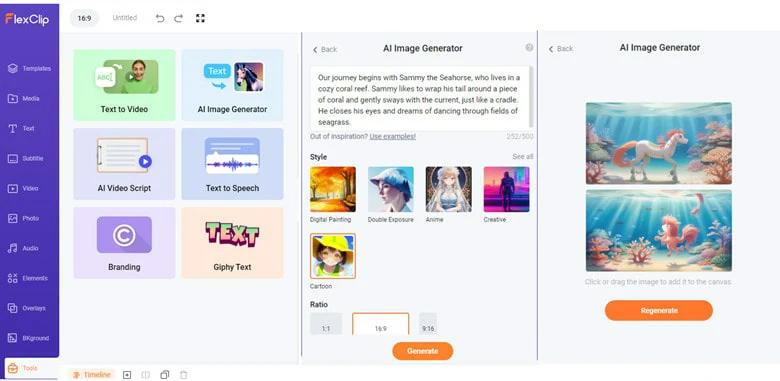 Use FlexClip to Generate Image Automatically
It's very common for images generated by AI to fall short. It might be due to your inaccurate instruction or inadequate amount of training date. To resolve this problem, enter a better prompt or let the AI machine create more crafted images for you.
Step 4: Use AI Machine to Animate the Generated Photos
Want to make your bedtime story video more interesting and engaging? Use LeiaPix Converter to bring your images back to life. As the top-notch graphic editing software, it unlocks the new realm of depth and motion to transform your 2D images into 3D masterpieces. You can determine the animation style, length, and motion degree to create a dynamic experience.
To animate your image, check the steps below: visit https://convert.LeiaPix.com/ and upload your desired photos > your images will be animated automatically and make changes to match your needs > download dynamic pictures to local.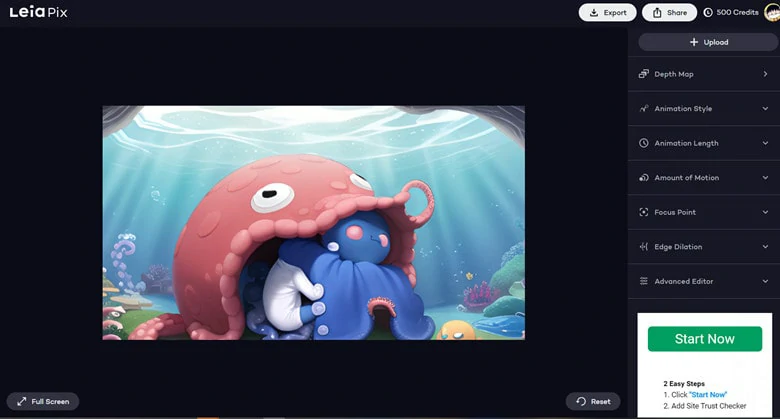 Animate Generated Picture in LeiaPix
Step 5: Stitch All the Segments to Create a Bedtime Story Video
Now that all the preparations are done, it's time to stitch all the pieces into a stunning bedtime video right away. To be honest, millions of video editors with a wide range of functions are on the market, which might dazzle the eyes if you want to test them one by one. To save your time and energy, we recommend FlexClip directly for reasons below:
User-friendly interface and straightforward process even the beginner can get started in seconds.
7M+ royalty-free photos, videos, music and sound effects to take your YouTube sleep videos to the next level.
Take advantage of eye-catching transition effects, appealing
subscribe icons
, overlay effects and other advanced editing tools to give your story video a professional look.
It supports direct upload to YouTube with description and title, reducing the possibility of failure in downloading and uploading manually.
To combine your animated images and AI-generated voice, here is a quick guide for you.
Step 1
Go to FlexClip's editor page and upload the voiceover and images you want to use in your bedtime story video.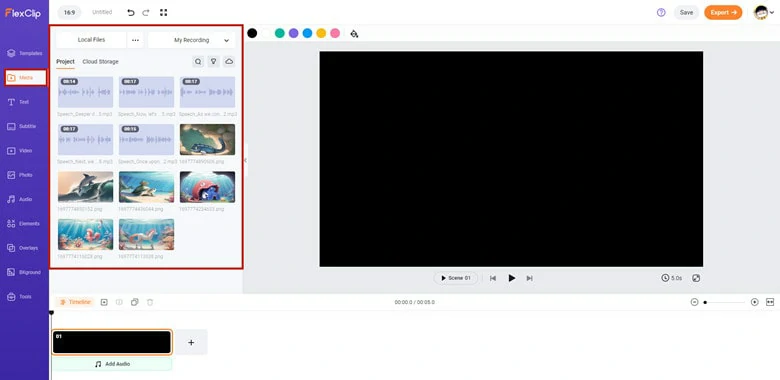 Upload the Generated Voiceover and Images to FlexClip
Step 2
Add them to the timeline and adjust the duration of each scene to match it with your plot.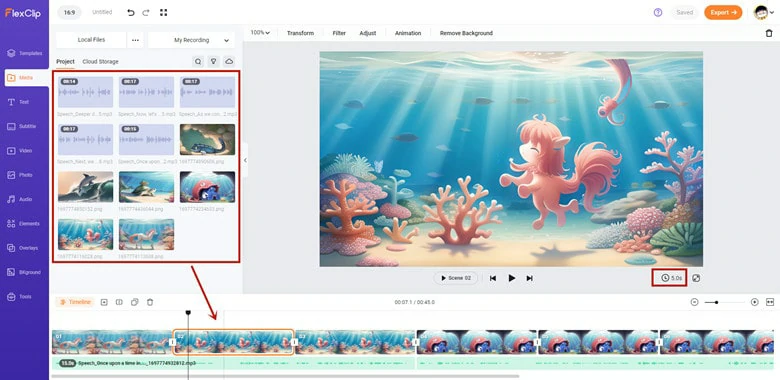 Add Them to the Timeline and Match the Duration with Your Plot
Step 3
Pair your sleep video with comfortable background music and sound effects like raining sound to highlight the atmosphere.
Add Background Music to Your Bedtime Story Video
Step 4
Optionally generate subtitles from your narration to help viewers understand the content better.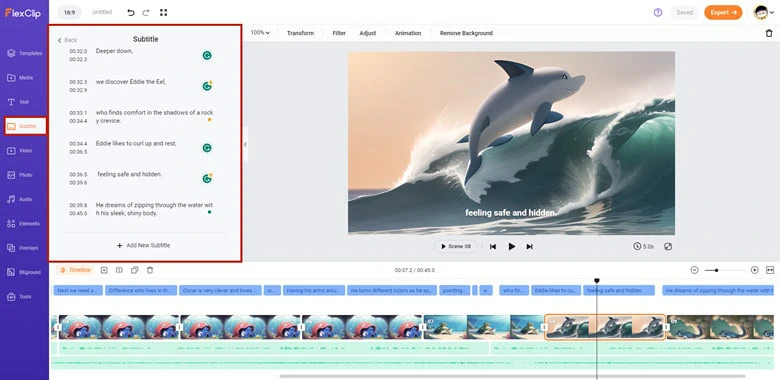 Add Subtitles to Your Bedtime Video
Step 5
Once you're done, export the bedtime video and directly upload it to your YouTube account.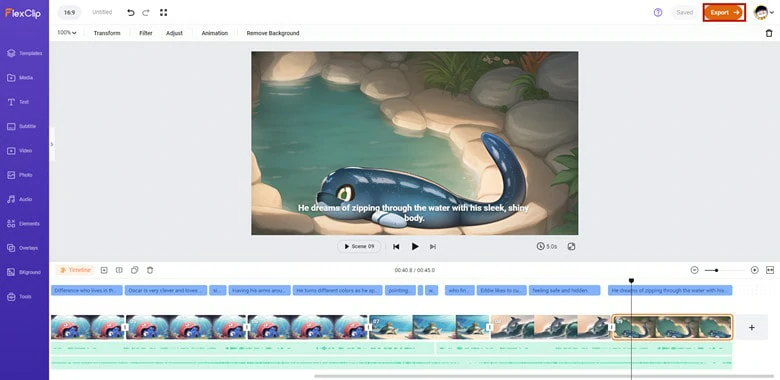 Export Your Bedtime Video and Upload to YouTube
The Bottom Line
Congratulations! Now you've mastered the tricks to earn money on YouTube by creating bedtime story video with AI machine. Ready to have a try? Let's get started right now!