Briefs: Looking for video ideas for school & education? Check the 13 great video making ideas!
For a teacher or a professor, DIY educational video is among the top choices to explain something better. Visual explanations are effective educational methods that have been used a lot for public school educations and commercial educations.
As for naughty students, their funny school videos are the most precious treasures in their lifetime. Such funny school videos amuse boys & girls themselves, their family members, and others watching their school videos.
Here, you'll find great ideas & tips to make a video for education or for funny school time here. You can try a free video making software – FlexClip.com as the tool, to get your points and ideas across, and achieve an excellent video production without any design skills.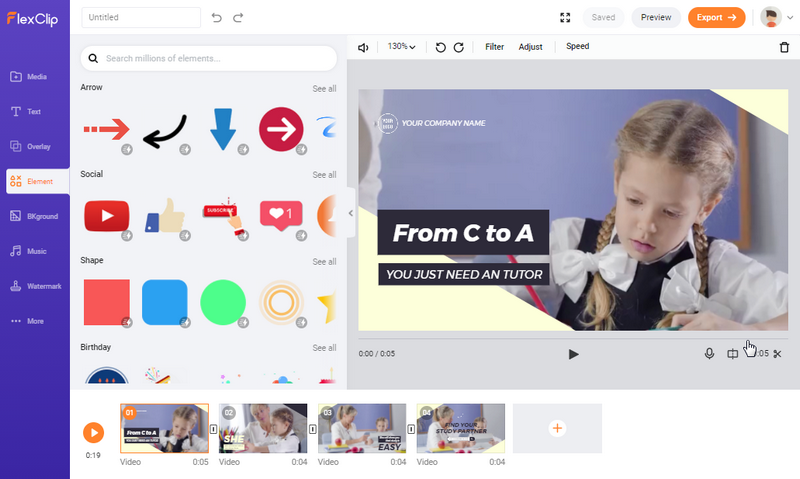 With free FlexClip online video editor, you will have no trouble to join any videos, pictures and transitions into a video. It gives you an option to add necessary texts. You can even control when to show the text and when to fade away. Also don't miss its zoom-out effect for education video creation.
Part 1: Education Video Ideas for Teachers:
For Teachers, we've compiled 8 educational video making ideas that may spark ideas for you and your students. Which idea for educational video would you like to try first?
#Prepare for Class with an Educational Video
In classes of STEM (abbr. Science, Technology, Engineering, and Math), cook and dance, preparing an educational explainer video, it will help students understand book tips better. Students especially love visual aid tutorials and your educational video will walk them through the most difficulties.
#Make a Digital Storytelling Video for Back to School
You must have several shots of your students in the class of STEM, cook, gym, music or drawing. You can make a moving video with these video clips or images? Simply merge those video clips, and insert a transition in front of each clip with touching words or describing the scene (like, "2019-3-1, we had fun in the 1st science class.") Or, try making a photo video with education pictures.
#DIY a Year CloseUp Video
By joining the best moments of the year into a video, such a school video idea will let your classmates get together and cherish their accomplishments and their time together. Use the video scripts when it helps add atmosphere.
#Create an Appreciation Video for School Time
Collect the moments that you feel deeply touched or really enjoyed, and make a video. Pair with appreciation words, such as, "Thank You! Because of you, I really enjoy my work as a teacher. I do enjoy the moments with you!"
#Collect Help-Each-Other Moments in Your Education Video
Share moments of students helping each other. Such a video will give students good examples and let them see the beauty in offering helps.
#Try Friendship-Restoring Video
If in your classroom, two little children had ever broken off their friendship in a fight for a toy (or other things), making an education video based on that story can help them realize their friendship. Play back how they spend happy time together, how they break off, and ask them at the end of the video - "How to restore it?" with a question mark. It will be a meaningful edcational video.
#Showing What You've Learned in an Education Video
As a teacher you not only teach students, but also have the chance to learn from students, parents or other teachers. It will be meaningful to make a video to show what you've learned from the people around - The video will reveal your most natural side to students and help you be closer to your students.
#Dressing-Up & Making-Up Education Video
Before your students graduate, they'll need some knowledge about how to dress up or make up for work. Such an educational video will be most helpful.
The 8 educational video tips for teachers above are suggested for school events, collage moments, high school classes and primary classes. In the second part, we'll focus in school video for naughty boys and girls.
Part 2: School Video Ideas for Students or Parents
Students are always enthusiastic about making their own school videos. Hot school videos in YouTube are funny ones, with all kinds of exaggerated expressions. By studying these successful student school videos, we'll find some ideas for a hot school video:
#Shoot from an Unusual Angle for Video
A strategy to make your school video funny or intriguing is to shoot videos from a strange angle. It will get people's attention and make them laugh.
#Use Words like "Uh", "Um", "Eh", "Hell", "Damn"…
Such meaningless words will give viewers some time to figure out your previous points, and make them stay with your video contents.
#Comics VS Real Life
Almost all school boys love comics. They love to play role plays with comics toys. A funny video idea is to show a comic clip VS school boys' play.
#Girly Wishes
Girls videos always generate the most clicks. They love adorable things, Mommy stuffs, and care for their belongings. It will be a cute idea to ask girls to share their impractical wishes in front of a camera.
#Toddlers Hate School Series
Videos about "How toddlers hate to go to school" always drive a lot of eyeballs, winning hits and likes. A mix video about toddler innocence, contentment with current life, hatred & fear towards unknown school life, will render a funny scene.
Part 3: Ending
That's all tips and ideas for making school & education videos! Which idea do you like most?
If you've ever tried a different school idea that works great, you can share with us via FaceBook. We are happy to hear from you.