Are you curious about the world of art but impeded by professional skills? Do you admire famous paintings and wish you could create something just as stunning? Now an AI painting generator is your gateway to artistic expression without any previous experience required.
Whether you're a complete novice or an experienced artist seeking fresh inspiration, imagine being able to create breathtaking artwork with just a click of a button. Now we've compiled a list of the four best AI painting generators to make artistic images from text or photos. Can't wait to know more? Let's get started!
Also interested in: 10 Best AI Art Generators that You Can't Miss>>
Part One: AI Painting Generator from Text
When generating images using AI, many of us will directly start with a text prompt. Below you will learn two AI painting generators and also how to use them to get creative images with text.
1. FlexClip
FlexClip is known for professional video & photo editing with simple steps and recently, it has launched a superb AI image generator. Consistent with its previous product design concepts, this text-to-art tool also includes concise operation: you just need to put your text in and the AI machine will automatically turn it into a masterpiece.
When it comes to creating painting images, it offers four styles for you to choose from: painting, oil painting, digital painting and disco/retro and all of the style presets can generate fine-tuned painting images in seconds. What's more, you can rely on the digital artist to imitate the style of your favorite artists and create a similar-style art image. If you are unsatisfied with the photo, you can repeat the generate process to get more results. Currently, images in 1:1, 16:9 and 9:16 aspect ratios are available.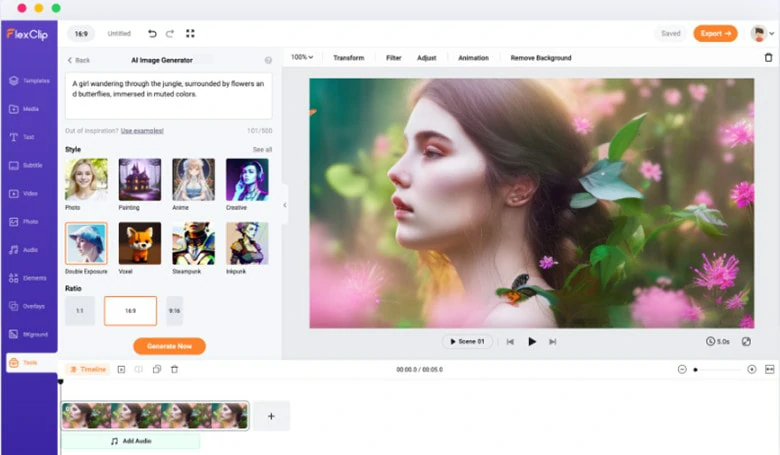 AI Painting Generator from Text - FlexClip
Key Features:
17 conversion styles to choose from.
Three aspect ratio options to select.
Able to edit generated images.
Generate 10 free painting pictures per month.
How to Generate AI Painting Photos from Text Using FlexClip
Step 1
Go to FlexClip's editor page and find AI image generator feature under the Tools panel.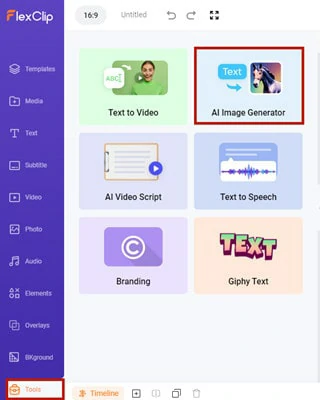 Find the AI Image Generator Tool in FlexClip
Step 2
Next, tell the AI machine what painting image you want and here let's say "oil painting style, girl with a pearl earring, imitation of Monet". Then select the painting style and image ratio you want.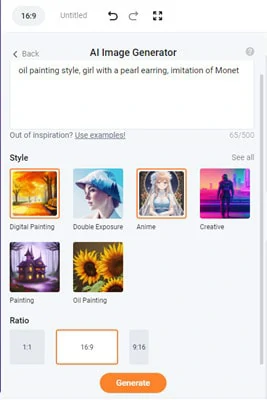 Enter Your Prompt for the Painting-style Image
Step 3
Hit the Generate icon to begin the process and FlexClip will produce two images in seconds. If you want more results, tap the Regenerate icon. After that, download the images or edit it for further use.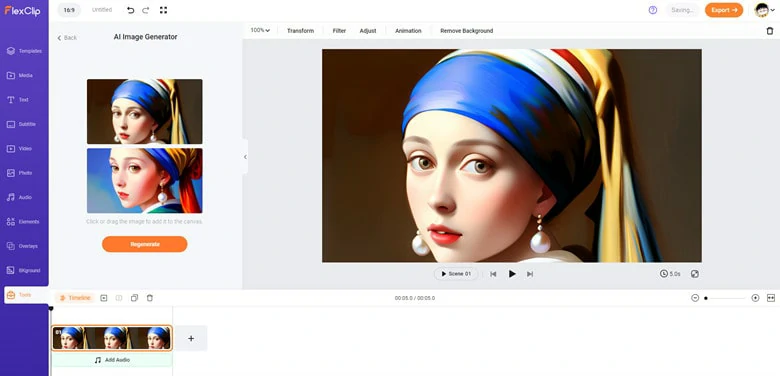 Make Further Edits or Download the Image
2. Craiyon
Craiyon, formerly known as DALL.E mini, is a free AI painting generator that draws your imagination into visuals with text. Simply enter a text description and this tool will analyze your information and generate nine images based on your text and the style you choose. At present, it only offers four style options: drawing, photo, art and none.
For free users, there are lost of ads popping up all the places. Additionally, the generation process will last for 1-2 minutes and all the generated images will be added with a Craiyon watermark. As long as you respect the terms of use, you can apply them with ease in your personal use. To get rid of all the limitations, you need to upgrade to a supporter or professional subscriber.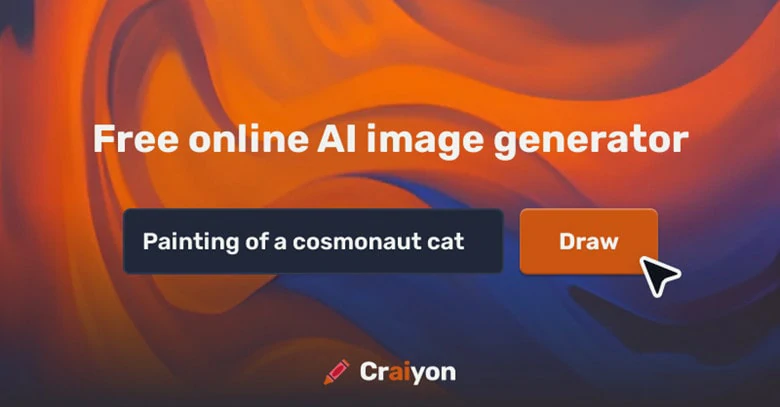 AI Painting Generator from Text - Craiyon
Key Features:
Generate nine images each time.
Four style filters you can rely on to generate images.
Free to generate painting-style images with watermarks.
It's an online image generator website with massive ads.
How to Create AI Painting Image Online with Craiyon
Step 1
Visit Craiyon's official website and type in your prompt. The more details you give, the better the painting picture will be.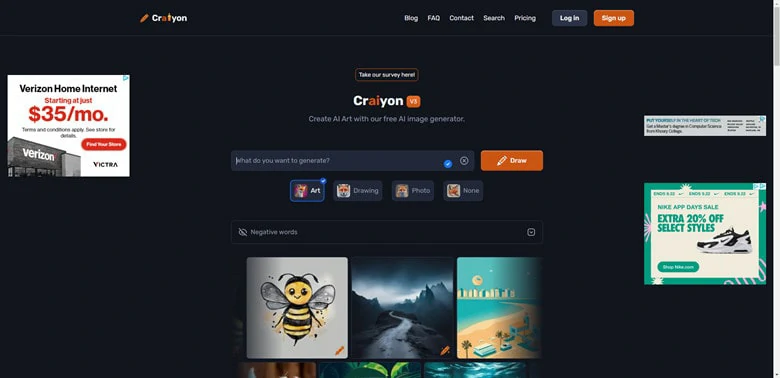 Go to Craiyon Website
Step 2
Select the style filter you like and tap on the Draw button. It will take 1-2 minutes to render the image results.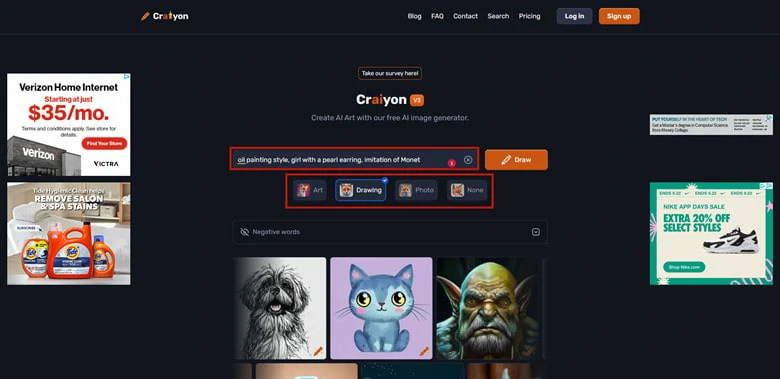 Enter Your Prompt for Painting Style Image
Step 3
Now you can preview the results and download the satisfying image with a watermark.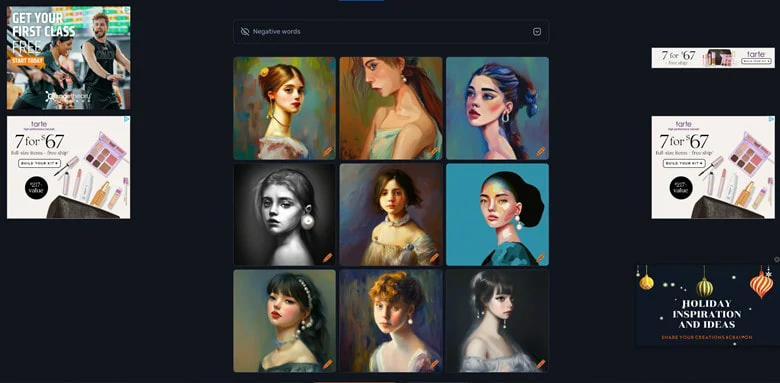 Preview and Download the Image You Like
Part Two: AI Painting Generator from Photo
Sometimes, you may want to modify your existing photos to generate a portrait in painting style. Don't worry, with an AI painting generator, it's easy to make one.
1. Fotor
Fotor is a multi-platform photo editing and graphics design tool that utilizes AI technology to create eye-catching content in clicks. Offering a wide range of filter modes, it allows you to transform your photo into cartoon, anime, sketch art, illustration, Disney, game art, etc style in a quick way or use text description to get whatever you want. After a one-click tap, you can get a jaw-dropping art picture that you can directly share on social media or download.
What Fotor excels in is the powerful post-production image edits. From basic image tools to some special tools like AI photo effects, HDR and RGB, you can easily level up your images with the effects you can achieve in Photoshop. Currently, it runs with a task-and-earn way for free users to get credits for photo generation. Besides, the editing page for free users will contain lots of ads.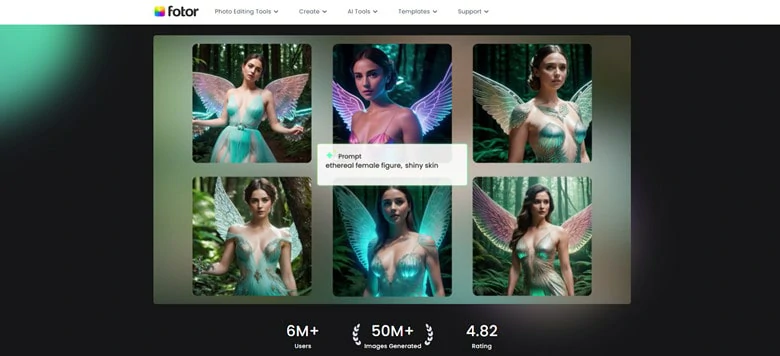 AI Painting Generator from Photo - Fotor
Key Features:
Various photo-to-paint conversion filters to use.
Generate 10 free pictures per day.
An AI photo editor to level up your painting photo.
Control the degree of the similarity between the original and generated picture.
How to Create AI Painting Image from Photo Using Fotor
Step 1
Open Fotor's AI image generator page on your browser and choose From Image option here.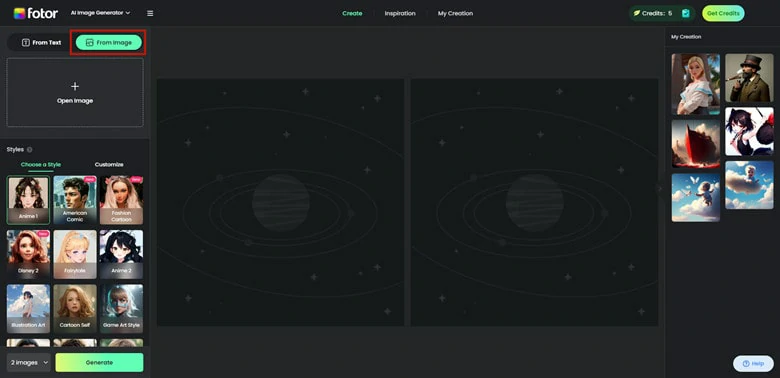 Open Fotor Website and the Find From Image Option
Step 2
Tap on Open Image option to import the photo you want to transform into a painting style with AI. After that, select from pre-made style presets or directly describe what you want with text. Don't forget to choose the image number you will get after the generation process.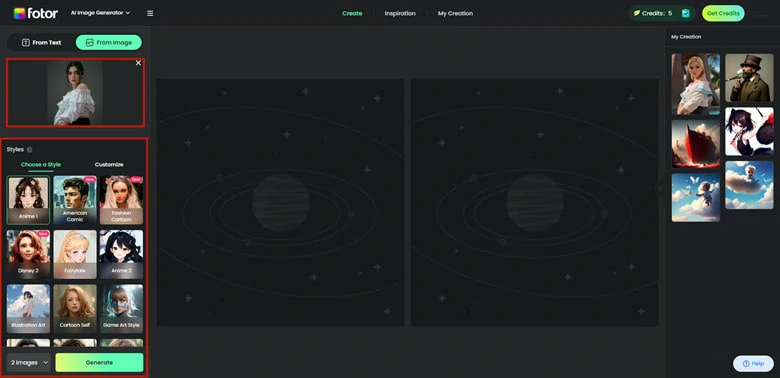 Upload the Image You Want to Modify
Step 3
When you're ready, hit the generate icon to get started! Choose the AI painting image you like from various results and here you can choose to download or give it more personal touches.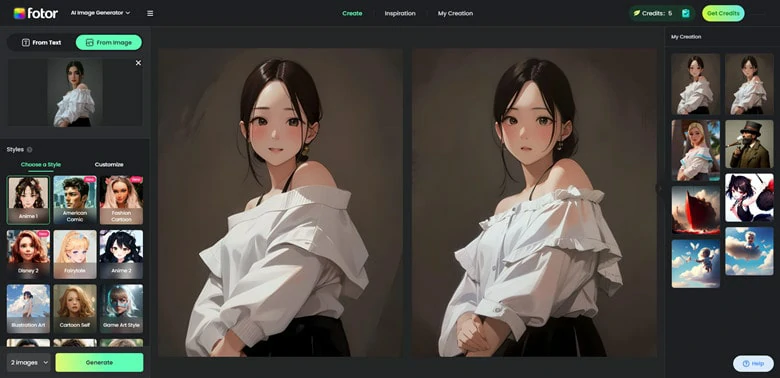 Preview the Results and Find the Picture You Like
Step 4
f you click the Edit icon, you'll be navigated to the AI Photo Editor menu, where you can add some text, filter, and other stickers from Fotor's stock to enhance your image. When all things are settled, export the video to your local.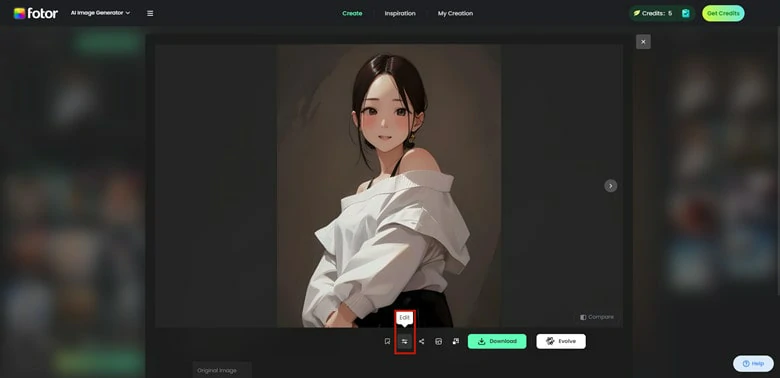 Give the Photo Some Personal Touches
2. Runway
Driven by AI technology, Runway is a generative platform with tools for transforming images and videos into the way you imagined. With Runway, you can quickly convert your existing images into art photos and all you need is a text prompt! Since there is no instant filter template to choose from, the quality of the results heavily depends on how detailed you describe them.
Additionally, you have full control over generated photo edits by using its magic AI tools. Whether you want to expand the generated painting image or move the static photo, there is always a quick solution for you. If you're a seasoned editing fan, you might like this tool as it claims to release new AI magic tools weekly.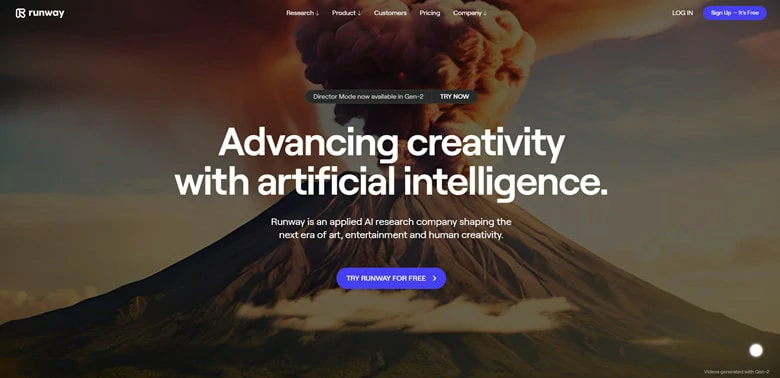 AI Painting Generator from Photo - Runway
Key Features:
Generate AI painting images from photos.
Support batch picture conversion.
Multiple AI tools to fine-tune images.
Free users can only download images in HD quality.
How to Transform Photo to Painting Image with AI in Runway
Step 1
Turn on Runway page on your computer and upload the image you want to modify or transform.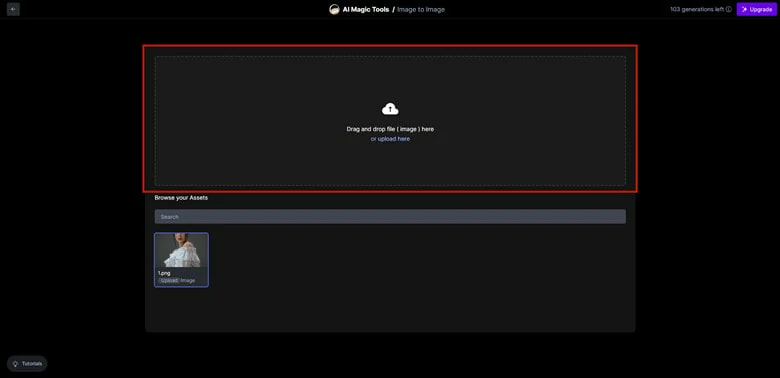 Turn on Runway Website and Upload Your Image
Step 2
Describe the painting image, including any adjustments or edits you're looking to make.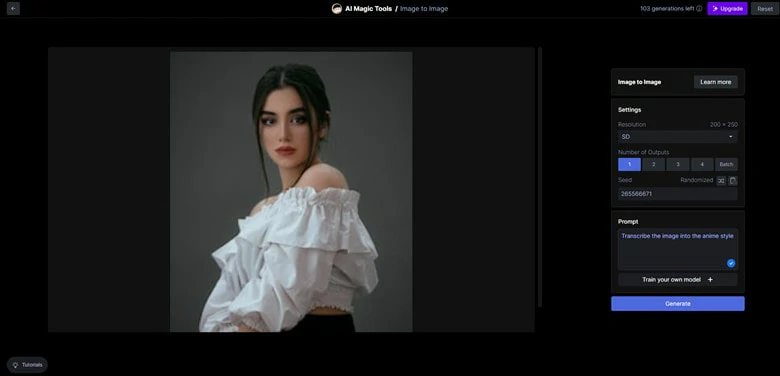 Describe How the Image You Want
Step 3
Select the number of the desired outputs and simply generate your painting-style video with AI tools.
Generate Your Image with this AI Tool
The Bottom Line
That's all about the four best AI painting generators online to generate stunning images from text or an existing photo. Ready to have a try? Pick your favorite solution and get started right now!