There are many situations when you want to change the background of your photo: taking a beautiful selfie while finding the background cluttered, the need for eye-catching product images for your E-commerce and more. No matter what your purposes are, an AI image generator is the best solution, which harnesses the power of AI technology and works in magic to create awe-inspiring backgrounds in seconds.
No need to look around for seeking and testing an excellent AI background generator! Here we've gathered a list of 5 best background AI generators with features and details of each product. Let's check the list right now!
You may also interested in: 10 Best AI Art Generators that You Can't Miss in 2023>>
What is AI Background Generator?
An AI background generator is a tool using AI algorithms to create a new background for an image. Unlike traditional methods that involve removing the original background and replace it with a new one, AI tools use advanced technology to produce a background from your text prompt and seamlessly integrate it into the subject. Additionally, many AI background generators give you full control of photo customization.
1.FlexClip
It can effortlessly bring your ideas to reality by describing your desired background in text and waiting for FlexClip's AI background generator to produce a series of stunning results according to your needs. Whether you need a background of Zoom meetings, profile pictures, wallpapers, E-commerce and other purposes, FlexClip will get you covered.
How to Generate Stunning AI Background in FlexClip
Step 1
Go to FlexClip's editor page and upload the image you wish to edit. After that, use the image remover feature to make a perfect cropping and you'll get your subject picture with transparent background. If you only need to generate a new picture background, just move to the next step.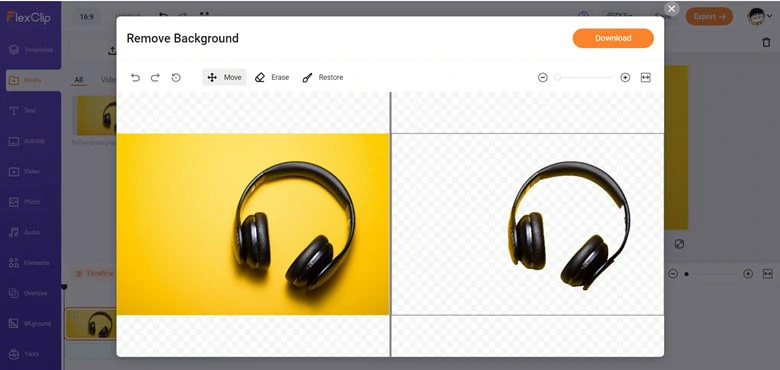 Upload Images to FlexClip and Remove Original Background
Step 2
Hover to the Photo tab and pick the Text to Image option. Here you're asked to enter the description of the background you want to generate and choose the visual styles and desired ratio.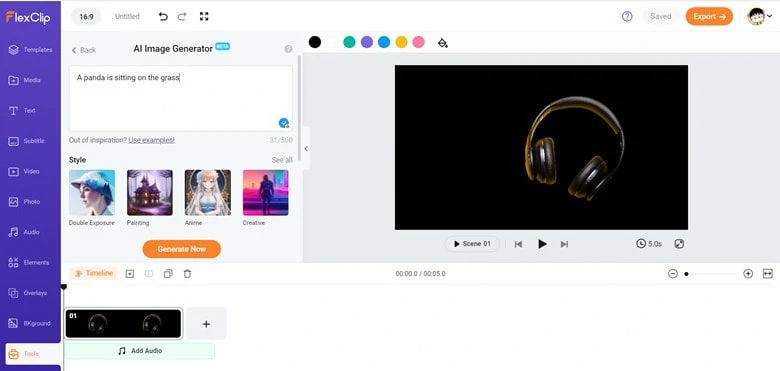 Use AI Technology to Generate a New Background as You Like
Step 3
Click on Generate Now and preview the AI generated backgrounds. Additionally, you can hit the Regenerate icon to get more options. Then select what you like to use and add it to the cropped picture to generate a picture with new background.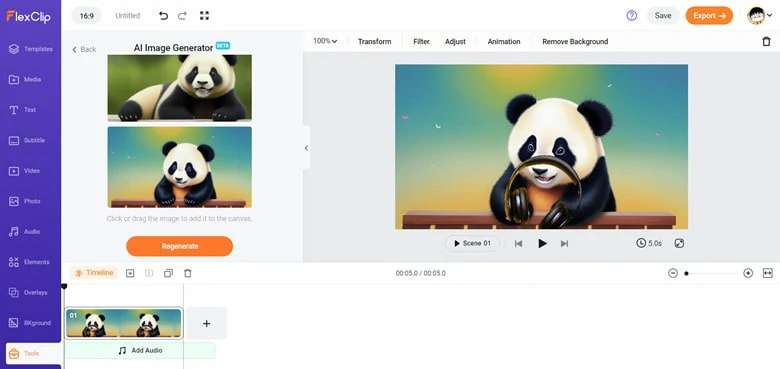 Preview the Generated Background and Add it to Your Images
Note:You can take advantage of pre-made background templates by clicking the Photo icon and scrolling down to choose from various categories, including business, nature, fashion, real estate and beyond.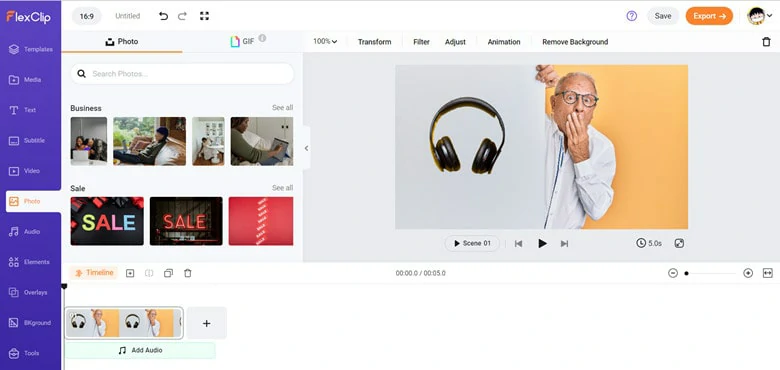 Ready-made Background Templates of FlexClip
Key Features of FlexClip AI Background Generator:
Instant background generation: Once you type in your description and make settings, this AI background tool will automatically generate stunning backgrounds in seconds.
Multiple background styles:
It caters to your needs by offering a variety of background styles like creative, oil painting, cartoon,
anime
and much more.
Handy editing features:
You have full control of the background image editing. For example, level up the image by adding text,
filters
, stickers and more.
Hundreds of photo templates to choose from: For a quick solution to an eye-catching background, just seek from FlexClip's photo templates and use one as the new background.
2.Picsart
Picsart empowers you to make your visuals stand out by generating an eye-catching AI backgrounds specially for your images. With a few descriptive words, the AI background generator will automatically produce a backdrop that seamlessly complements the subject of your photo. The more descriptive prompt is, the more specific the generated background will be. For those who struggle to develop ideas, there is a suggestion box to help you unleash creativity with an instant creation.
Nowadays, after you get the satisfying results, you can directly edit it in Picsart, saving your time and giving your full customization. This AI background generator allows a 7-day trial and after that, you have to subscribe to continue use.
How to Produce Unique Backgrounds with AI Picsart
Step 1
Visit the website and tap on Generate AI background now button.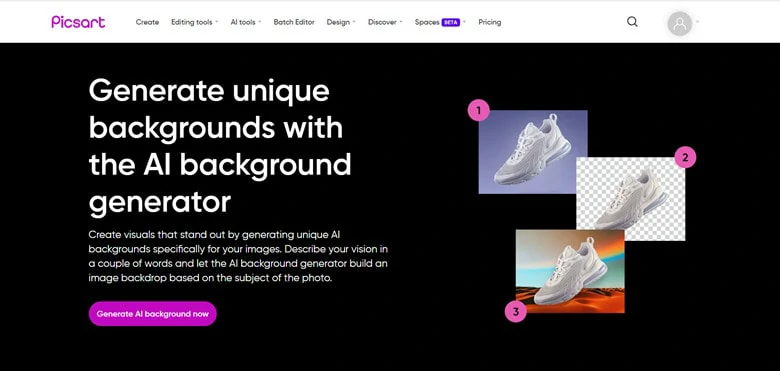 Visit Piscart Website
Step 2
Upload your photos and Picsart will automatically remove these original background.
Step 3
Use the More Tools on the left sidebar and select the AI Background Creator tool.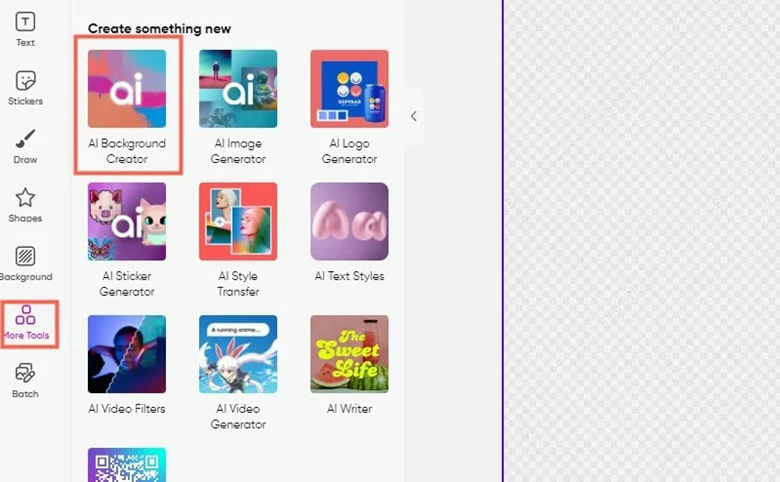 Find the AI Background Creator Tool
Step 4
Write your prompts to describe your vision for the background and specify the art direction by selecting the style.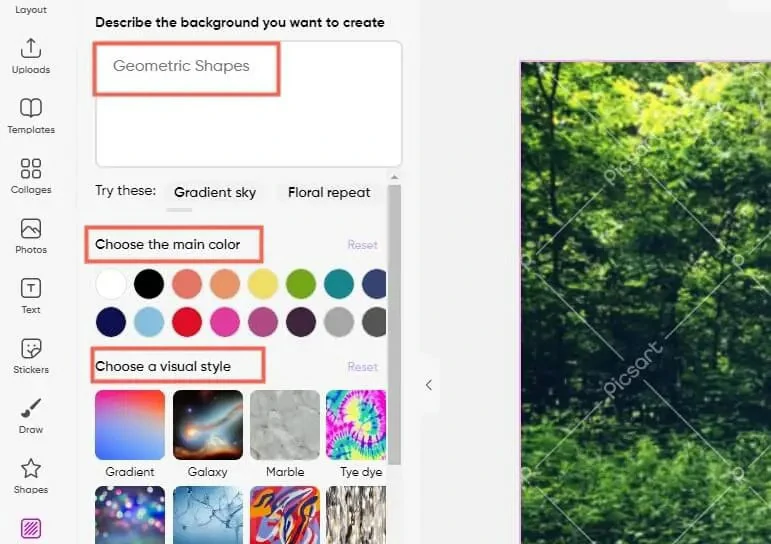 Write Your Prompts to Generate Background
Step 5
Check the generated AI backgrounds and use the Adjust button to make personal customization by tweaking text or adding stickers.
Key Features of Piscart AI Background Generator:
Quick background generation: Get a new background in seconds with Picsart's AI background maker.
A variety of background styles: Unleash your creativity with various style options to choose from.
High-quality download: Picsart allows you to export AI-generated backgrounds in a crispy clear quality.
All-in-one photo editor: It allows you to customize your images by adding stickers, text and collages.
3.PhotoRoom
PhotoRoom uses the power of AI algorithms to create realistic and studio-like background images of your product without any hassle. All you need to do is to enter a clear prompt and this AI background generator will do the rest, producing an unlimited number of backgrounds that match your request. Moreover, over a hundred background templates are ready to help you make professional-looking product images.
Whether you're a professional photographer looking to quickly generate awesome projects for clients or a beginner wishing to make aesthetic photos for personal use, PhotoRoom will always be a nice option for you.
How to Create Awesome Photo Backgrounds with PhotoRoom
Step 1
Enter PhotoRoom editor page and import the photos you want to edit. The original background will be taken off within seconds.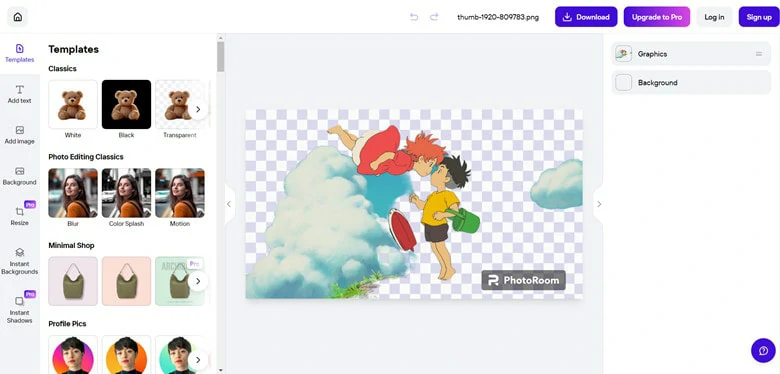 Upload Desired Images to PhotoRoom
Step 2
Go head to the Instant Backgrounds and match your subject with one stunning background chosen from pre-made templates. In addition to common backgrounds, PhotoRoom also recommends trending options based on your image styles.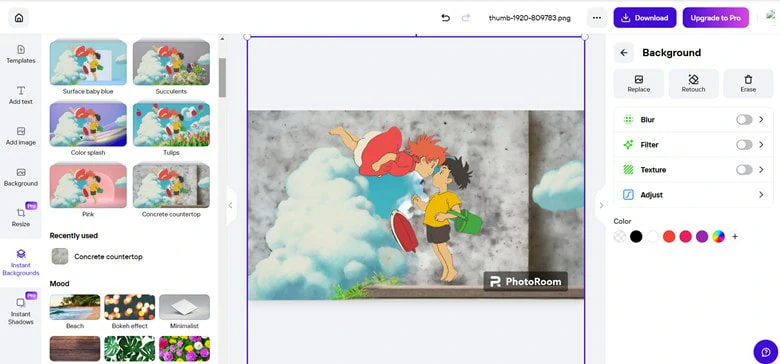 Select a Pre-made Background Template for Your Picture
Step 3
Adjust your new picture by adding text, filters, texture and changing colors to make it look better.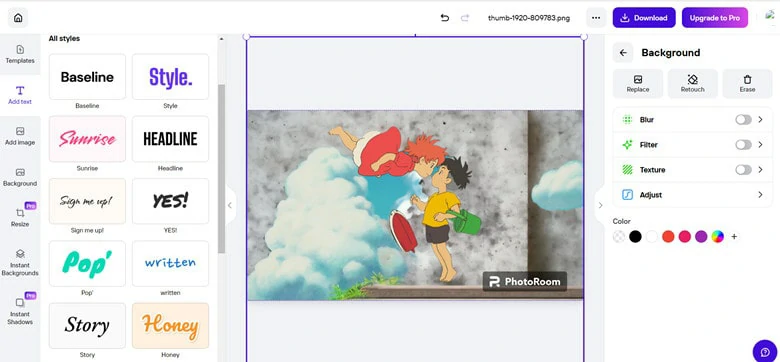 Adjust Your New Picture
Key Features of PhotoRoom
Hundreds of background presets: Hundreds of ready-made background presets make it easy to generate a new backgrounds with one-click operation.
Advanced working process: PhotoRoom uses advanced object recognition algorithms to analyze the subjects within your uploaded images and provides tailored background recommendations accordingly.
Flexible photo editing: There are many tools to customize your generated backgrounds after generating. All the processes can be done within one-click operation.
Batch photo edit feature: You can use PhotoRoom batch edit function to make dozens of product photos fast.
4.Fotor
Fotor falls on the list for its user-friendly interface and powerful photo editing tools. To generate an AI background, simply describe the background image you want in text, and Fotor will automatically produce a series of AI backgrounds tailored to your needs in seconds. On top of that, this innovative tool goes beyond mere background replacement, taking lighting and shadow elements into account to perfectly integrate your product into captivating photos that are worthy of Instagram's spotlight.
How to Generate a New Photo Background with Fotor
Step 1
Go to this website and click the Make AI Background Now to get started.

Visit Fotor Website
Step 2
Now upload the images you will edit next.
Step 3
Type your descriptions of the background you want in the text bubble. Remember to describe it as detailed as possible to get the best outcome.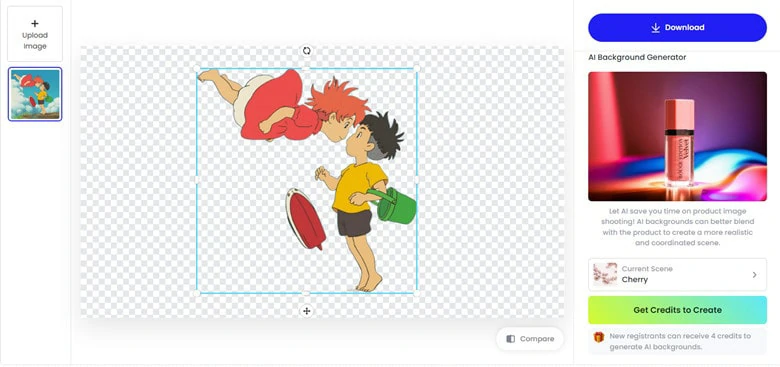 Type Your Prompts in the Text Bubble
Step 4
Tap Generate icon and select the style & parameter you want, like ratios, details, light effects and more in the tool menu.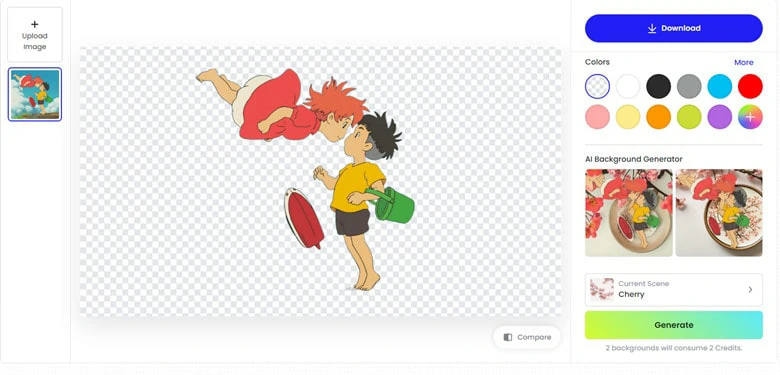 Choose the Style for Your New Background
Step 5
Tap the Generate option again and wait seconds to preview and download the desired image results.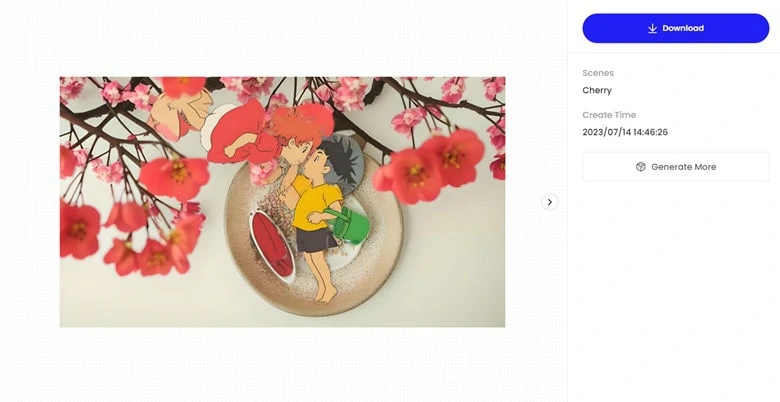 Preview and Download the New Background
Key Features of Fotor
Diverse options: The AI image generator produces a wide range of backgrounds in different styles, moods and themes, allowing you to find the perfect background that matches your objects.
Professional fine-tune your results: Fotor not only generates new backgrounds from your prompts, it also fine-tunes the lightening and shadow elements to make this picture photorealistic.
Versatile photo editor: Fotor is able to generate all sorts of photo backgrounds, be it  for a profile picture or virtual meeting, it always delivers the best results to suit your needs.
Highly customization: To make background more interesting, you can add brand image, logo and determine details of lightening and ratios to tailor-make your backgrounds.
5.Cutout.Pro
Cutout.Pro packs a full toolkit of AI technologies that lets you edit your photos and videos effortlessly. As for photo editing, it offers a photo diffusion feature, which is a perfect tool for designing stunning banners, visual presentations, product catalogs, and even graphics like Christmas images. Like many AI background generators, Cutout. Pro also changes your photo background by AI generating art from text. Moreover, details like shadow, lighting and layout will be automatically modified to make your picture look natural. No matter what types of images you want, Cutout.Pro always generates the best one to fit your requirements.
How to Generate AI Background with Cutout.Pro
Step 1
Visit Cutout.Pro website and choose the Background Diffusion option under the Product menu.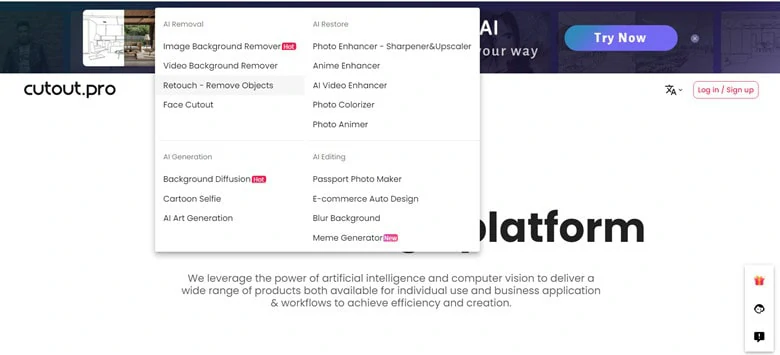 Go to Cutout.Pro Website and Select Background Diffusion
Step 2
Upload your image with a drag-and-drop operation or CTRL+V to paste the image or URL.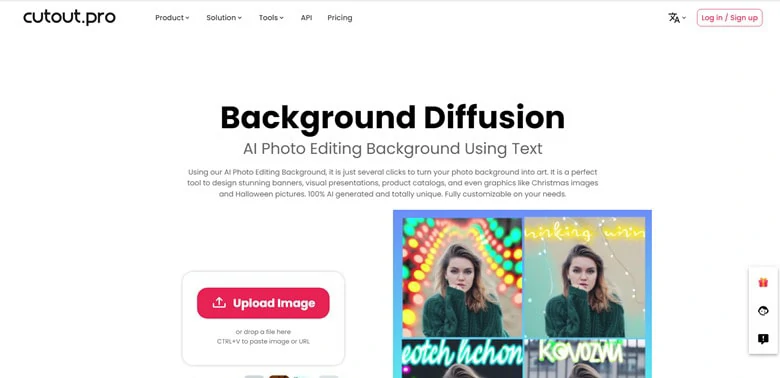 Upload Your Image to Cutout Pro
Step 3
Now its inbuilt image remover will automatically remove the original background. Here you can also use the eraser to manually remove unwanted parts in detail.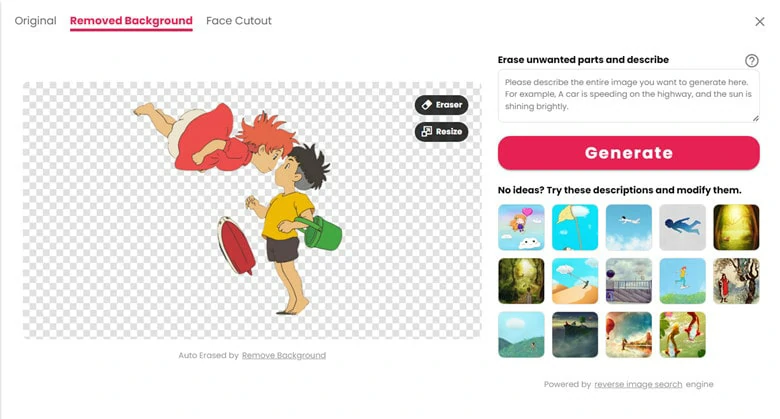 Remove Your Original Background
Step 4
Type your description for the tool to generate new background. Or directly use the description templates to get inspiration and modify them as you need.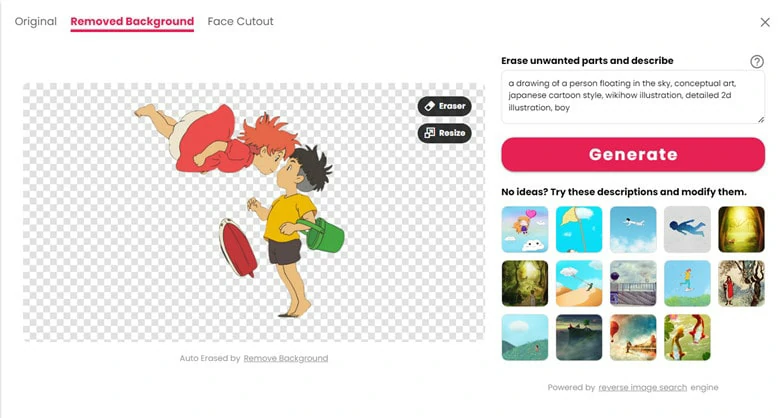 Write Templates to Write Your Prompts
Step 5
You will see 4 preview outputs and pick your favorite one to download.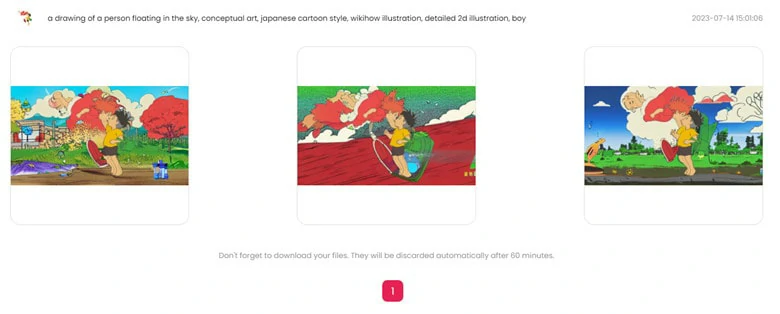 Check Your Background Images and Download
Note: It's free to generate backgrounds using Cutout.Pro but it needs credits to download. Meanwhile, all the generated results will be automatically discarded after 60 minutes.
Key Features of Cutout.Pro
All-in-one photo & video editor: Cutout.Pro includes a full set of photo and video tools that uses the AI technology to generate and modify your creation in seconds.
Various background presets: There are various description templates to help you write accurate and clear prompts even as a beginner.
Customizable edits: After removing the original background, you can adjust the image by changing the size to a custom one or erasing unwanted parts.
Highly quality download: You can download your new picture in HD quality.
The Bottom Line
AI technology enriches our lives and brings vision into reality. To change the background of your existing photo, an AI background generator is all you need. In this article, we've gathered 5 best AI background generators with their features and operation steps accordingly. Now pick your favorite one and start to give your photo a fresh look now.