Want to make or edit your own videos but need help as an inexperienced novice who's rough with video editing? Or lack of patience for the long process of video editing?
Why not try the AI video editing tool to automate various editing tasks? These AI-powered video editors can make your video editing process quicker and simpler.
No doubt that video editing needs effort - it is always a long and time-consuming process. But AI-based video editors can save time and help you easily create professional videos, even if you're a novice.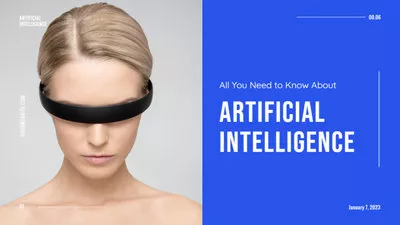 Artificial Intelligence Presentation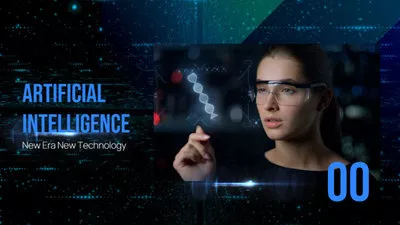 Ai Robot Presentation Technology Universal Simple Company Webinar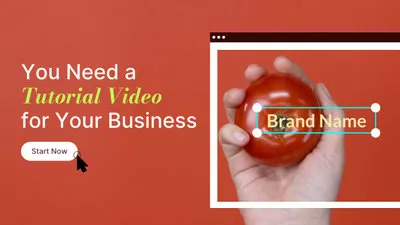 Video Tutorial Service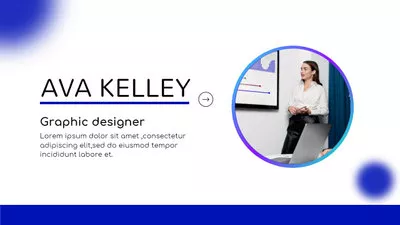 Graphic Designer Introduction
Best 5 AI-Based Video Editors of 2023
Below are the best online video editing tools powered by AI that you can try out in your browser without downloading or installing any software on your device. Check out and find the best AI video editor you like.
FlexClip
FlexClip offers a user-friendly yet powerful AI-powered video editor that comes with a ton of features. Within FlexClip, you can explore the possibilities of AI tools to save time and effort on video creation. With its robust artificial intelligence algorithm, you can seamlessly convert any text, audio, and picture into a professional video perfectly suited to your taste.
FlexClip's AI Revolution
First of all, FlexClip offers an AI script generator to helps you easily generate script for YouTube videos, TikTok videos, Instagram Reels, Facebook videos, promo videos, etc. Integrated with ChatGPT, it supports almost all languages and help generate scripts in your target language, making it accessible to a global audience.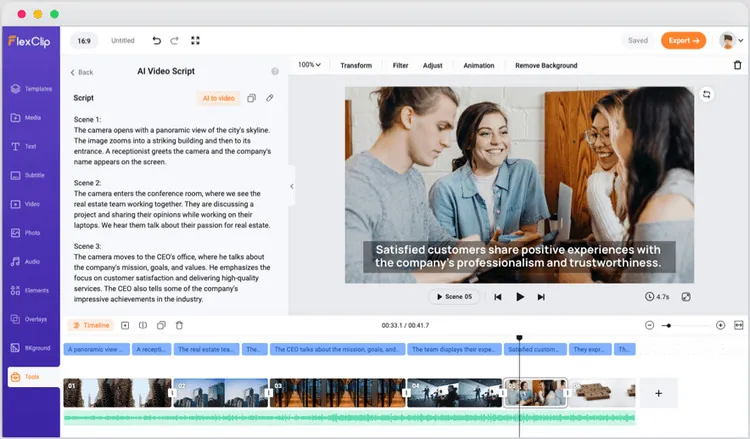 FlexClip AI Script Generator
Also, you can try FlexClip's AI text to video generator to transform your text prompt into stunning videos with AI. The recently launched text-to-video feature can help you turn any ideas with plain text into reality. With some keywords and text prompts, it will make a stunning videos with pictures, subtitle and background music.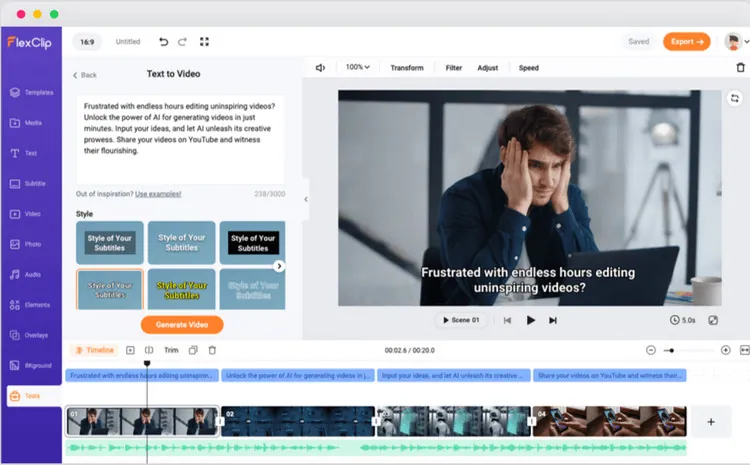 FlexClip Text to Video AI Tool
Its auto subtitle feature is particularly fascinating. It utilizes advanced AI technology to automatically transcribe any video or audio file into text subtitles. Moreover, the auto subtitle generator can recognize and transcribe over 140 languages and generate subtitles for any video creator, from vloggers and influencers to businesses and educators.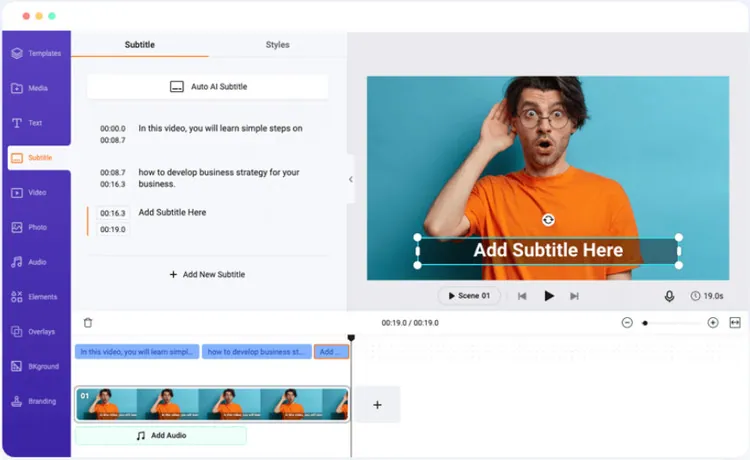 FlexClip Auto Subtitle Generator
Another great ai-powered feature of FlexClip is the ai text to speech option, which supports over 400 different voices in more than 140 languages, and allows you to make many useful customization options to convert the text to any realistic AI voice you want and add it to the video quickly.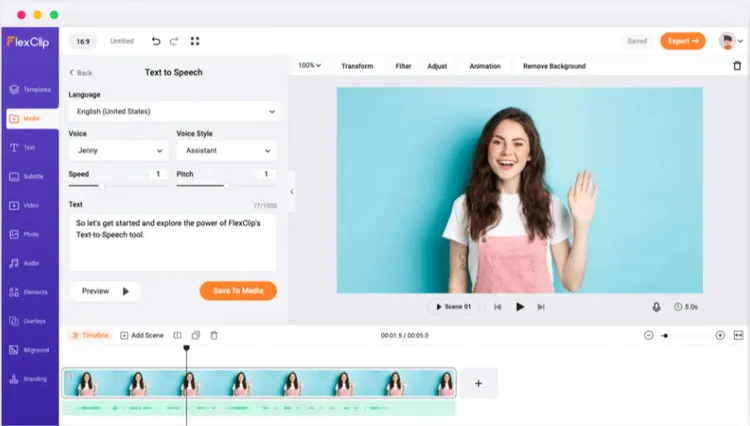 FlexClip AI Text to Speech Tool
Additionally, you can use FlexClip's powerful editing features and various special effects to edit videos for all the social media platforms (Facebook, Twitter, Instagram, or TikTok) to make the most of your video campaigns on these channels.
Key Features
Beginner-friendly interface - comes with a super easy interface, FlexClip helps you easily create stunning videos in minutes, even if you are entirely new to video editing.
AI video script generator
- Powered by ChatGPT, FlexClip's
AI script generator
can analyze the prompt and use natural language processing algorithms to create a script that meets your needs. Whether you want to create a script for a promo video, business presentation or storytelling podcast, you've got covered.
AI text to video tool
- the AI-powered
text to video tool
helps you generate a variety of videos such as promotional videos, explainer videos, social media videos, and more from text prompts quickly and efficiently.
Auto-subtitle generator
- with auto-subtitling capabilities, FlexClip works perfectly as an AI video generator to make AI music videos or song lyric videos; help you do any subtitles, such as
YouTube video subtitles
;
transcribe video to text
or convert any voice recording to text automatically.
AI text to speech tool - with its powerful AI text-to-speech generator, you can select from 400 realistic AI voices covering 140 languages in different accents, gender, and age, which can help you make an ai voiceover for your video, read and learn some foreign languages.
AI background removal
- the smart AI cutout tool can help you to
remove backgrounds
from portrait, product photos, graphics, and more images automatically in 5 seconds with one click.
Massive library of video templates
– FlexClip also includes a vast library of easy-to-edit
templates
to assist you in creating professional, social, or business videos.
Easy video sharing
– With Flexclip, you can easily share videos with your team using the share link or directly share the project to social platforms, like YouTube and
TikTok
.
Synthesia
Another great online AI-powered video editor you can't miss is Synthesia. Its AI video generation and AI video editing capabilities enable you to create professional videos in minutes. No editing experience or skills are required.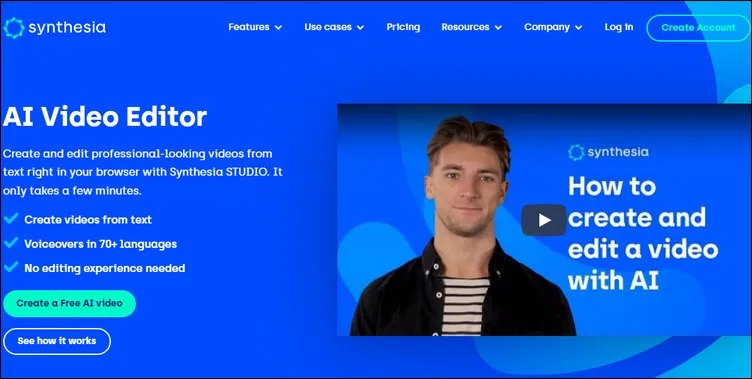 Online AI Video Editor - Synthesia
Synthesia's unique text-to-video feature allows you to create and edit professional-looking videos from text right in your browser. It only takes a few minutes. Besides, it offers 70+ realistic AI presenters, which helps you to create videos with realistic avatars on demand and in minutes by simply typing in text. With Synthesia, you can easily create demonstration, educational, How-Tos and marketing videos.
Key Features
Cool text-to-video feature - with Synthesia, you can create video content from text easily. No need for separate audio tracks for narration; it simply generates AI voiceovers in 70+ languages from text using text-to-speech technology.
Realistic AI presenters - provides 70+ AI avatars that will act as presenters in your video and narrate your text.
Pre-made video template - offers various templates that help you save on hours of video designing and editing by starting.
Rich editing features –you can use its robust editing tools to customize your video footage by adding a background, text, transitions, animations, videos, photos, audio, and more.
Runway
One of the amazing online AI video generators is Runway, which offers multiple AI magic tools to support you with the editing task. You can use those AI-powered editing tools to do everything from generating brand-new content to editing your projects.
Online AI Video Editor - Runway
This powerful editing platform with AI magic tools can simplify the tedious, repetitive, and time-consuming aspects of content creating & video editing. You can use its dozens of creative tools to automatically remove the background from any content, paint out objects, track the movement of any object, remove background noise, and more. It helps you edit and generate content like never before with AI.
Key Features
Auto subtitles - it can detect the language, transcribe the spoken content into text, and then insert subtitles in the video automatically.
Green screen - helps you automatically remove the video background and insert a transparent one, or you can even replace the background of a video directly.
Automatic noise removal - powerful AI algorithms automatically remove noise from your audio. As easy as one click.
Auto beat detection – helps you perfectly match the video clips with audio beats for a seamless video with just one click.
Library of video templates – it also includes a vast library of pre-made video templates to help you create stunning videos with ease.
InVideo
InVideo also offers an AI-powered video generator that creates videos from input text. With its quality AI video editor, you can easily make and edit professional-looking videos for YouTube, Instagram stories, or any social media platform.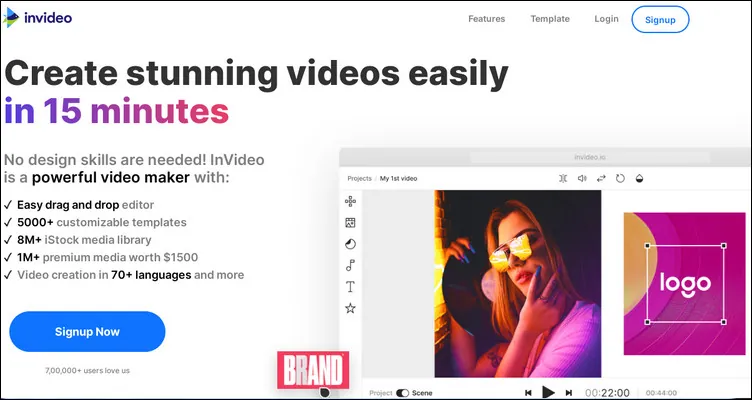 Online AI Video Editor - Invideo
With its easy text-to-video tool, AI-powered themes, and more powerful editing feature, Invideo makes it easy to create stunning videos in just a few minutes. All you need to do is choose any template or theme and type any text when creating videos. Then you can quickly create an incredible AI video with that script, edit it to a perfect one, and finally download the finished AI-generated video or share it directly on social media sites.
Key Features
Powerful text-to-video feature - automatically convert text into professional videos using practical AI algorithms and various AI-powered themes.
Customizable video template - choose from 5000+ tailor-made templates and create professional-looking videos in 15 minutes.
Brand kits - Create multiple brand kits and apply them to any video with just one click.
Extensive stock resources –over 5000 layouts, iStock media, a music library, filters, and other resources.
Team collaboration – create, edit, comment, and share your videos together with your team members.
Lumen5
Another fantastic online AI-powered video editor is Lumen5. The best thing about this online AI-based video maker is that it is pretty easy to use and ideal for those new to video editing.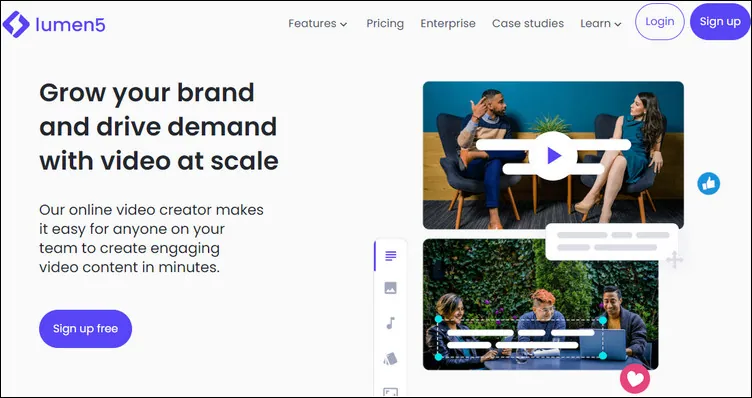 Online AI Video Editor - Lumen5
With its robust AI technology and user-friendly interface, you can easily turn any text content into a professional video online or transform your Zoom recordings into captivating clips quickly. Besides, it also offers hundreds of customizable templates that make it pretty easy for everyone to create professional-looking video content for any purpose in minutes.
Key Features
Beginner-friendly interface - super easy-to-use editing tools that help you make a video with great ease. Point and click, drag and drop, done and done.
AI is built to repurpose text content - automatically turn any marketing or blog content into stunning videos.
AI-based video enhancing - uses AI to find musical visuals that will further enhance your message.
Hundreds of customizable designs – you can tap into hundreds of customizable designs to start making your own AI-generated video effectively and consistently.
Final Words
Artificial intelligence makes it possible for you to create high-quality videos more efficiently without spending hours editing them on your own. Try out these powerful online AI video generators we shared above and start your journey.