Well, AI technology is continually expanding across industries! Then, what happens when you combine AI and anime art? The anime AI art generator will come into your sights, and you can use them to make your own anime-style art in seconds without drawing experiences!
Here, we will share the best online anime AI generator tools to help you quickly create your own anime art from the text!
Free Editable Templates You May Like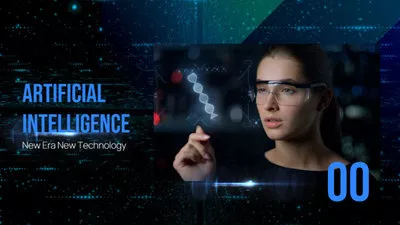 Ai Robot Presentation Technology Universal Simple Company Webinar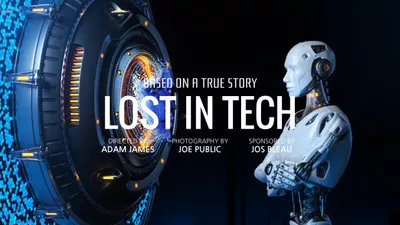 Tech Ai Movie Abstract Trailer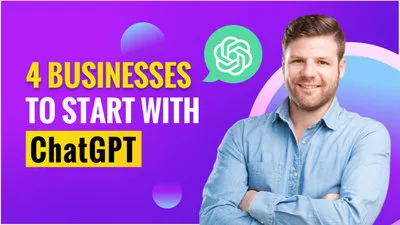 4 Business To Start With Chatgpt Youtube Tutorial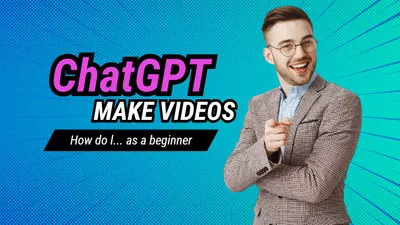 Make Youtube Videos With Chatgpt
FlexClip
FlexClip is undoubtedly one of the best free anime AI art generators you can't miss. It is an advanced online AI-powered tool coming with various AI functions. One of its ai features is the text-to-image generator, which allows you to create different styles of images from text prompts, including anime style, painting style, and more.
Powered by Stable Diffusion, FlexClip's ai image generator is a powerful AI tool for generating anime-style images from text. You can use it to generate anime characters, background illustrations, and more anime art from a text prompt. If you are planning to use FlexClip to create your own anime art, you'll find it to be extremely useful. In fact, FlexClip is even capable of creating AI images in a realistic style, so you can experiment with this tool in many ways for free.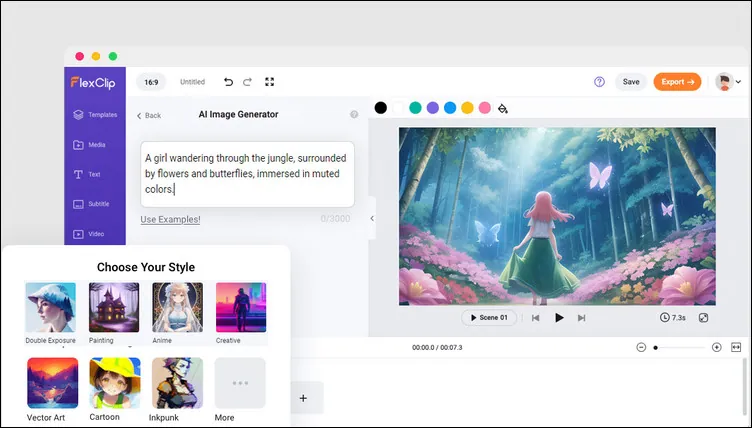 Online AI Anime Art Generator from Text - FlexClip
Some of the key features of FlexClip
Clear, simple, and user-friendly interface
Quick and free anime art generation from text
Various style options to create anime art in different styles
Generate stunning AI art, anime, realistic photos, paintings, etc.
ZMO.ai
ZMO.ai is another anime AI art generator that is gaining popularity. With a simple and user-friendly interface, ZMO.ai can help you create anime art from text or image prompts in simple steps - only enter your words or upload your photos and convert them into anime art.
It offers various AI-powered tools for creating and editing images, such as Anime AI Art Generator, AI Designer, AI Remover, AI Models, and more. So you can use this tool to generate realistic or artistic images from text or image prompts, edit images with natural language descriptions, remove unwanted objects from photos, and so on.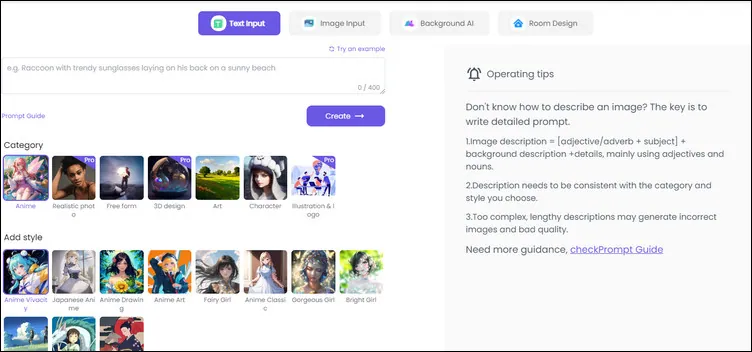 Online AI Anime Art Generator from Text - ZMO.ai
Some of the key features of ZMO.ai
Create custom anime art from text or photo
Generate realistic or artistic images from text or image
Generate, remove, expand, or edit images with AI
Getimg.AI
Getimg AI is another excellent Anime AI art generator that allows you to create beautiful anime characters from text. Besides generating anime art from text prompts, any photo may be transformed into a stunning piece of anime art simply by applying the anime style with this anime AI art generator.
It uses Anime Diffusion, a state-of-the-art AI model that can generate high-quality and diverse anime images from text prompts. At this ai anime art generator, you can unleash your imagination and create any type of image or art with text.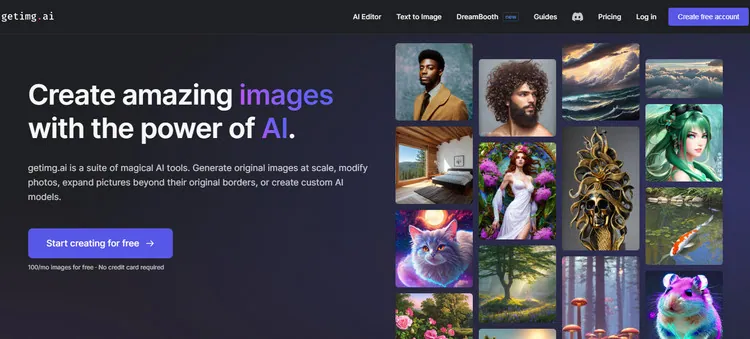 Online AI Anime Art Generator from Text - Getimg.ai
Some of the key features of Getimg.ai
Quick anime avatar generation from text and image
Various customization options
Supported by state-of-the-art GAN technology
DeepAI
Another great ai amine art generator you can't miss is DeepAI, which offers a suite of tools that use AI to enhance your creativity. Simply enter a text prompt, pick an art style, and DeepAI will bring your idea to life. Also, it offers an ai image editor allowing you to edit the image by entering a simple prompt.
DeepAI is a great AI anime art generator that creates anime images from scratch with a text description. Simply type in any idea in text format, then select the style for the anime art, and click to generate an image in seconds. The results are accurate and creative.
Online AI Anime Art Generator from Text - DeepAI
Some of the key features of DeepAI
It is easy to use, even for beginners
Based on Stable Diffusion, to create unique anime images
Unlimited content creation for free
Fotor
Fotor also offers an ai anime art generator for you to experience a new way to create anime art from text or photos. The possibilities of what types of anime you can create with Fotor are endless, from full-body anime characters and portraits to anime wallpapers and drawings.
Besides the ai anime art generation tool, Fotor also offers various editing tools to help you enrich and enhance your AI-generated anime images. You can add vintage frames to your artwork to make it appear more authentic or stickers to your photographs to make them more engaging.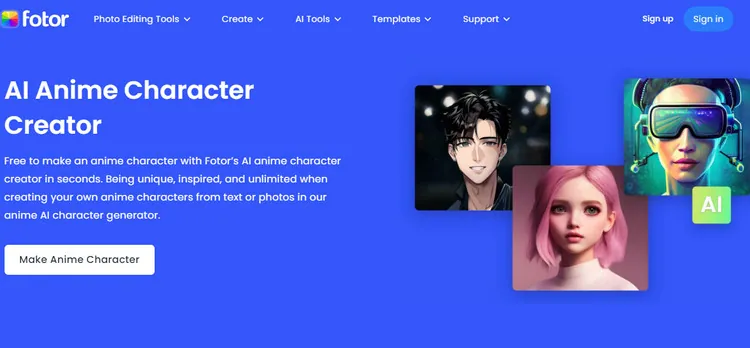 Online AI Anime Art Generator from Text - Fotor
Some of the key features of Fotor
Generate anime art from text and photo
Transform selfies into ai art
An extensive selection of editing tools
Final Words
That's all for the best 5 online ai anime art generators we'd like to share with you. Are you finding your desired one and trying to start your first ai anime art generation? Just do it and let your imagination run wild!