With the launch of ChatGPT, AI has been the theme of this year. Lots of software and applications are trying to integrate AI to better serve their customers. The video editor is one of the best examples.
AI video generators can help you create a video with the text you provided. After inserting the texts, they automatically search for the pictures and video clips that match the words then turn them into a good video with music and texts.
We understand how much eager you want to try AI video generators to fasten the video creation process. However, finding a good AI video generator can be frustrating in the market intermingling with the good and bad.
Stop doing endless searching and comparisons. Check the list of the best 7 AI video generators and pick one that's best for you. Let's dive in!
Also Read: How to Add Music to Instagram Story >
Slideshow Video Templates Free to Use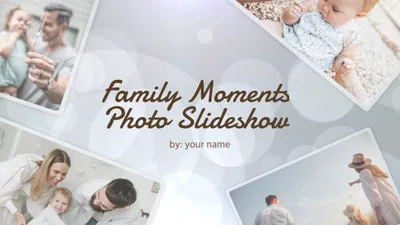 Family Moment Collage Slideshow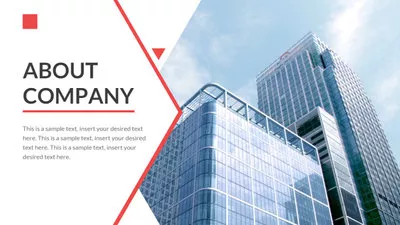 Minimalist Geometry Style Company Presentation Slideshow
Best 7 Free AI Video Generators
Best 7 Free AI Video Generators
1. CapCut
OS: Android & iOS, Windows & Mac
Best for: Creating TikTok videos
Price: Free
CapCut is developed by Bytedance to encourage people to create more interesting videos for TikTok. It is not only a good video editor, but also a video generator that can help you create videos easily and effectively. Insert any texts, you can get a slideshow in seconds.
The videos generated via CapCut are not simple combinations of photos and texts. CapCut automatically adds transitions, filters and popular music, fonts so that the video looks like human-generated ones. Even though it is an application originated in China, now CapCut understands English, Japanese, Spanish, Korean, Arabic and more.
You will barely encounter issues like sluggishness, failure to generate. CapCut is a powerful video editor that always provides the best user experience. After generating, you can also use CapCut to speak out the text.
CapCut can generate basically all sorts of videos, but it is best for creating videos for entertainment or personal use.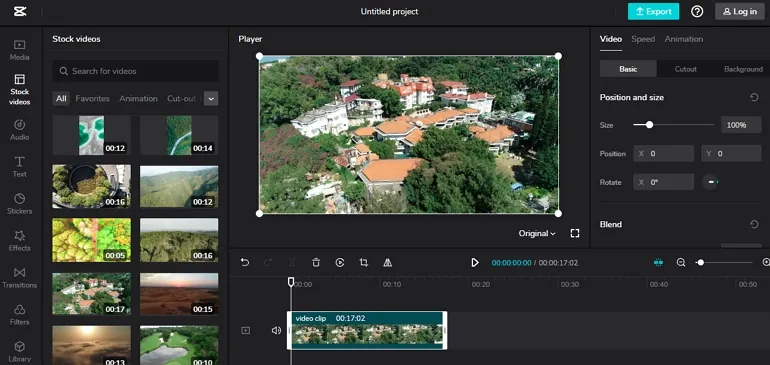 Best AI Video Generator - CapCut
2. Synthesia
OS: Windows & Mac
Best for: Educational & product video that needs vivid explanation
Price: $30 per month
Synthesia uses state-of-the-art AI algorithms to produce unique and realistic videos. It turns your boring docs, PowerPoints, and PDFs into engaging videos.
Instead of generating a slideshow from your texts, Synthesia provides you with over 125 stock AI avatars. You can even create your own AI avatar. Say Goodbye to complicated filming equipment. The lip movement is also very natural.
Synthesia understands over 60+ languages, and the localized avatars at means you can create videos targeting customers around the globe.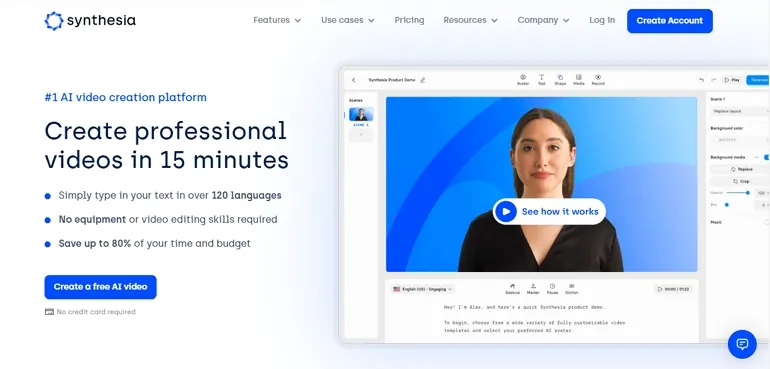 Best AI Video Generator - Synthesia
3. InVideo
OS: Windows & Mac
Best for: Marketing & explanation video
Price: $15 per month
InVideo provides the latest AI technology to generate videos for marketing and explanations. After inputting texts, InVideo splits your script into logical parts and then matches visuals to the scenes. You can adjust them with tons of assets.
If you are inputting quite long texts, it automatically shortens the texts to make the video concise. Maybe sometimes it takes out important parts, it is never a big matter because you can always customize the video.
One thing to criticize is InVideo's responding speed. InVideo is slow in generating a video. It takes 30 seconds to generate a 30-second clip.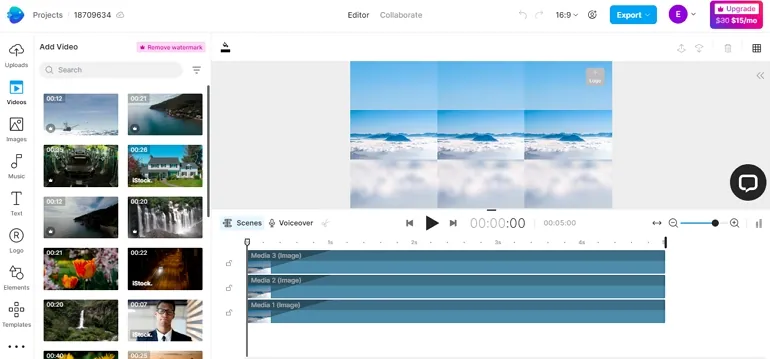 Best AI Video Generator - InVideo
4. DeepBrain AI
OS: Windows & Mac
Best for: PowerPoint video
Price: $30 per month
DeepBrain AI makes it easy for you to create AI-generated videos using basic text instantly. Simply prepare your script, choose an avatar you like, add a background, an AI video is done.
DeepBrain AI focuses on creating presentation videos. Upload your presentation video template and let AI fill your template in minutes. You can choose from over 50 presenters, each will give your presentation video a unique style. Some may look less realistic, but you can customize them to make them look beautiful.
This excellent AI text to video generator supports over 80 languages and 100 voices. You can always find the language and tone your customers like. If necessary, DeepBrain AI can add closed captions to your video. Give it a try!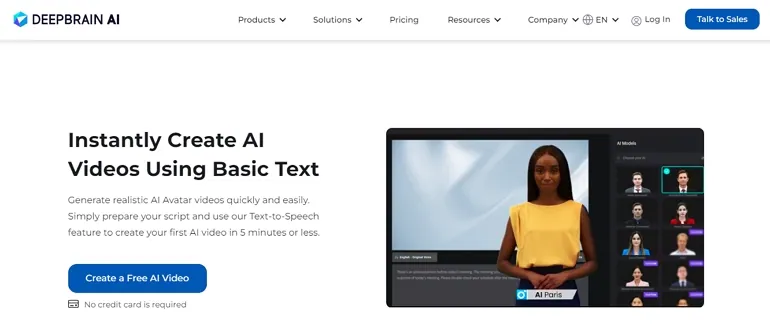 Best AI Video Generator - DeepBrain AI
5. Pictory
OS: Windows & Mac
Best for: Blog videos
Price: $19 per month
Pictory's AI text to video generator utilizes artificial intelligence to turn lengthy written content into short, and engaging videos. It analyzes all content and extracts the essential information. After that, Pictory matches stock videos to your text and combines them together with beautiful transitions and effects. Pictory is also able to add subtitles, narrations automatically.
Pictory's features are all at one interface. You are never three clicks away from your destination. The whole creation process takes no longer than 3 minutes.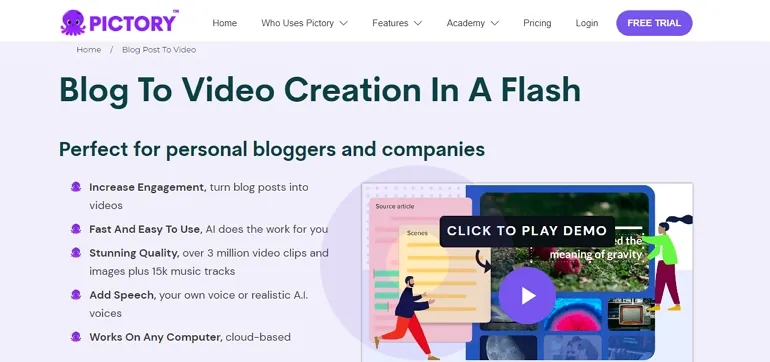 Best AI Video Generator - Pictory
6. Lumen5
OS: Windows & Mac
Best for: Business videos
Price: $19 per month
Lumen5 is a perfect combination of AI and video editing platform. It generates videos that are good enough to surpass human-generated content. You can ask it to generate a video from your text and then edit the video by changing the text, or replacing the photos and videos.
The best part of using Lumen5 is that there are tons of templates for you to choose. You can generate a video from your text with one of the templates you like. However, most stock videos are US-centric. That means it is not diverse enough.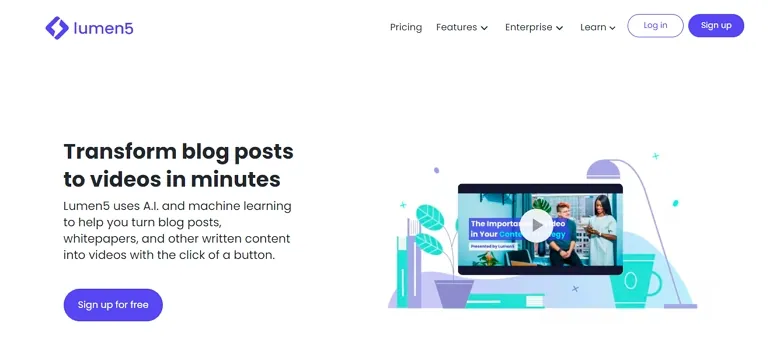 Best AI Video Generator - Lumen5
7. Colossyan Creator
OS: Windows & Mac
Best for: Business & educational videos
Price: $21 per month
Colossyan Creator puts much effort into helping create videos with AI actors. Choose an avatar, insert PPTs and PDF reports, you will soon get an AI video that increases retention and delivers information more effectively.
Collssyan Creator understands more than 60+ languages and even some of the native tongues. You can create AI videos in multiple languages in minutes. Collssyan Creator is also equipped with the most powerful translators. It can automatically translate the script to the language as you wish.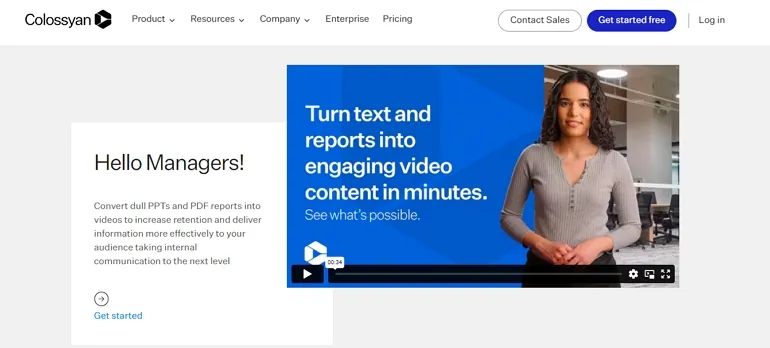 Best AI Video Generator - Colossyan
The Bottom Line
That's all for the 7 AI text to video generators for 2023. If you find this post helpful, please do share it so that others may benefit. If you have more recommendations on AI text to video generators, please do contact us via Facebook.