Presentations are playing a key role in education, training and business fields. Everyone will need create a video presentation some day. As a new form of presentation, video presentation will better help get your idea across to others and be shared more frequently.
A video presentation can be more complicated to create, yet an easy-to-use and effective video presentation maker will save you from endless trouble. Here in this post, we have collected 4 best online video presentation makers and 3 best video presentation software, and make comparisons in terms of ease of use, features and functionalities, resources and templates, exporting and sharing. Check the following list and see which one is more helpful.
Can't Miss: Best Slideshow Video Makers to Try >
Presentation Video Templates You Might Love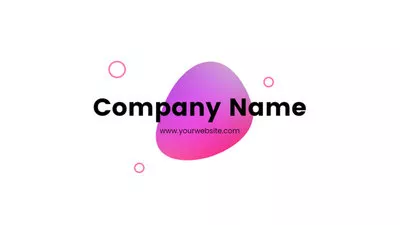 Creative Clean Business Company Introduction Presentation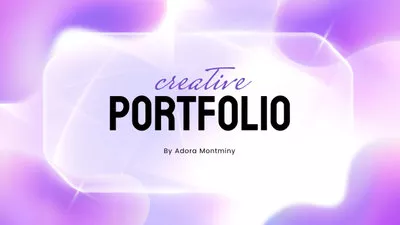 Abstract Purple Portfolio Business Presentation
Best Free Online Video Presentation Makers to Try
Online video presentation makers are generally much easier to operate. Besides, they are relatively cheap and doesn't take much CPU and physical storage room. That's why we put online video presentation makers first. Let's check them out.
1. FlexClip - Generative Video Presentation Maker Powered by AI
FlexClip, a free online video presentation maker, is a one-stop tool for you to make a video presentation and share with your audiences. Its rich editing features and resources enable you to create an excellent video presentation for any purpose like company introduction, product introduction, online course promotion.
Don't feel like making a video presentation manually? The generative AI is there to help out. Tell what you want to create, FlexClip can write you a nice video script, and generate a video presentation in seconds! Here are more details about FlexClip.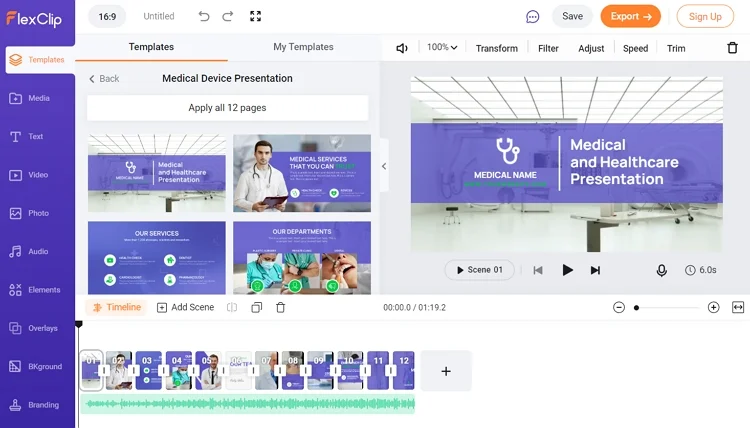 Best Video Presentation Maker - FlexClip Overview
Media resources guarantee the visual richness of your video presentation. The more resources you have, the better video presentation you can create. FlexClip incorporates Storyblocks, Pexels, Pixabay. You can access millions of videos, photos of different themes at the same time. FlexClip also provides music from Storyblocks. Moreover, thousands of elements from professional designers are waiting to make more presentation videos more eye-catching.
Over 100 video presentations offer you endless inspiration and get started with editing instantly. Pick a video presentation template and make it yours for free!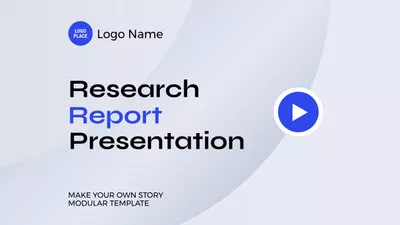 Research Report Presentation
Main Features and Functionalities
Add text, lower-thirds, titles, images, animations, transitions for a draft video presentation.
Crop the video or image to a certain shape.
Free hand drawing that brings your creativity to reality.
Add filters or change the color scheme to make the whole video look coherent.
Screen recording that enables you to record your screen or webcam with audio.
AI helps get things done quickly. In terms of creating a video presentation, FlexClip integrates a series of AI tools to speed up the process.
1
AI script generator
. Tell FlexClip what kind of video you want to create, you will get excellent scripts in just a few seconds. Currently, FlexClip only supports English.
2
AI text-to-video generator. When all scripts are ready, paste your scripts to FlexClip's AI text-to-video generator, it will soon pull up a video with the resources from the stock library. The whole process only takes a few seconds.
3
A
AI text-to-voice generator
. Choose from 140+ languages, 400+ voices to speak out anything for you. Say goodbye to robotic narrations and embrace the natural voiceover with FlexClip's AI.
FlexClip AI Tools Overview
FlexClip is one of the easiest-to-use collabortive video creator. Create a team, send invitations to others via email, everyone can start instantly. All edits will be synced to others without any denying.
FlexClip Collabortive Video Editor
When a video presentation is done, you don't have to download it to your computer, and manage to send it to other devices. Alternatively, share your video presentation via a short link, or share it to cloud services and social media platforms.
Free to download watermarked 720P video presentation. 10 minutes Maximum length.
Plus plan starts at $9.99 per month. Allows you to download 1080P videos without a watermark. More AI credits, more resources to use.
Business plan starts at $19.99 per month. 1080p Full-HD downloads, unlimited stock resources.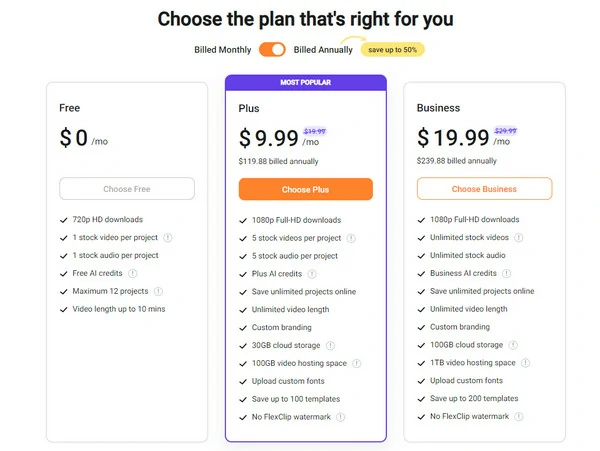 FlexClip Pricing
2. Animaker - Best Tools for Creating Animated Video Presentation
Animaker, as its name suggests, is specialized in making animated videos, including animated video presentations. With hundreds of different animated characters and default movements, the video presentation you created will be interesting!
Also, we love Animaker's design that offering you both the timeline and storyboard. This video maker lists all slides to your right side, which makes it more like editing a presentation. Click on each scene and you will be brought to a timeline that you can make more precious edits.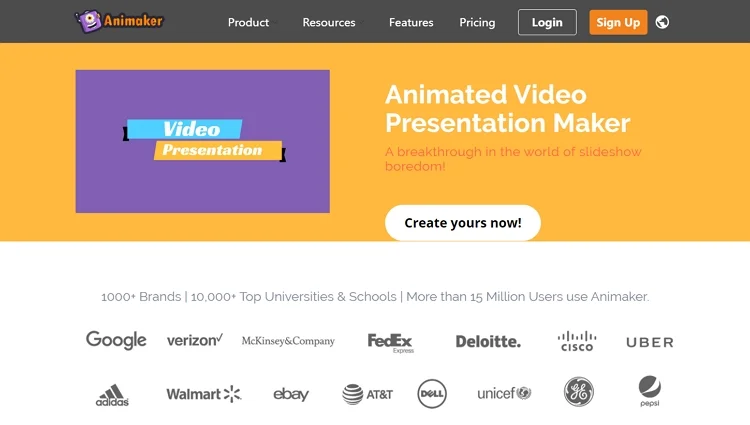 Best Video Presentation Maker - Animaker
The best resources of Animaker, we must say, are the animated characters. There are over 300 animated characters in different genders, ages, even nationalities for you to use directly. You can even create unique characters for your presentation video. By the way, you can add default expressions or movements to the characters.
Animaker doesn't have many video presentation templates to use. As we counted, only 20 video presentation video templates for you to use, and again, they are all animated.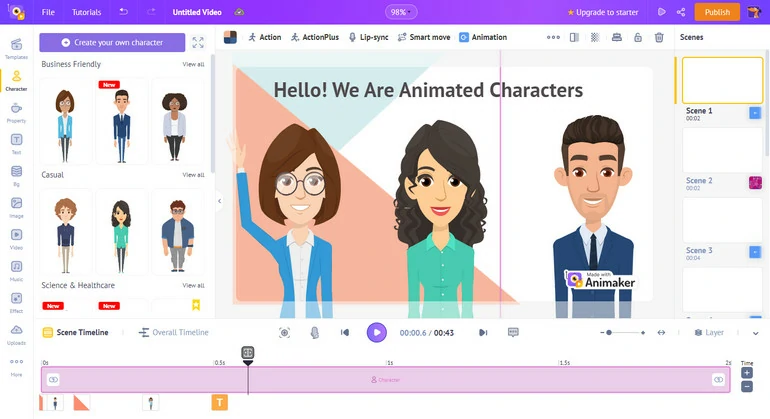 Animated Characters in Animaker
Main Features and Functionalities
Add texts, videos, photos, music to the video presentation.
Add animated characters to the video presentation and move according to your needs.
Add transitions between each scene.
Remove video background to leave only what's important.
Animaker integrates AI to do auto subtitles. When an audio file is uploaded, it can transcribe and add subtitles to the video.
Animaker is able to translate your subtitles. Currently, it can translate subtitles among 100 languages. You don't have to worry about the language barriers.
Even though all video editing tools are quite basic. Animaker allows you to use team collaboration to create any video if you are a subscriber.
Animaker allows you to download a video presentation to your computer and share on a variety of social media like YouTube, Facebook, Twitter, Instagram and so on.
Non-subscribers can download 3 videos per month, with a watermark.
Basic plan costs $12.5 per month. Able to download 5 premium videos per month, $20 per extra download. Also comes with 150 minutes of auto subtitle, 75 minutes of auto translation per month.
Starter plan costs $25 per month. 10 premium downloads per month. 250 minutes of auto subtitle, 150 minutes of auto translation per month.
Pro plan costs $39 per month. 30 Premium downloads per month. 750 minutes of auto subtitle, 400 minutes of auto translation per month.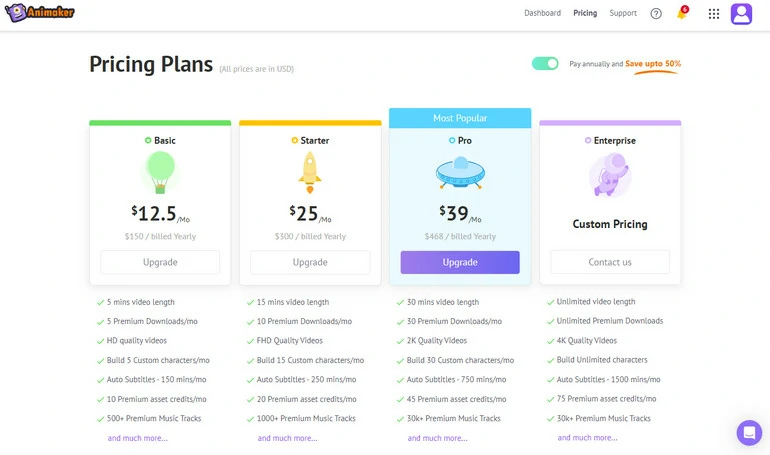 Animaker Pricing
3. Moovly - Interactive Video Presentation Maker
Moovly claims to be the #1 customizable, easy-to-use solution for the creation of video presentations. To keep the promise and make video presentation creation easier, it adds the Interactive mode, where you have access to all video editing features, as well as the options to make the video presentation interactive.
Moovly integrates and improves the AI to make it better serve users who are creating video presentations. Even though it is still in beta version, we can notice that the script it generated is short sentences for each slide, instead of long paragraphs.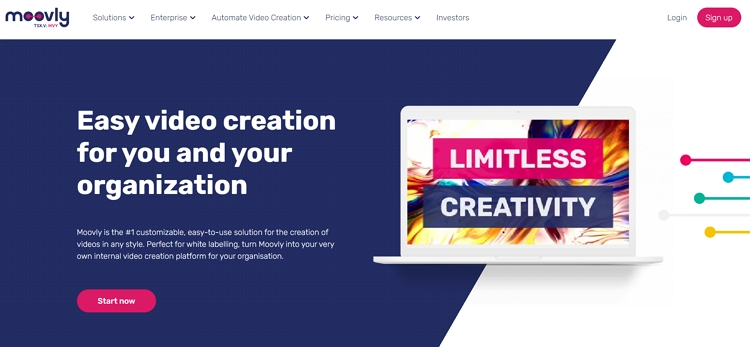 Best Video Presentation Maker - Moovly
Moovly interface looks quite dull, but its resources are quite rich. Its images are from Unsplash, videos are from iStock, and the music resources are from Soundstripe. Everything is free to use!
The resources are another story. Moovly only has several video presentation templates. You don't have a shortcut.
Main Features and Functionalities
Add videos, photos, music, shapes, text to showcase important information.
Animate anything you added to the video presentation.
Add links to make the presentation video more interactive.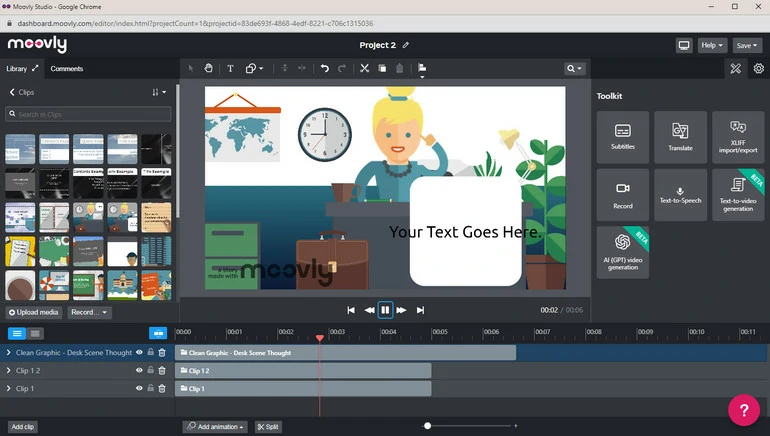 Moovly Interface
Moovly improves the AI tools to make it better serve users who want to create video presentations. There are numerous AI tools you can use.
1
AI script generation. Moovly integrates with the latest ChatGPT and writes the best scripts that amaze you.
2
AI transcription. It automatically converts any voice recording to text or subtitles. Over 130 languages are supported.
3
AI voice generation. Convert any written text to a professional voice-over for your video. You can choose from over 1200 voices, 150 languages and accents.
4
AI-based translation. Translate video subtitles from one language to another in seconds. No more language barriers.
5
AI text summarization. Input any long text to a short video script. Eliminate any redundant words in your document.
Moovly offers you a brand-new way to collaborate with others. Whenever you have a video presentation done, others can access your video and make comments via the short link.
It is worth mentioning that Moovly doesn't allow you to download the video to the desktop, unless you are a subscriber.
Free to publish videos up to 2 minutes per video with a watermark.
Pay $25 per video, or pay $49.92 per month to get 600 credits.
4. Vyond - Animation Everything on Your Video Presentation
Vyond is similar to Animaker we just recommended. Their team is committed to creating animated videos for business, education, marketing and training. Instead of just animated characters, Vyond enables you to animate the statistics on your PDF in a variety of ways, like bar charts, pie charts, line charts.
Vyond also integrates with AI to make video presentation creation easier and faster. Tell Vyond what kind of video presentation you feel like creating, it will generate a video with the template you chose.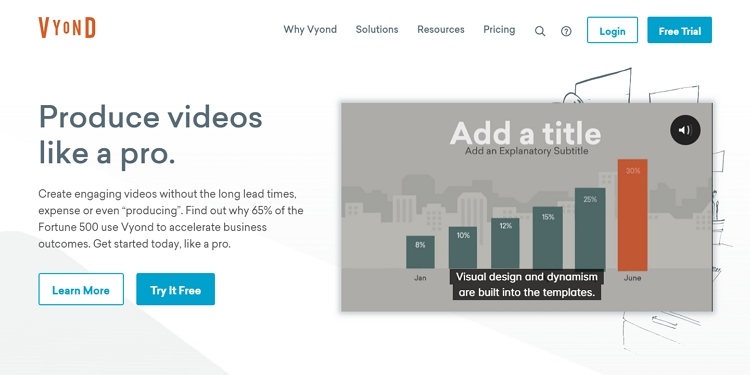 Best Video Presentation Maker - Vyond
Vyond is now a video presentation maker with over 2000+ video scenes, 10000 props, 2000+ characters, 400+ music, 30+ types of charts for you to enrich your video. To access non-animated Storyblocks resources, you have to subscribe.
Luckily, Vyond offers over 1000+ templates to edit directly. Every one of them displays your information in a special way.
Main Features and Functionalities
Change scenes, characters to speak out anything for you.
Edit texts, add voiceover, transitions to the video presentation.
Record webcam and add it to your video.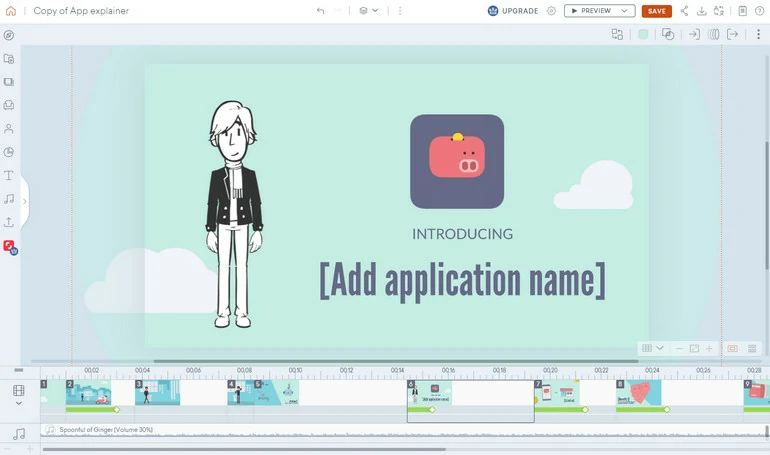 Vyond Interface
Give Vyond a topic, pick a video template you like, it will automatically generate a video for you with natural voiceover. You can also translate a video in several clicks. However, the AI Vyond is still in beta version. The video script may need to be revised. As for the AI output, you are only allowed to change the scene text and the characters.
Since it is easy to operate Vyond, Vyond doesn't offer any options to collaborate. Whenever you are done editing a video presentation, you can download it to your computer or share via a short link.
$25 per month, export as many 720P videos as you like with a watermark. 3 AI prompts per day.
$54 to remove watermarks, download 1080P full HD videos. 5 AI prompts daily.
$92 per month to access Shutterstock assets, AI video translation. 10 AI prompts.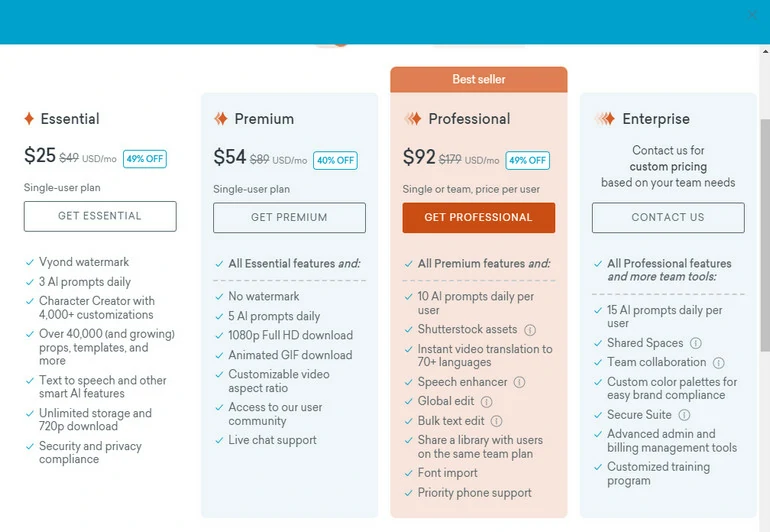 Vyond Pricing
Best Video Presentation Software You Can't Miss
We love video presentation software. However, the following video presentation software may be hard to operate, and too costy for some people. If you are a professional in creating video presentations, give them a try!
1. Camtasia -Professional Interactive Video Presentation Maker
Camtasia, as a video presentation maker, allows you to record presentations and webcam in the highest quality. To be one of the top video presentation makers, Camtasia helps make everything interactive. You can create a quiz for viewers to answer and get feedback via email, or add URL to the video for viewers to click on.
What's better, Camtasia has lots of annotations especially designed for creating video presentations, for example, dynamic arrows, text and shapes.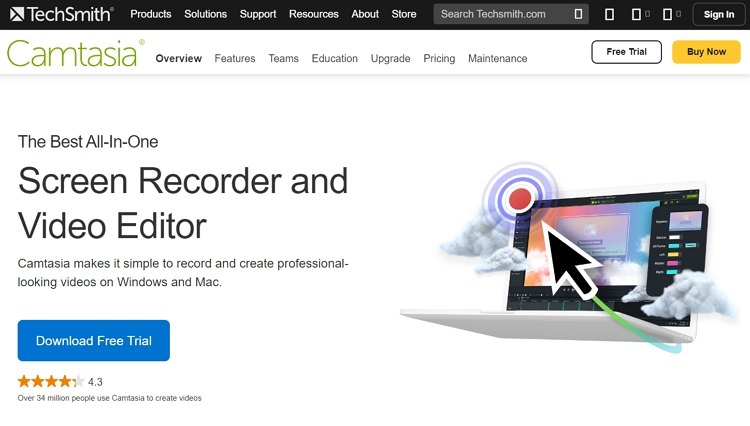 Best Video Presentation Maker - Camtasia
Most video presentation software doesn't have templates. However, Camtasia offers lots of customizable video presentation templates to make everything convenient for its users.
We also love the dynamic resources Camtasia provided, like dynamic arrows, text and shapes. They are crucial to enrich the video presentation and encourage interactions. Also, Camtasia has integrated storyblocks clips. Use them as you wish.
Main Features and Functionalities
Add texts, images, dynamic arrows and shapes, transitions to enrich the video presentation.
Add annotations to highlight important information.
Add URL or link a video presentation page to a specific word to make it more interactive.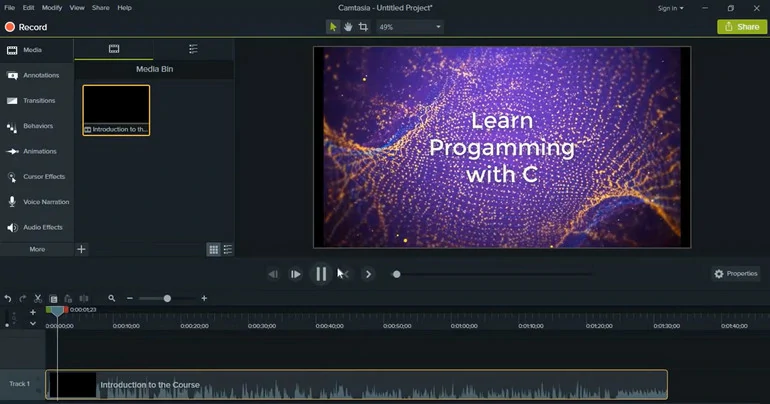 Camtasia Interface
Camtasia has strong AI tools to generate videos from texts, generate voiceover with AI, and even better, generate background music with AI. All those tools make your video presentation unique and special. However, generative AI doesn't add interactive options to video.
Camtasia doesn't allow you and your colleagues to work on the same project, yet it does offer you lots of ways to share your video presentation, for instance, downloading to the desktop, share to YouTube, Google Drive, Vimeo or ScreenCast. You can even choose to share a single frame or audio only.
Camtasia yearly subscription costs $179.88, the perpetual plan costs $299.99 per year.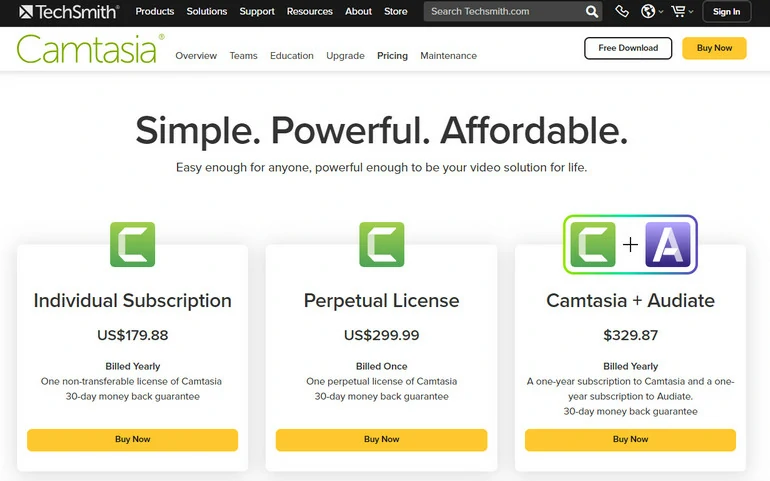 Camtasia Pricing
2. KeyNote - Video Presentation Software for Apple Devices
Keynote is called the Apple version of PowerPoint. It is not only one way to create a beautiful video presentation, but also one way to present your video. Sync it across all devices, Mac, iPad and iPhone. While playing each slide, you can view your presenter notes, upcoming slides, and navigation in a separate window. You can also write down your ideas and move from ideas to reality.
While creating a video presentation, the best things about using KeyNote are, first, you will be able to use Apple Pencil to create diagrams or illustrations, secondly, you are able to add cinematic transitions and effects to make each slide spectacular.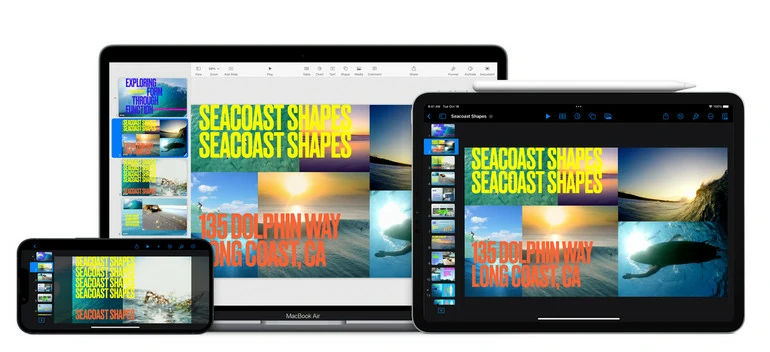 KeyNote Overview
Here in KeyNote, you are able to find all sorts of video presentations, from dynamic to minimal. Among over 500 video slideshow templates, there is always one that's right for you.
KeyNote has the best transitions, animations, color gradients, effects for you to choose. You don't have photos or video clips to add to video presentation. Yet, you are able to embed YouTube or Vimeo videos to video presentations with KeyNote.
Add texts, music, screen record, voiceover to the video presentation.
Animate or add gradual changes to the texts or any shapes.
Remove photo or live photo backgrounds so they fit the video presentation.
You will not be able to collaborate with others on KeyNote. Yet, KeyNote is part of Apple system. That means you are able to share your video presentation through all Apple Devices.
It is free to use KeyNote. It is a built-in video editing software on every Apple devices.
3. Adobe Presenter Video Express - Interactive HTML 5 Video Presentation Maker
Adobe Presenter Video Express is one of the Adobe screencasting and video editing software on both Windows and Mac. It is mainly targeted towards professionals and trainers. The main features of Adobe Presenter are to capture on-screen presentations and convert to more interactive and engaging videos.
Adobe Presenter Video Express publishes a single MP4 video file containing all the video content, with an HTML 5 wrapper that contains the interactive player. The interactive HTML 5 player can be hosted on any website. Thus you don't have to worry if your interactive video presentation is not supported.
Adobe Presenter encourages users to create video presentations from scratch. That means no video presentation templates are available. As for the resources, you have access to over 120 realistic characters and add it to your video.
Main Features and Functionalities
Record or import presentation from a local folder in varies of backgrounds.
Add realistic characters to your video presentation.
Add interactive quizzes for the video.
Adobe Presenter Tutorial
You can only choose to export your video presentation to your computer desktop. You are not able to collaborate with others.
A license for Adobe Presenter costs $499. If you have Adobe Presenter 10, you only have to pay $199 to upgrade.
The Bottom Line
The above are the best 7 presentation video makers working both on desktop and online. Which one do you like most? Share your ideas with us! Feeling like to download some presentation video templates to use? Visit FlexClip template page to find the one you love most.