Presentations are playing a key role in education, training and business fields. Everyone will need create a video presentation some day. As a new form of presentation, video presentation will better help get your idea across to others and be shared more frequently.
Better as it is, a video presentation can be more complicated to create. An easy-to-use and effective video presentation maker will save you from endless trouble while making a video presentation. Here in this post, we have collected 5 best online video presentation makers and 5 best video presentation software for you to choose. Check the following list and see which one is more helpful.
Can't Miss: Best Slideshow Video Makers to Try >
Best Video Presentation Software You Can't Miss
Presentation Video Templates You Might Love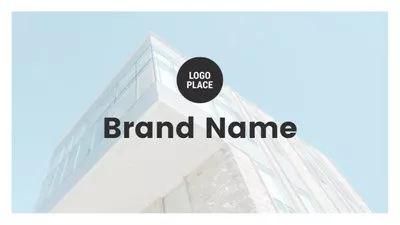 Infographic Presentation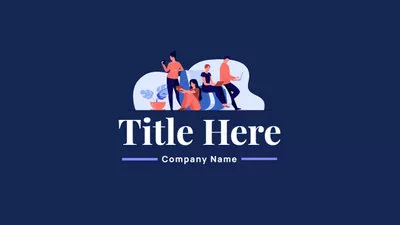 Animated Presentation
Best Free Online Video Presentation Makers to Try
Price: Free to download 480p videos. Subscription plan starts from $5.99.
FlexClip, a free online video presentation maker, is a one-stop tool for you to make a video presentation and share with your audience.
With FlexClip, you can easily add animations, transitions, audios, shapes to the presentation video in just several clicks. Any edits you made will make your video more outstanding. Explore more possibilities with FlexClip's powerful tools.
Don't feel like wasting too much time figuring out every detail of the video presentation? FlexClip has video presentation templates for you to edit directly. Double click and enter your information to make the template yours.
When you are done editing, you can generate the presentation video to a short link or share to any social media platforms. You don't have to use an USB to display it on a different computer.
Pros:
2. No need to download any launcher or extension.
3. Powerful editing tools.
4. Rich video presentation templates.
5. Free music, photo, video, elements resources.
6. Generate short link for easy sharing.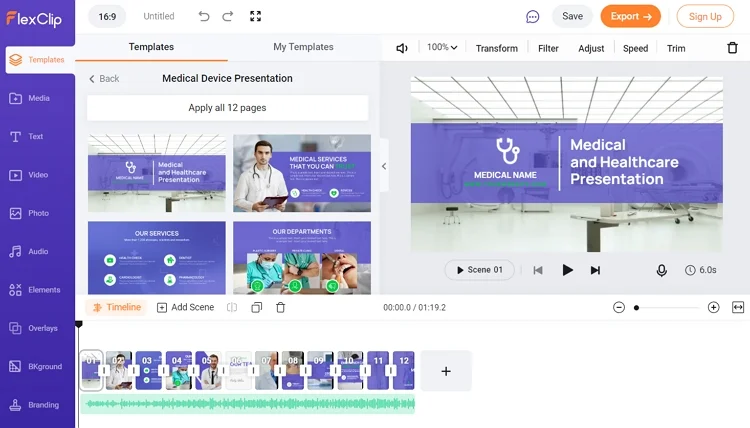 Best Video Presentation Maker - FlexClip
2. Animaker
Price: 5 free downloads with watermark each month. Subscription starts from $10 per month.
Animaker, as its name suggests, is specialized in providing everything to create animated videos. If you need to add some animation to the video presentation, then Animaker could be good to go. A variety of animated characters will help simulate all kinds of situations. You can make lots of changes on the characters, like doing lip syncing, adding movements and so on.
As a normal online video presentation maker, it separates the presentation so that you can make edits slides by slides. However, the tools Animaker have for everyone to edit video presentations are limited. You can only add some transitions, animated text.
In general, Animaker is a fun video presentation maker if you feel like animate your video presentation. For serious video presentations, it is a less satisfying choice.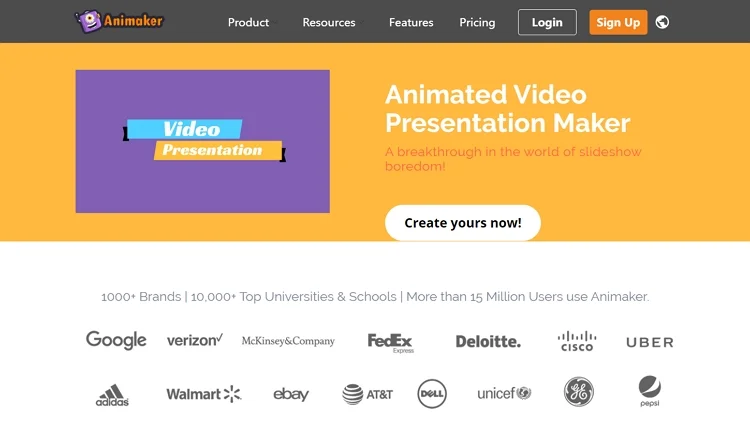 Best Video Presentation Maker - Animaker
Pros:
1. Rich animated characters to use.
2. Good animation video presentation templates.
3. Free music, photo, video resources.
Cons:
1. You have to log in to use Animaker.
2. Short of powerful editing tools.
3. Slow responding speed.
3. Moovly
Price: Free to create video presentations. Subscription starts from $49.
Moovly claims to be the #1 customizable, easy-to-use solution for the creation of video presentations. However, it seems like Moovly hasn't been updated for several years.
First of all, Moovly has presentation mode that allows you to create video presentation, which is great, but this mode doesn't seem make much difference. Secondly, this tool is totally based on timeline, but instead of uploading all videos and photos to the timeline, all users can only have to drag the video to the Stage. You have to adjust the layers, and when the upload resources appear. Lastly, it doesn't have too many video editing tools.
The main editing tools include free-hand drawing, adding texts, shapes, flipping videos, auto subtitling. Please be noted that advanced tools are subscribers-only.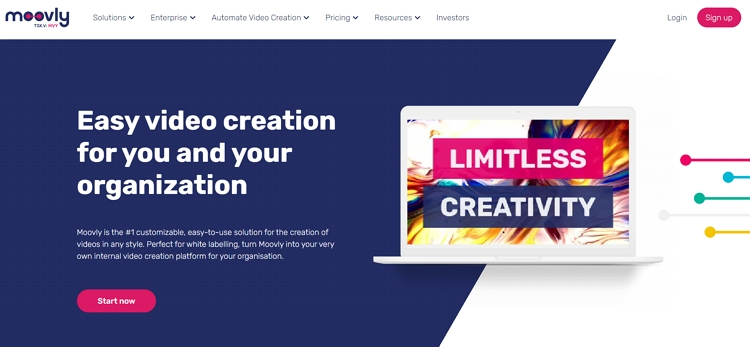 Best Video Presentation Maker - Moovly
Pros:
1. Browser based video editor. No need to download anything.
2. Free assets from storyblocks.
3. Rich video presentation templates.
4. Free drawing tools.
Cons:
1. Less tools to edit the powerpoint video.
2. Complicated to use.
3. You have to register first.
4. Lumen5
Price: Free to download 720P video with Lumen5 watermark. Subscription plan starts from $29.
Lumen5 is an AI powered video creation platform. It is the best choice if you want to create a video presentation from a blog or an article. Its AI-powered technology helps storyboard your ideas, fit your content to a layout and generate music and visuals that enhance your message.
Feeling like to get started with an empty canvas? Nice try, but you don't have to. Lumen5 has thousands of video templates for you to get started quickly. Don't get used to using templates? Never mind. Why not select a scene design and save lots of work?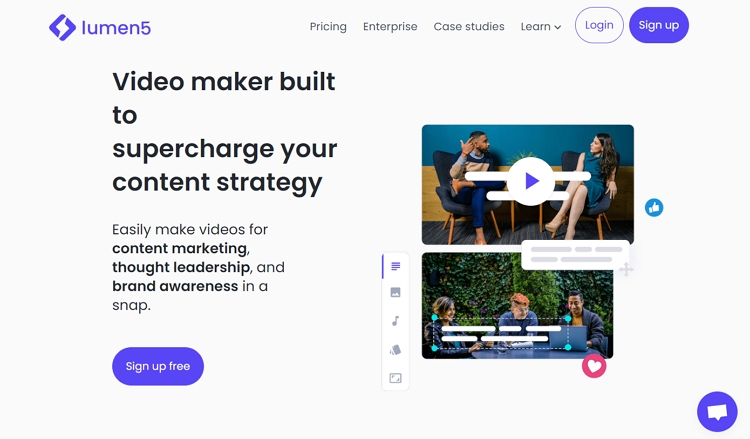 Best Video Presentation Maker - Lumen5
Pros:
1. Rich video templates and scene designs to use.
2. AI technology to generate presentation videos.
3. Adjust visual styles automatically.
Cons:
1. No many video editing tools.
2. You have to log in before editing.
5. Vyond
Price: 2 weeks free trial. Subscription plan starts from $49 per month.
Vyond is similar to Animaker we just recommended. Their team committed to create animated videos for business, education, marketing and training. It also provides lots of animated figures to add to your powerpoint videos, but compared with other tools, it has more powerful customization features.
Besides very basic video editing tools, like adding animations, music, transitions, people love Vyond to create a presentation video is because Vyond helps create charts and add to presentation video. That's a quite direct way to display your statistics.
Powerful as it is, we must say Vyond's interface is outdated, which might not be user-friendly.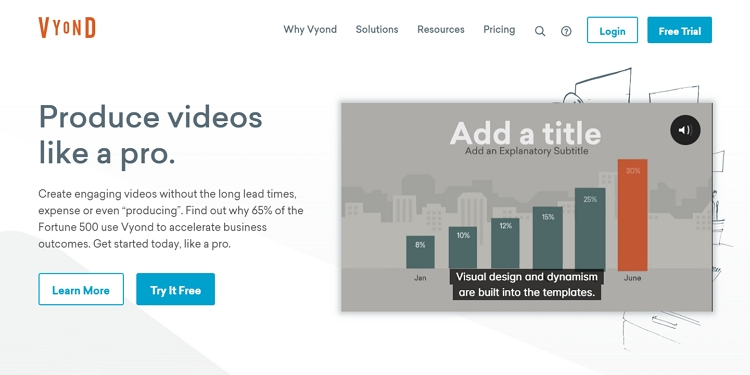 Best Video Presentation Maker - Vyond
Pros:
1. Animated figures for presentation videos.
2. Rich music and video resources.
3. Numerous stickers.
4. Charts to display statistics.
Cons:
1. Significantly higher price.
2. Complicated log in process.
3.Old fashioned interface design.
Best Video Presentation Software You Can't Miss
6. Camtasia
Price: $299.99 per user.
Camtasia is an easy to use, all-in-one screen recorder and video editor for PC and Mac. It can be used to record presentations or add voiceovers or record webcam.
Though being a video presentation software, Camtasia provides similar experience to online video editors. To begin with, it has numerous templates to get started which most software tend to ignore. Moreover, it is quite easy to catch up with for beginners. Any effects and edits can be added in several clicks. There are also lots of annotations especially designed for creating presentation videos, for example, dynamic arrows, text and shapes.
What makes it above any other video presentation software is that Camtasia is the only one that can help add quizzes and interactivity to encourage interactions between the presenter and the listeners.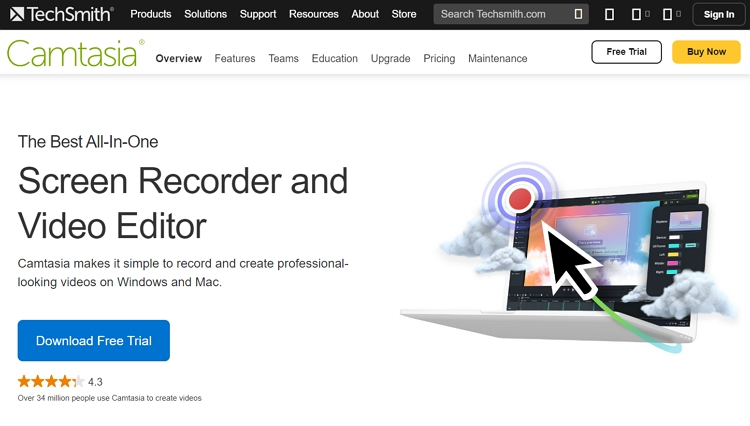 Best Video Presentation Maker - Camtasia
Pros:
1. Integration with PowerPoint.
2. Interactivity + Quizzing system.
3. Annotations.
4. Easy editing.
5. Free recording webcam and voiceover.
Cons:
1. Significantly high price.
2. Strict system restrictions.
7. Adobe Presenter Video Express
Price: Subscription plan starts from $9.99 per month. No free trail.
Adobe Presenter Video Express is one of the Adobe screencasting and video editing software on both Windows and Mac. It is mainly targeted towards learning professionals and trainers.
The main features of Adobe Presenter is to capture on-screen presentations and convert to more interactive and engaging videos. Video editing tools are also provided. The options to add quizzes and track performance by integrating with learning management systems are also available.
No need to worry about if the video sharing platforms don't support the interactive content. Adobe Presenter Video Express publishes a single MP4 video file containing all the video content, with an HTML 5 wrapper that contains the interactive player. The interactive HTML 5 player can be hosted on any website.
Best Video Presentation Maker - Adobe Presenter
Pros:
1. Record screen, webcam and mix.
2. In-app assets.
3.In-video quizzing and LMS reporting.
Cons:
1. Less intuitive than other products.
2. No download to desktop option.
3. No ability to add Notes and save them.
8. PowerPoint
Price: Free on all computers.
Even though most video presentation software developers hate to admit, PowerPoint software itself can turn a PowerPoint into a video.
Once you are done with creating a normal PowerPoint, you can export the PowerPoint as a video. However, before exporting, you need to make sure every detail of your PowerPoint is perfect, since you don't really have the option to make more edits while converting. Basically, you can only choose how long each of the slides will appear and manage the demonstration speed.
Pros:
1. Loads of free and paid PowerPoint templates.
2. Fully loaded with animations, shapes.
Cons:
1. No HTML 5 interaction option.
2. Not able to add Notes.
3. Audio and video sync issues.
9. Keynote
Price: Free
Keynote makes it easy to create an impressive presentation for all. It is on all Mac computers, however, you can get it on Windows computer with an iCloud account.
Keynote is called the Apple version of PowerPoint. It provides a number of available templates to start designing. You can also import any templates from other third-party software. Visual assets are available, but only icons, charts and graphics to display statistics. You can upload audio files to Keynote directly or record your voice, but there are no available audio files inside the program.
PowerPoint can directly transfer the PowerPoint to a video, but not Keynote. To make sure you control every detail of the video, while recording a presentation video, you have to manually control the presentation and record.
Pros:
1. Professional charts, icons and graphics.
2. Support third-party templates.
3. Manually control the recording process.
Cons:
1. Only Apple fonts can be used.
2. No audio resources.
3. No direct sharing options.
10. Premiere Rush
Price: subscription plan starts from $9.99 per month.
Premiere Rush is part of the Adobe Cloud. It is more of a video editing software than a video presentation software, but creates excellent presentations videos, especially when you need more detailed video editing.
As a presentation video maker, the biggest pro is its visual assets, apart from titles and transitions, you can basically find all editing features you will need to create a presentation video. You can also upload your branded fonts to it and use it for the titles.
The flows are also quite obvious. There are no available templates, no data visualization, no already-made clips in this program. You might need to create lots of graphic designs and upload to it in order to create an excellent presentation video.

Best Video Presentation Maker - Premiere Rush
Pros:
1. Rich editing tools.
2. Direct sharing to social media platforms.
Cons:
1. No video, audio resources.
2. No data visualization.
3. No templates.
The Bottom Line
The above are the best 10 presentation video makers working both on desktop and online. Which one do you like most? Share your ideas with us! Feeling like to download some presentation video templates to use? Visit FlexClip template page to find the one you love most.