Summary:This blog shows you the best calendar for Holiday sales, and marketing video ideas and 5 best practices of successful video marketing for Thanksgiving, Black Friday, Christmas, and Boxing Day.
Everyone loves Thanksgiving Day. It is signal to kick off the holiday season. And it's also a good signal for retailers to promote their offers and sales with the following of Black Friday, Cyber Monday, Christmas and Boxing Day.
Start from Thanksgiving 2018, the spending hit $3.7 billion representing 27.9 growth year over year to $7.9 billion. (PracticalEcommerce) Moreover, Christmas holiday retail in 2018 surpassed $1 trillion. (Fortunly)
Therefore, these post-thankgiving marketing tips absolutely you won't miss may help your sales hit a new high. Read More on How to make a Thanksgiving video and marketing ideas for Black Friday, Cyber Monday sales making the most of holiday season!

Image board: Shopping Holidays Dates.
Once you've decided which holidays are relevant to your products and offers, take your time to prepare your holiday sales plan and mark the calendar reminding yourself post your video.
28.8% of U.S. shoppers start their Christmas shopping in November, and 62% of Americans buy their gifts in the week before Christmas, so we recommend posting teaser earlier the week before Thanksgiving Day and Christmas Day.
Meanwhile, for sales events, Black Friday and Cyber Monday shall be tied together to promote your offers and sales, in advance, too. However, videos like Thanksgiving video should do on the exact day to show your thanks for your customers.
The first thing is how to make a promotional video. Before you film your products, you may wanna go back to the start thinking what kind of styles, composition and characters of the video you want to shoot. What should you always remember when filming is the goal, the targeted audience and the best features of your products.
What if you collect all your company and product's video clips, but still miss something? We've prepared thousands of different types of video footage and promo video templates to give you some inspiration.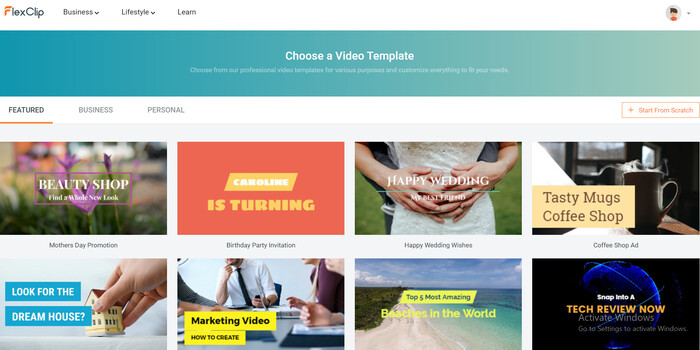 Image board: FlexClip marketing video templates
Video templates from FlexClip video maker is very flexible. Choose one with the basic layout and look, then insert your own photos, video clips and update the animated slogan and your business logo .
Depict video: Other features of FlexClips
If you can understand or there are lyrics in the background track, then listen carefully and search for a line or repeated ones on Google or other browsers.
Thanksgiving Marketing Video
Thanksgiving day is a very precious opportunity to show your appreciation for your consumers. Your marketing video can be very emotional video style. And for the footage, you may merge photos and videos of your products, team, company and customers to show more friendlyness and thanks.
Depict video: Thanksgiving marketing video
Boxing Day, Black Friday & Cyber Monday Marketing Video
Black Friday, Cyber Monday and Boxing Day get your customers BUY BUY BUY! This period definitely is your marketing campaigns.
What's your video marketing plan needs to include a teaser, sale promo, and reminder.
The teaser helps you build your suspense and attract them attentions, while sales promo gives a chance to remind your customers your offers and sales have already announced. Last but not the least, the reminder reminds of consumers and creates a sense of urgency to push them and get higher purchasing rate.
Depict video: Black Friday marketing video
Here is the example of teaser video for holiday sales, you can change the text and add more footage to make a sales promo video and then change the details again to make the reminder video. Repurposing the same template can save your time.
Christmas Day
Christmas is one of the biggest and most important holiday for USA. This is the time when people gather together, enjoy food, travel around the world, change the gifts, etc. It's the time to spend a large amount of money, last year, holiday retail sales surpassed trillion dollars mark, and US households spending an average of $1,536 during the season(data from Fortunly).
You can promote your products with a video like the below in the week before the Christmas, as I mentioned, this is the best time for Christmas Sales. Set a time-limited promotion to add a sense of urgency.
Depict video: Christmas marketing video
Notes

5 Best Practices of Successful Marketing Video
1.Concentrate on the story, not your sales (Don't annoy and repel your customers, and make the most of the emotive power).
2.Be funny
3.The best choice to have a 10-seconds promo video ad (Many recommendation specs of social media platform is in 15seconds).
4.Do a good SEO: good descriptions allows Google's search spider to make sense of your video and understand what the content entails(source from digital marketing institute).
5.Educate your audience (65% of audience are visual learners).
Post your marketing video on your official website, the sales landing page, social media platform to remind your customers you have a big sales in Holiday Sales!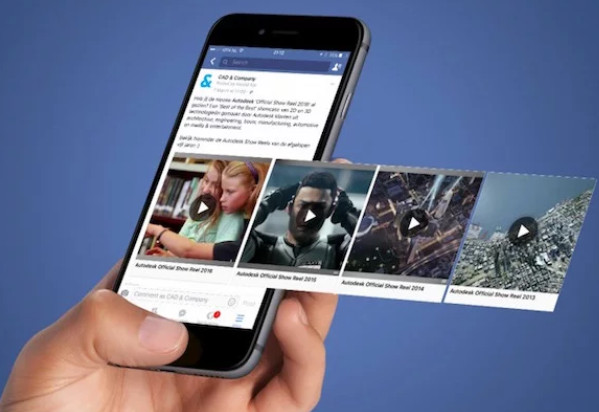 Image board: Facebook video ad
Bottom Line
More and more companies apply the video marketing strategy in their products and make more profits, join them, use FlexClip to make your marketing video for the before and after Christmas sales.
After you create a promo video, you may also wanna know 12 Marketing Ideas to Promote Your Holiday Sales, especially for Black Friday and Cyber Monday.