Black Friday sales mark the start of the annual holiday shopping season in the US. It falls on the Friday (Nov 24, 2023) after Thanksgiving, just two days ahead of Cyber Monday.
As shoppers scramble to find the best Black Friday deals for their loved ones and themselves, to your business, the Black Friday sales are a once-in-a-year opportunity to boost sales and build brand loyalty to customers.
So, in this post, we will walk you through how to create captivating Black Friday ads using free and chic Black Friday video templates and offer proven strategies to make your Black Fridays sales take off in this year's holiday shopping season.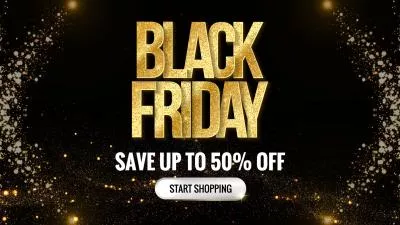 Black Friday Gold Promo Video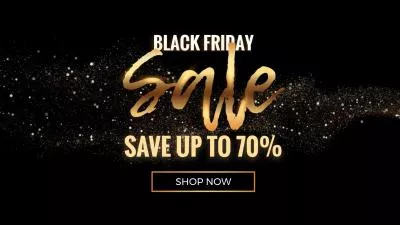 Trending Black Friday Promos
Here is what you will learn:
Also, read how to make compelling app promo videos that drive downloads & sales.
How to Make an Engaging Black Friday Sale Video in Minutes
To launch a successful Black Friday advertising campaign, one of the crucial issues is to properly manage your advertising budget. It's especially true for small retail and online businesses like yours.
So, there is no need and no time for you to afford a professional camera crew to produce a professional-looking Black Friday sale video. A great solution to quickly and perfectly get the job done is using a free and versatile online video editor that offers you custom Black Friday templates and easy-to-use video editing tools.
In this case, a go-to-choice for you to make high-quality Black Friday ads is FlexClip, a feature-packed online AI video maker that abounds with Black Friday video templates and 4M+ royalty-free videos, music, sound effects, photos, and dozens of handy video editing tools to make creative Black Friday best buy videos in minutes.
Use FlexClip AI video maker to make Black Friday sale videos that sell.
Why You Will Love Using FlexClip to Make Black Friday Ads?
4M+ royalty-free stock assets including high-res videos, photos, and studio-like audio, etc.
400+ expertly-crafted and fully-customizable
Black Friday video templates
, including Black Friday discount, Black Friday ads, Black Friday bust buys, Black Friday flash sale, Black Friday clothing, fragrance, shoe sale, etc.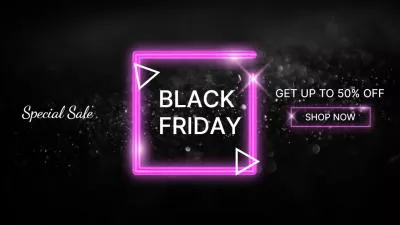 Neon Style Black Friday Sale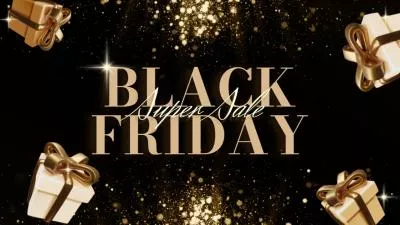 Minimal Black Friday Fashion Sales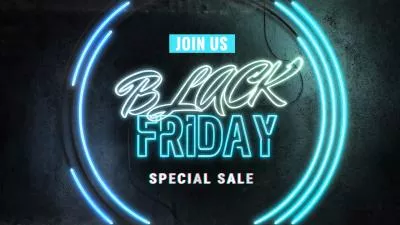 Tech Vibe Black Friday Countdown Sales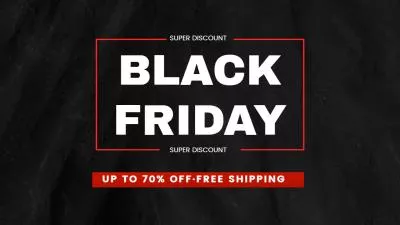 Hot Black Friday Sales Promos
Tons of custom text animations, including Black Friday sale, lower thirds, news titles, profiles, minimal titles, speech bubbles, quotes, call-out titles, search bars, location titles, etc.
Direct access to GIPHY's trending GIF assets.
Other video tools like dynamic elements and background, overlays, trimmer, video speed controller, merger, transitions, picture-in-picture effect, various aspect ratios, etc.
Export Black Friday promo videos in 1080P MP4, animated GIF, and Directly share them to YouTube, Google Drive, One Drive, Dropbox, or TikTok; a clickable link is also available for your blog posts, newsletters, or other repurposings.
How to create compelling Black Friday sales video by FlexClip online.
Step 1
Select a Black Friday Template to Start a Video Project
Visit FlexClip's Black Friday template page > pick a Black Friday sale template, preview, and hit the "Customize" button. Then the premade template and audio will be loaded in FlexClip's video editor.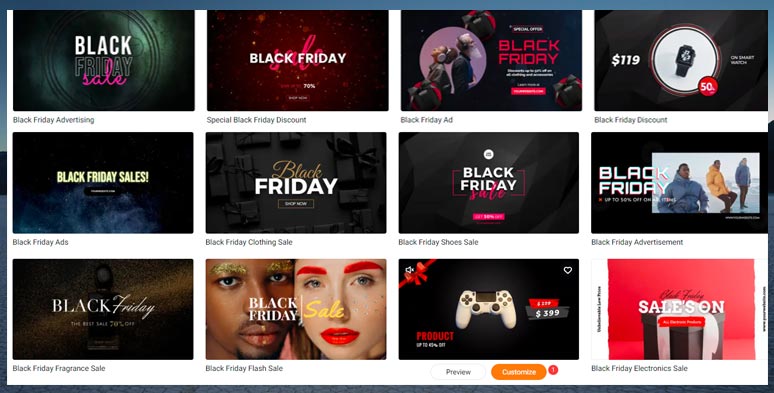 Select a free Black Friday sales template
Step 2
Upload Your Video and Photo Assets to Replace the Original Ones
Once you upload your videos and photos, simply drag and drop them in the video. FlexClip will automatically swap it with pre-made ones. You can adjust its position, motion, and transition, etc.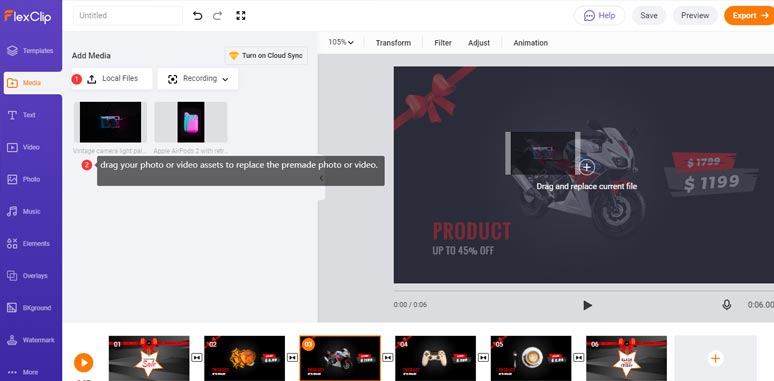 Upload your photo or video assets and replace those in the templates
Step 3
Customize the Text Animations for Strong Call-to-actions
Use the text tool on the left sidebar > add custom text animations. From Black Friday Sales titles to lower thirds, profiles, quotes, search bars, etc. you can fully unleash your creativity to make an original Black Friday sale video.

Customize the animated texts and elements in the video
Besides, all the fonts, color scheme, style, motion, timing, etc. are also fully-customizable. You may even upload your fonts to add a personal flair to your Black Friday ads. While the cool dynamic elements and GIF assets are also handy to further jazz up your video.
Step 4
Add Music to Bring Your Black Fridays Sale Video to Life
If the video content is the king, then music is the queen. Go the the "Music" tab on the left sidebar > search one or multiple BGM or sound effects to add them to your Black Friday sales video. You can trim it to adjust its duration and timing to match your video. Make sure the music hit on certain beats highlights particular scenes.

Add music or sound effects to Black Friday sales video
Step 5
Preview and Export the Video
Done with the editing. You can export it into an MP4 file or an animated GIF. With one click, you may also share it to your YouTube channel or your Dropbox. Pretty convenient.
7 Proven Strategies to Make Your Black Friday Sales Ads Convert
To make your Black Friday ads convert, you need more than creating an engaging Black Friday sale video. We've interviewed dozens of seasoned retailers both in stores and online and put together their experience and successful stories to work out the following actionable advice for you.
In other words, these 7 tips are proven strategies to convert your Black Friday sales into profits. So, let's find out together.
1. Plan Your Black Friday Sales Ahead
Though the Black Friday sale is officially on the Friday after Thanksgiving in Nov, many retailers actually set out to prepare the Black Friday sales before Halloween or in the middle of Oct.
So, what you can do is set tangible sales goals and an affordable budget for your Black Friday sales. You can add a countdown timer or an eye-catching banner on your homepage, shopping app, or place flyers in your stores or on the checkout counter.
2. Use Weekly Newsletters to Inform Customers
Using newsletters or Emails is a proven way to grab your customers' attention and allure them to visit your website or store for the best Black Friday deals or best buys available.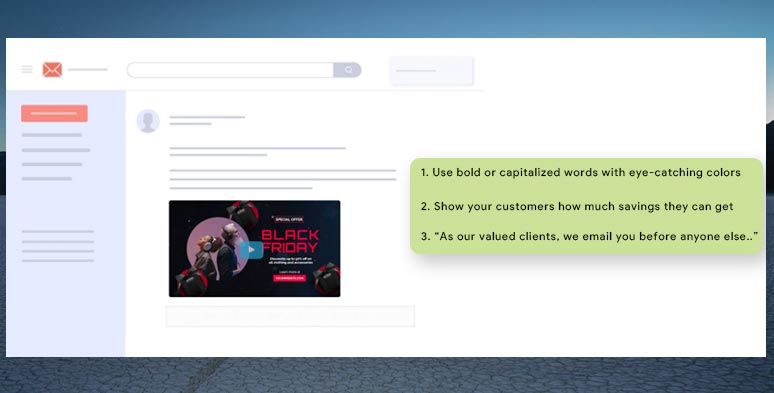 Use newsletters to inform customers about Black Friday sales
You can use FlexClip to make a Black Friday sale video and embed it in the email or offer a clickable link on YouTube. Use bold or capitalized words with eye-catching colors to show your customers how much savings they can enjoy during the Black Friday sales and discount.
A small trick is you may use words like "As parts of our exclusive/VIP clients, we email you before anyone else…". These small strategies will greatly boost the brand loyalty to your customers and pave the way for winning Black Friday sales.
3. Launch "Hourly Special Deals" Policy
The "Hourly Special Deals" or "Deals of the Hour" is an ultimate weapon to arrest targeted customers' attention to your website and shopping app.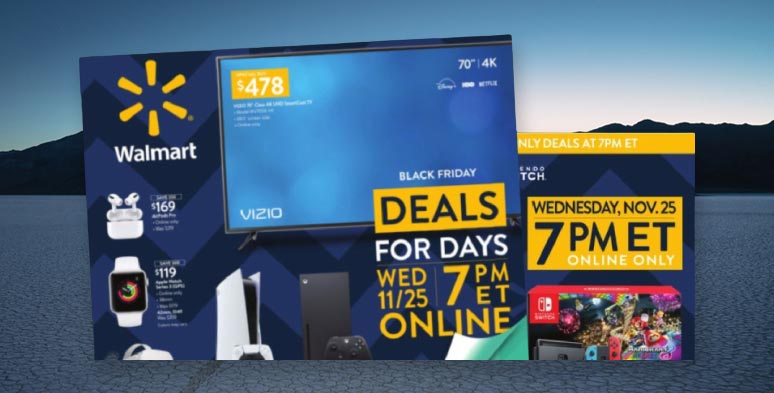 Walmart Black Friday sales: hourly special deals
To do so, you offer one special offer every one hour or sell certain products for scheduled special prices and discounts. By doing so, your customers will come back and visit your site every hour and see what best Black Friday sales they can get.
4. Add New Products on Black Friday
There is no better way to prompt customers to shop than offering the newest items or new arrivals. Try adding new items shortly before Black Friday kicks off and upgrading your online and brick-and-mortar store with a fresh look.
Or another great practice is to display your newest items in the store with eye-catching graphics or banners saying "Black Friday Exclusive".
5. Up the Discount Game In Multiple Ways
Apart from the traditional "Buy One, Get One Free" tactic, you may up the game by offering rare giveaways for orders or purchases above a certain amount. Or offer inexpensive gifts around $2 for the minimum purchase. Incorporating these discounts or gifs awards with fun games will yield a better result.
6. Offer Free Shipping
Special Black Friday discount is great. Free shipping would be the icing on the cake. According to the statistics, over 88% of the customers say they are more likely to shop in stores if they offer free shipping.
So, during the fierce Black Friday sales season, offering "Free Shipping" would help you gain the favor of customers over other rivals without such preferential policies.
There are three more things to mention. Do raise your price to cover the margin of profits for the free shipping; add the "Free Shipping" tags to the promoting products or over the checkout page; choose a reliable shipping service to maximize the chance for timely delivery during the hectic holiday shopping season.
7. Extend the Black Friday Sales to Cyber Monday
Since Cyber Monday is only two days after the official Black Friday sales, it's highly advisable to promote all your Black Friday products through Cyber Money (Nov 26, 2021- Nov 29, 2021).
Or you may promote both Black Friday sales with Cyber Monday sales all together as a whole package. It's all up to your convenience.
Now, It's Your Move
Having discussed so much about making Black Friday sales videos and Black Friday sales strategies, you must have tons of inspiration to kickstart your Black Friday advertising campaign. So, firstly, let's start by making a thumb-stopping Black Friday sales video by FlexClip, now! Hopefully, you can convert more leads into sales while your customers can get the best deals on this Black Friday.