In this article, we'll take you through 7 best video text adders to help you add text to your videos on Windows, Mac and online.
It's useful to add text when you're making a tutorial or producing a typography videos. Adding text enhances the message delivery of the video and attracts more viewers to choose your videos. Looking for a video text adder to generate text? Here are 7 best text generators for you to add text to your videos in minutes. Check out the list right now!
Awesome Video Template with Text Designs for You: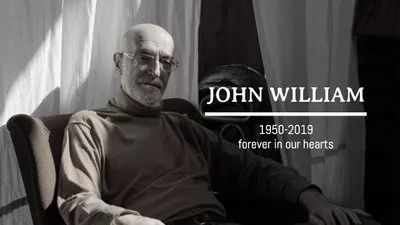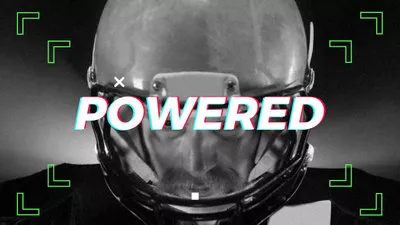 Can't Miss: 5 Best Subtitle Editors for Mac | Online & Offline>>
#1 The Best Video Text Adder Online No Watermark
Suitable for: Beginners and professionals
Platform: Web
FlexClip is a totally free video text adder online that is simple and easy to use for all users. It includes a set of text styles like neon, retro and shadow text to help you make awesome typography videos in minutes.
Moreover, presets like lower thirds, social media callouts, wedding titles and more are already made for you to enrich your videos. Need some animation effects? Browse FlexClip's modern motion effects library including bouncing, typewriting and popping up and pick your favorites. No editing experience or download is required!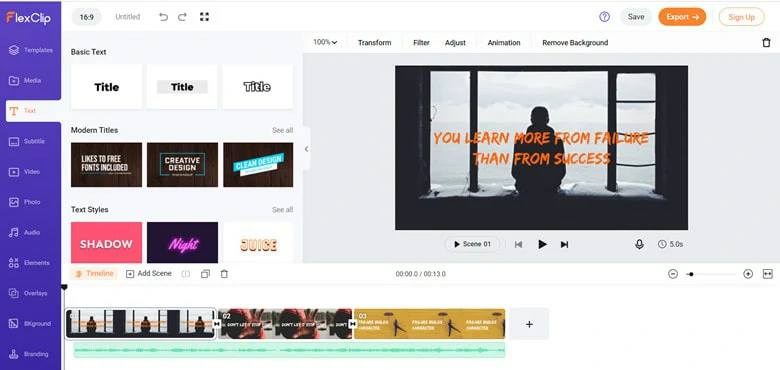 Best Video Text Adder Online - FlexClip
Pros:
A versatile editor with handy features.
AI technology to turn voice to text automatically.
Variety of text styles to choose from for different occasions.
Tons of inbuilt templates for you to create interesting videos and funny memes.
Cons:
The maximum video length is 30 minutes.
# 2 The Inbuilt Video Text Adder for Mac
Suitable for: Beginners and professionals
Platform: Mac, iOS
iMovie is a bonus for people who want to find a video text adder on Mac. Developed by Apple, it packs all the essential features to create a stunning video. When it comes to adding text, you'll find that both introductory text and animated types are available. Moreover, it's fairly easy to add a new font, change text size and adjust various aspects of the text displayed in the video using iMovie. iMovie's title preset with transitions and effects makes it convenient for beginners to add text.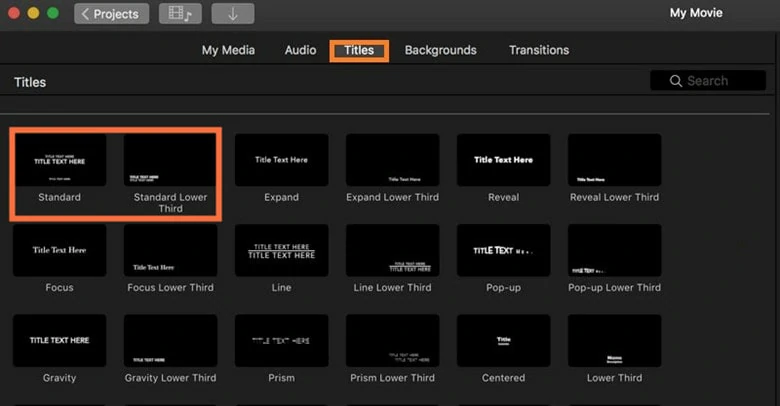 Best Video Text Adder for Mac - iMovie
Pros:
Basic editing tools are all available.
Various text styles with pre-made transitions.
Lots of color blending modes and Instagram-like filters.
Support advanced features like green screen and video stabilization.
Cons:
# 3 The Best Video Text Adder for Windows
Suitable for: Professionals
Platform: Windows
VSDC is an intuitive tool for people to add text on Windows. This free editing software offers an inbuilt text editor, allowing you to add a piece of text to the scene. You can adjust the text position, change the look of your text and specify the duration of the text. This video text adder not only helps you add subtitles from an external text file but lets you create tooltips, which would be useful if you're working on a video tutorial and need explanation elements for the viewers.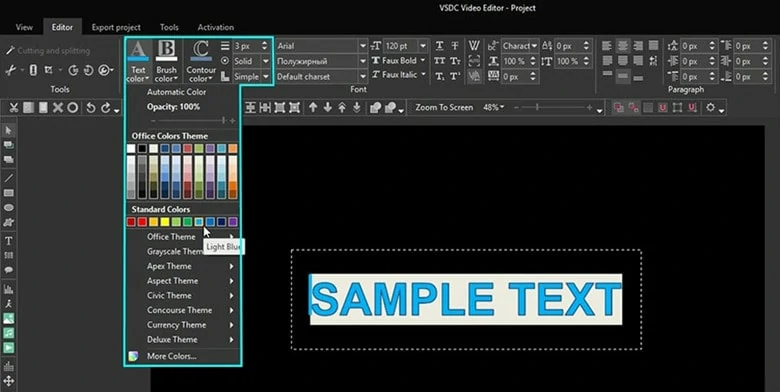 Best Video Text Adder for Windows - VSDC
Pros:
Able to make your text contoured or transparent.
Flexible video editor with many features.
Support a variety of popular formats.
A large number of video and audio effects.
Cons:
The interface might be confusing for beginners.
# 4 The Professional Video Subtitle Adder
Suitable for: Beginners and Professionals
Platform: Windows, Linux
Looking for a professional tool to add subtitles to videos? Here comes Subtitle Edit - a free editor for video subtitles. For adding text, it lets you import subtitle files from over 280 formats or manually add text to a video, line by line. Moreover, the spell check feature will automatically specify your text to avoid any spelling mistakes. If you need to work with others, the team collaboration function will make your work a breeze.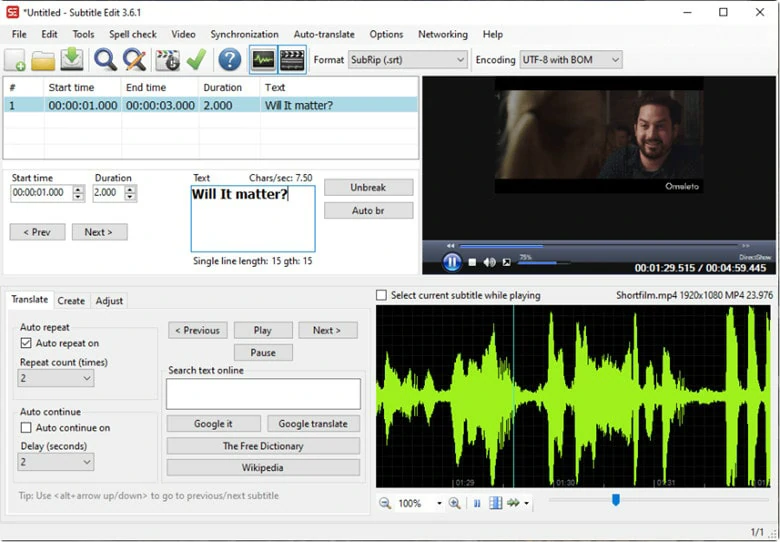 Professional Video Subtitle Adder - Subtitle Edit
Pros:
Support 280+ subtitle files.
Work in collaboration with other members.
Spell check your text using the online dictionary.
Speech recognition via Whisper or Vosk/Kaldi.
Cons:
# 5 A Popular Video Text Adder Online
Suitable for: Beginners
Platform: Web
Trusted by many vloggers and video fans, Typito is another video editor to add text online. Typito can make it achievable using its motion graphic templates, be it dynamic titles or animated text with transitions. What's more, you can easily apply rich photo and video resources to your video. It's so simple that even beginners can use it to make creations in clicks.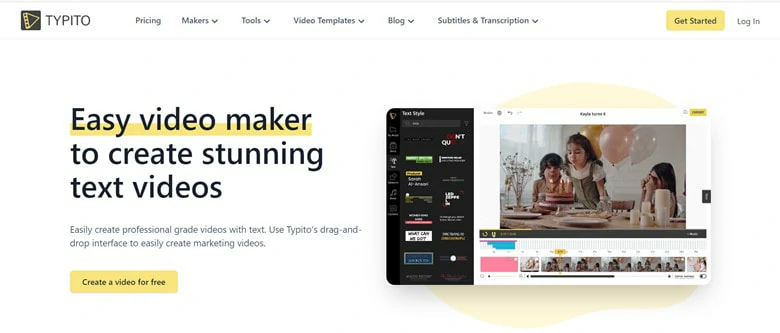 A Popular Video Text Adder Online - Typito
Pros:
A stock library of photo and video resources.
Multiple title presets with different motion graphics.
Able to pair your text video with a trending soundtrack.
Badges and other animated elements can be added to your videos.
Cons:
Unable to customize text animation effects.
#6 A Popular Video Text Adder App on Android
Suitable for: Beginners
Platform: Android
Video editing on mobile is straightforward with KineMaster. It provides tons of editing features and functions like adding pictures, texts and layers without limitation. Apart from a conventional method, you can add your text in your handwriting. Besides adding text, you can use the chroma key, magic remover and speed changer to take your text video to the next level.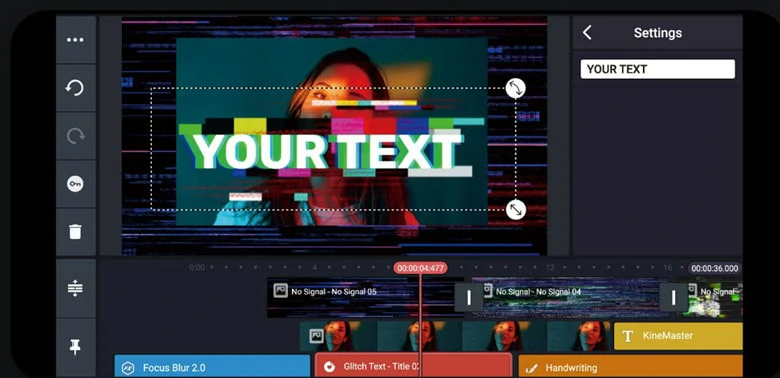 A Popular Video Text Adder on Android - KineMaster
Pros:
You can add text to your video in a one-click operation.
Essential text options – shadow, background, transparency, and more.
Loads of designer-looking templates and advanced features.
Many edit text from different layers under one setting, applying the effects together.
Cons:
It contains ads during the whole editing process.
# 7 A Popular Video Text Adder App on iPhone
Suitable for: Professionals
Platform: iOS
Adobe Spark is a tool comprised of three separate design applications: Post (graphic design), Page (web design), and Video. To create eye-catching videos with text, you just need to use the Spark Video feature and pick your favorite font to unleash your creativity. Additionally, advanced functions like voiceover, background soundtrack and basic template are also within your reach.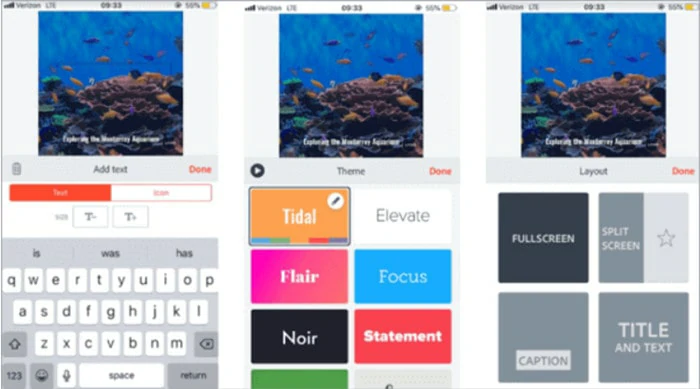 A Popular Video Text Adder on iOS - Adobe Spark
Pros:
Packed basic text template and preset.
It provides a series of tutorial videos for the beginners.
Use a drag-and-drop operation to add text to your video.
Able to add voiceover and background music in your video.
Cons:
An account with your email is required before accessing Adobe Spark's features.
The Bottom Line
All the video text adders mentioned above can help you add text to your videos effortlessly. If you need more flexibility in the editing process, try to use FlexClip for help. Now pick your favorite tool and start to make edits with ease.